Lima beans have a mild flavor and a delightful creamy texture, making them a popular food choice in many parts of the world.
They can be enhanced in any way the server prefers, which makes them ideal for people who want to experiment with flavors.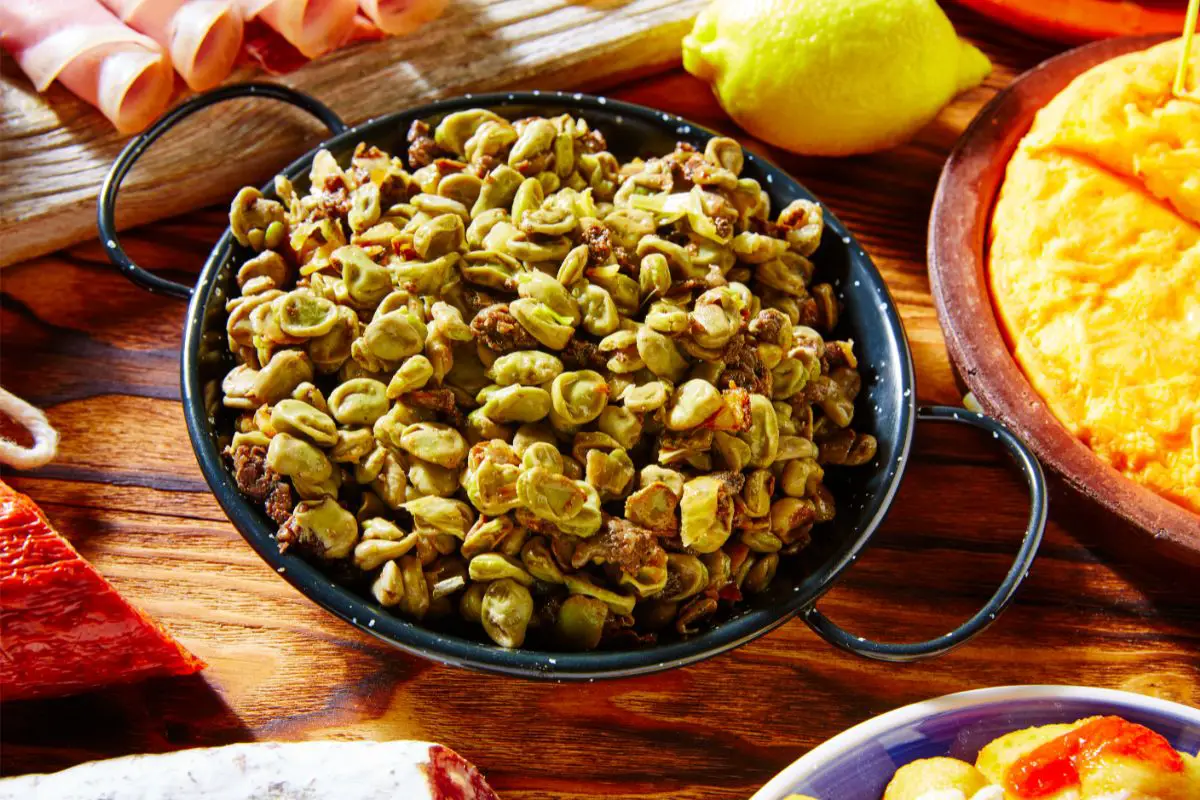 These beans are high in protein and have lots of great nutrients, and   impossible for any bean lover not to fall in love with them.
You can do whatever you like with them, and prepare them in a number of different ways, depending on your needs and preferences. 
Knowing what to serve with lima beans is important – because you can't just eat plain beans! You could, technically, but they wouldn't be nearly as amazing as they could be.
You need to add that extra flavor, and give yourself (or your guests) some different textures to appreciate, too. Food is all about balance. 
So, we will be going through some of the best foods to serve with your delightful lima beans. Bear in mind, these are all great side dishes, but some of them can have the lima beans incorporated into them if you would like! 
Be sure to try out lots of options to find the ones that really resonate with you and your palate. 
11 Delicious And Mouthwatering Foods To Serve With Lima Beans
This sausage and bell pepper recipe is a delight in every way. It's full of great flavors, it's easy to make, and it pairs wonderfully with lima beans!
You can either have them on the side, or just combine the beans with this dish, so they soak up all the juices. 
For this dish, you have freedom over how you choose to season it, so you can experiment with flavors and styles until you find one you love!
You can go mild or spicy, or anything in between. No matter what you pick, the differences in texture make this dish a great option for pairing with the buttery lima beans.
A good old macaroni salad is a great side dish to enjoy with lima beans for several reasons.
First, it's so easy to make, but it can also be customized to your preferences! You can have this dish cool or warm, so it's also great year-round. 
If you love the smooth and mild flavor of lima beans, then you will probably enjoy any kind of macaroni salad. Feel free to add things like sweetcorn and cherry tomatoes into the mix to make sure you're getting your veggies in!
This is another great option that you can make if you want to incorporate the lima beans into the dish itself!
The potato will have a similar texture, depending on how you prepare it, but the bacon will make everything jump out wonderfully. 
What's great is that you only need around 30 minutes to put everything together and create something that everyone will love. It's easy and tasty, and great for dinners outdoors. 
Cornbread is a classic, and it makes a wonderful side dish for just about any meal.
So, why not enjoy a tasty cornbread tart with tomatoes alongside your lima beans? It's so easy to make, and there are thousands of different recipes that you can try out if you want to experiment before settling on a favorite. 
Sure, this could be a whole meal on its own, but why not try something different and have the two dishes together? You might love it, and it is a fantastic dish to share with all your friends and family. 
A spicy chorizo scramble sounds like the perfect breakfast food, and it probably is. It's so easy to make, and you need no more than five minutes to get the job done.
Not only do you only need a handful of ingredients, but you can prepare it in moments with minimal cleanup. 
You could have the lima beans on the side, or better yet – combine them with the eggs and chorizo. This will give you a dish that has everything you need in it, including a whole lot of great flavor!
Who doesn't love garlic roasted broccoli? When you pair this dish with lima beans and a few more of your favorites, you can have every flavor and texture under the sun.
This makes for a great option if you are coming up with a dinner idea for a group of friends to share. 
We love this simple option because it's quick and easy, but never disappoints. You only need a few minutes to get everything prepared and cooked
This broccoli and chickpea salad works perfectly if you want to incorporate the lima beans into the salad itself. All the flavors will work together perfectly to make a dinner that has everything you could want and need in it. 
Parsley, scallions, and nuts are crucial parts of this dish, making it a lovely summer salad to enjoy in the sun. Don't forget about the dressing, too! Mustard, honey, garlic, and more will make it the ultimate refreshing and zesty addition.
If you would like to get your protein in, then pairing those lima beans with bacon wrapped chicken could be a great way to do it! This recipe is so easy, and it doesn't take long to prepare.
The mild flavor of the lima beans combined with the potent flavor of the bacon and juicy chicken. 
Have the lima beans on the side, or find a way to incorporate them with everything else.
You can simply add them to a sauce of your own creation, or even stiff chicken breast or thigh with them if you would like to try something a little different. 
This super easy side dish works so well with lima beans because of the differences in texture and taste.
However, when you cook everything together, the flavors marry together perfectly to create something you won't be able to get enough of. 
Lima beans go well with everything in this recipe, so it makes sense to put everything together and enjoy it all in one mouthful, right?
You can alter the flavors however you like, to make sure that it's going to be something that you will love. Adding a little what into the mix could be a great option!
A simple roasted beef with carrots and a side of lima beans is an underrated option that you might not initially think of.
However, the combination works surprisingly well, especially if the delicious juices from the beef can soak into the lima beans. 
You could also cook the beans with the carrots to better incorporate them into the meal. However, this just depends on what you prefer, so try a few things out.
It's easy to imagine sitting down on a cold winter day and enjoying this cozy combination, don't you think?
This is another fantastic side dish option if you are coming up with a selection of dishes for a group to share. These Italian breaded mushrooms are full of flavor and have a delightful crisp to them that you simply can't overlook. 
You can't go wrong with these, and you can season them however you like! It's a lot easier than you might think, so just test them out. If you have an air fryer, you will be guaranteed to get the perfect Italian breaded mushrooms every time.
However, you could also bake them in the oven, or fry them on the stovetop if you don't mind facing the oil!
Final Thoughts
Lima beans are good, but with the right sides and flavors, you can make them great.
There are so many different flavors, textures, and directions to go in when preparing lima beans, and lots of options when it comes to dishes to pair them with!
If you love lima beans, and want to make the most of them, consider trying some of the dishes we've mentioned in this article. They will definitely bring out all the amazing flavors of the dish, and you will love every minute of it. 
11 Delicious And Mouthwatering Foods To Serve With Lima Beans
Course: Sides
Want to serve lima beans, but aren't sure which foods will pair well with them? Read this article to find out about 11 delicious combinations you must try!
Directions
Pick a recipe from the list above
Click the recipe name and visit the website
Collect the ingredients and cook the food
Enjoy – don't forget to leave a review