Beef Wellington is a kind of steak dish with an English origin. The dish is made from a filet steak that gets coated with pate and duxelles, then wrapped up in puff pastry and baked.
There are a number of delicious recipes with variations, but this is the most popular version!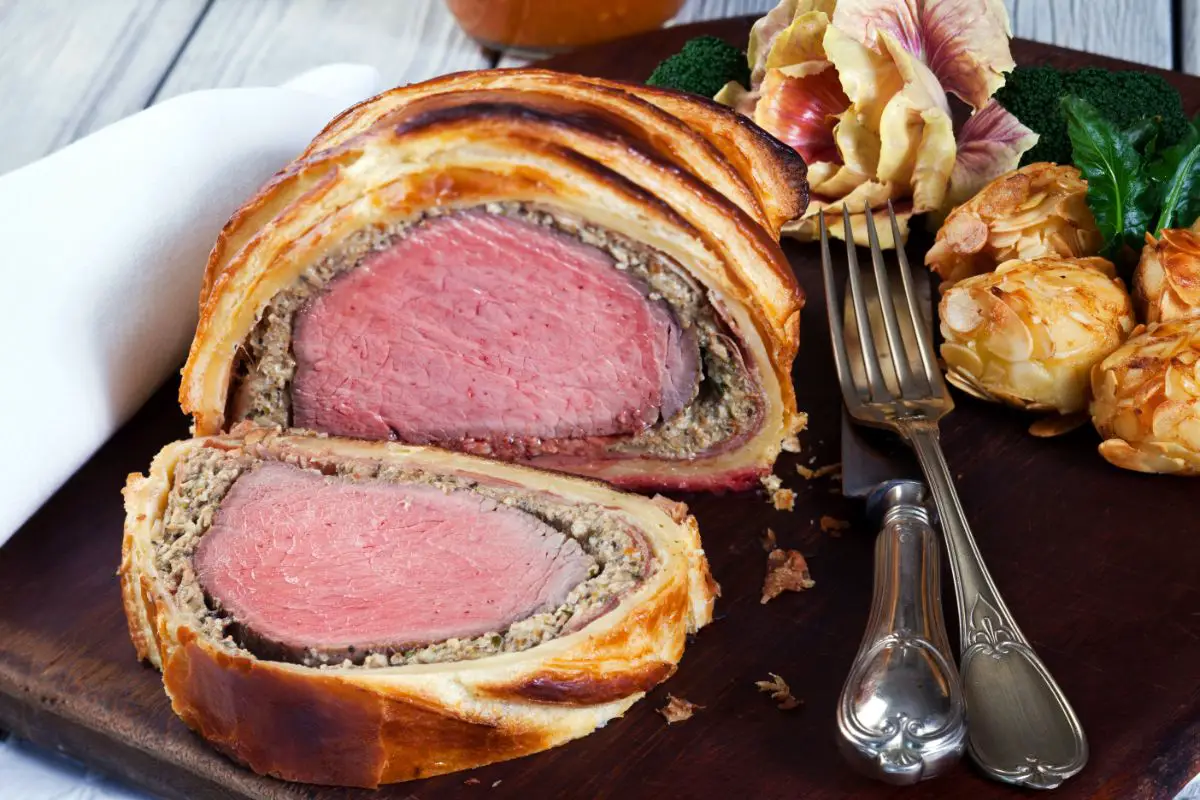 If you love beef wellington, then you may be wondering what kind of sides will pair well with it.
The answer? A lot! We're going to go through 20 of the most delicious sides that you could have with your juicy beef wellington.
20 Delicious And Mouthwatering Side Dishes To Serve With Beef Wellington
Scalloped potatoes are a lot like au gratin, except they are more simple and easy to make. This dish is perfect for a beef wellington, as you can combine the dishes in a single mouthful to get the perfect combination.
You can season your scalloped potatoes however you like, or you can try making an au gratin if you're feeling up to it! This is a great recipe to try out if you want to make sure you love the final result.
A wild rice pilaf is incredibly easy to make, and there are limited rules to follow. You can add anything you like to the mixture – including nuts, fruit, vegetables and meat.
The flavors in a pilaf are usually wonderful and earthy, making it a great complementary dish for something like a beef wellington. 
If you have never had a pilaf before, make sure you don't miss out! The recipe we've linked to is a great place to start, and you are definitely going to love it.
If you want something you can dip your beef wellington in, this carrot purée with ginger is a great option. It's so easy to make, with warm and refreshing flavors that you can enjoy in summer or winter. 
Scoop up some of this delightful purée onto your wellington to make a flavor combination you will die for. It might become your new go-to side dish to have with a wellington!
Grilled asparagus goes with just about anything, so why wouldn't you have it with your beef wellington?
When you add the lemon butter to this dish, it makes it ten times better, and something that you absolutely cannot miss out on. 
The texture and flavors in this side dish are perfect for rich beef and crispy pastry. Not to mention, it's easy and quick to make, so you don't have to work too hard for it.
Everything gets better when you add bacon to it. This wilted greens with bacon side dish is so easy to make, and surprisingly flavorful if you know what to put in it!
Some recipes only use baby spinach for their greens, while others might use ingredients like broccoli to add some extra roughage. 
The key here is to get the bacon just right, and add some red pepper flakes if you want a bit of a kick. A simple balsamic vinegar is perfect for something like this. 
Although Brussels sprouts are usually only popular during the holidays, why not try and find a way to enjoy them year-round?
You can roast them to perfection, and even add bacon and chestnuts if you want to up your game. 
These vegetables are loaded with goodness, and when you season them right and get them crispy, there's nothing better. Just make sure you buy the smaller, fresh ones from the store! 
This side dish is not shy. There are plenty of punchy flavors in the salad that you will either love or hate, including the fennel and arugula itself.
Depending on the recipe you want to use, you may add mustard, hazelnuts, and a whole host of other things. 
The refreshing flavor and coolness of this salad makes it a good option for summer days in the sun. You can even add things like cranberries if you really want to step out there.
You could either go with the basic roasted broccolini with mushrooms, or make some mouthwatering, winey ones to enjoy.
Either way, this side dish is so easy and only takes a couple of minutes to throw together and roast. 
Consider using coconut oil for some added flavor, and even add red pepper flakes if you want a little heat. Both options are divine, and will only further complement your beef wellington.  
Horseradish is a spicy vegetable that isn't for the faint of heart. While you could simply purchase horseradish sauce, you can also make your own!
To do this, you will need horseradish, salt, vinegar, and some kind of creamy element – like mayonnaise, sour cream, or even heavy cream. 
You will get a sauce with a kick, which can be used on a number of different foods. Just be sure to take it easy when you first try it, because it might be more than you're bargaining for.
Also known as colcannon, Irish mashed potatoes include the all-important potatoes, cream, butter, cabbage, and scallions. Recipes might vary, but there are probably going to be the basics for whichever one you pick. 
The texture of mashed potatoes means that they are ideal for serving with beef wellington. You can dip or scoop the potatoes, or enjoy them with some of the gravy you are no doubt having with that wellington. 
This creamy mushroom sauce is rich, and, you guessed it – creamy! You can use some of your favorite ingredients in this mixture, including white wine and heavy cream, to get the perfect results. 
The rich flavors from the mushroom will pair wonderfully with the beef, and the creaminess will be great for the crispy pastry. Don't forget to add things like fresh thyme and lemon juice to really pull the flavors out!
Easy and delicious, green beans with French onions is something that often gets overlooked in the culinary world! Everyone underestimates just how good green beans can be. 
When you combine them with caramelized onions, you get some delightful flavors that you will keep going back to.
The onions themselves offer some sweetness and softness, while the green beans are refreshing. Depending on your preferences, you can cook your green beans as much or as little as you like/
A creamy parsnip purée is another side dish that you might not automatically think of when you are considering beef wellington sides.
However, the creamy texture of this purée and the slightly sweet flavor make for a great combination. 
It's easy and quick to make, and you won't be able to get enough of it when you start scooping it alongside your wellington. 
Sweet potato is a classic side dish that pairs well with most foods. Not only is it so easy to make, but it requires minimal effort, too.
All you really need to do is get a sweet potato, clean it, slather it in some oil, and bake it!
Cook to perfection, slice it open and add a generous amount of butter to melt in the middle. You could also add something like sour cream or plain yogurt to add some creaminess.
The sweet flavor complements the beef wellington so well, you won't be able to get enough of it.
This lemon infused couscous is refreshing and delightful, and perfect no matter the time of year. It pairs wonderfully with a beef wellington, thanks to the completely different flavors and textures it has to offer. 
Couscous is incredibly easy to make, and also delicious. It comes in various sizes, from fine types to pearls.
While any type of couscous could be used, we love the pearls, as they offer a unique texture to go with the wonderful flavor.
Roasted root vegetables are a classic side dish option, because it just works so well!
The rich and earthy flavors of the root vegetables is the perfect complementary food for a beef wellington, and you just can't argue against that. 
This side dish is a particularly popular option for the colder months. There's nothing better than enjoying some fresh and flavorful veggies that have been cooked to perfection alongside a juicy wellington.
Even if you don't like carrots, you will probably love this recipe. It's so easy to make, and is the perfect accompaniment for a dish like beef wellington.
Cracker barrel baby carrots are made to be sweet, crispy, and insanely delicious. 
A popular side dish for the holidays, this easy recipe only requires a few ingredients to get done. All you need are baby carrots, butter, brown sugar, and salt!
Frisée salad, or salade lyonnaise, is a delightful salad made with curly endive – a slightly bitter, frilly leaf.
When combined with other ingredients like bacon, poached egg, or croutons, these salads can be a delightful addition to any dinner. 
As a refreshing side dish, this salad is great for the summer when you want to enjoy a beef wellington in the sun. Pair this with some of your favorite sparkling summer drinks, and you won't have a reason to complain!
The combination of flavors in this roasted butternut squash quinoa salad are a wonderful addition to a beef wellington dinner.
You get to enjoy the meaty flavors of the wellington paired with the refreshing and light flavors of butternut squash. 
This particular recipe takes less than an hour to make, and uses flavors like maple syrup, Dijon mustard, and balsamic vinegar to bring out all the flavors.
It's a great dish for a summer meal in the sun, and you will love every mouthful. 
A classic mushroom risotto is full of rich and early flavors. These will balance out the delightful beef flavor and also complement the texture wonderfully.
This risotto is creamy and packed full of some incredible flavors, including white wine and Parmesan cheese, so it's impossible not to love. 
The crisp puff pastry of the beef wellington combined with the creamy and moist risotto is a combination to die for. 
Final Thoughts
There are lots of delightful sides to enjoy with your beef wellington – from roasted butternut squash to purées and risotto!
If you are planning on having a beef wellington (homemade or store bought), why not let us know which side is your favorite? Each one brings out different flavors, so you're going to love at least one of them!
20 Delicious And Mouthwatering Side Dishes To Serve With Beef Wellington
Course: Sides
Want to enjoy a juicy beef wellington, but aren't sure which sides you should pair with it? Take a look at these 20 delicious options to complement the dish!
Directions
Pick a recipe from the list above
Click the recipe name and visit the website
Collect the ingredients and cook the food
Enjoy – don't forget to leave a review