Spring rolls are a classic dish that everyone loves. They are crispy, tasty, and all-round delightful any time of year.  
However, one thing a lot of people struggle with is this: what do you serve with your spring rolls? This uncertainty can make you avoid this delicious dish, but it really shouldn't!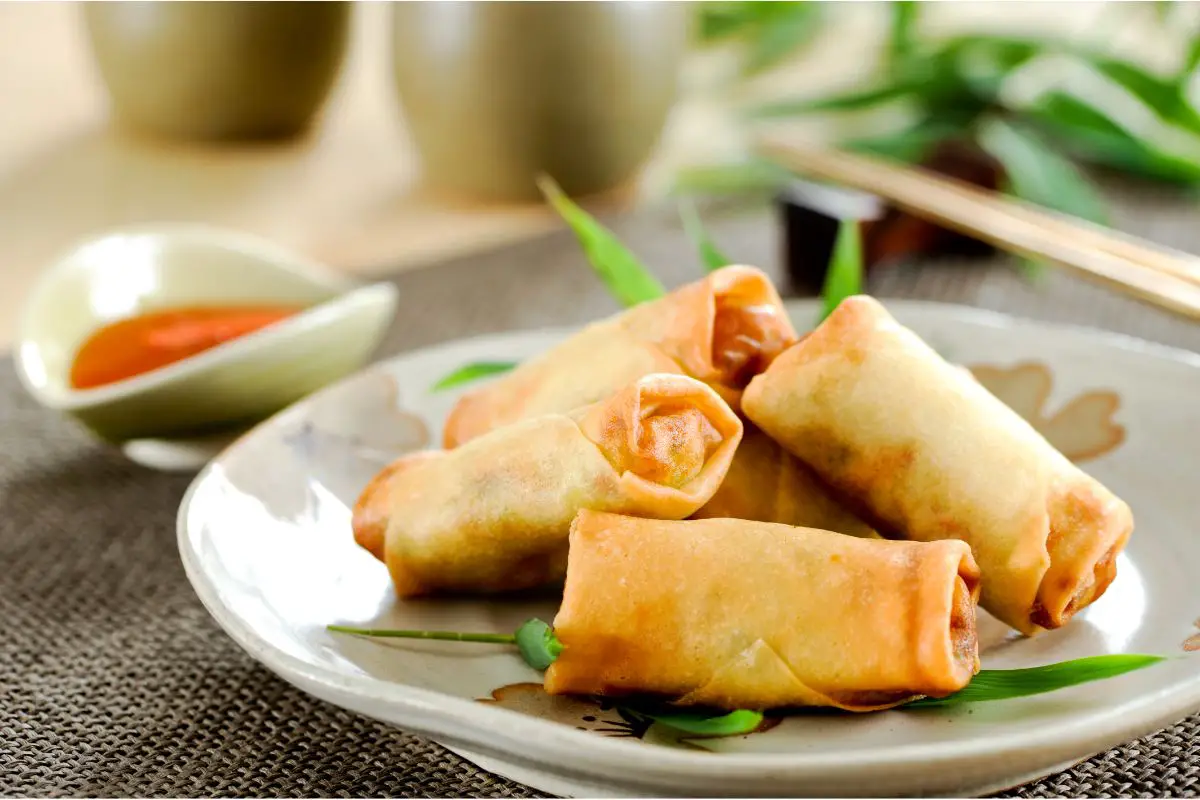 If you aren't sure what you should be pairing with spring rolls, then you are in the right place.
From garlic fried rice to salads and noodles, there are lots of delicious options that will perfectly complement the flavor and texture of different spring rolls. 
So, read on if you want to learn about some pairings that you won't be able to get enough of.   
16 Mouthwatering Dishes To Serve With Spring Rolls
Garlic fried rice is a must-try if you're planning on enjoying some delicious spring rolls. The difference in texture and flavor is to die for, plus it's so easy!
You can also add all your favorite vegetables to the rice if you like, or keep it more plain. 
You can cook up some garlic fried rice in just a few minutes, and you can prepare the rice ahead of time for future use. It's impossible to go wrong with a dish like this.
Classic tempura prawns are the perfect addition to a spring roll meal, and any seafood lover won't be able to get enough of these. They're crispy, full of flavor, and also easy to make.
You could also purchase them pre-prepared from the store and just cook them at home, or you can do everything from scratch. 
Whichever option you go with, there's no denying that you will love the combination and flavor differences between the two dishes.
While regular coleslaw would also work, we would recommend taking the extra step and turning it Asian-style.
For this, you will only need a few extra ingredients such as soy sauce, fish sauce, peanut butter, ginger, and some sesame seeds – depending on the recipe. 
This coleslaw is ever more refreshing compared to the usual one, and it pairs wonderfully with the spring rolls. You can't go wrong.
Depending on the kind of spring roll you're enjoying, you may be getting a lot of vegetables without any meat!
If you are enjoying one mouthful after the next of refreshing vegetables or noodles, then you might be looking for some protein to enjoy, too. 
Chinese chicken wings are the ideal side dish to have alongside your spring rolls. They can be crispy or sticky, and you can alter the seasoning to make them milder or spicier. It's all up to you!
If you are pressed for time, but still want a great side dish to enjoy with your spring rolls, make this 15-minute egg drop soup!
You will only need some mild chicken or vegetable broth, soy sauce, eggs, and a few other choice ingredients like green onions or red pepper flakes. 
This recipe is incredibly easy to make, high in protein, and low in calories. Not to mention, you can dip your spring rolls in it and get the best of both worlds. 
Can't get enough soup? This chicken and sweetcorn soup is a staple in every Chinese restaurant, and for good reason. It's the perfect comfort food, and it's so easy to make whenever you like.
Dip your spring rolls into the soup to experience bliss, and enjoy leftovers, too!
Again, you can alter your chicken and sweetcorn soup however you like so that it's perfect for you. Start with the basics if you aren't a connoisseur yet, though!
Hot and sour soup gives you the best of both worlds with a tangy blend with a spicy kick. Most recipes will call for pork, but you could always try it with chicken or anything else you feel like if you're feeling adventurous. 
Spring rolls will really benefit from being dipped in this delicious soup. The flavor differences will bring everything to life, and leave you coming back for seconds. 
Why not try your spring rolls with a traditional Greek side? Tzatziki is a very simple side dish made from plain yogurt and drained cucumber, along with some additions like olive oil, garlic, salt, lemon juice, and your preferred herbs. 
It is delightfully thick and delicious, making it a great option for your spring roll dipping! Vegetarian spring rolls will go particularly well with a dip like this, so you better try it!
If you want to get some extra vegetables (technically a fruit) into your diet easily, smacked cucumbers is an excellent way to do it!
This simple recipe just needs cucumbers, soy sauce, sugar, rice vinegar, and a few other ingredients depending on the recipe you're following. 
It's difficult not to love this easy and tasty dish. Try it alongside your spring rolls if you want to experience something really special.
Can't get enough of all those delicious vegetables? Why not enjoy a delightful Asian chopped salad on the side with your spring rolls?
This particular recipe is made up of all the best veggies, including red cabbage, sugar snap peas, and much more. 
You have a lot of freedom with recipes like these, and you can add chicken, noodles, or anything else you would like to complete the job. Just don't forget to add a dressing that you will love!
This super easy side dish is a great pairing with any meal, including spring rolls! You only need a few minutes to cook everything to perfection, and you're in for a great time.
Besides broccoli, you just need a couple of simple ingredients like sugar, wine, soy sauce, rice wine vinegar, and a few more. 
It's a great way to get your vegetables in and love them while you're doing it! 
Not technically a side dish, but dipping sauces are a crucial element of spring roll dining! There are lots of options to choose from, so it's up to you to find your favorite.
Start by looking through some of the most popular options and try until you find "the one".
Depending on the type of spring rolls you're having (crispy or not), you might love adding some crispiness to your meal.
These super crispy wontons are to die for, and their flavor is immaculate. Stuffed with ground pork and mushrooms, every bite will pack a punch.
Be sure to have some soy sauce or any other dipping sauces available to make the most of these alongside your spring rolls!
Sweet and sour chicken is a no-brainer when it comes to a pairing with spring rolls! It's a classic and a favorite for many, and for good reason. Not only is it easy to make, but it has some of the most unbeatable flavors in Asian cuisine. 
The sweetness and sourness of this dish complements the spring rolls unbelievably well, so try it all in one bite.
If you have never made sweet and sour chicken before, we can guarantee that it is a lot easier than you think, so don't be surprised if it becomes your new go-to!
Pineapple fried rice is another classic when it comes to many Asian cuisines. It has a unique flavor profile that works surprisingly well with other dishes like spring rolls.
The sweetness offered by the pineapple offers the perfect opportunity to take a break from the spring roll filling and try something else, including a different texture. 
We have linked to an authentic pineapple fried rice recipe for you to try if you are feeling up to it! It's a lot easier than you think, but be sure to take your time to get it just right.  
If you are enjoying some soft spring rolls, then you might be desperate for a bit of crunch in your dinner! This is the perfect opportunity to bring in the wok fried noodles.
Depending on how long you cook these noodles for, they can range from soft and chewy to deliciously crispy. 
Ingredients such as bean sprouts, scallions, soy sauce, and sesame oil are integral parts of the dish. However, you could always add some extra things to make it suit your needs or preferences.
Additions like chili, broccoli, or even chicken would work well.
Final Thoughts
Spring rolls are a delightful Asian dish that many of us can't get enough of. You don't need to stop there, though – there are plenty of delightful sides that go with them wonderfully! 
Try any number of the options we've listed above, and give them a try! Let us know which one you gravitate towards. 
16 Mouthwatering Dishes To Serve With Spring Rolls
Course: Sides
Want to enjoy spring rolls, but have no idea what dishes you should serve with them? Read this article to get 16 great side dish options for spring rolls!
Directions
Pick a recipe from the list above
Click the recipe name and visit the website
Collect the ingredients and cook the food
Enjoy – don't forget to leave a review