Ever find yourself wondering what else to serve besides the same old potato salad recipe? The classic combination of potatoes, mayonnaise, and a few herbs can be boring.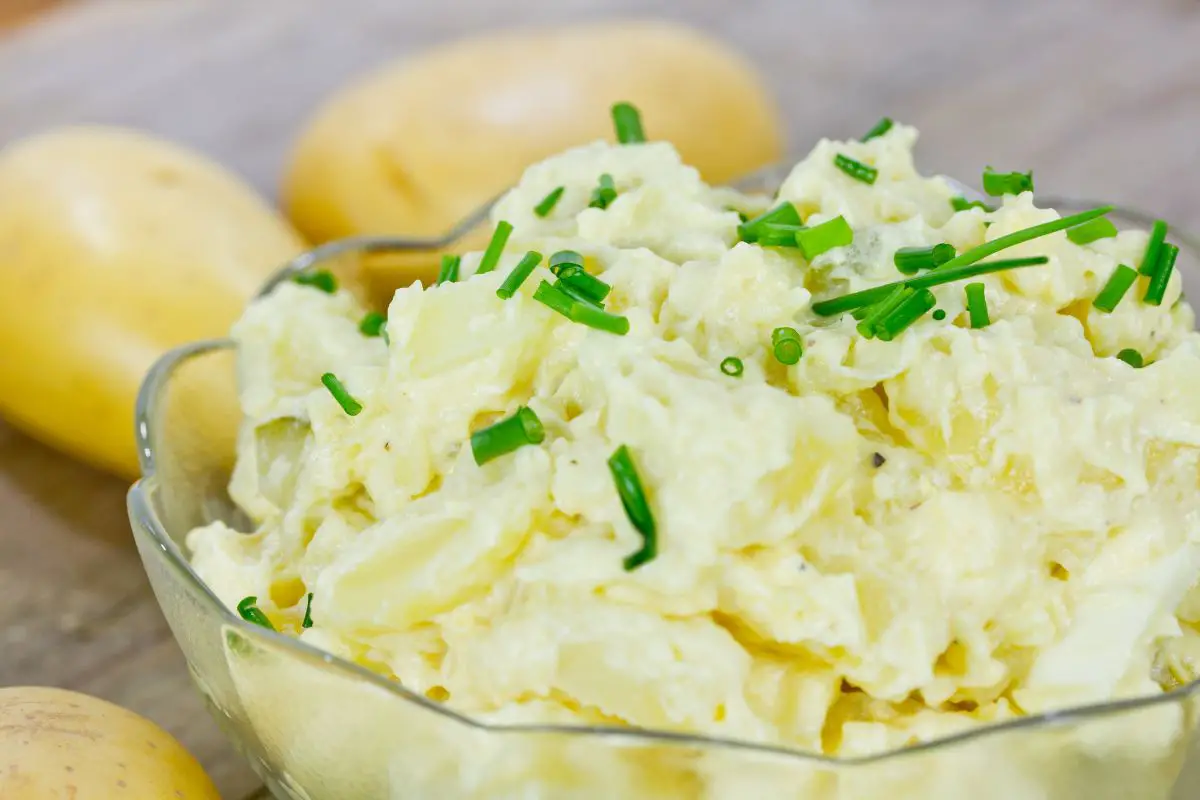 Potato salads are always great accompaniments to picnics and barbecues. Not only are they classic dishes that are easy to prepare, but there's also something about the flavor combination that just works well with other food items.
In this article, you will find some amazing recipes for side dishes that will perfectly complement your classic potato salad. 
From refreshing sandwiches to juicy burgers, we've got something for everyone. Get ready to take your barbecue spread up a notch!
Why Should You Consider Serving Side Dishes Alongside Potato Salad?
Potato salad is usually served with burgers or ribs, but it can also be paired with more simple snacks such as eggs or chips. 
Adding a dish of potato salad to your meal can really elevate the experience. Not only does it add flavor and texture, but it also helps fill you up without taking away from the main course. 
Potato salad is able to pair with any type of food, so you don't have to worry about finding something that goes well together. So if you're looking for an easy yet delicious side dish for your next meal, consider adding some potato salad!
What Side Dishes Can You Serve Alongside Potato Salad?
Potato salad is a classic dish that can be served with a variety of meals. It's the perfect accompaniment to grilled meats, sandwiches, and other summer favorites. 
But what should you serve with potato salad? There are many delicious options that will make your meal complete.
One great option is a fresh green salad. A simple combination of lettuce, tomatoes, cucumbers, and onions makes for a light and a refreshing side dish to pair with the creamy potatoes in your potato salad. 
For something heartier, try adding some roasted vegetables like bell peppers or zucchini to your green salad. You could also add some cooked beans or chickpeas for extra protein and fiber.
1. Barbecue Ribs
Barbecue ribs typically are a classic dish for outdoor cook-outs and small get-togethers. They have a delicious smoky flavor that is sure to please any crowd. 
Potato salad is an ideal side dish for barbecue ribs because it adds a refreshing contrast in texture and flavor. 
It's also easy to make and the salad be prepared ahead of time, so you don't have to worry about last-minute cooking.
The potatoes are boiled until tender and then mixed with mayonnaise, mustard, celery, onions, pickles, or other ingredients of your choice. 
2. Grilled Chicken
Grilled chicken actually is a classic dish that everyone loves. It's a great protein source and can be grilled or cooked in many different ways. When it comes to side dishes, potato salad is the perfect accompaniment for grilled chicken. 
The creamy texture of the potatoes contrasts nicely with the smoky flavor of the chicken, while the mayonnaise and mustard add a tangy kick. 
Potato salad also helps to balance out any strong flavors from sauces or marinades that are used on the chicken.
Potato salad itself is an incredibly versatile side dish that can be made in many different ways. You can use boiled or roasted potatoes, as well as add other vegetables such as carrots or celery for extra crunch and flavor. 
The dressing can be changed depending on your preference; you could use a vinaigrette, yogurt-based dressing, or even just some olive oil and herbs. 
No matter how you make it, potato salad is sure to be a hit when served alongside grilled chicken!
3. Hamburgers
Hamburgers are a classic favorite for any backyard party. Whether it's a family gathering or a summer barbecue, you can always count on burgers to be the star of the show. 
A juicy beef patty sandwiched between two toasted buns is enough to make anyone's mouth water! But what makes burgers even more delicious? A side of chilled potato salad! 
The creamy potatoes balance out the burger perfectly and give it an extra kick of flavor. Plus, it's a great way to add some variety to your meal.
When it comes to burgers and potato salad, there really is no wrong combination. Both dishes are packed with so much flavor that they just work together! 
You can even get creative and top your burger with some crunchy bacon bits or add some diced onions for extra texture. 
No matter how you serve them, hamburgers and potato salad will always be a winning combination at any backyard party!
4. Sandwiches
Sandwiches are easy to make and require minimal effort in the kitchen, making them perfect for those who don't have much time to spare. 
Whether it's a ham, cheese, or chicken sandwich, they all blend perfectly with creamy potato salad. Potato salad is an excellent dish that adds flavor and texture to any sandwich. It's also incredibly easy to make and requires very little preparation time.
For those looking for a quick and easy meal to enjoy at home, why not try your potato salad in a sandwich? All you need is some bread, your favorite filling, and some freshly made potato salad. 
You can even add some extra ingredients like lettuce or tomatoes if you want something more substantial. 
The combination of the crunchy bread with the creamy potato salad makes for an incredibly tasty snack that will leave you feeling satisfied. So next time you're in need of a quick meal, why not give this delicious combo a try?
5. Boiled Eggs
Hard-boiled eggs themselves are a suitable side dish to add to potato salad, as they provide many flavors. 
Potato salad with boiled eggs (Check out What Side Dishes Go Well With Fresh Egg Salad) is an easy and delicious meal that can be enjoyed by anyone. It's also very versatile; you can add different vegetables or herbs to give it more flavor. 
You can also use different types of potatoes such as sweet potatoes or red potatoes for added texture and color. This dish is perfect for summer barbecues or potlucks, as it's certain to please everyone in attendance!
6. Crushed Nacho Chips
Potato salad and crushed nacho chips are a fantastic way to add some crunch to your meal. It requires minimal effort, making it perfect for when you're looking for something quick and tasty.
This delicious combination of potatoes and nacho chips is an ideal snack or side dish for any occasion. 
Not only does it taste great, but the overall dish looks amazing too! The vibrant colors of the potatoes combined with the golden brown of the nacho chips make for an aesthetically pleasing dish that everyone will love. 
So why not give this unique twist on potato salad a try? You won't regret it!
7. Grilled Salmon
Potato salad and grilled salmon make a delicious combination. The mild taste of the salmon complements the creamy texture of the potato salad, creating a well-balanced meal. 
To add some extra flavor to this dish, we suggest spicing up the salmon with bold ingredients. Yellow mustard is an excellent choice for this purpose; its hot tang adds a nice kick to the otherwise bland fish. 
For an even more special touch, scatter some crème fraîche on top of your potato salad and grilled salmon. 
This will give it a rich and creamy flavor that will take your meal to the next level.
8. Steak
Steak is a classic favorite for many people, but it can be expensive. To make sure you get the most out of your steak dinner without breaking the bank, you should pair it with something hearty and delicious. 
Potato salad is the perfect accompaniment to steak. It's affordable enough that you can host a fancy backyard party without going over budget.
Potato salad is a great way to add flavor and texture to your steak dinner. You can use potatoes in all sorts of ways, from mashed potatoes to roasted potatoes or even boiled potatoes with herbs and spices. 
You can also add other ingredients like bacon, cheese, onions, peppers, celery, and more for an extra boost of flavor. 
With potato salad on the side, your guests will be sure to enjoy their steak dinner without feeling like they're missing out on anything!
Final Thoughts
Whether you're looking for something to serve with grilled salmon, steak, or even nacho chips, potato salad is a perfect choice. 
It's so simple to make and can be customized to suit any taste. Plus, it's affordable enough that you can host a fancy backyard party without going over budget. So why not give it a try? We guarantee you won't regret it!
What Should You Serve Alongside Potato Salad? 8 Incredible Side Dishes
Course: Sides
What side dishes are a good pairing for potato salad? Well, we can find out more below by diving into our article detailing 8 incredible side dishes.
Ingredients
Barbecue Ribs

Grilled Chicken

Hamburgers

Sandwiches

Boiled Eggs

Crushed Nacho Chips

Grilled Salmon

Steak
Directions
Pick a recipe from above
Click the recipe name and visit the website
Collect the ingredients and the food
Enjoy- don't forget to leave a review