Barbeques in the backyard or on the beach call for some smoked chicken, and chicken breast is one of the healthiest and, dare we say, tastiest parts of the poultry you can cook this way.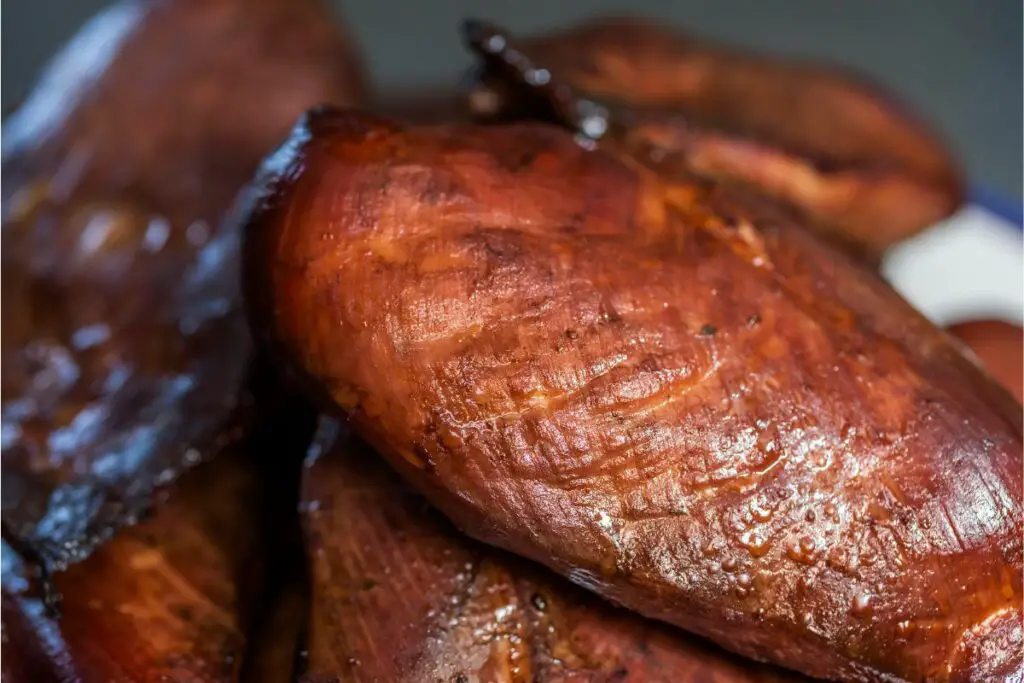 However, smoked chicken breast is best enjoyed with a side dish, and in this article, we have 13 side dishes you can pair it with!
A classic coleslaw goes great with all kinds of meat, providing them with some freshness and making them easier to eat even when they are overcooked.
In the case of a smoked chicken breast, having coleslaw on the side is ideal, as the carrots and cabbage with their crunchy texture go great with the juicy and tender chicken slice.
A coleslaw salad is typically served cold, and the mayonnaise included in this salad means you need no extra sauces and thus calories to enjoy your protein.
A warm goat's cheese salad can be a complete meal by itself, but if you have a small serving as a side dish to a smoked chicken breast then you can enjoy both of these meals together.
The smoked flavor of the chicken breast meets the warm veggies included in the salad that is marinated with balsamic vinegar, olive oil, and herbs.
Eggplants, zucchini, salad leaves, peppers, and lots of goat's cheese are the main ingredients of this salad, and since all of them go great with chicken, why wouldn't this salad be a perfect pairing to it?
Greeks love chicken and their Greek salad is a staple centerpiece in every lunch or dinner table with so many of their chicken recipes.
This alone makes it enough of a reason to try pairing your smoked chicken breast with a Greek salad.
Tomatoes, cucumber, onion, olives, green bell peppers, and feta cheese are the star of this colorful salad that would, however, be incomplete without a generous drizzle of olive oil and an equally generous sprinkle of oregano.
A smoked chicken breast has its own rich flavor, so you might not want to overcomplicate things by serving it with a side dish that has lots of different ingredients and flavors.
In that case, a classic potato salad can be just perfect for you, as you can make it with nothing but potatoes, mayonnaise, olive oil, salt, and pepper.
Of course, you can always add some extra ingredients such as capers and shallots, even top your salad with parsley. This will make it more interesting but still great for your chicken.
Crispy potato fries are always a good idea for any kind of meat or poultry dish, but we are not talking about some classic French fries.
Even though that is another obvious option you can go with, baking some sweet potato fries is a much better alternative for a side dish to your smoked chicken breast.
The sweet taste of the vegetable that's been cut into sticks and baked until crisp and seasoned with the right herbs and spices is simply irresistible.
Coated with a bit of cornstarch, garlic powder, black pepper, and smoked paprika, these sweet potato fries are quite smoky in flavor too, so consider this a match made in heaven!
We do, however, understand your need to try something different than fries, especially when you are used to having them with other meals throughout the week.
Even if you choose not to make sweet potato fries, you can still use your sweet potatoes as a side dish for the smoked chicken breast.
A sweet potato puree is a smart choice for a chicken dish as you can easily use it as a dip for your chicken slices or simply enjoy a spoonful of it after every chicken bite.
Made with sweet potatoes, buttermilk, butter, and milk, a sweet potato puree needs nothing but salt and pepper added to it (sometimes neither) to taste amazing.
Crispy on the outside and fluffy on the inside, roasted potatoes are a side dish you can't go wrong with.
It might sound like the safe choice or the easy option, but the truth is that roast potatoes are not that easy to make, and you can easily end up with very soft potatoes that taste just like boiled ones.
Having said that, roast potatoes are certainly a good match to some smoked chicken breasts, and if you cook them right you won't even need to add any gravy or sauces to make your meal better!
If you have a low appetite but still want to serve your chicken with a side dish because eating it plain is just not ideal, you should make some roasted carrots to have it with.
Carrots are low in calories and adding a bit of oil to roast them won't add too many calories or density to your meal.
Sprinkled with salt, pepper, and thyme, you should bake your carrot at high temperatures to bring out its natural sweetness.
The best part? You can enjoy them whenever and however you want, meaning they can be served warm, at room temperature, or even cold!
Summer days call for corn on the cob and so does a smoked chicken breast meal!
Corn on the cob is super easy to make and it is a standard side dish for many meals, regardless of whether they include chicken, pork, beef, or vegetarian.
To make some corn on the cob you need to bake or barbeque the corn after you've spread some butter on it.
You can also mash the butter with garlic and parsley to add more flavor to your side dish, but if you want to keep it simple it will still taste great!
While you can always buy some canned baked beans from the supermarket or the local grocery store, making your own homemade baked beans will make this side dish taste better and be more suitable for your chicken.
That is because you can make it a bit smokier by adding some paprika to the sauce, including the fact that it will simply taste fresher.
Cooked in a chicken broth, baked beans already have a milk chicken aftertaste, and their tomato sauce combined with the chicken in every bite feels just like it is too good to be true.
Sometimes simplicity is key, and just like in the case of some French fries, rice is a safe but still more than a decent option that you can serve as a side dish to your smoked chicken breast.
You can choose from brown rice, wild rice, long-grain white rice, or any other variety you want or have in your pantry.
To make the perfect rice, you need to use the right water-to-rice ratio and then add salt and pepper to taste. You can also add some butter and fresh herbs like parsley when serving to make your meal a bit more special.
High in fiber, with a good amount of protein, and low in calories, green beans are the penultimate side dish recommendation we have on this list that you can serve with smoked chicken breast.
Easy to cook, you can boil them, fry them, or sauté them, but we do think that sauteing them with some garlic cloves in a bit of olive oil is more than enough to satisfy everyone and still let the chicken you made be the star of the table!
With a touch of olive oil, grilled asparagus is the last item on this list you can serve with a smoked chicken breast, and even though it is at the bottom of the list, it is still one of the best options.
If you are a fan of bacon-wrapped asparagus, then imagine just how good it will taste with some perfectly smoked chicken breast.
Needless to say, this is a 10/10 combo!
The Bottom Line
Depending on how hungry you are, you can make one or more of these side dishes to serve your smoked chicken breasts with.
From veggies like potatoes and corn to grains like rice, choose the ones you like the most and enjoy your meal!
13 Side Dishes To Pair With Smoked Chicken Breast
Course: Sides
Directions
Pick a recipe from the list above
Click the recipe name and visit the website
Collect the ingredients and cook the food
Enjoy – don't forget to leave a review