Potatoes are one of the most versatile ingredients in the world. They can be prepared and cooked in so many different ways and one of the most delicious ways you can eat them is as scalloped potatoes.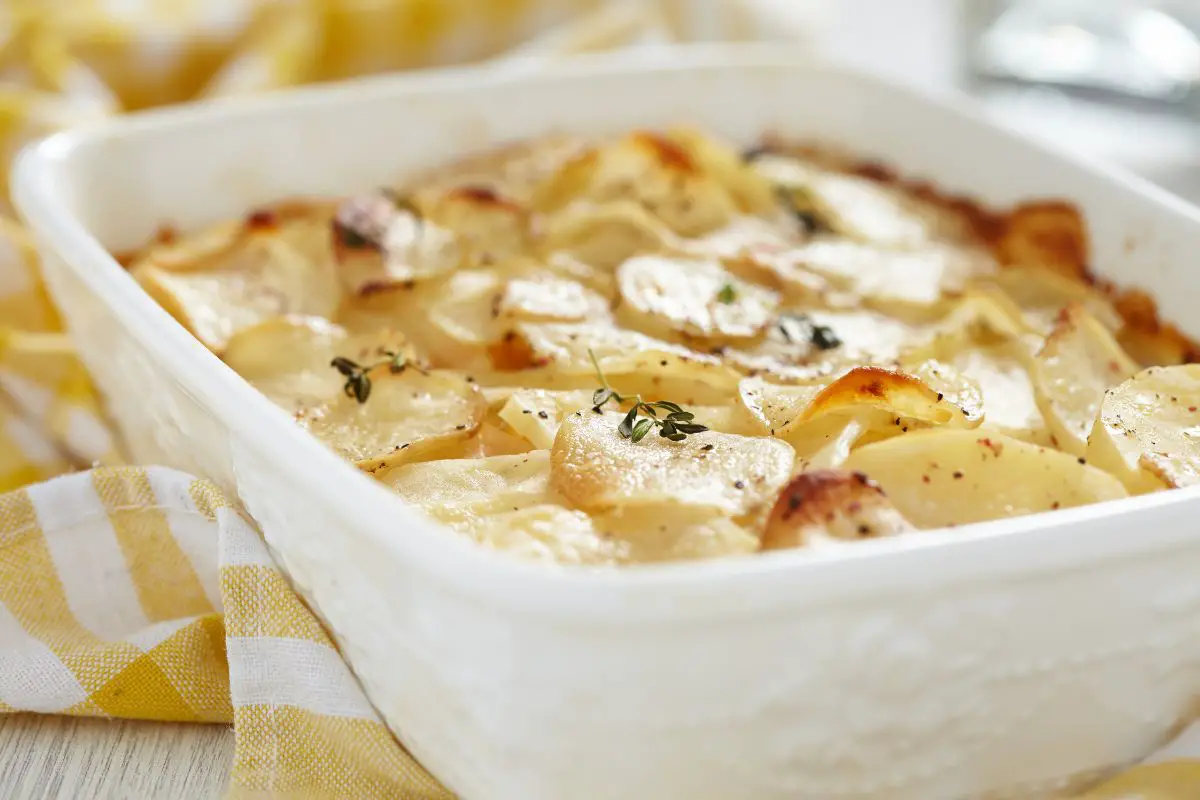 Scalloped potatoes are like a casserole and feature potato slices that are cooked in a creamy sauce that is full of herbs and flavors.
Usually, scalloped potatoes are served as a side dish to a meaty main course, but they can also be the star of the show in their own right.
If you're preparing scalloped potatoes for your family but are unsure of what dishes to serve with them, then don't worry! In this article, we will list seven amazing dishes to serve with scalloped potatoes.
No matter what your tastes are, there is sure to be a dish here for you.
Why Serve Side Dishes With Scalloped Potatoes?
Although scalloped potatoes are a delicious dish in their own right, they're not made to be the only dish that is eaten for a meal.
As it is simply potatoes served in a creamy sauce, scalloped potatoes are missing a lot of nutrients and vitamins that are essential for us to eat.
Potatoes are high in carbohydrates and the dairy products used to make the sauce are high in fat. To balance this out, you will need to add other dishes to your meal.
Both potatoes and creamy sauces are very heavy as well and eating just these will not do your digestion and energy levels any good either!
This is why scalloped potatoes are regularly served alongside dishes that contain meat or vegetables. Both of these options are rich in the nutrients that scalloped potatoes lack and can balance out the heavy creaminess of the sauce.
But what side dishes are best to serve with scalloped potatoes? Let's find out!
What To Serve With Scalloped Potatoes
We've collected a list of the best dishes that you can serve with scalloped potatoes. Try out these delicious options and they're sure to make your scalloped potatoes taste even better!
We've listed them in alphabetical order.
1. Copper Pennies
Copper pennies is a traditional recipe that has long been popular in the south. You can serve it cold or warm and it's suitable for any meal at any point of the year. It's a very versatile dish that is healthy and packed with goodness.
We love matching copper pennies with scalloped potatoes because it brings the vegetables that scalloped potatoes are missing. The flavors of the marinade are a great contrast to the creamy sauce found with the potatoes as well.
There's a great mix of savory and sweet flavors in this dish and like scalloped potatoes, it's great comfort food!
You will need to cook the carrots first but the rest of the dish is simply thrown together and mixed, making it easy to prepare.
Try these recipes for copper pennies:
2. Honey Garlic Pork Chops
We stated earlier that both vegetables and meat are great accompanying dishes for scalloped potatoes and this recipe brings the meat to the table.
Pork chops are a great choice for a meat dish as they don't take long to cook, are tender, and don't have an overpowering taste.
In the case of this recipe, the pork chops are fried in a honey and garlic glaze. This gives your chops a delicious caramelized edge while leaving the meat juicy and tender. The marinade works with the pork to make it taste even better.
Try these recipes for honey garlic pork chops:
3. Mediterranean Salad
If time isn't on your side but you still want a healthy and delicious side dish for your scalloped potatoes, then you can't go wrong with a Mediterranean salad.
The exact ingredients in a Mediterranean salad can vary from recipe to recipe, but they should always include tomatoes, cucumbers, and a dressing. You can make your own dressing with some olive oil and lemon juice.
Once you have that base, you can get as complicated as you want by adding more and more ingredients! We like adding black olives, Feta cheese, and bell peppers.
As scalloped potatoes are served hot, this refreshing salad can be a great contrast and palate cleanser. You'll get a hit of nutrients and vitamins from the salad ingredients and the dish complements your scalloped potatoes perfectly.
Try these recipes for a Mediterranean salad:
4. Mexican Bean Soup
If you're serving scalloped potatoes during colder weather, you will want a side dish that can keep you warm and full. This Mexican bean soup is the perfect choice as it's hearty and filling, and will warm you from the inside out!
The main ingredient in the soup is beans and you can use any type of beans you want. We like using a mix of beans, such as black beans and red kidney beans, and you can easily use frozen or canned beans as well. The liquid in the soup comes from vegetable stock.
This dish is entirely vegan and you can add a variety of vegetables to it. You will need a can of tomatoes, but consider adding carrots, sweetcorn, onions, and bell peppers as well.
Try these recipes for a Mexican bean soup
5. Roasted Brussels Sprouts
Although Brussels sprouts aren't to everyone's tastes, they're a great option for a scalloped potatoes side dish. There are several ways to cook them but we recommend roasting them in the oven.
Boiling Brussels sprouts can make them too soggy and that's why we like to roast ours.
Add a little olive oil to your Brussels sprouts, put them on a baking tray, and let them bake in the oven for around 30 minutes. The unique nutty flavors of the vegetables will come to the fore and you'll also have sprouts that are a little crispy around the edges. 
Don't overload your baking tray as they can release moisture as they roast and when they're tightly packed together, this can also lead to soggy and mushy sprouts.
Try these recipes for roasted Brussels sprouts:
6. Salmon Pasta
Fish is always a great ingredient to include in any meal because of its benefits and salmon is no different. It's high in omega-3 oils which can benefit your body in several different ways. 
Salmon also pairs wonderfully with pasta, as you'll find if you try this dish. There are many different types of pasta that you can use but we like matching salmon with spaghetti. Slice up the salmon filet so it's in more manageable chunks and mix it with the pasta.
Like other types of fish, salmon matches best with a creamier sauce and this also complements the scalloped potatoes.
Try these recipes for salmon pasta:
7. Skillet Ham And Rice
Although scalloped potatoes are already loaded with carbohydrates, you'd be surprised at how well they match with any rice dish. We don't recommend trying plain rice, but recipes such as this that feature rice cooked in a skillet with other ingredients will always pair well.
The entire dish can be cooked in a single skillet making it quick and easy to make. The core ingredients are rice, ham, chicken broth, and some green onions. Add some cheese to make the dish even more delicious!
You can use plain white rice for this dish, but don't be afraid to branch out as well and try some jasmine or basmati rice instead. 
Try these recipes for skillet ham and rice:
Final Thoughts
In this article, we introduced seven amazing dishes to serve with scalloped potatoes. We included a variety of different dishes so no matter what you're looking for, there is sure to be something here you will enjoy. 
We hope you enjoy our choices and bon appetit!
7 Amazing Dishes To Serve With Scalloped Potatoes
Course: Sides
Directions
Pick a recipe from above
Click the recipe name and visit the website
Collect the ingredients and the food
Enjoy- don't forget to leave a review