A rack of lamb is tender, tasty, and truly tantalizing. The issue isn't with the lamb itself, but what to serve with it! There are so many options available, it can be difficult to pick a direction if you are new to the cooking scene.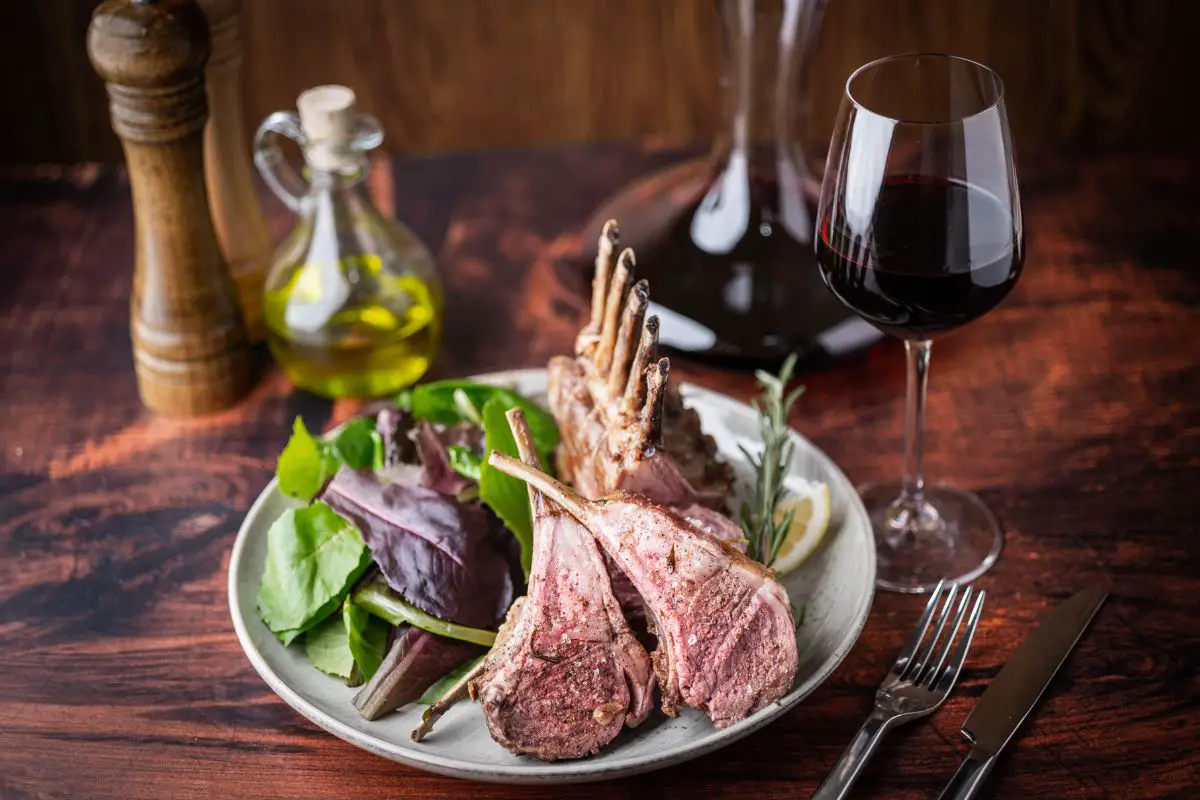 Luckily, we can help if you feel like you are in need of some side dish suggestions. From honey beer bread to fig crostini and even mint chutney, there are lots of side dishes that work a treat with a rack of lamb. 
So, if you want to make your life a little easier, just read on. We will cover what you need to know about each of these dishes, including a great recipe to follow.
Sounds good?
Let's jump in. 
18 Mouthwatering Side Dishes To Serve With Rack Of Lamb
Honey beer bread is a delicious and easy side dish that everyone should try with their rack of lamb at least once.
This delightful bread is soft and fluffy on the inside and perfectly crispy on the outside. The flavors in this bread are undoubtedly perfect for the rich lamb, and will keep you coming back for more. 
You can alter the flavor of the bread by using different beers, so you know that you can always end up with something you love. Use porters and stouts for a robust flavor, and opt for a pilsner or blonde ale if you want a more mild loaf.
This isn't just any couscous – it's Moroccan couscous. This means that you are in for a real treat if you choose to recreate this dish. In this recipe, there are loads of great vegetables and flavors that will instantly pull you in and make you fall in love.
The best part is that this recipe is so easy, and doesn't take a lot of time out of your day. The flavors are perfectly complementary to the lamb rack, so we guarantee that you will love it.
Concannon is a delicious combination of mashed potatoes, kale or cabbage, and a few extra ingredients of your choice. Some people like to add spring onions, bacon, or thick cream to add extra depth to the dish. 
You should experiment to find all your favorite flavors and make your own concoction. Whatever you choose, the texture alone will be perfect to pair with a rack of lamb. If you make the lamb super moist, you can have a delightful gravy to enjoy with the colcannon!
Sweet potato fries offer some delightful crispiness as well as a lovely sweetness to fall back onto. The combination is perfect for the rich and savory rack of lamb, and will certainly make you feel like you're taking a bite of heaven. 
These fries are not only delicious, but they are also incredibly easy to make, even from scratch. You can get the perfect crispy result if you have an air fryer.
Brussels sprouts are something that you either hate or love. However, if you hate them, then it's fair to say that you just haven't been cooking them right! It also helps to use younger sprouts, as they haven't had the chance to get bitter yet. 
Caramelized sprouts will always be a winner, and the crispiness they offer is a great complementary factor for the soft and tender lamb rack. 
A potato and leek gratin is perfect for cold evenings when you want something to warm your bones up with the tender lamb rack. It's filling, perfectly savory, and offers a lovely crispy top when it's done right!
The leeks will add some extra depth to the dish, and every layer will be perfect. This might become your new go-to side dish whenever you have a rack of lamb, so be prepared for the whole family to love it.
Since a rack of lamb is already a great dish to have in the fall and winter, why not go all the way and serve some balsamic honey roasted vegetables on the side?
These will complement the rich lamb rack wonderfully, and can even be cooked alongside it to soak up all the wonderful juices!
Roasted vegetables are always a winner in the cold months, and they will also work great with cracker barrel carrots or a green bean casserole!
Looking for a dish that sits on the other end of the spectrum to your lamb rack? This fig crostini adds some much-needed and delicious sweetness to the overall dish, but will complement it wonderfully. 
It's easy to make, and is going to be a favorite for everyone. The black pepper and balsamic honey glaze added to the top really pulls the flavors of the dish out.
Looking to break up all the warmth at dinner? This watercress yogurt soup will give you exactly that! Served chilled, this soup might surprise your guests, but they are going to love it nonetheless.
There's a delightful peppery flavor in this that pulls the individual flavors out, and complements your warm and rich rack of lamb. 
This is a great side dish for summer, and will cleanse the palate between mouthfuls. Everyone is going to love this as an option at the next event. 
These cracker barrel or glazed carrots are super simple to make, and always go down a treat. Thanks to the sugar they get cooked with, they get deliciously sweet with a crispy outside. The natural sweetness of the carrots are brought out, too. 
This makes it the perfect complementary flavor and texture for the rack of lamb, so you can get a break from the rich savory when you need to! 
You read that right. This unusual side dish is surprisingly easy to make, and the results are far better than you could ever expect. All you need are puréed carrots, eggs, butter, and a little sugar, and you can enjoy this as well!
The texture is soft and decadent, and the flavor is better than you could imagine. It's a simple and classy way to incorporate carrots into a dish, and it pairs wonderfully with the savory lamb rack.
Lamb and sweet potato seems to be a classic combination, and we couldn't agree more. Sure, you could have sweet potato fries (as mentioned previously), but there's something heartwarming about sweet potato mash. 
You can make this mashed sweet potato dish as creamy as you like, and season it however you like! Experiment with different flavors to find something that you can't get enough of. 
If you are looking for a vegetarian option to enjoy with your tender lamb rack, then this asparagus risotto could be what you are looking for. It's full of delightful and rich flavors, and the texture is simply to die for. 
It's light and creamy, and has the delicious lemon and basil flavors that we already know work wonderfully with lamb. You won't be able to get enough of this combination. 
You already know that garlic bread is a winning side dish that works with just about everything. So, why not enjoy it with your tender rack of lamb the next time you try it? You can enjoy everything in one mouthful and enjoy the bliss, or have them separately. 
The texture of the garlic bread is perfect to combat the tender lamb, so your mouth is going to thank you!
A Greek dish, this lemon and dill rice will make you feel like it was made for a lamb rack! The flavors in this dish aren't overwhelming, and complement the rich lamb wonderfully. Even better, it's so easy to make, so you never have to spend too much time preparing it. 
Get a scoop of this delightful rice and combine it with the lamb to have the best experience possible. You won't regret it. 
If you would like to have something wonderfully refreshing with your tender rack of lamb and are willing to try something new, consider this! An apple and pomegranate salad is ideal for a summer dinner. 
In this dish, you will find crispy apple, pomegranate seeds, salad greens, feta cheese, and either walnuts or pecans. It's full of goodness and is beyond delicious.
You have some freedom when choosing your salad greens, so you can be sure to make a dish that you and everyone else will love if you want to avoid ingredients like arugula!
This super easy and refreshing cucumber and radish salad is almost too good to be true. With just a few simple ingredients, you can make one of the most refreshing and delightful side dishes to pair with your lamb rack of lamb!
You need some fresh cucumbers (Persian, ideally), radishes, green onions, dill, lemon juice, and some salt and olive oil. In just a few minutes, you can find your new favorite salad dish!
Everyone knows that mint and lamb is a match made in heaven. While a mint chutney is not going to fill you up like these other side dishes, you can't miss out on this classic flavor when having any kind of lamb dish. 
It's the perfect dip for this dish, and will complete it like nothing else. Mint chutneys and sauces also work well with a variety of vegetables – like roasted root vegetables! It's definitely worth trying out.
Final Thoughts 
Figuring out what to serve with a rack of lamb doesn't need to be confusing. When you know what to look for, and which flavors work best, there are endless possibilities before you. 
Don't stop at this list. If you find something you particularly like, why not do some experimenting and make the recipe your own? You might find a creation of your own that you love even more!
18 Mouthwatering Side Dishes To Serve With Rack Of Lamb
Course: Sides
What side dishes do you serve with a rack of lamb? Read this article to find out exactly what to pair with a delicious rack of lamb for the best flavors!
Directions
Pick a recipe from above
Click the recipe name and visit the website
Collect the ingredients and the food
Enjoy- don't forget to leave a review