Hot Italian sausage is a staple meal in the Mediterranean that can be served with several different foods. It can be the sole feature of a main dish or served alongside a few tasty side dishes.
These sides can include typically Italian dishes like Parmesan Risotto and Umbrian Fava Bean Stew or something relatively straightforward like Grilled Vegetables or Sweet Potato Fries.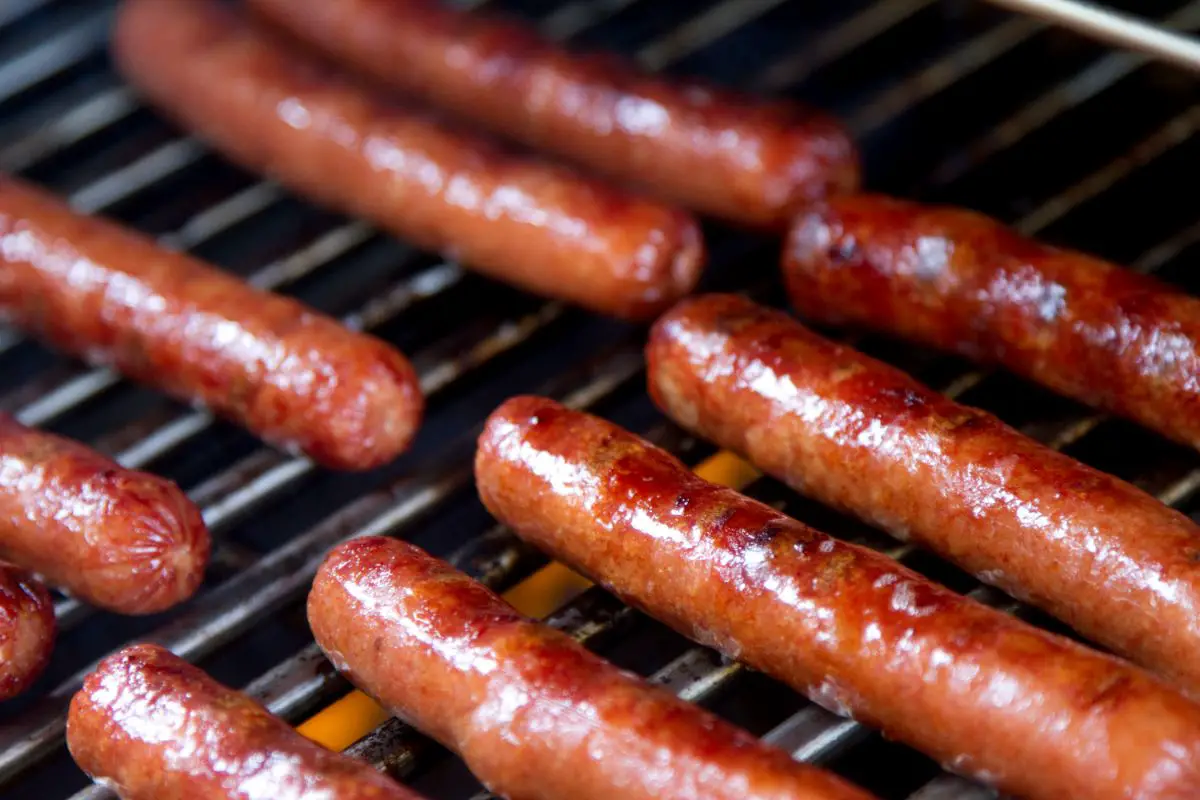 You could even pair it well with a French Potato Salad or dip the sausage and bread into some Marinara Sauce.
In this guide, we will look at eight awesome side dishes you can serve with Hot Dagos. 
Parmesan Risotto
French Potato Salad
Grilled Vegetables
Umbrian Fava Bean Stew
Marinara Sauce
Baked Beans
Sweet Potato Fries
Sautéed Broccoli
While a Parmesan Risotto may take a while, it may not be longer than cooking a few Italian sausages in a tomato-based sauce for Hot Dagos. Take your time with it and you will be rewarded.
Any Italian kitchen should have a continual supply of Parmesan cheese so you only need a few more pantry items to create a delicious batch of creamy risotto.
Heat up chicken broth in a pan and sauté finely chopped onion in a Dutch oven until tender. 
Add the Arborio rice and minced garlic then cook while stirring for a few minutes before reducing the heat and stirring in dry white wine. Once fully absorbed, gradually add the broth half a cup at a time and allow it to be absorbed.
When the rice is just about tender, add the shredded Parmesan cheese, salt, pepper, and chopped parsley. Serve once warmed through.
Potato Salad goes really well with barbecued food so you better believe it goes well with Hot Dagos.
Only the Dijon mustard and Champagne vinegar truly typify this as a French dish yet those Mediterranean vibes do pair up nicely.
As with any potato salad, begin by washing the Yukon or Red potatoes and then boiling them in a pot until fork-tender. Meanwhile, chop up parsley, scallions, and dill then create the dressing in a small bowl. 
There is a lot of flavor when you combine olive oil, Champagne vinegar, Dijon mustard, minced garlic, salt, and pepper. Allow the potatoes to cool before chopping them up into chunks.
Add the chunks to a bowl with the herbs and scallions then pour on the dressing. Toss it all together then leave the mixture to chill in the refrigerator before serving.
With the pan on for those Italian sausages, get the grates hot for some Grilled Vegetables. That can include corn on the cob, yellow squash, zucchini, but also bell peppers, red onion, and Cremini mushrooms.
This can be a really simple side dish and you can time it well by giving the Italian sausages a head start in the pan. Cut the vegetables into chunks and thread them onto skewers.
The grill should already be sprayed with a non-stick cooking spray yet also drizzle the vegetables with olive oil and seasoning to create a flavorful layer.
Grilled vegetables only require about eight minutes on either side until they become lightly charred and tender. Season to taste and then serve alongside the Hot Dagos.
Umbrian Fava Bean Stew, known locally as Scafata Di Fave, is a hearty side dish yet also holds its own as a main dish. This is a side dish you can start early while you prepare the Hot Dagos.
Start by removing the fava beans from their pods and leaving them in a bowl. In a large and heavy saucepan, heat up the olive oil to cook some chopped smoked pancetta with diced carrot, celery, and onion. 
Once the pancetta has browned and the vegetables are soft, add the garlic then chopped tomatoes and fava beans. Give the mixture a good stir before adding seasoning, fresh parsley, and red pepper flakes.
This is when you can check the Hot Dagos as you can leave the stew to cook for around half an hour until the beans are tender. Remove the pan from the heat and stir in some more parsley before serving. 
Sometimes, you simply need a dipping sauce to go with some Italian sausage and bread. Though Marinara Sauce can be added directly to Hot Dagos, you may want it on the side.
If you need a versatile sauce for pasta, specifically spaghetti, you can also create a batch but it pairs exceptionally well with Hot Dagos. Start by heating up chopped onion in hot oil until golden then add minced garlic until fragrant.
Stir in crushed tomatoes, salt, pepper, and oregano then bring the mixture to a light boil before reducing it to a simmer while partially covered. Right at the end of the cooking time, stir in chopped basil and remove the pan from the heat. 
Should you have an hour to spare, you can create a delicious batch of Baked Beans as another hearty side dish to go with Hot Dagos. Start by browning bacon slices and reserve some of the drippings in the skillet.
Sauté the diced onion in the drippings until tender then transfer to a greased baking dish and stir with the canned pork and beans in tomato sauce, ketchup, Worcestershire sauce, brown sugar, molasses, and mustard powder.
Top the mixture with the bacon slices and bake until bubbly. 
Sausage and fries are a staple combination so go a little wild with Sweet Potato Fries. Cut sweet potatoes into thick fry shapes then place them in a mixing bowl. Drizzle over olive oil and toss them all together to coat.
Sprinkle over chili powder, cornstarch, garlic powder, paprika, salt, and pepper then mix until the cornstarch has vanished.
Make sure that the fries are arranged into a single layer on a couple of parchment paper-lined baking sheets. Bake until crispy and make sure you flip over the fries and rotate the sheets halfway through the cooking time. 
Another simple vegetarian side dish you can pair with Hot Dagos is Sautéed Broccoli and it should only take ten minutes.
Add broccoli florets, salt, pepper, and sliced garlic to a pan with already-heated extra-virgin olive oil to sauté for a few minutes. Add water then cover and leave to cook until tender.
Remove the pan from the heat, add freshly squeezed lemon juice, red pepper flakes, and some more seasoning to serve. 
Final Thoughts
Hot Dagos can be a reassuring simple and rewarding dish on its own merits yet it can take a couple of hours.
While it is cooking, you should try to create a side dish that pairs up nicely which could be something vegetable-based to contrast with the meat. Sautéed Broccoli works well as it provides some bite while Grilled Vegetables have char lines. 
Other side dishes can take a bit longer to cook but with Hot Dagos, you can create a few dishes to base a huge gathering on. Imagine ladles of Fava Bean Stew and Baked Beans with Parmesan Risotto for hearty dishes that can warm the soul.
Though you can use cans of spaghetti sauce with your Hot Dagos, you can create a batch of Marinara Sauce from scratch that can also be used to create pasta dishes.
Frequently Asked Questions
What Are Hot Dagos?
Hot Dagos are an Italian-American dish that is popular amongst the working class. On its own, the dish can be considered honest and humble yet it has risen in popularity and you can find different versions.
At a basic level, a Hot Dago will be an Italian sandwich put between two slices of bread. 
The dish should be topped with melted cheese and marinara sauce, though the latter can be used as a dipping sauce. Variations of a hot dago can include soft onions, a mild patty, toasted bread, or more garlic.
How Do You Make Your Own Hot Dagos?
To create your own batch of Hot Dagos, mix together ground beef, ground Italian pork sausage, eggs, breadcrumbs, salt, pepper, ground red pepper, and Parmesan cheese.
Form the mixture into oblong patties and then brown them in a pan. Add marinara sauce to the pan and cook until the sauce has thickened before serving between two slices of bread with melted cheese.
What Should You Serve With Hot Dagos? Here Are 8 AWESOME Side Dishes
Course: Sides
Directions
Pick a recipe from above
Click the recipe name and visit the website
Collect the ingredients and the food
Enjoy- don't forget to leave a review