Cioppino is a delicious American-Italian fish stew that was created in San Francisco. It has a number of similarities with various traditional Italian stews and is typically made with scallops, mussels, a white fish like bass, and even crab. 
This dish is seafood royalty, and is well-loved all around the world. It's full of rich and delicious flavors, including a delicious, rich tomato broth that brings out every ingredient.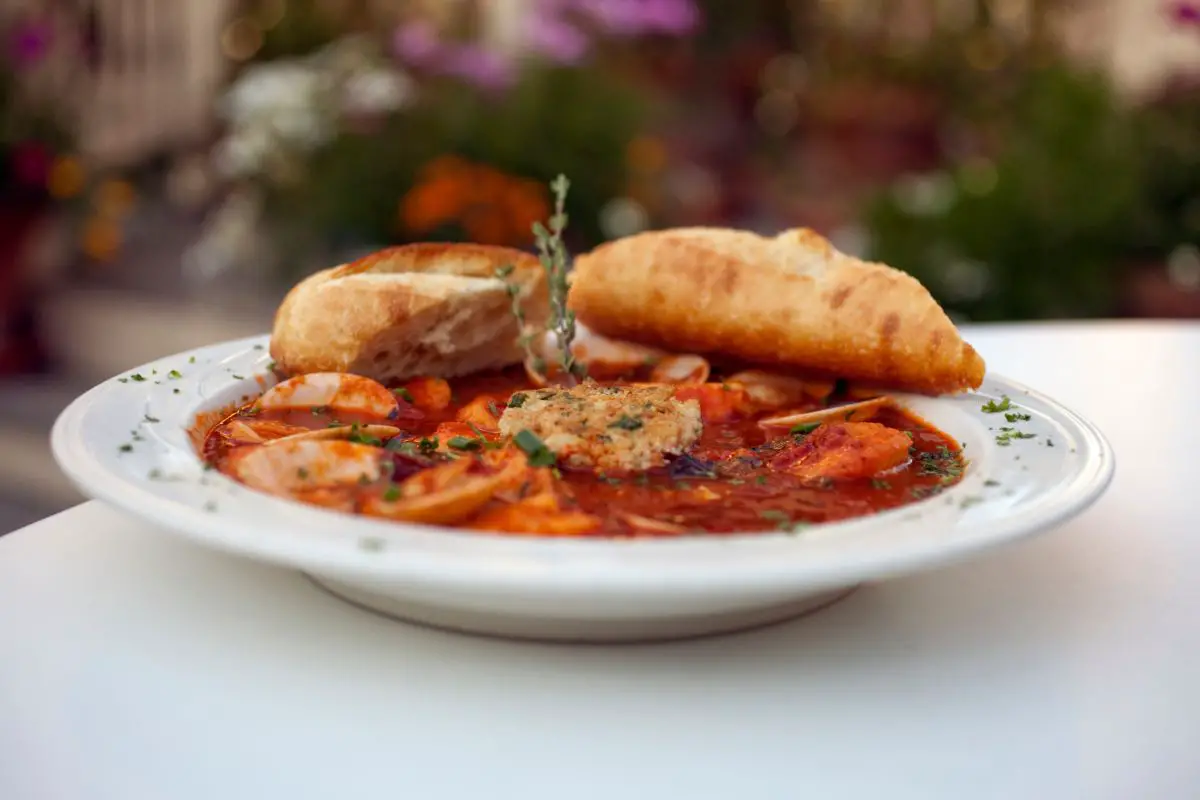 A number of sides pair wonderfully with cioppino, thanks to their delightful flavors and textures. 
From pastas and salads to fries and risottos, there are so many delicious options.
These side dishes will balance out cioppino and turn it into a hearty meal. As one of the best seafood dishes out there, you have endless possibilities when it comes to choosing a side. 
We're going to help you out by going through 13 of our favorite options, and we know that you will love them, too.  
13 Delicious And Mouthwatering Foods To Serve with Cioppino
Since cioppino is full of seafood goodness, it makes sense for a lemon pasta salad to be the perfect dish to pair with it! This lemon pasta is wonderfully refreshing and delightful, with summer flavors that make you want to enjoy this in the sun.  
The basil in this salad works wonderfully with the lemon, and you can enjoy this dish warm or cold. Of course, the potent lemon flavors throughout will complement the fish and various seafood in the cioppino, so you will be left wanting for nothing. 
Garlic and seafood are a match made in heaven, and everyone knows it. Furthermore, the light and fluffy texture of well-made mashed potato with cioppino is unbelievably delicious.
Combine the two elements, and you have two dishes that need to be tried together at least once. 
Garlicky mashed potatoes with rich and aromatic cioppino will pair all of your favorite things together – flavors, textures, and smells.
The mashed potatoes can soak up the tomatoey goodness, and offer something different during the meal, pulling the whole experience together wonderfully. 
A mushroom risotto is easy to make, but it will never disappoint. This dish can be packed full of flavor or a little more mild if you like, depending on your own preferences.
You can add chili flakes or anything else you would like to get the best experience possible. 
The creaminess of the risotto is the perfect contrast to the tomato base of the cioppino, and the mushrooms offer a mild flavor compared to the seafood.
This is a pairing that you didn't know you needed, and you definitely won't be able to get enough of it once you try it. 
Sometimes, the simple combinations are the best, and this is one of those times! Grilled corn on the rob is rustic, and always tastes incredible. Depending on how grilled you like it, you can have a mild or powerful charcoal flavor, so it's all up to you!
Slap some butter on your corn, and it's the ideal accompanying dish to your cioppino. You could also dip your corn in the lovely tomato base for some extra flavor, and enjoy the differences in spice – whatever you like!
Don't feel pressured to leave the corn on the cob, either, because we all know there's an easier way to eat it.
If you love powerful flavors, then this rocket and fennel salad will be a great option for you. It's fresh and tangy, and offers a great range of flavors for anyone who wants to experience it.
The potent flavors in this salad are perfect to enjoy alongside a cioppino. 
Just be aware that rocket is not something that everyone likes! If you don't know what to expect from this salad, only make a small serving first.
It can be a lot to take in, and there's no guaranteeing that you are going to love it as much as your friends, and that's okay.
We've already mentioned that garlic and seafood are a great pair, but regular old garlic just doesn't cut it. You want something with a little more substance – so try having these delicious garlic knots!
They are full of all those delicious carbs, have the wonderful garlic flavor, and also give you something to dip into the tomato! 
You can make the perfect garlic knots at home, or order them in if you really want to. Homemade always tastes the best, but not everybody has time for that!
Be sure to try this combination the next time you have cioppino, because your mind will be blown.
Do you love fries, but want to try a little bit different? These tasty zucchini fries might be the one for you! They are easy to make, and can even be healthy, if you like!
You can make these fries the ultimate side dish to enjoy with your cioppino by adding Parmesan cheese and panko into the mix, and making them super crunchy. 
Stick these in an air fryer or oven, and you will have a delightfully crunchy fry to stick into your cioppino. Not only are they quick and easy, but they will also pair well with just about anything else you can think of.
Looking for something refreshing that will fill you up? Try out this fennel and chickpea salad with Parmesan cheese and a light citrus vinaigrette.
It will be like nothing you have ever tried before, and will be a wonderful complementary dish to your cioppino. 
It's so easy to make, and the delightful citrus flavor will work with your seafood like a dream. There is absolutely no way that you won't love the combination.
Between the texture differences and the aromas and flavors, this combination is a winner.
If you want a side dish to pair with your cioppino that perfectly matches the colder weather, why not try simple roasted vegetables? These are filling and heartwarming, and you can season it however you prefer.
From sweet flavors like honey and sugar to more savory with herbs, or even spices, you can do what you like with roasted vegetables. 
Popular vegetables to roast include white and sweet potatoes, butternut squash, carrots, parsnips, and much more. Find what you like, season it, and roast it to perfection to enjoy with your aromatic cioppino.
Gnocchi is wonderful. It's simple, easy to cook, and can be part of your cioppino dish, or on the side with its own flavors.
If you want to make life easy, you can simply cook your gnocchi, then add it to your cioppino to allow the flavor to be soaked up. 
Alternatively, you can cook your gnocchi and create a separate dish. You may choose to purchase your gnocchi from the store, or you can try your hand at making your own.
Just be prepared to do some experimenting to get things just right, because it can take some practice!
Looking for a light and delicious side to pair with your cioppino that's also full of incredible superfoods? This quinoa salad has it all – bok choy, cucumber, nuts, seeds, chickpeas, bell pepper, and much more.
Even the dressing is a delight, and the lemon pairs wonderfully with the seafood in the cioppino. 
The differences in texture between this salad and your cioppino will be a welcome change. Not only that, but the amount of goodness in this salad is undeniable, and you won't be able to get enough of it.
The best part? You only need around 15 minutes to get this prepared!
Asparagus pairs well with so many foods, and when you add garlic and Parmesan to it, there's no denying that it is a delicious side dish. In this case, the flavors and textures of this asparagus dish work perfectly with the rich and aromatic cioppino. 
You can always try adding different seasoning options to this dish, too. If you like, you can add panko to add some extra crunch to the vegetable! 
For those who don't know, radicchio is a type of leafy vegetable that closely resembles a cabbage. They have a unique flavor – a mix of bitterness and spice.
Pan grilling this vegetable is one of the best methods to cook it, and when you add soft cheese into the mix, it becomes something incredible.
Try a side of this delightful dish with your cioppino next time you feel like trying something interesting! It's quick and easy, and might become your new favorite go-to.
Final Thoughts
Cioppino is a dish that only deserves the best. While some of the side dishes above might seem like strange combinations, they really work!
So, next time you're making yourself this delightful dish, make sure to experiment a little and try out different flavor combinations. You might find your new favorite!
13 Delicious And Mouthwatering Foods To Serve With Cioppino
Course: Sides
Directions
Pick from the list above
Click the recipe name and visit the website
Collect the ingredients and cook the food
Enjoy – don't forget to leave a review