Tuscan chicken is a delicious chicken dish that comes from the beautiful Tuscany region in Italy. The dish is made up of chicken (or a substitute), sun dried tomatoes, spinach, mushrooms, fresh herbs, and a cream or cream alternative. 
It's incredibly easy to make, and tastes amazing. However, some chicken and sauce doesn't quite make up a whole meal. For that, you need something to serve with the dish!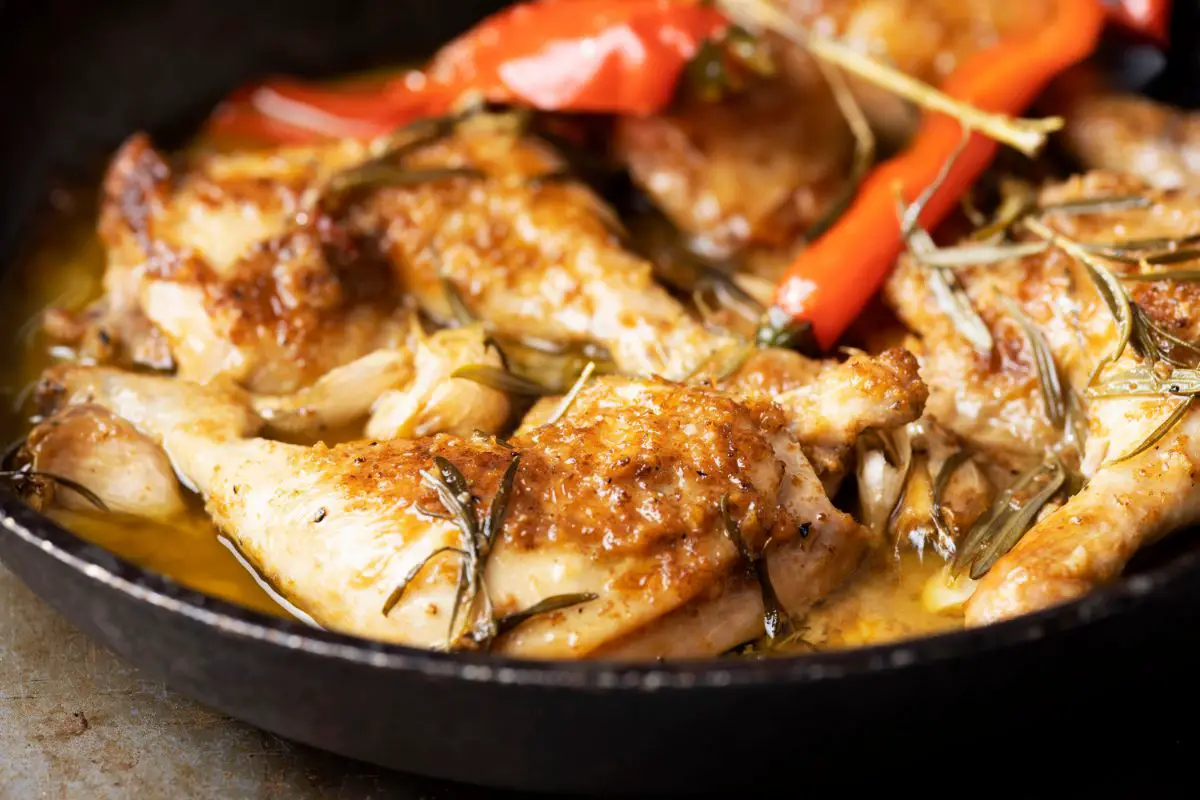 This is something that you may be struggling with – because what exactly should you be serving with your Tuscan chicken? 
The truth is, there are lots of delicious options out there to try. From simple rice and peas, to fettuccine Alfredo, or even various salads, there are endless opportunities. 
So, if you want to find out about some of the most delicious foods to serve with your Tuscan chicken, you are in the right place. We will be going through 20 of our favorite options in this article. 
20 Mouthwatering Dishes To Serve With Tuscan Chicken
The rich and creamy Tuscan chicken pairs wonderfully with a simple but tasty rice and peas. You won't have any favors combating one another, but the texture and mild taste of the rice and peas will complement the dish wonderfully. 
There are lots of different rice and peas recipes available out there, many with traditional Jamaican flavors! However, for this particular dish, we would recommend going with a simple and mild dish. 
Tuscan chicken and Tuscan white beans – it just makes sense, right? These Tuscan white beans offer a mild but pleasant flavor that works perfectly with a flavorful chicken dish.
Not only that, but the texture of the beans is a great complementary option to work with the chicken. 
The sage in this dish adds some extra flavor and depth to the overall dish, and works perfectly with the potent herby flavors of the main dish. You're going to love it!
The cheese on this asparagus really steps it up a notch, but it isn't necessary if you aren't a big fan of cheese. Regular old baked asparagus is also divine, and it will work great with the flavors of Tuscan chicken. 
If you do want to use cheese with your asparagus, we would definitely recommend pairing mozzarella with Parmesan for the perfect flavor. It's impossible not to love, and you can add any seasoning you like to spice things up.
Fettuccine Alfredo is a classic pairing for Tuscan chicken, and we do not want that to change anytime soon. The simple but tasty flavors of this dish paired with the chicken are the ultimate combination, and it makes the dish feel delightfully authentic. 
You can never have a dish that is too creamy, and everyone loves pasta. So, it just makes sense to put the two together and have a dish that you will want to keep coming back to. 
This might not be a pairing that you automatically think of when you imagine Tuscan chicken, but it really works. Why wouldn't it?
The rosemary and garlic flavors of the roasted potatoes make for the ultimate complementary flavors, and there's no arguing against that. 
Not only that, but the crispiness of the potato is the perfect opposite to the moist and soft chicken, so you can get everything you want and need in a single bite.
You can never have too many mushrooms in a dish, right? Well, if you love mushrooms, then you are going to love the combination of baked mushroom rice with Tuscan chicken!
The rich flavors from both dishes work together to create something that was made to be paired. Sauce from the creamy Tuscan chicken will moisten up the rice while infusing it with the rich sun dried tomato flavor, so you'll get heaven in every mouthful. 
Creamy mashed potatoes are already a family-favorite, so of course it will be a wonderful pairing for Tuscan chicken! Like with rice, the sauce from the chicken will combine with the delightful potatoes, turning them from something basic to a real delight. 
Since everyone already loves mashed potatoes, you already know that this pairing option is going to go down well. It's perfect for winter comfort food. 
Sometimes all you want with a rich and creamy Tuscan chicken is a simple green salad! Sure, you could have a naked salad if that's what you like, or you could step up the game with a delicious balsamic vinaigrette.
This option will be refreshing, and perfect for a summer day. Not to mention, it's a great way to get some of those much-needed vegetables that we often forget about!
Another wonderful dish option for the warmer months, this watermelon and cucumber salad is a surprising option! Sure, this salad is 90% water, but the flavors are unbeatable, and so refreshing.
On top of the watermelon and cucumber, you get to enjoy some delicious mint and even feta cheese!
This really pulls everything together to make a side dish that you are going to keep going back to. It might sound like a strange combination, but believe us when we say it works. 
Still trying to get those vegetables in, but are sick of boiled broccoli? This lemon Parmesan roasted broccoli will spice your life up perfectly. It's easy, delicious, and helps you get all those healthy vegetables into your diet. 
The lemon and Parmesan in this easy dish steps it up, making it way more likely for everyone to enjoy it. There's really nothing not to love about this classic and easy option to pair with Tuscan chicken.
Longing for something crispy to pair with your Tuscan chicken? Bruschetta could be the perfect option for you! There are lots of different bruschetta recipes out there to try, so be sure to try various ones to find out which one is your favorite.
You can try different toppings and flavors to pair with Tuscan chicken if you feel like it! From savory to sweet, there are hundreds of options. For a few delightful ones to try, check out this article.
This sweet creamed corn casserole might be a surprising pairing for Tuscan chicken, but it works unbelievably well. The flavor differences between the chicken and rich sauce and this casserole complement one another so well, so be prepared for a shock!
What's even better about this pairing is that you can either make the casserole from scratch, or just buy a pre-mixed packet. You can save time if you need to, and still get a delicious meal.
If you love lime and cilantro, then you are going to be head over heels for this cauliflower rice dish. The nuttiness of the cauliflower peeks through the cilantro and lime just enough to appreciate it, and every flavor in this dish complements those in the Tuscan chicken. 
The differences in texture are also great for this pairing. This is a great option if you want to keep things paleo and low-carb, so take notes!
Looking for something sweet and simple to pair with your Tuscan chicken? This roasted beetroot salad is going to be a real delight for you and your taste buds.
The rich, creamy flavor of the chicken and sauce will be broken up with the refreshing and sweet beet, making every flavor get pulled to the front even more. 
This is a great dish to serve with your Tuscan chicken at the height of summer, and it can be warm or cold! You will never look back after trying this combination. 
Do you love green beans? Well, why not pair those delightful beans with your Tuscan chicken! Make them even better by sautéing them with garlic and lemon to bring out the natural flavors.
Keep them a little crunchy, so you can really enjoy the contract in textures between the beans and chicken. 
You won't regret enjoying this combination any time of year. If you really want to step it up, you can add some extra sun dried tomatoes, or regular cherry tomatoes and feta into the mix.
Cheesy garlic bread goes with everything, so of course we had to mention this combination. There's bread, garlic, and cheese – so there's nothing not to love. 
You can cut up your creamy Tuscan chicken and make your own little sandwiches with the bread, or just soak up the delicious sauce with it. Either way, there is nothing not to love about this combination, so you should just try it already. 
Saffron rice has a mild and delightful flavor that will work wonderfully with Tuscan chicken. You can either enjoy them in the same mouthful, or savor each flavor individually.
The difference in taste and texture can give you a much-needed break from the creaminess of the chicken and sauce. 
This dish is the perfect option for winter days when you're in need of a little comfort food. It's easy to make, and might give you a great change to experiment with flavors a bit more!
Simple and easy, but it certainly packs a punch. This arugula, Parmesan, and pine nut salad is full of peppery flavors and great textures that perfectly complement those found in the creamy and mild Tuscan chicken. 
You should absolutely try this side dish option on a warm day so that you can appreciate the refreshing flavors within the dish. 
Fried gnocchi is so easy and quick, and you're missing out if you have never tried it with your Tuscan chicken. It offers the perfect amount of crispiness to combat the rich and creamy sauce that comes with the chicken, and also makes for a delightful snack.
You can also season your gnocchi however you like to suit your own preferences. We would recommend a garlic and herb combination so that the flavors work in perfect harmony. Add some Parmesan cheese on top, too!
Finally, the traditional spaghetti is a classic combination for Tuscan chicken, and one worth mentioning. You don't even need to make your own sauce for this, since there's plenty to go around with your creamy chicken dish!
This is a great go-to option if you want something simple.
Final Thoughts
If you love Tuscan chicken, but have never been sure of what to serve with it, hopefully this article has helped you. There are endless possibilities of dishes to try with your chicken, so don't let this list be the extent of your exploring!
Do some experimenting of your own and come up with your own creations once you find out which flavors you love. You never know what you will find! 
20 Mouthwatering Dishes To Serve With Tuscan Chicken
Course: Sides
Tuscan chicken is a classic delight, but what do you serve with it? Read this article to learn about 20 delicious dishes that you can enjoy with chicken.
Directions
Pick a recipe from the list above
Click the recipe name and visit the website
Collect the ingredients and cook the food
Enjoy – don't forget to leave a review