When we think of ice cream, the first flavors that probably come to mind are things like vanilla, chocolate, and mint. Or maybe even rum and raisin if you are feeling adventurous. 
However, there are a wide variety of ice cream flavors out there, and some of them aren't your traditional options. One of these is red bean ice cream! This flavor is a popular choice in many east Asian countries, especially Japan.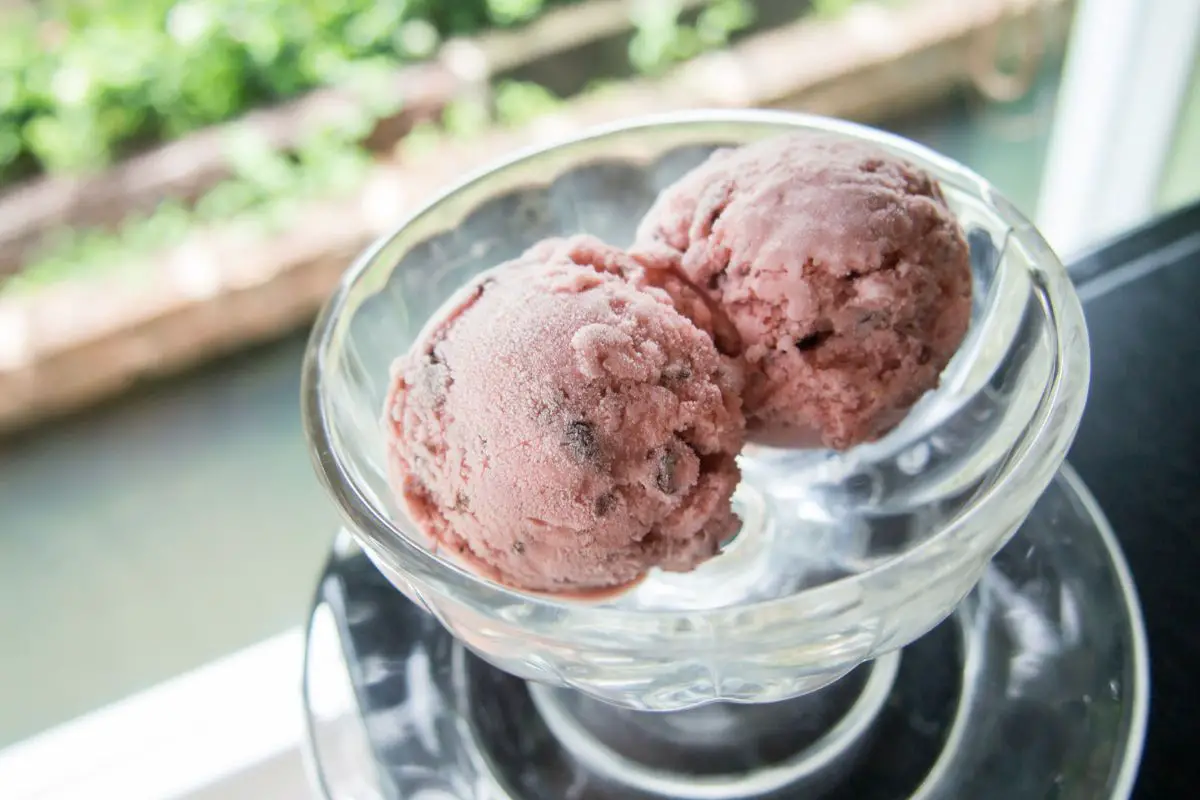 If you have never had red bean ice cream before, you might be wondering what the heck it tastes like. Red beans are savory, aren't they? Is the ice cream sweet, or is it an unusual savory spin on a globally-loved dessert?
There are a lot of important questions you might be asking yourself in relation to this dessert. So, if you would like to find out more about red bean ice cream, including what it tastes like, just read on.
We're going to cover everything you need to know about it right here in this article. 
Red Bean Ice Cream: What Does it Taste Like and Does It Taste Good?
What Exactly Is Red Bean Ice Cream?
Red bean ice cream is exactly what it sounds like! You get chocolate ice cream, or vanilla, or even bubblegum, so red bean ice cream flavor exists, too!
While this flavor is not particularly popular in Western culture (yet), it is very popular in countries like Japan. There, it is known as azuki, and can be found in every dessert spot. 
This flavor is growing in popularity in many parts of Asia, and can be used in a lot more than just ice cream. There are red bean buns, popsicles, pancakes, and so much more to try.
So, if you find that you enjoy the flavor of red bean ice cream, there are lots of delicious sweet treats to try out afterward!
How is Red Bean Ice Cream Used In Cooking?
Red bean ice cream is pretty self-explanatory as to its use. It can be enjoyed as is and eaten with a spoon, or it can be used as an accompanying dish or ingredient.
Like any other cream, red bean ice cream can be used to make things like smoothies or anything else. 
While red beans are savory, this paste is a very popular mixture and is made with a few simple ingredients to turn it into the perfect ingredient for sweet treats.
We will include a few recipes you can use to make your own red bean paste at the end of the article!
What Does Red Bean Ice Cream Taste Like?
When used in sweet dishes, red bean paste is not savory at all. The ice cream itself is usually very smooth, and the flavor can vary depending on whether regular milk or coconut milk was used to make it.
Vegan milks may also be used to make this ice cream, which will further alter the flavor you get.
The paste gives it a deep earthy flavor, which may remind you of sweet potato. It isn't too sweet, and still has the original, mild flavor of the red bean. You may also notice a slightly nutty flavor from the beans, which only adds to their pleasantness. 
Due to the natural texture of the beans, you will notice that the ice cream will have a slightly grainy texture. This may be something that you either love or hate, so just be aware of it before you dive in!
The smooth and creaminess of the rest of the ice cream usually offers people something new and exciting to try, so it can be a fun dessert to experience if you have never had it before. 
Where Can You Buy Red Bean Ice Cream?
Depending on where you are, red bean ice cream might be very easy or difficult to find. If you live in an East Asian country, you can likely find it at any grocery store or dessert shop!
However, if you are somewhere else, the search for this sweet treat will be considerably more difficult. 
If you have an Asian supermarket or store in the area, that might be your best bet if you want to get your hands on this ice cream. This will be the easiest option, and possibly the least expensive, too. 
If you do not have any Asian supermarkets or stores near you, then you will have to try finding this flavor or ice cream online. There should be online stores that supply this ice cream that can get it delivered to you in no time. 
However, there is also a third option – make it yourself! This sweet treat is actually surprisingly easy to make in the comfort of your own home, so we would definitely recommend trying it out. 
To make things easier for you, we have included two recipes that showcase how to make red bean paste, and two recipes for the ice cream itself.
They are both different, with unique recipes and flavors, so you can try them out and decide which one you like the most!
Recipes to Try Out if You Want to Make Your Own Red Bean Paste and Red Bean Ice Cream
How long it takes: 1 hour 40 minutes
Calories per serving: 45 kcal
Ingredients needed:
Dried azuki beans (7 oz or around 1 cup for every batch)
Water
Sugar (¾ to 1 cup)
Kosher salt (½ a teaspoon) – preferably Diamond Crystal
How long it takes: 13 hours 5 minutes (including soaking time)
Calories per serving: 284 kcal
Ingredients needed:
Azuki beans (200 g or around 1 cup)
Water (500 ml)
White sugar (2 tablespoons)
Dark brown sugar (2 tablespoons)
Butter or a vegan butter alternative (80 g butter, or around ⅓ cup)
How long it takes: 8 hours and 40 minutes
Calories per serving: 432 kcal
Ingredients needed:
Whole milk (1 and a ¼ cup) 
Sugar (⅓ cup) – may need more or less depending on your taste preferences
Sweet red bean paste (15 oz) 
Toasted black sesame seeds (optional, to serve – 2 teaspoons)
How long it takes: 5 hours and 45 minutes
Calories per serving: unknown
Ingredients needed:
Heavy cream (1 and a ¼ cup or 285 g)
Whole milk or 2% milk (¾ a cup or 170 g)
Light brown sugar (½ a cup or 100 g)
5 large egg yolks (or around 70 g)
Kosher salt (¼ a teaspoon)
1 ½ teaspoon Pure vanilla extract (1 and a ½ teaspoons)
Reduced corn syrup or a similar sweetener (2 tablespoons or 42 g) 
Canned prepared sweetened red bean (1 cup or 300 g)
Final Thoughts 
Red bean ice cream is smooth and creamy, with a slightly grainy texture due to the red beans. In terms of flavor, this ice cream is not overly sweet, and has a pleasant nuttiness to it. 
Overall, this popular East Asian dessert is delicious, and can be used in a variety of ways. While most people simply enjoy their ice cream as is, you can use it for things like smoothies, or part or a larger dessert. 

Depending on where you live, getting your hands on this ice cream flavor might be difficult. This is because it is not yet popular in the Western world (but it will be!).
So, if you want to make things a little easier for you, you could always try making your own. It's super easy and delicious!
Red Bean Ice Cream: What Does it Taste Like, And Does It Taste Good?
Course: Taste Like
Directions
Soak adzuki beans in water overnight. Drain then rinse well.
Put the beans into a small pot. Pour in water. Bring it to a boil then leave to simmer for 60-90 mins until they become soft and easy to crush (check the water level halfway through. Top up if necessary to avoid burning).
You may use a stove-top pressure cooker or an instant pot to speed up the process. Cook for 25 mins. Then leave to cool naturally.