French fries are a staple with many dishes we know and love. The great thing about these long, salty delights is that there's almost nothing that they can't somehow work with!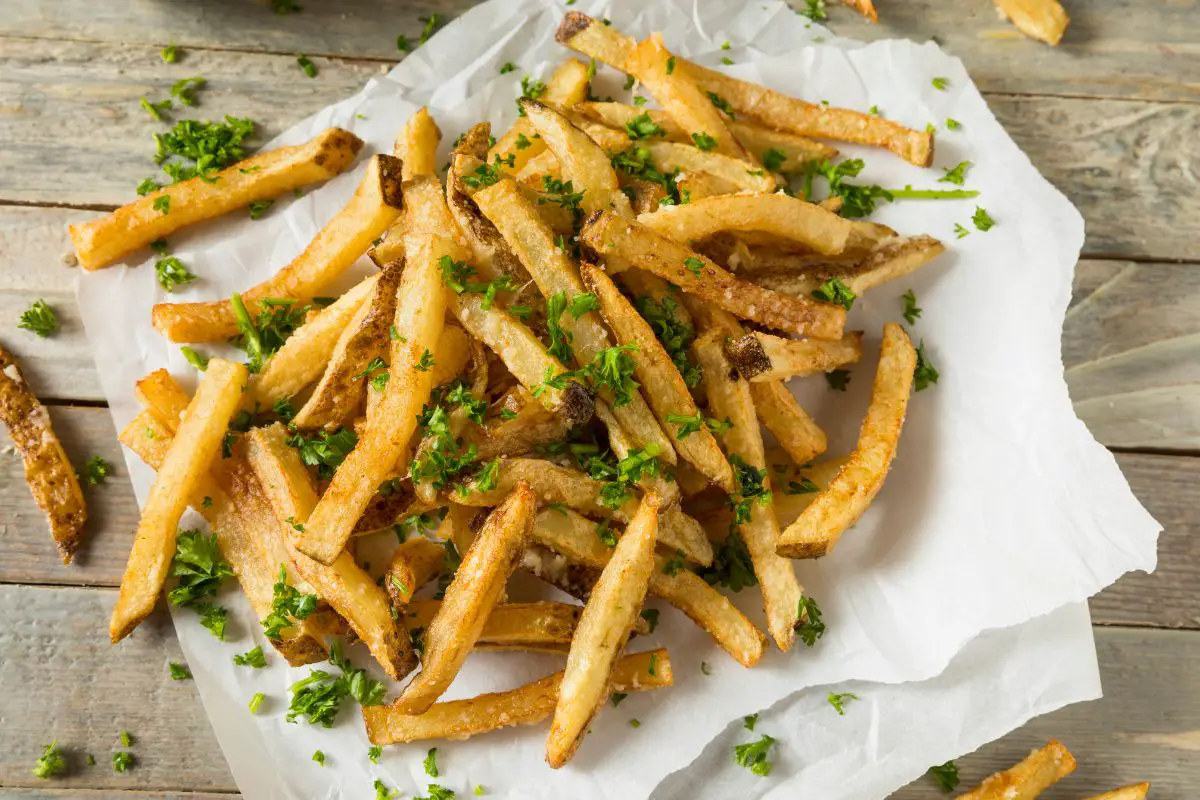 You can have your fries with a steak, burger, fish, sauces, chili, and anything else under the sun. 
This makes it an incredibly easy side dish to serve at any event. However, if you're looking for a couple of options for your fries, we've got you.
Just know what you should definitely get out there and experiment with some of your favorite foods, too. 
20 Delicious And Mouthwatering Side Dishes To Serve With French Fries
1. Flank Steak
It doesn't even have to be a flank steak if you prefer something else. There are lots of different steaks that are great for frying up, and they all pair perfectly with fries!
The crunch of a French fry alongside a juicy and tender steak is unbeatable. 
You can also add your favorite condiments and some other sides to make a whole meal, so you can get the best of both worlds. 
2. Mozzarella Sticks
Serving mozzarella sticks with your fries is a great start to a sharing platter for an event, or just for your friends.
Mozzarella sticks and a delightfully salty taste, and a texture to die for. If you go from mozzarella stick to fry and continue the sequence, you will be in heaven. 
No one can get enough of the delicious crispiness that both of these goods have to offer!
3. Turkish Eggs
Turkish eggs, or cilbir, is a delightful dish that is popular for breakfast! If you want to enjoy this dish even more, you can simply cook up some fries and dip them into the poached eggs and Greek yogurt.
The results might surprise you, but in the best possible way. 
This dish is made up of garlicky yogurt and poached eggs, along with some spicy butter and any other toppings you like. You can't tell us that it doesn't sound perfect for dipping fries!
4. Poutine
While this is technically a dish itself, it still deserves a mention. Poutine is a Quebec dish that is made up of French fries, cheese curds, and gravy.
It's full of savory goodness, and delicious flavors that will knock your socks off.
It's incredibly easy to make, and will satisfy all your French fry wants and needs. The gravy used is typically beef gravy, but you can alter it to suit your own needs or preferences. 
5. Chili
A classic chili is a delight to everyone who tries it. Yes, every family probably already has their own recipe that has been passed down for generations, but we thought we would add a great recipe to try nonetheless. 
Chili is a great dish to be dipped into, and French fries are great for dipping! Put two and two together, and you will be dipping and scooping your chili up with fries for the foreseeable future. 
6. Crispy Beer Battered Fish
If you love French fries and fish, you are going to fall in love with this delightful beer battered fish.
Most recipes for this kind of dish will use cod, but some may call for another white, flaky fish. Whichever kind of suitable fish you choose, the results are going to be absolutely delicious. 
Battered fish is a favorite in countries like the United Kingdom, and the better batter only adds to the appeal. Add some salt and your favorite sauce, and you are going to have a meal that you will fall in love with. 
7. Your Favorite Sauces
This should go without saying, really, but any sauce you love will probably pair great with French fries! You can use the traditional things like barbecue, ketchup, or mayonnaise, or try something else entirely. 
Even sauces like gravy or similar things will be a great pair, so why not give it a try? It makes for the perfect snack if you just want something small rather than a whole meal.
8. Korean Corn Dog
A Korean corn dog is a must-try if you're planning on having French fries. You can usually buy them, but making them yourself is just as easy. All you need is a hot dog, mozzarella sticks, and a few other simple ingredients. 
Add as much or as little spice as you like to the dish, and even top it off with your favorite condiments like mustard or ketchup.
9. Chicken Tenders
Everyone loves chicken tenders, or a variation of them! They are juicy and full of that classic flavor that we have all grown to love.
They're the go-to option at a restaurant you don't know the menu of, and they are just delicious. 
Coincidentally, chicken tenders and French fries are a match made in heaven. Their textures match, and you can dip both of them in your favorite sauces. What's not to love about it?
10. Southern Fried Chicken Wrap
You know what else does with French fries? Wraps. It doesn't have to be a Southern fried chicken wrap, but this is a great place to start.
This easy and delicious wrap, or any wrap, pairs wonderfully with French fries for a number of reasons, much like burgers (which we will get to). 
There are no limits to what you can do with wraps. From barbecue and mayo to sweet chili sauces, there are lots of flavors you can experiment with to find your favorite.
11. Mac And Cheese
A creamy and delicious mac and cheese is one of America's favorites, and for good reason. It's full of cheesy goodness and carbs, and you have freedom when seasoning it!
However, you don't need to stop at a regular mac and cheese dish. Add some French fries on the side, and you've got a perfect sharing platter for you and a friend. 
French fries dipped in mac and cheese might become your new favorite thing, so be prepared for that!
12. Chicken Wings
Who doesn't love chicken wings? You can have them grilled or fried, with whatever seasonings you prefer.
If you're looking for that authentic crunchy goodness, then fried wings are the way to go. These delights pair well with French fries, and will remind you of your favorite KFC meal. 
Try out different levels of spice if you're feeling brave! Think of it like Nandos, with lemon and herb through to super spicy. 
13. Tofu Nuggets
If you aren't a fan of chicken or other meat, why not enjoy your French fries with tofu nuggets? These are so easy to make, and can be flavored however you like.
Many recipes use simple ingredients like soy milk, paprika, or barbecue sauce, but don't limit yourself to that. 
These can easily replace chicken wings if you're looking for meat-free alternatives for any reason, and the fries complement them perfectly. You won't regret trying it! 
14. Hamburgers Or Sliders
There's no talking about what to pair with French fries without mentioning hamburgers! Like wraps, you don't need to stick to the basics or the recipe, but have fun and try all kinds of new things.
However, the classic hamburger can be a real winner when it comes to pairing fries. 
Don't limit yourself. Make a cheeseburger, chicken burger, or anything else you feel like. You can even add some fries to the burger itself for some added saltiness and crunch.
15. Corn On The Cob
A simple corn on the cob never goes amiss. It's a great option for sharing platters with friends or family.
You can stick to the basics of corn and boil them for a while, or you can grill them for that delicious charred flavor. Either way, they pair well with a healthy dose of butter and salt.
16. Baked Asparagus
This is another good option if you are creating a sharing platter. Baked asparagus is mess-free and easy to eat, but still delicious.
Pair it with French fries and other sides for some variety, or try them at the same time! The refreshing asparagus and salty fries will work together wonderfully.
17. Chicken Gyros
The famous chicken gyros are a favorite around the world, and it also works fantastically well with French fries! Like a wrap or burger, gyros come with some protein, carbs, and delightful additions.
The succulent chicken is placed in warm pitas, along with things like tzatziki sauce, onion, cucumber, and tomato. 
You can't go wrong with one of these, and it's something that everyone will love. French fries offer the perfect amount of saltiness and crisp to the meal.  
18. Barbecue Pulled Pork
You can do a lot with pulled pork. From enjoying it with tacos, to using it to make a burger or just eating it as is, there are endless possibilities.
If you love pulled pork, you should definitely consider using your French fries to scoop up the rich, meaty goodness. 
19. Grilled Vegetables With Pesto
If you want to make a platter with some variety, adding grilled vegetables with pesto could be a good option! Who says platters only need to have unhealthy foods?
The combination of grilled veggies with pesto and French fries are a surprise, but it works well. 
Plus, you can dip your fries in the pesto when no one is looking!
20. Baked Beans
Finally, why not have your French fries with baked beans? Dip them and use them to scoop your beans out at any time of day, and no one will give you a second look.
Baked beans are a delight, and the rich tomato flavor paired with the beans and fries are a combination that was meant to be enjoyed.
Final Thoughts 
Fries go with everything! Even more potato if you really love it. You could even turn your fries into a waffle and have them for breakfast if you wanted to get creative with it. 
If you want to enjoy your fries, then the above-mentioned options are a great place to start for ideas. Don't stop there, though.
Experiment with all kinds of fry-delights and see if you can come up with anything else that works perfectly with one of the most popular foods in the world. 
20 Delicious And Mouthwatering Side Dishes To Serve With French Fries
Course: Sides
French fries are a great snack, but what sides can you have with them to make a whole meal? Read this to learn about 20 delightful sides to try with them!
Directions
Pick from the list above
Click the recipe name and visit the website
Collect the ingredients and cook the food
Enjoy – don't forget to leave a review