When it comes to casserole dishes, tuna is one of the most popular around, and it's not hard to see why. It's the perfect combination of crunchy, moist, tender, and flavorful.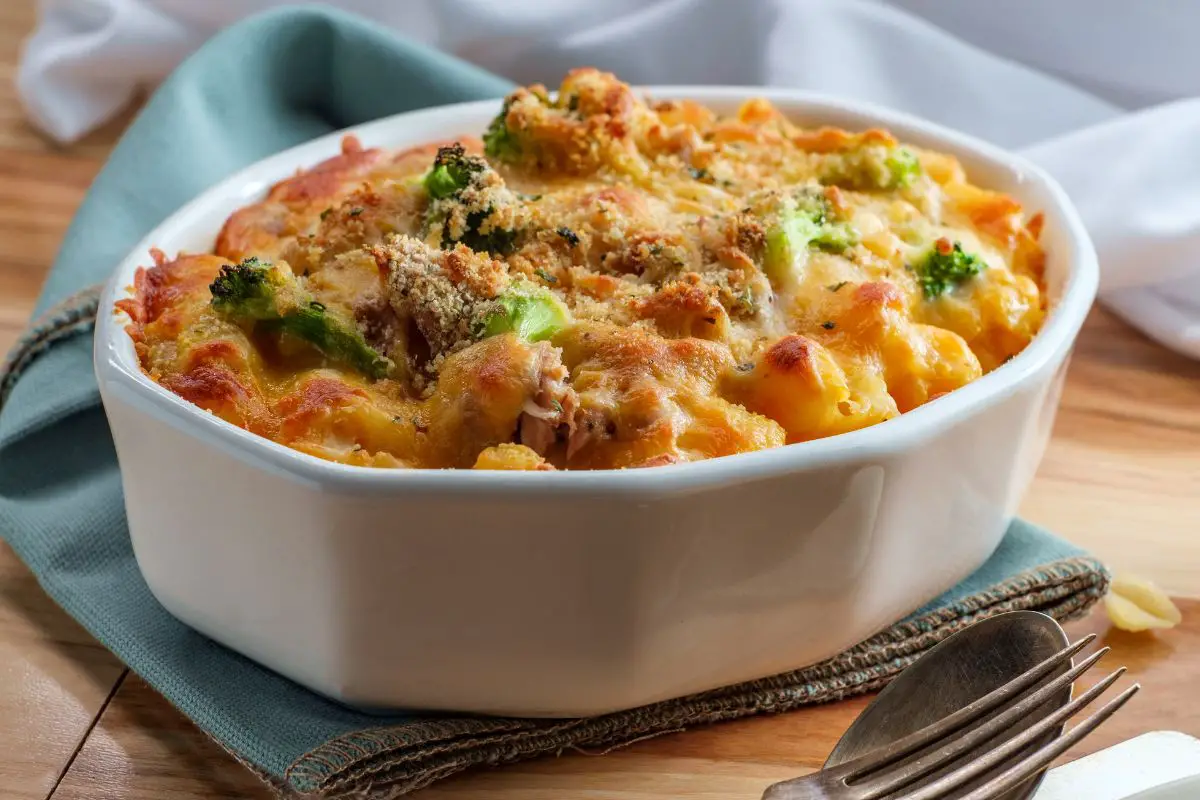 We also love how absolutely indulgent it tastes. Despite being rich, it doesn't feel too heavy, and it's great for chowing down for either lunch or dinner. 
In addition to being great as a main, tuna casserole can also be served in a sandwich the following day, as a delicious snack.
If this dish is a staple in your own household, you may be searching for some different items to serve with it on the side. 
In order to find some new, delicious, and innovative side dishes, simply keep reading below, as we've compiled some of the very best around. 
What Is Tuna Casserole? 
Now, before we jump right in and start discussing some of the best side dishes to accompany tuna casserole, we should talk about what it's made of.
For those who haven't had the pleasure of tasting tuna casserole before, allow us the opportunity to explain. 
Tuna casserole is essentially a baked item that consists of canned tuna, onions, celery, peas, and sometimes mushrooms.
It's typically loaded with some kind of creamy sauce, which gives us that classic texture we all know and love. 
Most often, people will use canned soup as the sauce, as it's super easy to whip up, and doesn't require any effort.
Mushroom soup is often a popular choice for this particular dish. Cheese is then loaded on top of the casserole, and sometimes some breadcrumbs. 
It's left in the oven until it's golden and crispy and ready to eat. 
Best Side Dishes For Tuna Casserole 
Now that we've taken a look at what tuna casserole is, we can move on to discuss some of the very best side dishes that you can easily whip up to accompany this tasty meal.
Here, you'll  find everything from fresh salads to delicious carb based treats. Simply keep reading below to find some inspiration. 
Why not start out our list with a delicious french fry recipe? If you're feeling like you'd want something slightly more filling to accompany your tuna casserole, then we'd recommend whipping these up. 
We've all tried our hand at making homemade fries at some point or another, but we can guarantee that you'll have never made something as delicious as these. 
These little babies are covered in oil, then fried until they're golden brown and crispy. This is perfectly matched with the incredibly fluffy inner layer. 
They have a flavor that rivals most other fries we've tried, as they're absolutely dripping in garlic, and covered in parmesan cheese.
The parmesan provides the perfect salty balance to the aromatic flavors of the garlic. These smell truly amazing when they're cooking, and they might just become a weekly staple in your household. 
Why not load your tuna casserole on top of this side dish, and you'll feel just as though you're indulging in some loaded fries from a restaurant. 
If you're looking for something a little simpler, why not try this corn on the cob recipe?
Many of us absolutely adore having some juicy, sweet corn on the cob as a side dish, and it's actually the perfect one to serve with tuna casserole. 
Many people who make tuna sandwiches will add corn into the mix, because the flavors combined work so well together. In this case, you should most definitely serve some crunchy corn as a side for your delicious casserole. 
This recipe shows you how to make the tastiest corn on the cob in town, by adding in some extra seasonings and parmesan cheese.
After you've done this, the recipe shows you how to cleverly pack it in tinfoil, so that it keeps all of the flavors intact. 
None of the juicy flavors will run away in this side dish. 
When it comes to tasty side dishes, mashed potatoes are truly on God level. It's incredibly creamy, indulgent, flavorful, and subtle all at the same time.
If you've been making mashed potatoes for a while, but feel as though you want to change things up a little, why not try this recipe? 
For these mashed potatoes, you only need a few additional but necessary ingredients, cheese and garlic.
We honestly can't think of any dish that wouldn't be elevated with the addition of these ingredients, and this mashed potato recipe is no exception. 
It's super easy to make, as you'd just prepare it as you would your regular mashed potatoes. The only difference is that you'll need to roast some garlic pieces in the oven.
After they become soft, you can then add them into the mixture, and either leave them whole, or mash them in. 
Make sure to add in plenty of butter to make this dish as creamy as possible. 
So, for those who are looking to shed a few pounds, and are on the hunt for a low calorie side dish as a result, we've got the perfect recipe for you.
Here we have one of the freshest, crunchiest, most flavorful salad recipes in town. 
It's incredibly easy to make, and is positively bursting with flavor.
We'd recommend that you make this salad whilst tomatoes and cucumbers are both in season, why not go the extra mile and purchase some organic varieties from your local farmer's market? 
We can guarantee that you won't be disappointed with this salad dish, and it's also perfectly moist with all the olive oil drizzled on top. 
If you've been looking for one of the easiest, and healthiest side dishes in town, then we've got the perfect one for you.
Most of us will roast potatoes, parsnips, and a few other select vegetables to accompany our meals from time to time, but for some reason, roasted cauliflower often isn't on the list. 
This is absolutely bizarre, especially considering how delicious roasted cauliflower is. It gets perfectly crisp in the oven, and also makes the perfect base when you're looking to add some flavor. 
This one tastes absolutely delicious with just the addition of some simple salt and pepper, but, if you want to, you can go wild!
Add any kind of seasonings you like with this dish, from garlic and onion powder, to some spicy chili flakes. It's a blank canvas for your culinary skills. 
It also works really well with your tuna casserole, because the flavors aren't too overpowering, and simply add some well needed texture to your dish. 
Another perfect healthy side for tuna casserole, these air fryer green beans are truly delicious.
This is the perfect opportunity to whip up your air fryer, and make something quick and easy in a flash. With this side dish, you don't need to put in any work whatsoever. 
Just place your green beans in the air fryer, and add in your seasonings. Let the appliance work its magic and voila! You've got the perfect side dish. 
Looking for something incredibly indulgent, but still want to get some more vegetables in your diet? If so, then we've got an incredible recipe for you to try.
This creamed spinach is honestly one of the most indulgent things we've ever tasted, and we love the soft creamy texture too. 
It has a super subtle flavor which makes it the perfect accompaniment to your flavorful tuna casserole. You can serve this one as a side dish to elevate your casserole. 
If you're looking for something altogether different to serve with your tuna casserole this Friday night, then we've got the perfect recipe for you. This beer braised cabbage recipe is absolutely to die for. 
It's also not as difficult to whip up as it sounds, and only requires a few key ingredients that you probably already have in your pantry.
It's essentially cabbage that has been delicately braised in plenty of flavorful beer. After this, all you have to do is add in some tasty crouton pieces to give the dish a little more crunch. 
Final Thoughts 
To sum up, there are a whole host of things to serve up with tuna casserole. Whether you're looking for something fresh, or something a little more indulgent, there's a side dish out there for you. 
The Very Best Things To Serve With Tuna Casserole: 8 Amazing Side Dishes
Course: Sides
This article takes a look at some of the very best side dishes that you can serve with tuna casserole.
Directions
Pick from the list above
Click the recipe name and visit the website
Collect the ingredients and cook the food
Enjoy – don't forget to leave a review
This article takes a look at some of the very best side dishes that you can serve with tuna casserole.