When served in a sandwich shop, you could expect Sausage and Peppers to be served on a sub roll or alongside a few pasta dishes when served in a restaurant. In your own home, you can go a little further and find some exciting flavors to go with the dish.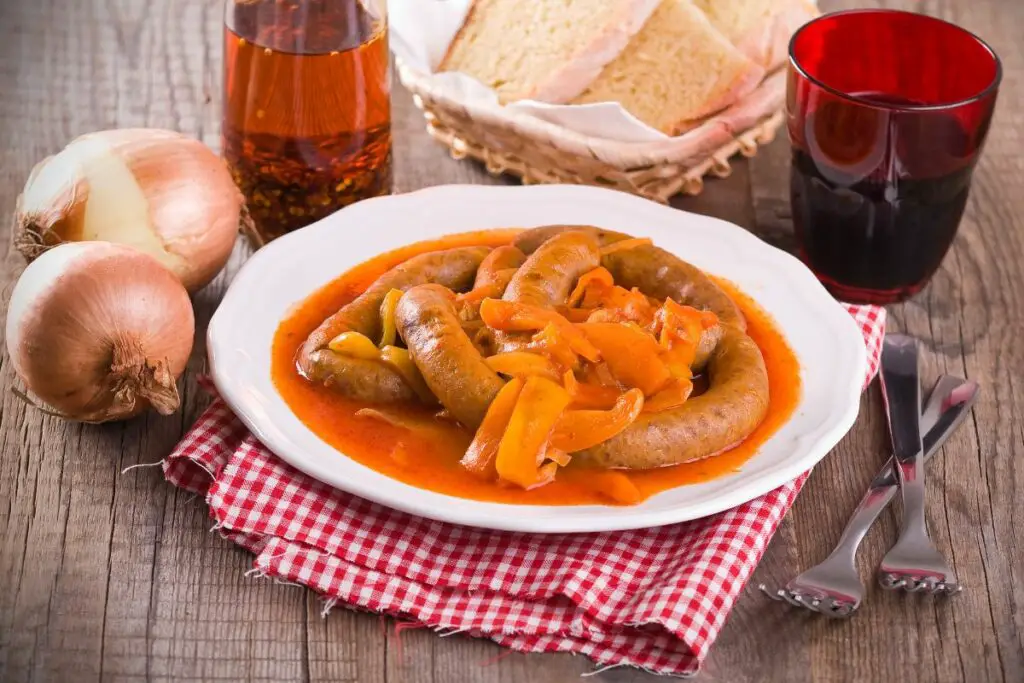 That could include pasta dishes but also soups, risotto, salad, vegetable dishes, or even a simple sweet yet spicy cornbread. Sausage and Peppers can seem like a reassuringly simple dish on its own, which is why you should jazz it up with a side dish.
In this guide, we will look at a selection of eight side dishes that go really well with Sausage and Peppers.
Classic Minestrone Soup
Mushroom Risotto
Tomato And Onion Salad
Crock Pot Mac & Cheese
Jalapeño Cornbread
Sautéed Broccolini
Southern Fried Cabbage
Grilled Zucchini
As a hearty meal on its own, a bowl of Classic Minestrone Soup is another great way of using leftover and seasonal vegetables as well as being a delicious side dish on its own merits.
There is also a somewhat limited amount of pasta so it retains some Italian-American kudos while not being too filling. 
The list of ingredients does seem extensive but you may have several of them lying in the pantry anyway. Sauté chopped onion, celery, and carrot with tomato paste and a pinch of salt.
Next, add a range of chopped seasonal vegetables such as zucchini, squash, or green beans with oregano, garlic, and thyme. Pour in canned diced tomatoes, vegetable broth, water, sea salt, pepper, bay leaves, and red pepper flakes. 
Bring the mixture to a boil then partially cover to a gentle simmer before adding the pasta, greens, and beans to cook until the greens are tender. Remove the bay leaves as you remove the pot from the heat, stir in lemon juice and season to taste with salt.
A rich Mushroom Risotto can go really well with Sausage and Peppers as a soft and creamy side dish that may be ideal to offset the meatiness of the sausages with the tomato sauce.
First, there is the delicious nuttiness of the Arborio rice and then the earthiness of cooked mushrooms, all covered in butter and indulgent Parmesan cheese. Gordon Ramsay's recipe works well on many levels yet is still simple enough to make at home.
You will need a few finely diced shallots, some extra virgin olive oil, white wine, and chicken stock too with freshly chopped Parsley as a garnish.
Sometimes, all you need is a simple fresh salad to go with a delicious main dish like Sausages and Peppers. That could well be a Tomato and Onion Salad which works as it combines great fresh tomatoes and medium sweet onions, each thinly sliced in layers.
For the dressing, pour olive oil and red wine vinegar into a jar with freshly chopped parsley, Italian seasoning, finely chopped onion, garlic powder, sugar, salt, and pepper.
Give it a vigorous shake and pour over the tomato and onion mixture then refrigerate for a couple of hours before serving. 
One of the most versatile side dishes you could come up with is a classic Mac & Cheese so get that crock pot out. Cook the macaroni until very al dente then drain, rinse, and place in the bottom of the crock pot.
On top of the macaroni, add condensed Cream of Chicken soup, shredded Cheddar and Gruyère cheese, mayonnaise, sour cream, onion powder, dry mustard powder, and pepper.
Mix it all together and either cook on high for two hours or on low for three hours then serve hot.
To mop up that delicious sauce from a portion of Sausage and Peppers, if you go without the sub roll, go for some cornbread that has a kick.
Jalapeño Cornbread is relatively simple to prepare but exceedingly rewarding for a sweet yet spicy dish. It goes well with chili con carne but also Italian-American dishes that come with a sauce that you do not want to waste.
Combine cornmeal with baking powder, flour, baking soda, and salt for your dry ingredients. In a separate bowl, whisk together milk (you can use almond milk too) with maple syrup, egg, and oil.
Combine the two mixtures and then fold in diced jalapeño peppers, scallions, and shredded Cheddar cheese.
Remove a preheated cast-iron pan from the oven and pour in the batter then sprinkle on some more chopped jalapeño peppers and scallions to bake until a skewer comes out clean then chop up into blocks.  
You may want some greens to go with your Sausage and Peppers which is fine and Sautéed Broccolini may well hit the spot. This is one of the simplest, freshest side dishes you could come across and starts with blanching a bunch of Broccolini.
After boiling the greens then sitting them in a bowl of ice water, melt some butter in a sauté pan then add lemon zest and garlic. Drain the Broccolini then add it to the pan to heat up before adding lemon juice, salt, and pepper then toss well before serving. 
Though it may not be as green as Sautéed Broccolini once it has been cooked, Southern Fried Cabbage is another vegetable-based side dish you should consider.
Start by heating up some oil in a large pot then crisping up some chopped bacon slices with salt and pepper.
Add cabbage slices with chopped onion and sugar then cook and stir until the vegetables are tender. That may only take a few minutes so be prepared to serve the side dish hot for all that yummy goodness with some saltiness from the bacon. 
One final portion of greens that you should consider to go with Sausage and Peppers is Grilled Zucchini. This is another largely effortless side dish that works really well with fresh, locally sourced vegetables.
Start by tossing the zucchini slices in a mixture of extra virgin olive oil, chopped parsley, basil, red wine vinegar, and garlic powder then season them with salt and pepper. 
Make sure that your grill is hot then coat in oil with a soaked paper towel and carefully place  the zucchini slices onto the grill.
Cover the grill and cook the zucchini slices for a few minutes until charred lines appear and the zucchini has turned tender then remove and season them with salt. 
Final Thoughts
Few dishes are as hearty, colorful, and downright delicious as the Italian-American dish, Sausage and Peppers.
You could whip it up inside an hour or so with a pan or leave the Italian sausage, tomatoes, onions, red, green, and yellow bell peppers with pasta sauce in the slow cooker.
However, it may not be enough on its own or even served in a sub roll so be prepared to accompany it with one or two side dishes. 
Try to mix them up too, while you can serve it with a creamy Mac & Cheese, you would pair it with some greens for a healthy accompaniment.
Some people may find a pasta dish too filling with Sausage and Peppers so you can opt for a fresh green salad or the Tomato and Onion Salad which is featured here.
Then there is the option of a sweet and spicy Jalapeño Cornbread for some sustenance or Minestrone Soup for a viscous side dish. 
Frequently Asked Questions
Which Potato Dishes Should You Consider As Side Dishes To Go With Sausage And Peppers?
While greens and pasta dishes go really well with Sausage and Peppers, several potato-based dishes are worthy side dishes too.
For a similar effect to a Crock Pot Mac & Cheese, go for a creamy and soft dollop of Mashed Potatoes made with cream and shredded Cheddar cheese.
Baked potatoes may take a while longer yet once they are crispy on the outside and soft in the middle, you can pour on Sausage and Peppers then top it off with some grated Parmesan cheese.
You can also accompany Sausage and Peppers with Roasted Potatoes or Mashed Potato Cakes for more crispy potato-based side dishes.
Which Other Pasta Dishes Can You Pair With Sausage And Peppers?
Aside from the seemingly ever-popular Mac & Cheese, other pasta dishes should go well with Sausage and Peppers. That will include Pasta e Fagioli which is another Italian soup, Cream Cheese Pasta, and Baked Penne.
What Should You Serve With Sausage And Peppers? Here Are 8 Awesome Side Dishes
Course: Sides
Directions
Pick a recipe from the list above
Click the recipe name and visit the website
Collect the ingredients and cook the food
Enjoy – don't forget to leave a review