Who doesn't love a warm, golden, tasty and fluffy biscuit every once in a while? They've become an absolute staple, and definitely a favorite of ours.
Whether you like your biscuits to be served with gravy or sauces, or even used as sandwiches with all of the best fillings, this is a snack that all can enjoy.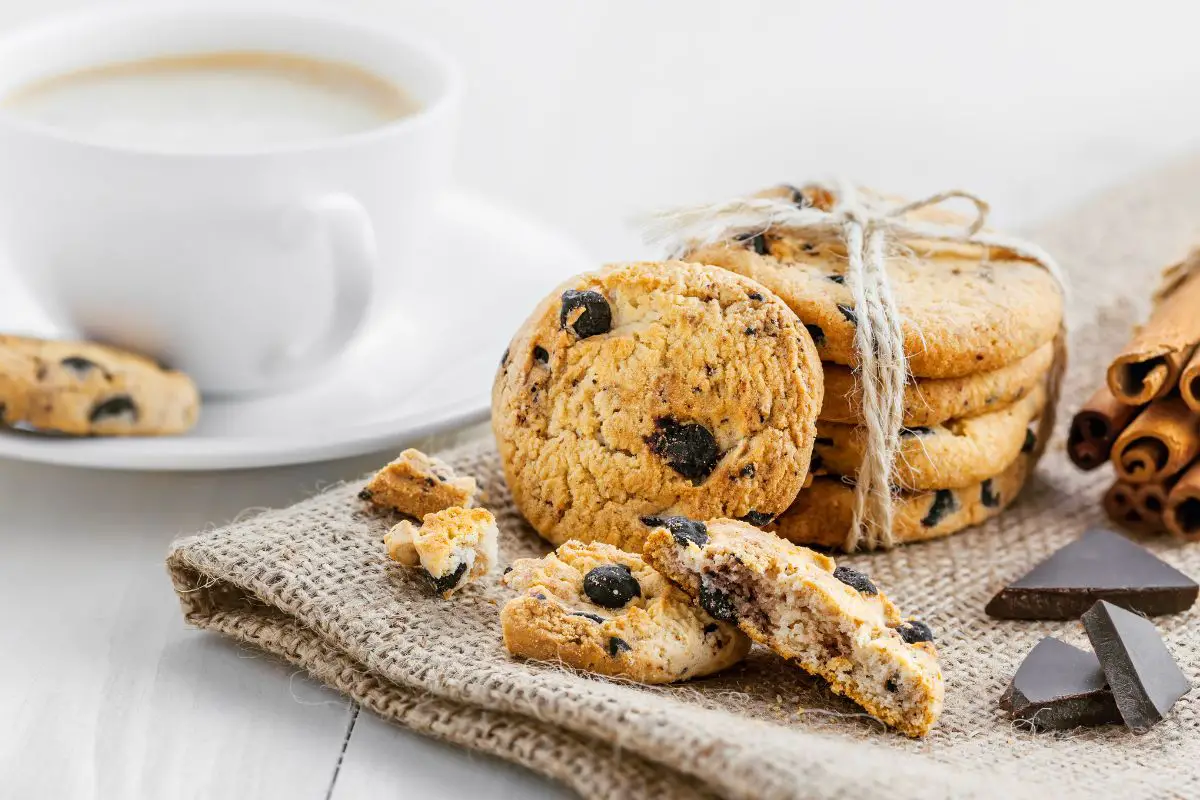 But, before we dive into what to serve with biscuits, let's take a look at where these tasty treats come from, and why we love them so much!
Origin Of Biscuits
American biscuits are somewhat of a household name these days. They're a Southern cuisine staple, and something we all think of when we consider the most nostalgic, typical American foods. 
Today we often eat them with chicken, whether it's fried or roasted, but these weren't always a thick, warm, fluffy treat, but thin, dry and simply meant to fill us up!
Biscuits are derived from british scones, and have been around since the 16th century. These are typically served sweet, with strawberry jam or jelly and cream. 
However, the antebellum South is what shot biscuits to fame in the US. These were initially served flat, not thick and crumbly like they are today, and were only eaten by the affluent population, as flour was expensive back then. 
Since the 19th century, more flour mills meant that it was more accessible to the masses, and biscuits soon became a popular Southern food eaten by all.
Why We Love Biscuits
If you're anything like us, then biscuits are something you've always loved since you were a kid. Perhaps your grandma made the best ones. So now, they give you that nostalgic feeling of warmth and comfort. 
Biscuits are best served warm, crumbling, and filled with the flavors of salt and butter. They're hearty, filling, and the smell of them baking is just divine. 
The best thing about biscuits? They can be enjoyed as a savory offering, or as a sweet treat. The choice is yours as they are so versatile.
So, if you are craving biscuits, you're probably wondering what you can serve up on the side of these fluffy, crumbly bites of deliciousness. 
Let's take a look at some of the most popular side dishes that pair well with biscuits! 
What To Serve With Biscuits
There are so many different options when it comes to eating biscuits. We personally love them when used as a breakfast sandwich, ever since having one in a small coffee place just off Hollywood Boulevard in LA.
The biscuit was served simply with bacon and egg, with a little slice of American cheese, but it was oh so good!
Whether you like savory sides or sweet ones, here's some of the best you can offer up to guests. 
We have to start with a classic staple- good old biscuits and country gravy. It doesn't get better than this! Country gravy is so easy to make. All you need is butter, milk, (whole milk is the best for this recipe), flour, and a little bit of kosher salt and pepper, and that's it! 
To make this delicious topping for your biscuits, you'll simply need to melt the butter, and begin whisking in the flour in a saucepan on a low-medium heat.
This will start out super thick, so you'll need to whisk it up while the butter and flour cook. Add your milk, and whisk that in too until it mixes.
Once you have the consistency you prefer, add your salt and pepper to taste. This easy recipe is the perfect pairing for homemade biscuits.
Southern fried chicken also goes great with this gravy, along with your biscuits if you're looking to make it a meal instead of a snack. 
Chicken noodle soup is another firm favorite for many. If you're feeling sick, you need to warm up, or you just want something easy and comforting to eat, then this soup is just right for you. 
Soups also go great with some biscuits, too! You can add in some fresh veggies, chicken slices, a hearty broth and egg noodles to make it more filling, and serve it up on the side of your biscuits, so you can dip the bread in and soften them up. 
Try this chicken noodle soup recipe made with whole chicken, chicken bone broth, onion, garlic, celery, carrots, and egg noodles to go with your biscuits! 
Why not try serving up your biscuits 'British' style, by making them a sweet treat. You could serve your biscuits just like English scones for a delightful dessert or afternoon snack.
Biscuits are a little bit more savory than scones, and are typically used as a bread roll or dinner roll. But, you can make them sweet if you prefer!
All you'll need is some strawberry or raspberry jam or jelly, a hunk of butter, and some whipped cream or canned spray cream. This recipe shows you how to make strawberry bourbon jam that is perfect for your Southern style biscuits. 
Want something with a little spice to have with your buttery biscuits? Why not try some homemade southern fried chicken. This recipe calls for buttermilk, cayenne pepper, black pepper, salt, and a little dash of hot sauce for that fiery flavor. 
You can serve the southern fried chicken up inside of the biscuit like a sandwich, adding some honey for extra flavor, or you can serve it on the side, and top with some homemade country gravy. What's not to love? 
If you're anything like us, then you love having good old Southern biscuits as part of your breakfast. There's nothing better than crispy bacon with eggs inside of a warm biscuit.
This recipe is really easy to make, especially if you have biscuits from a can. Simply follow the instructions on the bake at home biscuits, and put them in the oven.
While they cook, you can beat your eggs if you like them scrambled, or make a fried egg on your stove top. Crisp up some streaky bacon at the same time, and once cooked, pile the bacon and egg into the biscuit!
You could add a slice of cheese while it's hot so that it melts, or even add in a sausage patty for a really filling but delicious breakfast! 
If you're looking for a really traditional Southern meal, then you could serve your biscuits with grits! Grits are made from ground up corn, but Southern grits are creamy and delicious.
They're usually made with lots of butter and heavy cream for a truly delicious, soft, velvety texture. 
Try this grits recipe at home, and soak up all of those flavors with your hot, fresh out of the oven biscuits. 
If you're looking for a winter warmer to go with your biscuits, we've got you covered. The great thing about a beef stew is that you can also get some veggies into your diet, by adding things like carrots, beans, potatoes, onions, you name it.
This delicious beef stew recipe is made with beef stew meat, beef bouillon cubes, lots of veggies and a hint of flour, and it is absolutely perfect for pairing with biscuits. 
Mashed potatoes are a classic fish that go well with many different foods, especially biscuits! Why not try these creamy, dreamy mashed potatoes filled with onion, cream cheese and garlic so that it's bursting with flavor.
Again, you could add a homemade gravy to make it really indulgent, and dip your biscuits in for the best results! We love this Southern mash potatoes recipe, and have not gone back to regular mashed potatoes since. 
Collard greens is another side dish that goes well with biscuits. However, you may not find them as satisfying on their own, so you could add some chicken, slow cooked beef, or pulled pork to go with it as an additional side. 
Our favorite is this flavorful collard greens recipe, made with bacon and onions for added interest. You'll find these collard greens have a little bit of a kick to them, but this is balanced out by the smooth flavor of the biscuits, so it's all good!
Final Thoughts
Biscuits are a Southern staple that all can enjoy. If you love eating biscuits, and are looking for new, different side dishes to try with them, then you've come to the right place. From southern fried chicken, to beef stew and collard greens, this list has it all.
We've listed 9 delicious side dishes to eat with biscuits, whether you like them sweet with jelly, or savory with a large helping of homemade Southern gravy, there's bound to be something you like.
What Should I Serve With Biscuits? 9 AMAZING Side Dishes To Try!
Course: Sides
Do you love biscuits? Looking for new ways to enjoy these delicious baked breads? Try some of our side dish recommendations today with 9 tasty options!

Directions
Pick a recipe from above
Click the recipe name and visit the website
Collect the ingredients and the food
Enjoy- don't forget to leave a review