Corn on the cob actually is a classic summer dish that is surprisingly versatile. Whether you want to serve it at a BBQ, make an easy weeknight dinner, or just add something special to your side dish lineup, there is something for everyone.
But what should you serve with it?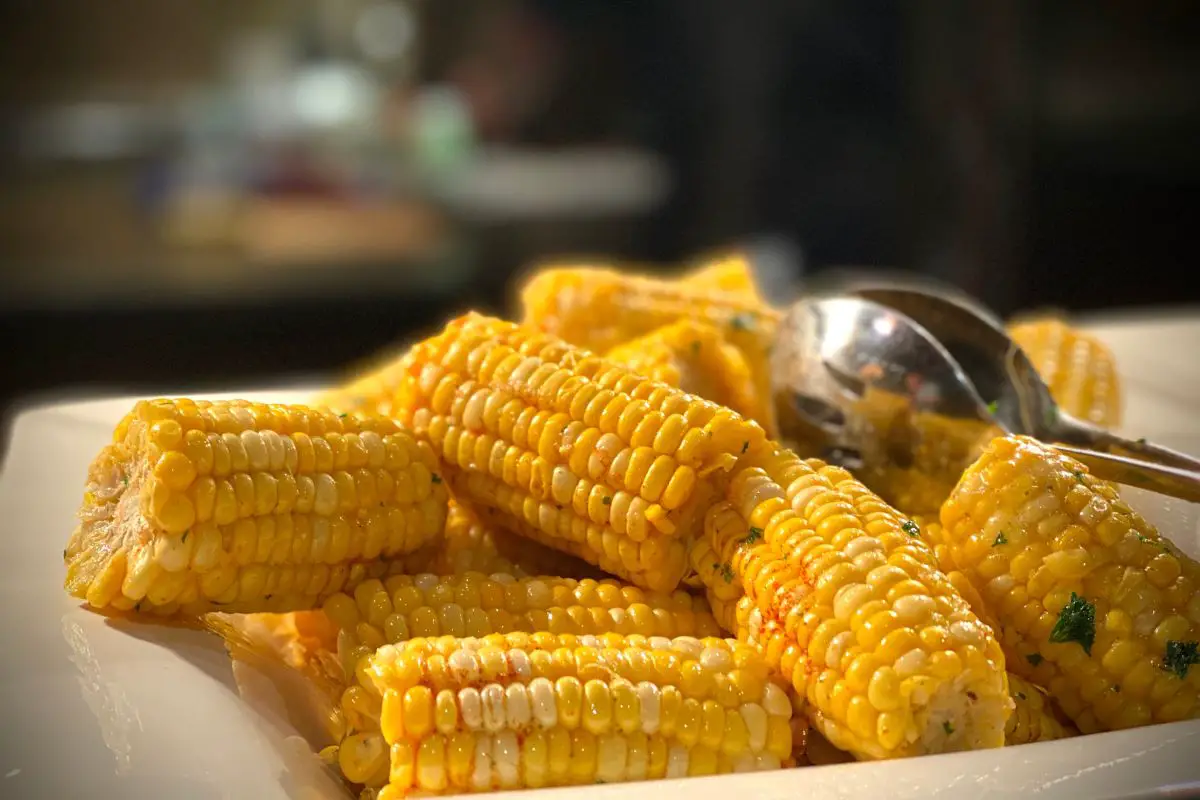 Corn on the cob's sweet flavor pairs perfectly with many other dishes and ingredients. The right accompaniment can bring out the best in fresh Corn on the Cob and create a balanced meal that's sure to please even the pickiest of eaters.
If you're looking for some delicious ways to enjoy Corn on the Cob, look no further!
We've got all the best recipes and ideas for what to serve with Corn on the Cob, from light summer salads to flavorful sides that will make your next meal unforgettable.
Why Is It A Great Idea To Serve Corn On The Cob?
Dishes such as corn on the cob are delicious and nutritious dishes that can be served with almost any meal. 
Corn is a great way to add some color and flavor to your plate, as well as provide essential vitamins and minerals. It's also easy to prepare, requiring only boiling water and a few minutes of cooking time. 
Once cooked, you can rub butter over it, sprinkle pepper and salt, or even add other seasonings for extra flavor.
Serving corn on the cob with your meals is an excellent way to get more vegetables into your diet. It provides dietary fiber which helps keep you full longer, as well as important vitamins such as vitamins A and C. 
That's why it's great to serve corn with tasty side dishes, to get the full enjoyment out of it alongside other flavors and nutrients.
What Are The Best Side Dishes To Serve With Corn On The Cob?
Corn is a classic summer favorite. It's a great dish for any meal, and it can be enjoyed as a snack or main course. But what do you serve with corn on the cob? The possibilities are endless! 
From vegetables to meat, there are many amazing dishes that will enhance the flavors in corn-on-the-cob.
1. Grilled Chicken
Grilled chicken is one of the most popular dishes around the globe. It is a nutritious and tasty meal that can be served alongside any recipe you choose. 
To make grilled chicken, all you need to do is to get yourself a healthy piece of whatever chicken part you like best, then marinate it. The marinade can be anything from herbs and spices to sauces and oils. 
Once the chicken has been cooked through, it can be served with a dish such as corn on the cob or potatoes.
2. Potato Salad
Potato salad is a classic side dish that can be found at almost any summer barbecue or picnic. It's a simple dish made with boiled potatoes, mayonnaise, and other ingredients like celery, onions, pickles, and hard-boiled eggs. 
These ingredients help to create a creamy and flavorful salad that pairs well with many different types of dishes.
Making a good potato salad requires some skill and patience. You need to make sure you cook the potatoes just right, so they are not too soft or too hard. 
Once everything is mixed together properly, you can enjoy a delicious bowl of creamy potato salad that will leave you wanting more!
3. Rice Oatmeal
Rice oatmeal is a dish that warms the soul. It's the perfect accompaniment to any meal, especially when served with your corn. 
The combination of these two dishes creates a comforting and filling meal that will leave you wanting more. 
The result is a warm, healthy, and satisfying bowl of oatmeal that pairs perfectly with the sweetness of corn on the cob.
No matter how you choose to enjoy it, one thing is certain: rice oatmeal will always be a comforting and nourishing addition to any meal.
4. Pork Ribs
Pork ribs are versatile and delicious cuts of meat that can be cooked in a variety of ways. Baking pork ribs in the oven is one of the most popular methods, as it allows for even cooking and easy cleanup. 
To bake pork ribs, simply season them with salt and pepper, place them on a baking sheet lined with foil or parchment paper, and bake at 375 °F for about 25 minutes.
Barbecuing pork ribs on the grill is another great way to cook them. Start by marinating the pork ribs in your favorite marinade for at least an hour before grilling. 
5. Hot Dogs
Hot dogs are a classic summer favorite. Kids and adults alike can't resist the smell of a hot dog grilling on the BBQ.
It's an easy meal that requires no silverware or plates, making it perfect for outdoor gatherings and picnics. 
Hot dogs are also incredibly versatile, allowing you to top them with whatever condiments you like. From ketchup and mustard to relish and onions, there's something for everyone.
Hot dogs are also a great way to get creative in the kitchen.
You can try different types of sausages such as bratwurst or chorizo, or even create your own custom blend of spices and herbs to give your hot dog an extra kick of flavor. 
6. Tossed Green Salad
Leafy green salads are a great way to get your daily intake of greens. Not only are they packed with essential vitamins and minerals, but they also provide a delicious and nutritious meal. 
Leafy greens are low in calories and high in fiber, making them an ideal choice for those looking to lose weight or maintain a healthy lifestyle. 
Salads can be made with any combination of leafy greens such as spinach, kale, romaine lettuce, arugula, endive, Swiss chard, collard greens, and more. 
7. Flavored Rice
Rice is a staple food in many cultures around the world, and it has been eaten for centuries. It is a versatile grain that can be used in a variety of dishes, from savory to sweet. 
Rice comes in many different varieties, such as plain brown or white rice, jasmine rice, basmati rice, wild rice, and even black forbidden rice. 
Each type of rice has its own unique flavor and texture that can be used to create delicious meals.
Rice and corn is a classic combination that never fails to hit the spot. The flavor of the rice enhances the already-tasty corn, making it even more delicious. 
To make this dish, you can cook the rice in some chicken or beef broth for added flavor. The buttery, tender corn will pair perfectly with the flavorful rice, creating a unique and tasty meal.
You can also add other ingredients to your flavored rice and corn dish to make it even more flavorful. For example, adding diced vegetables such as bell peppers or onions will give it an extra kick of flavor. 
8. Steak
A steak dinner is a classic way to elevate any meal, and pairing it with corn on the cob is no exception. Whether you opt for sirloin steaks or rib eye, the juicy cuts of beef will add a savory flavor to the sweet taste of the corn. 
The combination of flavors will make for an unforgettable meal that your family and friends will be sure to enjoy.
When preparing your steak dinner, be sure to season it well with salt and pepper before cooking. You can also add other herbs and spices such as garlic powder or paprika for extra flavor. 
For best results, cook your steak over medium-high heat until it reaches an internal temperature of 145 °F (63 °C). Serve your steak alongside some grilled or boiled corn on the cob for a delicious summer meal that everyone will love!
Final Thoughts
Corn on the cob is a classic summer favorite that can be enjoyed in many different ways. From salads to flavored rice, there are plenty of delicious sides that you can serve with your corn on the cob. 
Whether you opt for steak or something more vegetarian-friendly, these sides will make your meal even more enjoyable. 
So next time you're looking for something to serve with your corn on the cob, try one of these delicious options!
What Are The Best Side Dishes To Serve With Corn On The Cob? 8 Amazing Side Dishes
Course: Sides
Ingredients
Grilled Chicken

Potato Salad

Rice Oatmeal

Pork Ribs

Hot Dogs

Tossed Green Salad

Flavored Rice

Steak
Directions
Pick from the list above
Click the recipe name and visit the website
Collect the ingredients and cook the food
Enjoy – don't forget to leave a review