Tuna sandwiches are a classic and delicious meal in themselves, but what do you serve with them to truly make a meal?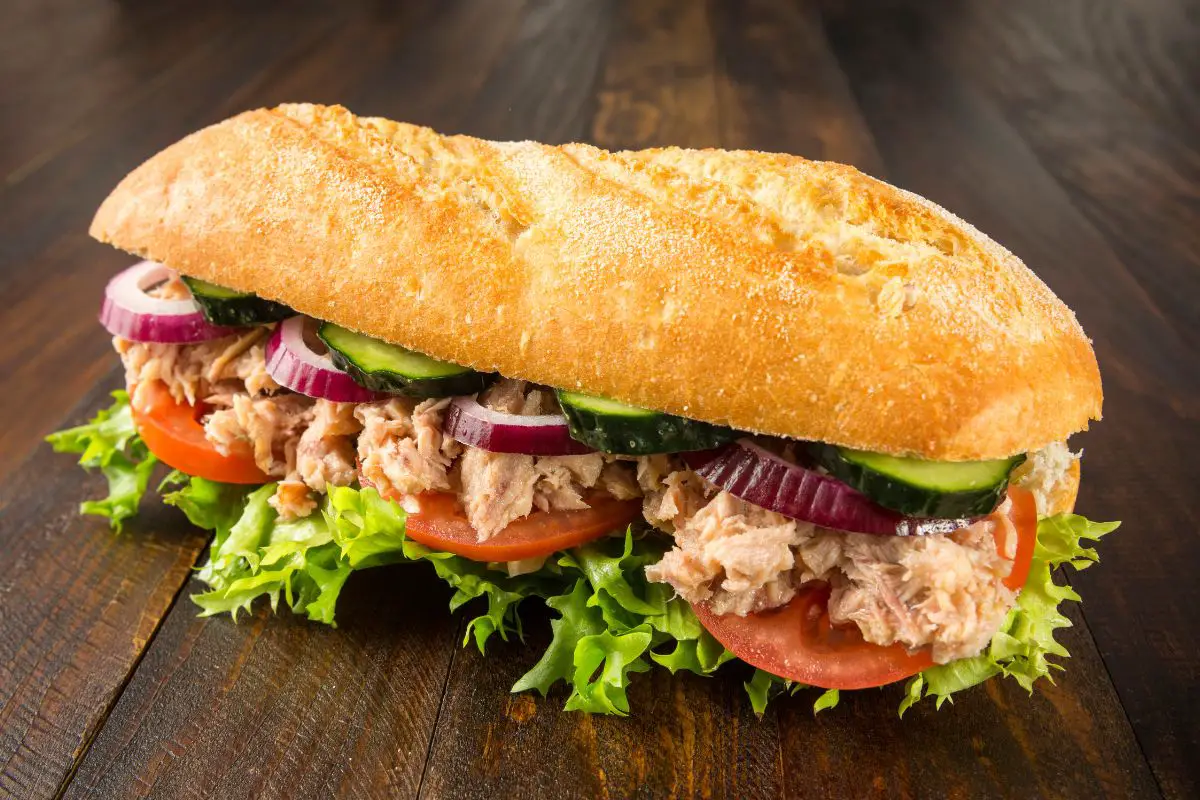 Tuna sandwiches are the perfect go-to lunch or dinner – they're quick and easy. Not to mention that tuna is incredibly versatile and has so many different variations from mayo-based salads to canned fish to grilled steaks. 
No matter the type of tuna sandwich you're creating, there's bound to be something special you can whip up or serve with it. Here's our list of simple and flavorful side dishes that will enhance the flavor of any tuna sandwich recipe.
Why Should You Consider Serving Delicious Side Dishes Alongside Your Tuna Sandwiches?
Tuna sandwiches are a great way to enjoy a healthy meal. Not only is tuna rich in iron, protein, omega-3, and vitamin D, but it also has a mild flavor that pairs well with many side dishes.
Adding a side dish to your tuna sandwich can help you get the most out of your meal by providing additional nutrients and flavors.
When selecting side dishes for your tuna sandwich, it's important to choose ones that will complement the main dish without overpowering it. 
Additionally, the side dish should not have an overly strong flavor that will affect the taste of the main dish. 
What Can You Serve As A Side Dish To Tuna Sandwiches?
Tuna sandwiches are a classic lunchtime favorite, but they can be made even more delicious with the right side dishes.
Salads are a great way to add some extra nutrition to your meal. A simple green salad is always a good choice, but you could also try adding some crunchy vegetables like cucumbers or radishes. 
If you want something heartier, try a potato salad or coleslaw. Both of these sides will provide plenty of flavor and texture to your meal.
1. Onion Rings
Beer-battered onion rings are a classic favorite for many people. They are a great side dish to any meal, or even as a snack. 
Beer-battered onion rings are made by dipping sliced onions into a batter made with beer, flour, and other seasonings before deep-frying them until they become golden and crunchy. 
The result is an incredibly flavorful and crispy onion ring that is sure to please everyone at the table.
Onion rings are a beloved snack for many, and it's easy to see why. Not only do they make an excellent accompaniment to tuna sandwiches, but they're also incredibly easy to prepare.
All you need is a few ingredients and can have a delicious side dish in no time.
2. Fruit Salad
Fruit salad and tuna sandwiches are a classic combination that can make for a balanced meal. This combo is perfect for those who want to get the most out of their meals, as it provides essential nutrients from both the fruits and the tuna. 
To make this salad, you can mix multiple fresh fruits such as grapes, melon, berries, and oranges. If you don't prefer these fruits, you can go for the ones you like instead. The freshness from the fruits gives a subtle twist to your tuna sandwich.
This combination is great for those who want to switch up their meal routine and let different nutrients nourish their body. 
Not only does it provide essential vitamins and minerals from the fruits but also protein from the tuna which helps build muscle mass and strength. 
So if you're looking for a balanced meal option that's both delicious and nutritious, try out this combo!
3. French Fries
Homemade French fries are a classic side dish that can be enjoyed with a variety of sandwiches, including the beloved tuna melt. 
Unfortunately, making fries at home is often a disappointing experience, as they never seem to taste as good as the ones from fast food restaurants. But our tip of double-frying the potatoes may save the day. 
This method gives you those coveted crispy exteriors and fluffy, tender interiors that make French fries so irresistible.
French fries are a great way to add variety to your meals without spending too much time in the kitchen. Whether you're having a quick lunch or dinner, these tasty treats will always be there to help you out. 
Plus, they're incredibly versatile – you can enjoy them as is or top them with ketchup, mayonnaise, or cheese sauce! 
4. Pickled Olives
Pickled olives are a great way to add flavor and nutrition to any meal. They are an excellent source of vitamin E, which is an important antioxidant that helps protect the body.
Pickled olives also have a unique taste that can be enjoyed with any sandwich, especially tuna sandwiches.
Ready-made pickled olives can easily be found in most grocery stores, but if you have the time and inclination, making your own pickled olives at home is a great way to enjoy this delicious snack. 
All you need is some fresh olives, vinegar, garlic cloves, oregano leaves, and salt. Simply mix all the ingredients together in a jar and let it sit for several days before serving. 
The result will be a delicious side dish that pairs perfectly with your favorite tuna sandwich!
5. Potato Chips
Potato chips are a classic snack that can be enjoyed with a variety of dishes. They are available in many different flavors, but when paired with tuna sandwiches, plain potato chips with a tinge of salt are the best option. 
This simple side item adds an extra layer of flavor to the sandwich and makes it even more enjoyable. Potato chips can also be enjoyed with other dishes such as burgers, fried rice, and noodles.
Homemade potato chips are much healthier than store-bought ones, since you can control the amount of oil used in the cooking process. Plus, they taste just as delicious!
6. Greek Salad
Greek salad is a delicious and nutritious way to enjoy your tuna sandwich. This combination of flavors takes your meal to the next level, creating a unique taste that you won't find anywhere else. 
The crunchy vegetables, salty feta cheese, and tangy dressing all work together to create an unforgettable flavor experience. 
Not only does it taste great, but it's also incredibly healthy. The combination of fresh vegetables and lean protein makes this a nutrient-dense meal that will keep you feeling full for hours.
If you're looking for a new way to enjoy your tuna sandwich, Greek salad is a perfect choice. It's easy to make and can be customized with whatever ingredients you have on hand. 
Plus, it's packed with vitamins and minerals that are essential for maintaining good health. So why not give it a try? You'll be surprised at how much flavor this simple dish adds to your meal!
7. Tomato Soup
Tomato basil soup is a classic combination that never fails to please. The key to tomato soup is the roasted tomatoes, which have a perfect balance between sweet and acidic flavors. 
Adding a tablespoon of tomato paste will give the soup an even deeper tomato flavor. Tomato soup is also great for making a big batch and freezing it for later, so you can enjoy it whenever you want.
The combination of fresh basil and roasted tomatoes creates a delicious flavor that will tantalize your taste buds. 
The addition of garlic and onion gives the soup an extra depth of flavor, while the cream adds richness and creaminess. 
8. Coleslaw
Vinegar Coleslaw is the perfect accompaniment to your favorite tuna melts. Instead of a mayo-based dressing, try using apple cider vinegar for a healthier and lighter option. 
The health benefits of apple cider vinegar are numerous, and you can enjoy them in your delicious slaw. Plus, it gets even tastier the longer it sits, so make it a few hours ahead of time for the best results.
When you're feeding a crowd, Vinegar Coleslaw is an excellent choice. It's easy to make and requires minimal ingredients. 
Plus, it's low in carbs and fats compared to other coleslaw that use mayonnaise as their base. 
Final Thoughts
Tuna sandwiches are a classic lunchtime favorite, but they can get boring after a while. To make your meal more interesting and flavorful, try serving it with homemade potato chips, Greek salad, tomato soup, or vinegar coleslaw. 
These sides will add flavor and texture to your sandwich and make it a complete meal that everyone will love.
What Side Dishes Go Well With Tuna Sandwiches? 8 Tasty Side Dishes
Course: Sides
What side dishes go perfectly with tuna sandwiches any day of the week? Well, if you want to find out, you'll have to check out the side dishes below.
Ingredients
Onion Rings

Fruit Salad

French Fries

Pickled Olives

Potato Chips

Greek Salad

Tomato Soup

Coleslaw
Directions
Pick a recipe from above
Click the recipe name and visit the website
Collect the ingredients and the food
Enjoy- don't forget to leave a review