Looking for some side dishes to serve with your coconut shrimp? Then you have come to the right place! Here, we have outlined 11 of the best side dishes.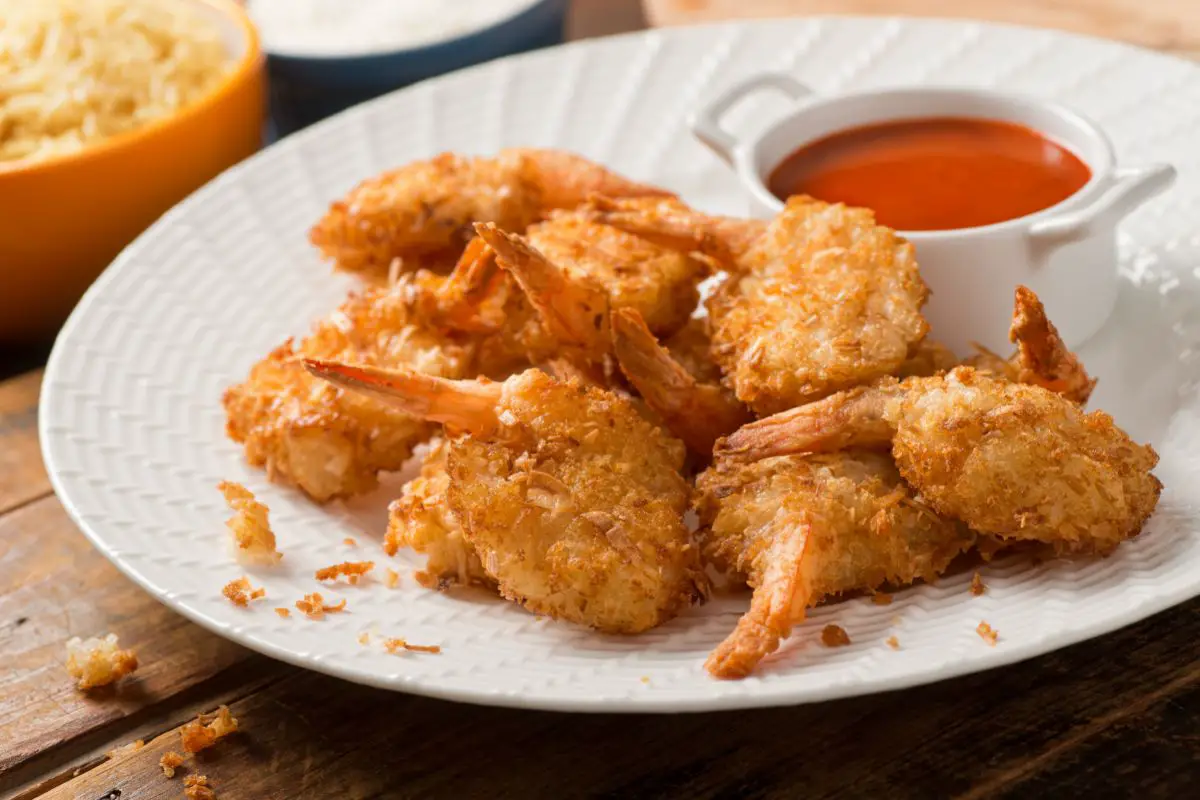 Whoever discovered coconut shrimp is simply a genius – a person we should all be thanking for this beautiful creation. 
These small bites are simply heaven, what you have are sweet, golden, and wonderful crispy pieces of shrimp. 
To create this deliciously tropical dish, you must coat your shrimp pieces in a batter consisting of breadcrumbs and coconut flakes. Once done, simply deep-fry until you're rewarded with golden-brown perfection. 
The real star of the show here is the flavor combination – it is a work of magic. With each bite, you'll be rewarded with a mildly sweet, crispy coating that is then followed by juicy, plump, and flavorful shrimp. 
When combined, you are provided with a wonderful symphony of textures and flavors. 
11 Best Coconut Shrimp Side Dishes
While coconut shrimp tastes incredible, on its own, it isn't much of a meal. However, once you pair it with a few complementary side dishes, well, now you're in for a treat. 
Some of our personal favorites include fried rice, crispy fries, and coleslaw – however, you can choose whichever ones take your interest, too. 
With this in mind, below, we have outlined 11 of the best coconut shrimp side dishes that make a complete meal out of these delectable pieces. 
Why Should You Serve Your Coconut Shrimp With Side Dishes?
Alone, albeit delicious, coconut shrimp isn't much of a complete meal. However, once you pair it with some suitable sides, you're in for a substantial meal. 
Coconut shrimp contains plenty of healthy protein. Although to ensure you have a well-balanced diet, you'll want to combine this with fats, carbs, fiber, and other macronutrients, too. 
Plus, choosing complementary sides also helps to enhance the main course's flavors and textures by allowing them to stand out. 
Moreover, while coconut shrimp is a relatively easy main to make, it does require a lot of time. Therefore, you'll want a side dish that is super simple and quick to prepare, to compensate for this. 
On our list, we have side dishes such as Habanero & Peach Guacamole, pasta, and french fries that only take minutes to prepare and use basic, essential household ingredients. 
Let's get straight into the 11 best side dishes for your coconut shrimp main meal. 
This recipe is the first recipe on this list that can be whipped up on the grill to perfectly complement your coconut shrimp. 
Here, a grilled summer squash is topped with feta cheese for the perfect side dish that complements your coconut shrimp beautifully. 
The combination of the sweetness from the squash works wonderfully with the shrimp's richness. Plus, the grilled flavors provide a delicious smoky edge. 
Likewise, what brings everything together is the fragrant and flavorful curry sauce – it is like the cherry on the cake!
Any form of pasta works particularly well with coconut shrimp since it is a filling side dish. Plus, you can even top both dishes off with a complementary mild sauce. 
One of our personal favorites is fettuccine alfredo. While this may sound strange, trust us, it works completely! 
Here, the combination of the sweet coconut, the creamy sauce, and the garlicky shrimp makes for a match made in heaven. 
Another great option here is to pair it with orzo – this is a type of rice-shaped pasta. If you choose orzo, make sure you cook it in some chicken broth to enhance the garlic and onion flavor. 
Then all you have to do is top it off with mushrooms for a delicious side dish. You'll have the subtle flavors of the pasta that pairs with the coconut shrimp. 
If you don't like rice-shaped pasta, you can opt for macaroni noodles instead, which work just as well. 
The best part? It is incredibly easy to make. All you have to do is combine the elbow macaroni with chopped celery and mayonnaise. 
Then add some chopped bacon, pimiento, green onions, and tons of cheese.
Another excellent side dish for your coconut shrimp is roasted basil tomato salad. 
Filled with deliciously fresh flavors, it is something that is sure to impress everyone at the dinner table. 
The beauty of this recipe is that it is so easy and quick to make, too. This is sure to be a recipe you'll want to keep on hand for those busy weeknight dinners. 
Therefore, whether you're grilling some steak, chicken, or, of course, shrimp, then this roasted basil tomato salad needs to be added to your menu. 
Since coconut shrimp is packed with protein, a great side dish is always rice. 
While you could go as simple as using a cup of plain white rice, why not go one step further by making fried rice instead?
Here, you can mix your fried rice with an assortment of seeds, protein, nuts, and veggies that match your preferences. 
Alternatively, you can opt for something with more of an Italian flair, like a risotto. Here, you're provided with a deliciously creamy texture that works perfectly with the coconut shrimp. 
Moreover, if you're looking to add some tropical twist to your meal, then simply add bits of chopped-up pineapple to add to your rice. 
Then, take it up a notch by serving it all in a hollowed-out pineapple. In no time, you'll feel as if you're on a tropical getaway. 
If you like your side dishes to contain a kick, then this is the perfect guacamole for you. 
This habanero and peach guacamole provides you with the perfect kick, however, the sweetness of the peach helps to balance everything out nicely. 
If you choose to pair this with your main meal, then we suggest heaping the coconut shrimp onto your plate. 
These two dishes complement each other perfectly. Therefore, you won't need any other side dishes on the plate to ensure a filling and hearty meal. 
Add some fresh cilantro and lime juice to bring out all the guacamole flavors. If you're looking for something refreshing on a hot sunny day then this is the perfect meal. 
Coleslaw contains tangy flavors that work wonderfully with the coconut shrimp. 
Moreover, you can incorporate green and red cabbage to create a vibrant coleslaw that not only tastes amazing but looks delicious on the dinner table, too. 
Here, make sure you opt for a vinegar-based, as opposed to mayonnaise, dressing since the flavors won't be so heavy. 
If you're looking to incorporate some more tropical pineapple into your side dishes, then this grilled pineapple avocado salad with mojito dressing is just what you've been looking for. 
Typically, pineapples contain a juicy, sour-sweet, and mouth-watering flavor. However, once grilled, these flavors are otherworldly. 
You'll never have to settle for ordinary dinners again. Plus, the best part? This extravagant salad only takes a couple of minutes to make! 
This unique dressing is a combination of lime juice and mint that provides you with a vibrant and refreshing salad that is made only using simple ingredients. 
To make it the ultimate vegetable side dish, add some romaine lettuce to the side of your plate – it works perfectly with the coconut shrimp! 
Could you imagine anything better than rich avocados and crispy vegetables encompassed in a thin, gelatinous rice paper wrapper that is then dipped in a delicious Thai mango sauce? 
Well, let us introduce you to just that! This is a lip-smackingly delicious side dish that works perfectly with coconut shrimp. 
The result is something that is refreshing and light in flavors, although balanced out thanks to the richness of the deep-fried shrimp – the perfect combination! 
Once you have mastered the technique of wrapping rice paper, you're never going to look back. 
Here, these spring rolls are packed with fresh and healthy ingredients including cucumbers, avocados, mint, cilantro, bell peppers, and carrots – everything you need for a refreshing side dish. 
If some of the veggies are hard to come by – whether this is due to them not being in season or simply hard to get – then you can simply leave them out, the result will be delicious no matter what. 
Quickly whip up a delicious Thai mango sauce for a sweet and spicy dip that works perfectly with both the spring rolls and coconut shrimp. 
You simply can't go wrong with this classic side dish – no matter what. Just think about it for a moment – French fries combined with deep-fried coconut shrimp? It is simply a match made in heaven. 
Both dishes are tender on the inside and crispy on the outside. 
Plus, the combination of dishes will transport you to a seafood restaurant – one that is overlooking the ocean where you can see the waves rolling in. 
If you're looking for an alternative to potato chips, then sweet potato fries are going to become your best friend. 
Sweet potato fries are essentially the cousin to potato chips and pair perfectly with the sweet and savory flavors of coconut shrimp. 
Don't worry about gathering a ton of ingredients for this salad, the main course is extravagant all on its own. However, you can never go wrong with a side of veggies to enhance a meal. 
For this recipe, all you need is three simple ingredients – heirloom tomatoes, burrata cheese, and extra-virgin olive oil. 
Final Thoughts
While it tastes delicious on its own, coconut shrimp isn't a complete meal. Therefore, what you need is some delicious side dishes that not only complement the star of the show but enhance its flavors, too. 
Here, we have accumulated 11 of the best side dishes to serve with coconut shrimp. Hopefully, you've found what you're looking for. 
11 Amazing Side Dishes To Serve With Your Coconut Shrimp
Course: Sides
Directions
Pick a recipe from above
Click the recipe name and visit the website
Collect the ingredients and the food
Enjoy- don't forget to leave a review