Once you have cooked with San Marzano tomatoes it is easy to see why they are recommended in so many recipes. They have a distinctive flavor and a wonderful sweetness.
But what if you can't get hold of San Marzano tomatoes? What should you use instead?
We have put together this guide to help you find the best substitutes for San Marzano tomatoes so that your cooking still tastes fantastic. Keep reading to find out more.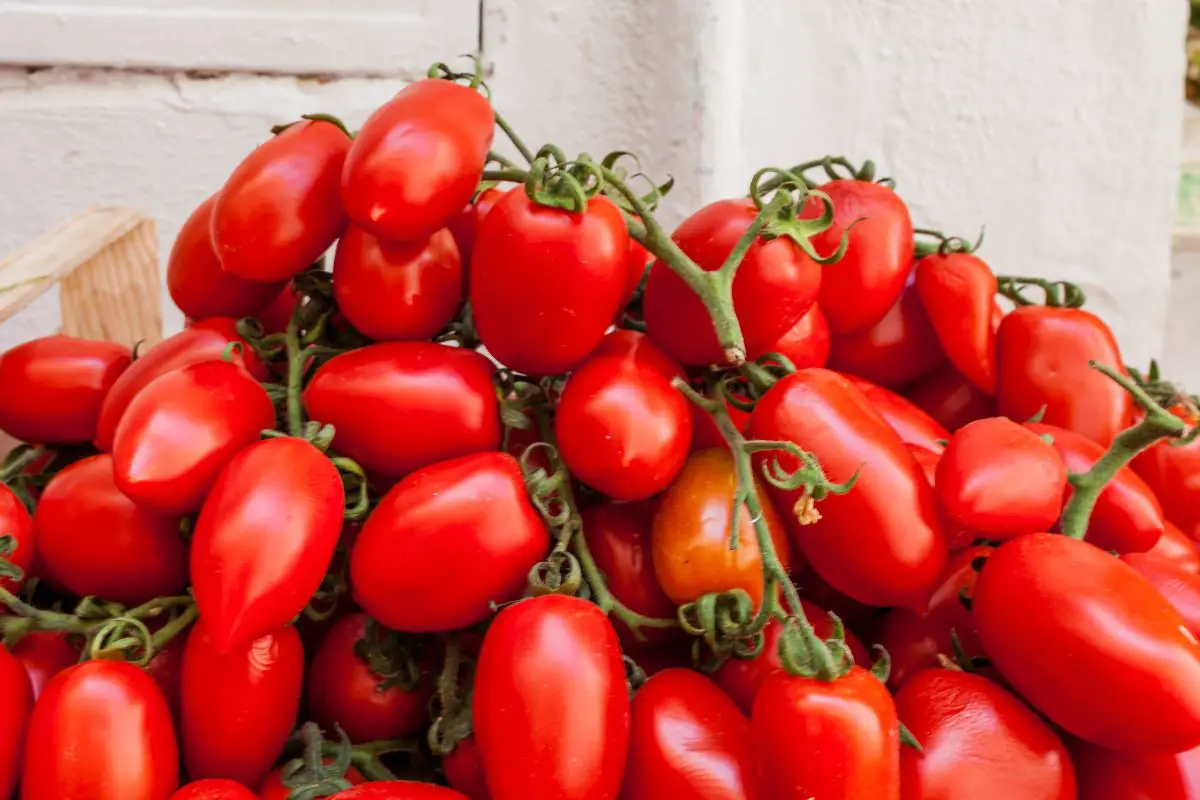 What Are San Marzano Tomatoes?
San Marzano is a variety of heirloom plum tomato that is traditionally used in Italian cooking. They thrive in the volcanic soil of Italy and they grow well in a Mediterranean climate. They are also grown in large quantities in California. 
But what makes San Marzano tomatoes so special? Why are they recommended above other types of tomatoes? There are several characteristics which make them ideal for Mediterranean cuisine: 
Acidity – San Marzano tomatoes have a lower acidity than many other varieties of tomatoes 
Thickness – San Marzano tomatoes have a thicker tomato wall and thicker flesh which makes them less watery when they are turned into pulp, creating a richer tomato sauce 
Seeds – There are less seeds in San Marzano tomatoes than other tomatoes which is ideal for making sauces 
Taste – San Marzano tomatoes are known for their very sweet taste and richness which adds flavor to any dish you use them for 
What Are San Marzano Tomatoes Used For? 
San Marzano tomatoes are used for roasting, and for making fresh tomato sauces for pasta or pizza.
They are perfect for making raw tomato sauce, when the tomatoes are crushed up with herbs and seasoning without being cooked and then used to coat spaghetti or as a base for a neapolitan style pizza.
You can use fresh San marzano tomatoes or canned San Marzano tomatoes depending on what recipe you are following. 
What Can You Use Instead Of San Marzano Tomatoes? 
Depending on where you live, you might find it difficult to get hold of San Marzano tomatoes. They can be expensive to buy online if they aren't available at your local grocery stores. So what can you use instead? 
1. Roma Tomatoes 
Roma is another variety of plum tomato. Roma tomatoes share many characteristics with San Marzano tomatoes which makes them an excellent substitute.
They have thick flesh with a low moisture content which means your tomato sauce won't be watery. They have few seeds, so there is less straining to do.
Roma tomatoes have low acidity and high sugar levels which gives them a wonderful, sweet flavor which is perfect for Mediterranean recipes. 
Roma tomatoes are often used to make sauces and pastes. They are not quite as sweet as Sam Marzano tomatoes, but they are more readily available as they are grown more widely.
If you are making a sauce, you can even buy canned Roma tomatoes to save you some time with preparation. 
2. Ropreco Tomatoes 
Ropreco is a variety of Italian heirloom tomato that is not grown as widely as it used to be, as roma tomatoes became more popular.
Ropreco tomatoes are actually easier to grow in many ways, as they don't need to be staked and they are naturally resistant to many diseases that usually afflict tomato plants. 
Ropreco tomatoes aren't often sold fresh at local grocery stores or markets, and they can be difficult to get hold of. However, a lot of tomato pastes are made using ropreco tomatoes.
They have a rich flavor and a firm texture which is perfect for making large batches of tomato paste. Using this tomato paste in your recipes can help you to replicate the rich sweet flavor of San marzano tomatoes. 
3. Amish Paste Tomatoes 
Amish paste is a variety of heirloom tomato that is very versatile. It can be used in salads, sauces or pastes. It has an even sweeter flavor than Roma tomatoes, but it also has a higher acidity content.
This means that the flavor is sweet yet tangy – a fresh and vibrant taste which makes it perfect for serving raw in a caprese salad. However, they have dense flesh and a deep red color which also means that you can cook with them.
They are not as ideal as San Marzano tomatoes but they make a good substitute. 
4. Polish Linguisa Tomatoes
The Polish Linguisa heirloom tomato was first introduced in New York in the 1800s by Polish immigrants. They became very popular because the plants yield a large amount of tomatoes.
The tomatoes are large and meaty, with firm flesh and few seeds. This makes them ideal for sauces and pastes. They also have a lovely, vibrant red color so your sauce will look very appetizing. 
Their low moisture content makes them a great choice for roasting or drying. But do they taste like San Marzano tomatoes? They have a very sweet, fresh flavor – not as sweet as San Marzano but an excellent alternative. 
5. Big Mama Tomatoes 
Big Mama is a hybrid variety of tomato that was intended to be incredibly versatile. They are very large, seedless and plum shaped. You can slice them up and add them to a salad, or use them to make rich tomato sauces.
You can also use them for roasting and drying. 
Not only are the tomatoes large, but the plants produce a large yield so they are perfect for growing in large quantities to make big batches of sauces and pastes.
Once you have par-boiled the tomatoes, the skin comes away really easily which is very convenient. They have a lovely, sweet flavor and are an all-round good choice of tomato to use. 
6. Roasted Peppers 
What if you can't get hold of a decent variety of tomato? If the only option is a lesser quality canned tomato, how do you ensure that your sauces are nice and sweet? A great option is to add roasted pepper.
This will add sweetness and rich, complex flavor to any dish from average to exceptional. Red peppers tend to be the sweetest, so this is the best option.
You can experiment with different varieties, but if all you can find is red bell peppers then this will do the trick. 
Remove the seeds from the middle and then roast the peppers until the flesh is soft and they are slightly charred. Wait for them to cool then remove the skins. You can then blitz the flesh and add it to any sauce or soup.
You will get a slightly smoky flavor as well as the sweetness. This compliments any meat you might be using in your recipe, like bacon or beef mince. 
If you don't want to roast your own peppers, you can buy jars of roasted peppers preserved in oil. Don't throw the oil away!
Use it to fry your onions and garlic etc to add some extra flavor, or drizzle it on top of a pizza or salad just before serving. 
Other Options For Creating A Rich Tomato Flavor 
If you are trying to intensify the tomato flavor of any dish, there are some other options you can try: 
Red Pesto
Red pesto is a paste usually made out of sundried tomatoes, garlic, basil, pine nuts and aged cheese. You can add it to any tomato based dish to increase the flavor, or you can use it instead of a sauce.
It also works well as a marinade for chicken. 
Sun-Dried Tomatoes
You can buy jars of sun-dried tomatoes from most grocery stores. They have an intense flavor which is perfect for making your recipes taste even more like tomatoes.
You can blitz them into a paste to add to a sauce, or chop them up finely and stir them through. 
Passata
Passata is a smooth, tomato liquid which is used as a base for many sauces. It has already been strained to remove any lumps or seeds, taking out the hard work.
It is very affordable and is a great way to create a tomato based sauce for pasta or pizza. 
Tomato Paste
If you can only get hold of low quality canned tomatoes, try adding a squirt of tomato paste to the recipe. This will intensify the tomato flavor. 
Summary 
San Marzano tomatoes are the perfect choice for Mediterranean cuisine. If you can't get hold of San Marzano there are other varieties of tomato that share the same characteristics and would work really well.
The 6 Best Substitutes For San Marzano Tomatoes
Course: Substitutes
If you are struggling to get hold of San Marzano tomatoes then this guide will tell which other products you can use instead.
Ingredients
Roma Tomatoes 

Ropreco Tomatoes 

Amish Paste Tomatoes 

Polish Linguisa Tomatoes

Big Mama Tomatoes 

Roasted Peppers 
Directions
Decide on what substitute you need
Pick a substitute from the list above
Read what you need to substitute with
Create the recipe and enjoy