Only three ingredients go into creating Cilantro Lime Chicken yet there are so many side dishes you can pair it with. To create a full meal, you can add rice dishes, salads, even soup, salsa, black beans, and roasted or grilled vegetables.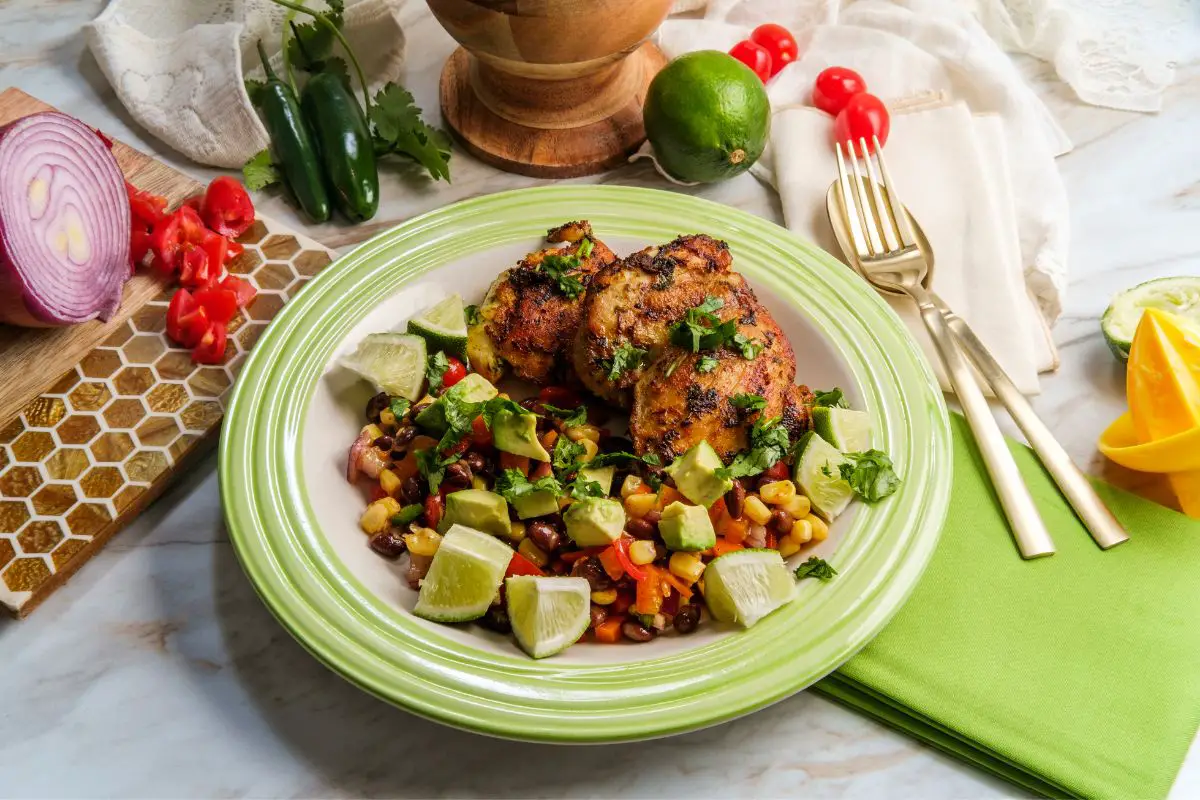 You should opt to complement the citrus notes of your main dish with fresh flavors and the taste of charred vegetables. While the side dishes featured here may not be Tex-Mex, the combination of flavors should work.
In this guide, we will look at 11 awesome side dishes that you can serve with Cilantro Lime Chicken. 
Creamy Coconut Rice
Extra Vegetable Fried Rice
Greek Salad
Easy Creamy Potato Salad
Mediterranean Orzo Salad
Potato Soup
Pineapple Salsa
Seasoned Black Beans
Grilled Asparagus
Parmesan Roasted Broccoli
Roasted Butternut Squash And Carrots
To offset the citrus and aromatic notes in Cilantro Lime Chicken, go for some Creamy Coconut Rice.
You only need three ingredients for this side dish too, so add a cup of jasmine rice, two-thirds of a cup of water, and a can of unsweetened coconut milk to a pan.
Bring the contents to a boil and stay put to stir the mixture as often as you can then cover and lower the heat to a gentle simmer.
Keep stirring to prevent the mixture from sticking at the bottom and cook until the liquid has been absorbed and the rice is tender.
Creamy Coconut Rice may be the ideal side dish as it combines sweet with savory. The ease with which it can be made also works well as you can prepare it while the Cilantro Lime Chicken is cooking.
If you want some veggies with your rice and Cilantro Lime Chicken then create this simple Extra Vegetable Fried Rice side dish. This is likely cleaner and healthier than takeout and you can use a range of seasonal vegetables for a vividly colorful serving.
Though Cilantro Lime Chicken may be considered a Tex-Mex dish, adding some Asian fried rice goes really well.
To create your own batch, start by warming a skillet or pan and swirl around some oil then add whisked eggs to scramble.
Remove the eggs and add some more oil to sauté some finely chopped onion and carrots with your own choice of veggies including cabbage, broccoli, snow peas, bell peppers, anything you like with a pinch of salt.
Break up the scrambled eggs then place in a large bowl with the contents of the pan of veggies. Add some more oil and then cook garlic, ginger, and red pepper flakes until fragrant then add the rice and stir until hot and golden.
Throw in some greens then transfer the veggies and eggs to combine before removing the pan from the heat. Finally, stir in sesame oil and tamari to taste then divide into bowls and serve with either sriracha or chili-garlic sauce.
What works with this side dish is how well the sriracha and chili-garlic sauce can go with the Cilantro Lime Chicken too. 
To add some freshness to your plate to accompany the citrus of the lime, quickly create a simple Greek Salad. The salad comes with plenty of vividly colored vegetables and fresh mint leaves which can go incredibly well with Cilantro Lime Chicken.
The salad itself includes slices of de-seeded English cucumbers, green bell pepper pieces, cherry tomato halves, cubed feta cheese, thin slices of red onion, and pitted Kalamata olives 
The dressing that goes with Greek Salad is also simple to prepare. Grab a medium-sized bowl and combine olive oil (extra virgin works best) with minced garlic, red wine vinegar, dried oregano and Dijon mustard before adding seasoning like sea salt, and pepper.
Whisk it all together and pour over the salad then combine it all together. Finish with another sprinkle of oregano for a garnish and enjoy. 
You can use any variety of small, red, or white potatoes for Easy Creamy Potato Salad as they keep their moisture and even their sweetness.
Some additional moisture will be required in the form of mayonnaise, sour cream, and yellow mustard. Mix up the ingredients as you see fit with either wholegrain or Dijon mustard then either apple cider or rice wine vinegar. 
Once the small potatoes are boiled then simmered until fork tender, plunge them into an ice bath. Peel them if you wish once they have cooled down and the skin should easily come off though you should chop them up into chunks.
Scatter your choice of vinegar over the top and then season the potato chunks with salt. Once the potato chunks have been removed from the ice bath, de-flame the onions in the same cold water by leaving them for ten minutes before rinsing. 
For the dressing, combine the sour cream with mayonnaise and mustard then add the onions, chopped celery, pickles, hard-boiled eggs, and fresh chopped herbs like dill, chives, parsley, cilantro, or tarragon.
Stir the potatoes gently with the sour cream mixture then season with salt and pepper. Do not forget to chill for half an hour prior to serving.
Another version of a pasta salad involves fresh vegetables and feta cheese which can be really easy to prepare. Cook the orzo first in boiling salted water then drain and rinse before allowing it to cool in a large mixing bowl.
Add torn spinach leaves, chopped red bell pepper, diced cucumber, red onion, green olives, Kalamata olives, and cubed feta cheese.
The dressing is simple too as a whisked mixture of canola and olive oil, lemon juice, oregano, and seasoning which you simply pour over the orzo and vegetables then top with any remaining cubed feta cheese.
While Cilantro Lime Chicken may be considered a Tex-Mex dish, it does work well with the Mediterranean flavors of the Orzo Salad. You may soon realize that the salad can be paired with more than just Cilantro Lime Chicken as it proves so versatile. 
Just a simple Potato Soup can be rewardingly creamy, even without including heavy cream. A lot of the flavor comes from bacon, bacon grease, chicken stock, and sharp Cheddar cheese.
Once you have crisped up the bacon and sautéed the onion you may have to be patient for the potatoes to become soft.
Yet after that, it's simply a case of stirring through the cheese, yogurt, seasoning, and cooked bacon to finish it off.
For a simple side dish that can be freshly prepared, quickly whip up some pineapple salsa. You can even use the pineapple as the bowl to hold pineapple chunks, diced bell peppers, Roma tomatoes, and minced red onion.
Even more flavor comes from chopped cilantro, lime juice, salt, pepper, and maybe even diced jalapeños. 
This is the ideal side dish if you want something fruity yet light to go with your Cilantro Lime Chicken. The pineapple remains sweet so it should offset the citrus notes with your main dish.
When the main dish and side dish are combined you should revel in getting a zesty kick with each bite. 
A batch of Seasoned Black Beans can be simple to prepare with diced jalapeño peppers and minced garlic added to a pot with cumin and cooking oil.
Once sautéed, add a can of black beans and simmer until heated through then season and serve hot.
For smoky notes that can truly offset the lime in your main dish, try some Grilled Asparagus. Brush your grill grates clean and then trim the asparagus ends before drizzling over olive oil and tossing to coat.
Season the asparagus liberally and then grill with the lid closed until tender and crisp. Move to a platter and then drizzle with more olive oil and lemon juice.
The Grilled Asparagus will offset the sharpness of your main dish really well.
Preparing Parmesan Roasted Broccoli is similar to creating Grilled Asparagus as the florets will be tossed in olive oil, garlic, and seasoning.
Roast until crisp-tender then toss with more olive oil, lemon juice, lemon zest, pine nuts, basil leaves, and grated Parmesan cheese.
This is another Mediterranean-tinged dish that can add even more flair to your table and it may only need 15 minutes to create.
As fall comes in, you should be looking to use seasonal vegetables like butternut squash and carrots. Roasted together, they go really well with Cilantro Lime Chicken though you can use other squash, colored carrots, or parsnips.
Melt the butter in a saucepan and then whisk in the garlic, fresh rosemary, maple syrup, salt, pepper, and chopped pistachios. 
Add the mixture to a large bowl and combine with equal parts chopped butternut squash and carrots then cover with foil and bake for around 40 minutes.
Throw in chopped zucchini and bake for around 20 minutes longer until all the vegetables are tender. With smoky flavors, Roasted Butternut Squash and Carrots is a flavorful yet simple dish that can push a dinner to new levels.  
Final Thoughts
For such a simple dish using only three ingredients, it can be tricky to find the right side dish for Cilantro Lime Chicken. There should be plenty of options so it may depend on what you have in the pantry and what time of year it is.
If it is around fall, go for some roasted vegetables like butternut squash, carrots, asparagus, and broccoli. For more summery flavors, create some Pineapple Salsa, Seasoned Black Beans, Greek Salad, or Creamy Coconut Rice. 
Frequently Asked Questions
As A Herb, What Does Cilantro Pair With?
Cilantro goes really well with lime and chicken but also with seafood including shrimp, squid, clams, prawns, and mussels.
You can also pair the cilantro with other meats such as steak, lamb, swordfish, turkey, and pork in certain recipes.
What Mexican Or Tex-Mex Dishes Go well With Cilantro? 
As well as Cilantro Lime Chicken, the herb goes with tacos, enchiladas, stews, and soups. You could even make a chimichurri sauce with some cilantro, serrano peppers, garlic, fresh parsley, Kosher salt, and extra virgin olive oil.
What You Should Serve With Cilantro Lime Chicken. Here Are 11 AWESOME Side Dishes
Course: Sides
To go with some citrus notes, opt for rice, salad, and a few other sides. Here are 11 AWESOME side dishes that you should serve with Cilantro Lime Chicken.
Directions
Pick a recipe from above
Click the recipe name and visit the website
Collect the ingredients and the food
Enjoy- don't forget to leave a review