Pancakes might just be THE most American breakfast meal out there. Spongy, fluffy, and full of sweet goodness, these little flour-based items are among the nation's favorites when it comes to sweet breakfasts and desserts.
As a result of this association as a sweet treat, it might feel quite strange to make them in combination with perhaps the least dessert-friendly vegetable out there, the potato!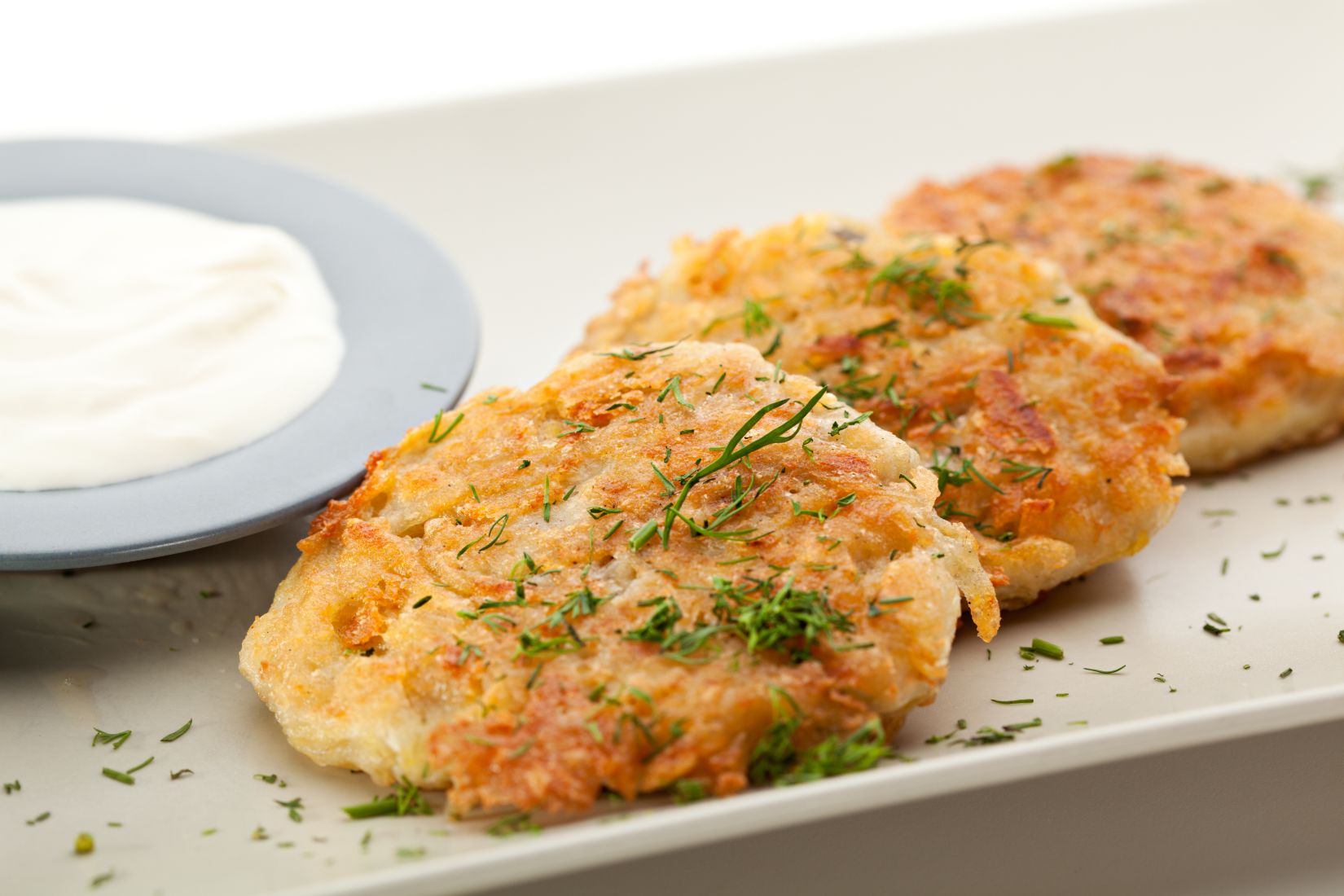 However, potato pancakes are the perfect culinary marriage between savory potato and the classic pancake that isn't just an amazing little snack/meal for breakfast, but for lunch and dinner too.
However, if you're eating these particular pieces of potato-based pancakes on their own, you might be missing out on a couple of amazing flavors and side dishes that can be combined with them, to make a truly amazing dish that is easy to make, and tasty to feast on.
Here are some of our favorites for you to try out for yourself!
Potato Pancake Flavor Profile
Before we get any further into this list, however, we should probably try and describe what exactly a potato pancake is and what its flavor profile is.
That way, not only will you know what a good potato pancake should taste like, but also what flavor goes best with it!
Potato pancakes are made from shredded potato that is then mixed with some type of flour/meal and then combined with a binding agent to hold the entire mixture together.
Being very similar to Jewish latke fritters, this is a recipe that is widely associated with many European cuisines and their derivatives. The overall amount of flour-to-potato ratio can vary between different cuisines, however.
In terms of texture, potato cakes that have been cooked right will generally have a fried, crispy outside to them, while the inside is often soft and fluffy, sometimes even being somewhat mushy, depending on how the potatoes were prepared right.
And, like with the overall ratios, the final flavor that you can get with a potato pancake is very much dependent on the extra ingredients that you add to it while mixing.
Some recipes will add cheese, garlic powder, and/or other seasonings to the batter as it is being prepared, while others might use sweeter ingredients, such as applesauce.
Overall, the flavor of a standard potato pancake (if there is such a thing) is relatively neutral and can go with a wide range of foods and recipes. Hence why having the right side dish is so crucial!
Why Serve With A Side?
There are a few main reasons why you should consider making a side dish with your potato pancakes.
As we previously mentioned, the ingredients that go into making potato pancakes, whilst very filling, have a very neutral flavor don't heir own, and don't have all that much flavor to them.
Unless you're adding extra ingredients and seasonings to the mix, they aren't exactly the most exciting foods to eat!
Plus, because they are often prepared by frying, potato pancakes are also quite oily foods that may not sit very nicely in the mouth as they are eaten. Having an appropriate side to either neutralize or pair with that texture makes them a lot easier to eat.
Plus, potato pancakes are very starchy food by themselves. They're filling, but they aren't always the best food item to helm a main meal, you know?
1. Roasted Chicken
We're starting with a side that anyone who has had the pleasure of a roasted dinner will be familiar with.
Chicken is probably one of the most popular meats that are consumed around the world. And with its ability to be cooked and prepared with a vast array of recipes, it's not hard to see why.
Packed full of tasty and nutritious protein, chicken is the perfect complementary dish to have with the carb-heavy potato pancakes that you've made.
The only thing that you may need to consider is that chicken by itself is quite a dry meat when not prepared correctly, as well as sometimes lacking in flavor itself.
This is why we recommend using roasted chicken! This particular crispy chicken manages to bring out the meaty flavor in a good chicken, along with being juicy and succulent, turning it into amazing meat to eat!
2. Coddled Eggs
You've heard of fried and scrambled eggs, and you've heard of poached eggs.
Now, get ready for the next best preparation method for eating with your potato pancake: Coddled eggs!
Coddled eggs are very similar to poached eggs, in that they are prepared in a way that makes them soft and runny once broken, making them perfect for eating with fluffy and spongy food like potato pancakes.
The only difference is that coddled eggs are prepared in… well, an egg coddler! These little porcelain or pottery-based items allow your eggs to be cooked without the need of boiling and frying them in a pan of water.
They're noticeably easier to make than poached eggs, too!
Plus, this high-protein food will spill beautifully onto your pancakes in a delightfully savory meal topping that is surprisingly easy to make.
3. Spinach Salad
If you're looking for a side dish that is a little on the greener side of the food wheel, then you'll want to try out a spinach salad to serve with your starchy pancakes!
Spinach is a very popular leafy vegetable to use in salads, thanks to being packed with vitamins, as well as being a surprisingly good source of calcium and protein (well, for a veggie, at least).
Not only that, but spinach salads shake things up a little when compared to others salads, by also including strawberries as one of their key ingredients.
This gives them an interesting balance of leafy savory flavors as well as the sweetness of a ripe strawberry. Both of these go amazing with a good potato pancake!
If you're looking for extra toppings to go with this side and your pancakes, we would recommend going with goat's cheese. The sourness balances against the starchy and sweet flavors amazingly!
4. Tomato Basil Jelly/Jam
We've talked plenty about dedicated side dishes so far in this guide, but we haven't exactly given a lot of love to the many dips that are also amazing options for potato pancakes.
Well, this next entry is going to change that!
Sometimes known as jam around the rest of the world, jelly is a popular topping or dip to include with traditional pancakes, and the same is true for these potato-based versions too.
Only here, the jelly is a tomato and basil-based dip, making for a savory spread and dip that is unlike the traditional sweet flavor's that you'll find in many examples.
The tomato and basil combinations lend an almost Italian flavor to this jelly, with the sweet and sour flavor of the tomato being an excellent balance for the herby freshness of the basil.
Depending on how fine you like your jelly, you can have it served chunky with larger slices of tomato, or something a little smoother, if you're prepared to dice your veg a little more!
5. Instant Pot Applesauce
Sticking with the sauces and dips a little while longer, applesauce is one of the most popular side dips to serve with traditional potato pancakes.
So, what better way to enjoy your pancakes than with an applesauce dip that doesn't just taste great, but can also be made as quickly as a flash?
All you need are some apples, water, some lemon juice, a pot, and half an hour of spare time to make a good pot of this stuff!
And, because these are fresh apples that you will be using, you don't have to add any extra sugar to get your applesauce nice and sweet. 
If this sounds like a side that you would love, make sure to check out the recipe on that we're basing our decision here.
6. Beef Stew
Who doesn't love a good beef stew recipe? It's arguably the best heartwarming and belly-filling stew that you'll find out there!
Plus, when it comes to serving with a potato pancake, you'll find that the pancakes absorb the savory juices of this dish phenomenally.
It's a little hard to tell which of these dishes is the side dish, though. Is it the stew? Or is it the potato pancakes?
Well, with dishes this tasty, does it matter?
Final Notes
So, which of these amazing little (or not so little) side dishes will you make first?
6 Amazing Sides To Serve With Potato Pancakes
Course: Sides
Ingredients
Roasted Chicken

Coddled Eggs

Spinach Salad

Tomato Basil Jelly/Jam

Instant Pot Applesauce

Beef Stew
Directions
Pick a recipe from above
Click the recipe name and visit the website
Collect the ingredients and the food
Enjoy- don't forget to leave a review