Rotel dipping sauce is very similar to queso cheese dip. It is usually made with ground beef, chopped green chillies, tomatoes, and cheese.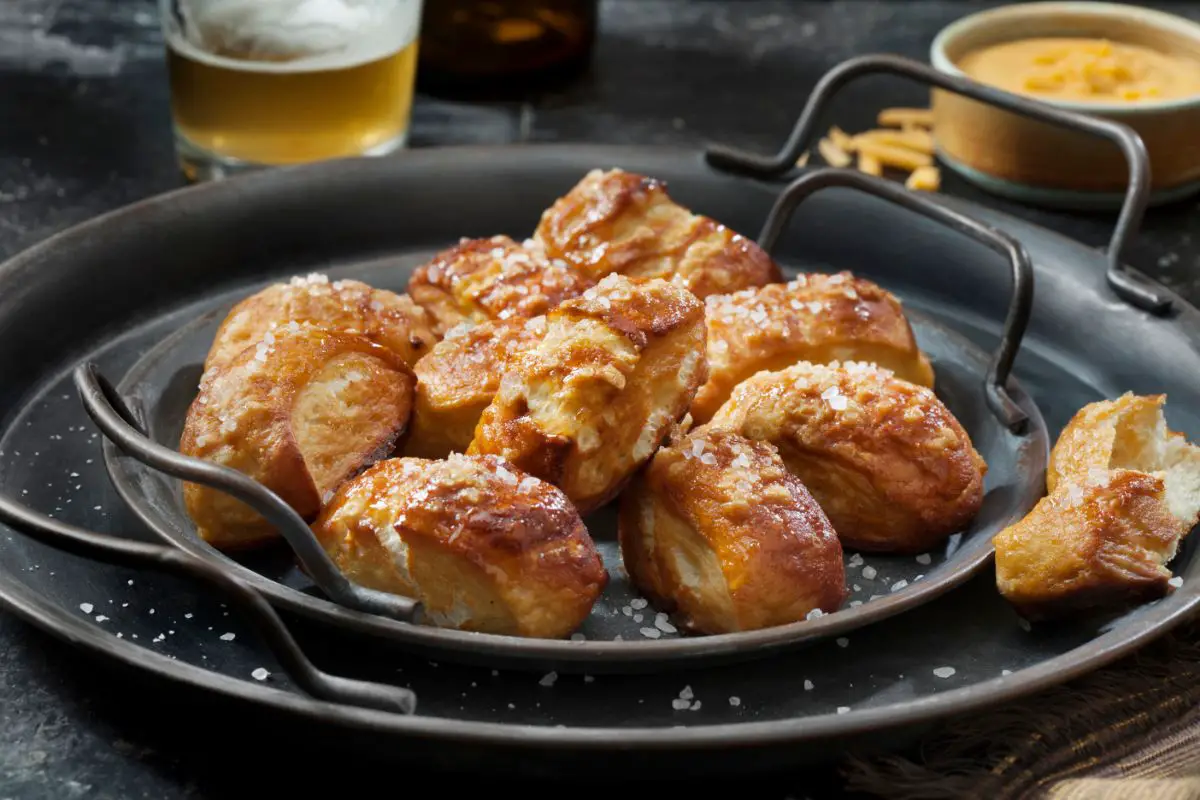 Most people use processed cheese like velveeta, which is why rotel dip is so flavorsome and irresistible.
The great thing about rotel dip is that you can make it your own way – use different types of cheese, switch the ground beef for ground pork, or use more chillies for extra spice – you can customize it to suit your taste. 
If you aren't sure what to serve your rotel dip with, you have come to the right place. We have put together this list of the best side dishes that you can serve with your rotel dip. Keep reading to find out more.
One of the best things to serve with rotel dip is nachos! For something simple, just pour a bag of store bought tortilla chips into a bowl and dip them in the rotel sauce. For something a bit more exciting, you can follow this recipe for loaded nachos. 
These nachos are piled up with ground beef, beans, homemade pico de gallo, jalapenos, cheese, avocado, and sour cream.
There are so many delicious flavors and textures in this dish. You can serve the rotel dip in a bowl on the side, or you can pour it over the nachos when you add the cheese. 
These nachos are perfect for sharing with family and friends on game day or for a movie night. Or you might prefer to eat the whole lot to yourself for a weekend treat.
You might think that cheese fries are perfect, or that they can't get any better. You would be wrong, as adding rotel dip takes cheese fries to a new level of flavor.
This recipe uses two different types of cheese as well as crispy smoky bacon. Adding the creamy, spicy, cheesy rotel dip either on the side or on top of the fries will make this recipe even better. 
You can garnish these fries with some fresh herbs. You could also add some finely chopped red onion, scallion, or chives to add a crunchy texture and a sharp flavor to contrast with the richness of the cheese. 
If you want to add even more toppings to your cheese fries, you could spoon over some chili or pile on some leftover bolognese. It is a great way to use up leftovers that aren't enough for a whole meal. 
One of the most classic side dishes to serve with rotel dip is soft pretzels. Soft pretzels are usually served with some sort of dipping sauce, and rotel dip is the perfect choice.
You can serve the dip with whole soft pretzels, or you can have a go at this recipe for soft pretzel bites. Pretzel bites are easier to share and also easier to eat with your fingers, making them ideal for parties and social gatherings. 
To make the pretzel dough you will need all purpose flour, brown sugar, active dry yeast, vegetable oil and water. You also need baking soda and a beaten egg.
It doesn't take very long to make the dough, but you need to leave it to prove until it has doubled in size. It can then be divided into equal portions to be cooked. 
Once you know how to make pretzel bites you will want to make them all the time. You can serve them with other sauces too  – cheddar sauce, garlic butter, chocolate sauce or caramel sauce. 
A simple way to enjoy rotel dip is to use bread to mop up the sauce. A fresh, crusty loaf or some warm ciabatta bread would work well. If you want to make this more flavorsome, why don't you try dipping garlic bread in your rotel dip? 
This recipe shows you how to make a mouthwatering garlic and herb tear and share bread.
This is a great appetizer when served alongside rotel dip, or could be used as the centerpiece for a party table or buffet table. Your friends and family will be very impressed that you have made your own bread. 
Chicken enchiladas are so tasty when served alongside rotel dip. You could take it a step further and use the rotel dip in the enchilada sauce, as they have done in this recipe. It is very simple and irresistibly delicious. 
Start by seasoning the cooked chicken with taco seasoning. Leave the chicken to marinade while you continue with the next step, or you can leave it overnight.
Next you need to saute the onion, then combine the chicken and onions together and pulse them a couple of times in a food processor.
You want the chicken and onion to mix together but not be completely blitzed. You can then assemble the wraps and line them up in a baking dish before adding the sauce. 
You can include some more rotel dipping sauce on the side of the enchiladas if you want to, or serve them with sour cream. 
Sausage and rotel dipping sauce go together really well, and this recipe is a perfect example.
This is a one pot meal as it is all cooked in one skillet pan, making it very easy to clean up after dinner. It has delicious smoked sausage, creamy pasta, soft onions, and that classic flavor of rotel cheese sauce.
It only takes 20 minutes to cook this comforting dish which is ideal for busy weeknights. You can have a hearty meal on the table in next to no time.
Feel free to add some chili if you want it more spicy, or extra cheese if you fancy it.
You can top the pasta dish with a garnish of fresh herbs and maybe some crispy bacon bits if you want to make it extra special. If you want to make this meal more nutritious than you can add some extra vegetables. 
You will be surprised at how well meatballs and rotel dipping sauce go together. This recipe for meatballs shows you how to make your own spicy cheese sauce, but you can replace it with rotel sauce if you prefer.
The preparation time for this recipe only takes 20 minutes, and then you can leave the meatballs to cook in the slow cooker while you get on with something else. 
This recipe uses mild green chili peppers, but you can use spicier ones or increase the amount if you like your food with plenty of heat.
You can experiment with different meats – you can make meatballs with ground pork, turkey, or chicken instead of beef if you want to. 
If you want to make this meal go further, you can serve the meatballs with pasta, rice, or potatoes. You could also use them to make sub style sandwiches, layered up with other toppings like lettuce and tomatoes. 
Shrimp rotel is a classic deep South dish. It uses rotel dipping sauce and added shrimp and ground meat – often beef or pork – to create something really special.
Some people use large shrimp and others use ground shrimp. This recipe uses salad size shrimp, which works well with the recipe and is also convenient as those shrimp are readily available in stores. 
It only takes 20 minutes to make this tasty dish, and it is a very satisfying and comforting meal. The creole seasoning works well with the shrimp and the ground meat, and complements the rotel sauce.
You can make this shrimp rotel as spicy or as mild as you like by adding more or less chillies, and you can also add a bit of extra cheese. 
This dish can be enjoyed on its own, as a dip with bread, or alongside rice or potatoes. 
 Summary 
These recipes show you the best ways to enjoy rotel dip. Whether you are looking for something to share (like tear and share bread or nachos) , something indulgent (like cheese fries) or something comforting (like spicy sausage skillet), there is something for everyone on this list.
Feel free to customize the recipes and experiment with your version of rotel dip to get it just how you like it.
What Side Dishes To Serve With Rotel Dip? 8 Amazing Recipes
Course: Sides
Directions
Pick a recipe from above
Click the recipe name and visit the website
Collect the ingredients and the food
Enjoy- don't forget to leave a review