Pork chile verde is a dish that blends comfort food with freshness, so you can enjoy it on a cold winter day, or during a warm summer evening.
Using tomatillos to provide a bright and zingy flavor, enhanced with a generous blend of spices, pork chile verde simmers for hours until a rich and luscious broth is created.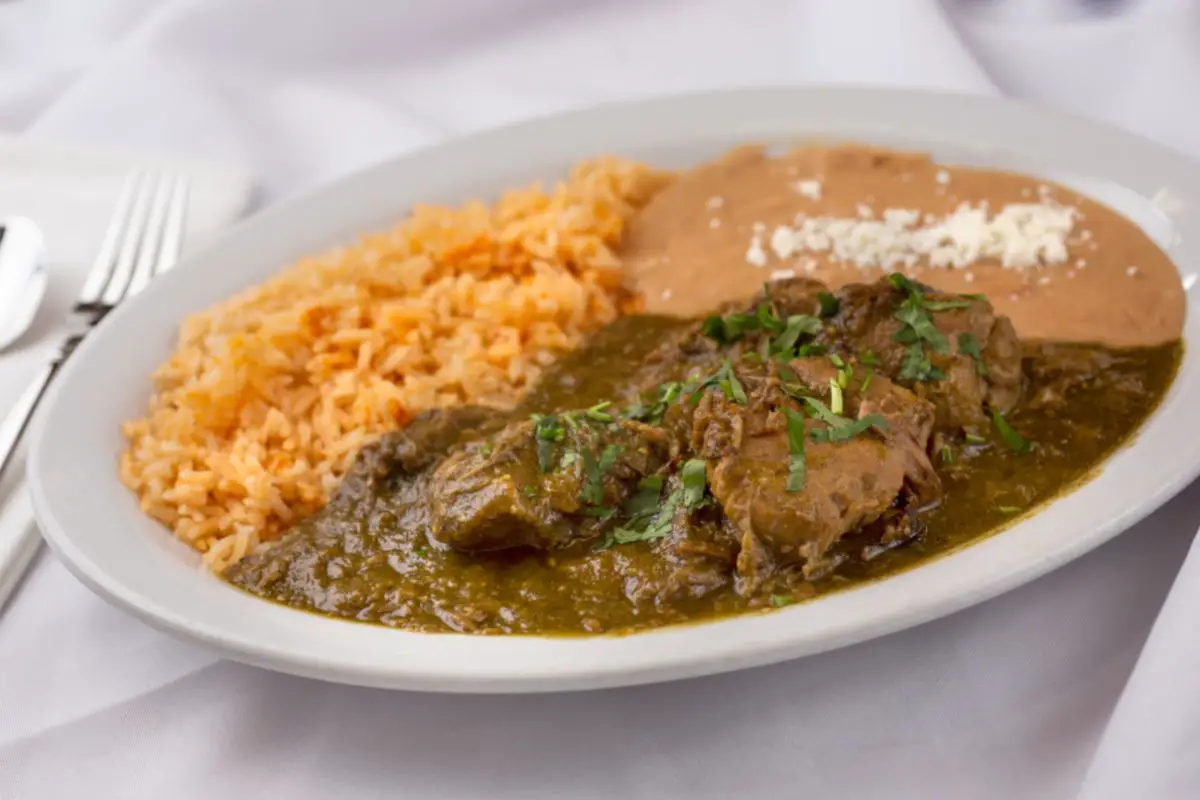 When your pork chile verde has finished cooking, you'll probably want to dive head first into a bowl! Pork chile verde can be enjoyed on its own, but the best sides enhance the silky flavors. Plus, the right side ensures you mop up every spoonful!
Wondering what to serve with your pork chile verde? We have some amazing options, designed to take your stew to the next level. And because chile verde is best cooked in a big batch, you can try every side before picking a favorite. 
Why Serve A Side With Pork Chile Verde?
You can serve your pork chile verde without a side, and still have a pretty delicious and filling meal. Pork chile verde is a type of stew, so it contains essentially everything you want in a bowl.
On a cold day, when you want something filling but not too heavy, a helping of pork chile verde will be enough.
However! Pork chile verde is all about that rich and sumptuous sauce. Having simmered slowly for several hours, the sharpness of the tomatillos has become smoothed, the heat of the peppers has softened, and the pork has turned deliciously tender. 
Adding a side helps you to soak up every last spoonful of sauce in your bowl. The perfect sides for pork chile verde don't fight with the flavors in the stew. Instead, they act as a mild base that enhances what's already in the bowl. 
The Best Dishes To Serve With Pork Chili Verde
Find the perfect side for your pork chile verde from the choices below.
Once you've started making your own tortillas, you'll never want to go back to store bought again. Not only do they taste better than packet tortillas, but they're also fun to make! 
Homemade tortillas are traditionally made using a tortilla press, but don't worry if you haven't got one. A rolling pin can get the job done just as well. If you're planning a family feast, get the kids involved with the rolling!
These tortillas are made from store cupboard essentials: flour, baking powder, oil, and salt! Use warm water to create a shaggy dough, and leave to sit, so the dough loses its spring.
Cooked on a hot pan, the tortillas start to bubble and puff, until a light brown char shows they're done. Serve warm, and use it to scoop up your chile verde.
If you want to keep things simple, plain rice works perfectly well as a side dish for pork chile verde. The chile verde is bringing so much flavor to the plate, there isn't much for the rice to do! 
But if you're looking to impress, or just like some tang with your chili, try cilantro lime rice instead. The cilantro brings an aromatic fragrance, while the lime adds an extra spark of zest that's ideal with the luscious sauce of your chile verde. 
Once you've made your rice, add minced garlic and scallions, plus lime zest, lime juice, and plenty of cilantro.
It will elevate your simple side dish, and bring a touch of fun to a food staple. And if you have any leftovers, this rice is an excellent base for tomorrow's burrito!
Unlike many other types of chili, pork chile verde isn't usually cooked with beans. But that doesn't mean they don't deserve a place on your plate! Mexican pinto beans are an excellent side dish for chile verde. 
For the best side, you need to buy dried pinto beans, not canned. It does mean the recipe takes longer to cook, but these beans will have a better texture, and they'll absorb the flavors around them better. It requires a little pre-planning, but very little hands-on time. 
The beans get a meaty richness from the addition of a ham bone — if you have one! Soaked alongside the ham bone, the beans take on that deep flavor. If you don't have a ham bone, use sliced bacon instead.
A nice slice of cornbread ensures you can soak up every single drop of that incredible pork chile verde sauce. Cornbread is one of those dishes that you just have to make from scratch. It's so simple, and as it cooks, your home fills with the enticing aroma of cornbread.
To achieve perfect cornbread, it's all about timing, and the cornmeal to flour ratio. Too much cornmeal can turn the texture crumbly, while too long in the oven will make it dry.
Luckily, these problems are easy to avoid! Use the same ratio of cornmeal and flour, and check the bread is just finished with a toothpick. The loose crumbs of a perfect cornbread will soak up your chile verde.
The best way to make pork chile verde is to make a lot of it. You can enjoy leftovers throughout the week, and freeze portions to enjoy on a cold day.
After a few days of enjoying pork chile verde, you might start looking for new ways to eat it. While rice and tortillas are the classic choices, have you tried your chile verde with potatoes? 
If you're looking for easy, spoon a helping of chile verde over a baked potato, and enjoy! But if you like to play with texture, try smashed potatoes instead. 
Smashed potatoes are made by boiling potatoes until they're soft, and then leaving them to steam dry.
You then smash the surface of each potato with a fork! Drizzled with butter and oil, and baked until golden, they're fluffy on the inside and crispy on the outside. 
Pork chile verde isn't quite as heavy as a tomato based chili, but it's still a dish that can fill you up quickly. With all those rich ingredients coming together to create a powerful broth, sometimes what you need is something light and refreshing on the side.
Guacamole chopped salad helps cut through the heartiness of the main dish, adding a complementary dimension to your bowl of stew. The dressing has a kick of zest from lemon juice, which balances the creaminess of the avocado.
Finish with a sprinkle of jalapeño, for heat.
With onion, lettuce, and tomatoes, the salad adds a contrasting texture to your tender chile verde. It's the perfect side for a Spring day when the air is cold, but you're feeling fresh!
Buttermilk biscuits is another side dish that goes wonderfully with pork chile verde because it soaks up all the flavor. You might traditionally enjoy biscuits with gravy, but the flaky interiors are just as good with the rich sauce of your chile verde!
Buttermilk biscuits seem like hard work, and they do require some elbow grease! With that said, it's a recipe that even a novice baker can get right.
Just make sure to keep everything chilled before going in the oven, so that you get the perfect inner texture, and that crisp outside.
Biscuits freeze well as dough, but you can also freeze cooked biscuits! If you make up a big batch, you can have some on hand for the next time you make pork chile verde.
You could opt for plain tortilla chips to accompany your pork chile verde, and that would be a pretty good choice. But you could also take things up a level with baked chili cheese Fritos! They require just a tiny bit of extra effort, for epic results.
You can make your own nachos and Fritos using any leftover tortillas you might have. These are cut into strips, tossed in oil, and baked. When they're golden brown, add your favorite seasonings, and enjoy!
This is such an adaptable recipe, so you can play with the seasoning levels until you find what works for you. Load up the heat with chili powder, or keep things fragrant with cumin — it's !
Final Thoughts
Pork chile verde delivers plenty of flavor on its own, so the best sides help you enjoy that flavor, rather than mask it. Traditional Mexican favorites such as rice, tortillas, and cornbread are excellent accompaniments to this delicious dish. 
8 Delicious Side Dishes To Serve With Pork Chile Verde
Course: Sides
Pork chile verde uses zingy tomatillos, aromatic spices, and a long simmer to create an enticing bowl of stew. Find the best pork chile verde side dishes here.
Directions
Pick a recipe from the list above
Click the recipe name and visit the website
Collect the ingredients and cook the food
Enjoy – don't forget to leave a review