Soft pretzels are made with a bread-type dough that is shaped into a knot. They are originally German, but have become very popular across the United States and other parts of the world.
Pretzels can be enjoyed on their own as a snack, or served with some tasty side dishes.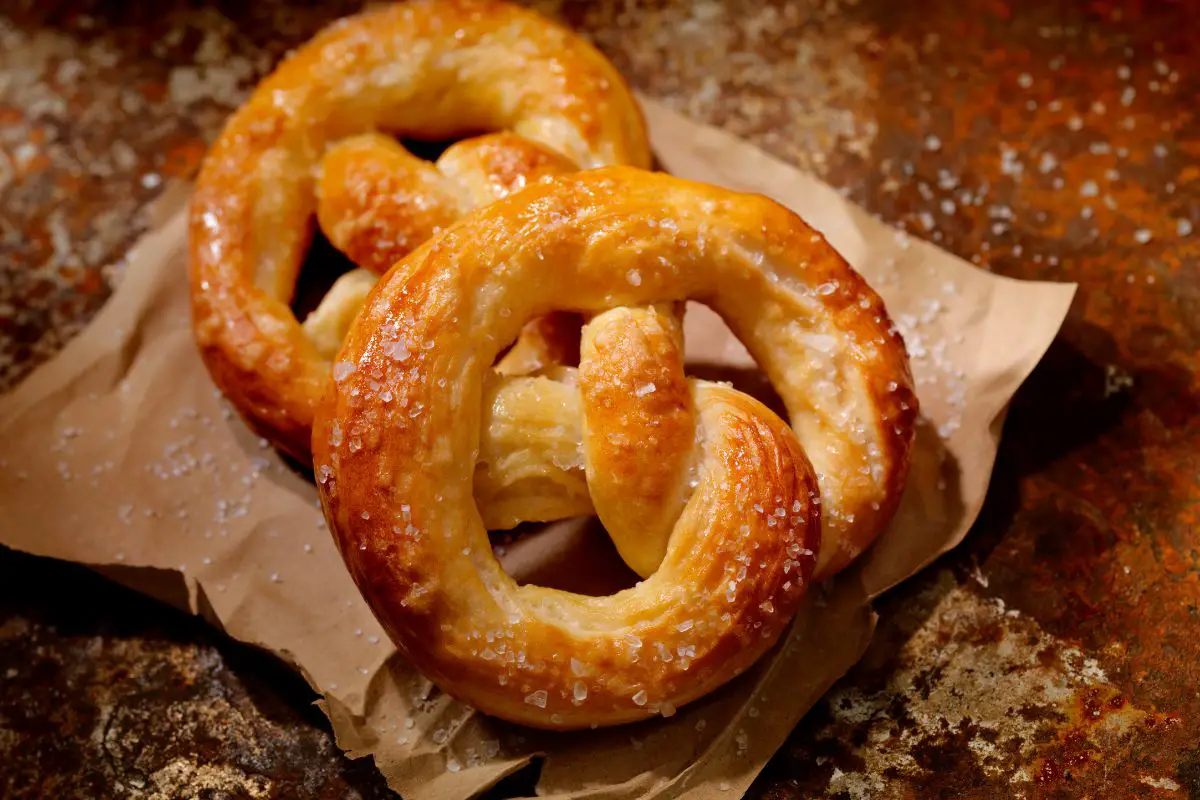 If you don't know what side dishes to serve with your soft pretzels then you are in the right place. We have put together this list of delicious side dishes that are ideal served alongside soft pretzels. Keep reading to find out more.
One of the most simple and delicious ways to serve soft pretzels is with a dipping sauce. This queso cheese dip is creamy, cheesy and full of flavor.
The cayenne pepper adds warmth and depth – if you like your dip to have a fiery kick then add some hot chili pepper as well. If you want to avoid using alcohol in this recipe then opt for a non-alcoholic beer. This way, you will still get the hoppy flavor. 
You can also try other savory dipping sauces with your soft pretzels like mustard, cheddar cheese and chive dip, pizza sauce dip, or a sweet chili dip. You could serve soft pretzels and a range of dips as an appetizer.
Soft pretzels can be enjoyed as a savory dish, or as something sweet. You can pair them with sweet dipping sauce to make them into a dessert. This recipe shows you how to make a sweet cream cheese dipping sauce for soft pretzels in just 15 minutes.
The sauce is creamy and smooth, with a tangy yet sugary flavor. Vanilla extract helps to create a wonderful taste, and you can also add some cinnamon if you want to add a bit of warmth, 
There are plenty of other sweet dipping sauce options like caramel sauce, chocolate sauce, salted caramel, hazelnut, or a simple vanilla whipped cream. 
An exciting way to enjoy soft pretzels is alongside a charcuterie board. You can create one large board for multiple to share. Alternatively, you can use each pretzel as a board, topping it with meats and cheeses, then serve them as individual appetizers or main dishes.
You can use the charcuterie to build your own pretzel sandwich filled with delicious deli meats and cheeses, or tear the pretzel up to enjoy in bite size pieces. 
If you aren't sure where to start when it comes to building a charcuterie board, here are some things you should include: 
Soft cheese (brie, camembert, goats cheese)
Hard cheese (cheddar, Manchego)
Crumbly cheese (Wensleydale, white stilton)
Blue cheese (roquefort, gorgonzola) 
Cold cuts (ham, beef)
Cured meats (salami, prosciutto)
Cured sausage (kabanos, pepperoni, chorizo)
Nuts (walnuts, Pecans)
Fruit (berries, apple slices)
Pickles (gherkins, pickled onions)
Spinach and artichoke dip is everyone's favorite side dish. It always goes down well at a party. It has a creamy, savory flavor and is packed with goodness and nutrients from the spinach and artichoke.
This dip is really easy to make and is so flavorsome. It has cream cheese, sour cream, mayonnaise, garlic, parmesan cheese, mozzarella cheese, canned artichokes, frozen spinach, and is seasoned with salt and pepper.
You can use fresh spinach and artichokes if you prefer, but you will need to add extra time to the recipe for preparation. 
Spinach and artichoke dip is often served in a cob – a hollowed out loaf of crusty bread. This version is served in a dish with your choice of items to dip. It would work really well with soft pretzels.
You can serve the pretzels as they are, or chop them up and lightly toast them in the oven to give them a crispier texture. 
This chutney only requires 7 ingredients – red onions, olive oil, red chili, bay leaves, light brown sugar, balsamic vinegar, and red wine vinegar. With these ingredients you can create a delicious onion chutney with perfectly balanced flavors.
If you don't want your chutney to be too spicy then make sure you de-seed the chillies before you add them to the chutney. 
Try to slice the onions as thinly as possible. If you have a food processor then you can use the slicing function on it to create perfectly sliced onions.
The onions need to be left bubbling with the rest of the ingredients for around 2 hours to reduce the sauce. Stir them occasionally to make sure that they don't stick to the bottom of the pan. 
Make sure you sterilize the jars before you add the chutney. This way, the chutney will last for several months in the refrigerator. It is perfect when served with soft pretzels, and maybe some of your favorite cheese. 
Hummus goes really well with soft pretzels. Rather than just serving them with hummus, why don't you take it one step further and make a Mediterranean Mezze board?
Mezze is like Greek tapas – a mix of lots of tasty nibbles and side dishes that you enjoy as one big spread. It is also enjoyed in Turkey, North Africa, and some areas in the Middle East. This gives you lots of choice when it comes to which dishes you can include. 
There are so many options for building your Mezze spread, and you can customize it to suit your personal taste. Here some of this dishes we recommend: 
Dip – A tasty dip like hummus, baba ganoush, muhammara, or a yogurt based dip
Olives – black olives like kalamata are ideal, but you can use whichever ones are your favorite. You might also choose to use stuffed olives – garlic cloves make a wonderful stuffing for green olives. 
Fruit – You can use a combination of pickled fruit and fresh fruit. Pickled berries or pickled pears are lovely, and grapes are ideal for snacking on. 
Cheese – You can serve a cold cheese – like a creamy goats cheese – alongside some pan fried haloumi. 
Salad – Include some refreshing salad items to balance the ricer items – cucumber, tomatoes, sliced peppers etc. You might want to make a bowl of salad, like a classic Greek salad. 
Stuffed Vine Leaves – This delicacy is enjoyed in Mediterranean and Middle Eastern countries. The stuffing can vary depending on which recipe you use – meat, vegetables, rice etc.
Meat – You might want to include some cold cuts, cured meats, or some seared steak or marinated lamb. 
A Mezze board would often be served with pita or ciabatta bread, but using soft pretzels makes a nice change. The pretzels will go perfectly with all of the items included in the Mezze. 
This perfectly creamy potato salad only takes 35 minutes to prepare and is a great accompaniment to soft pretzels. You can use white, yellow or red potatoes depending on what you prefer.
It is best to use small potatoes, or to cut large potatoes into smaller chunks, so that they cook quicker. Make sure that the potato chunks are fairly even in size to ensure that they cook evenly. 
Using fresh herbs instead of dried herbs gives the potato salad a more vibrant flavor. You can choose your favorite herbs or experiment with different herbs to see which flavors you prefer.
Using a little bit of cider balances the creaminess of the potato salad with some acidity to create a balanced mouthful. Sour cream is used as well as mayonnaise which adds a nice tangy flavor. 
One of the great things about this recipe is that it uses hard boiled eggs chopped up into the salad for extra flavor. This also adds protein and makes the potato salad more filling. You can serve this salad alongside soft pretzels for a delicious lunch. 
Soup is often served with bread rolls or slices of bread. Why not try serving your soup with soft pretzels instead? This chunky vegetable soup is hearty and comforting, with plenty of nutrients to leave you feeling nourished.
It takes less than an hour to make, and you can make a large batch to enjoy over several days. It is almost like a stew, and you can customize it by including your favorite vegetables or whatever is in season. 
 Summary 
These side dishes are ideal for enjoying alongside soft pretzels. Whether you are putting together an appetizer or a main meal meal, there is something for everyone. 
What Side Dishes To Serve With Soft Pretzels? 8 Recipes For Delicious Side Dishes
Course: Sides
Directions
Pick a recipe from above
Click the recipe name and visit the website
Collect the ingredients and the food
Enjoy- don't forget to leave a review