While you may not get to Katz Deli in New York City, you can still order or make your own pastrami sandwich. Peppered and spiced beef should be treated well as the saltiness may need something to go with it.
There may be some standard side dishes you should expect that go really well with pastrami sandwiches yet there are others that work well to offset the smokiness too.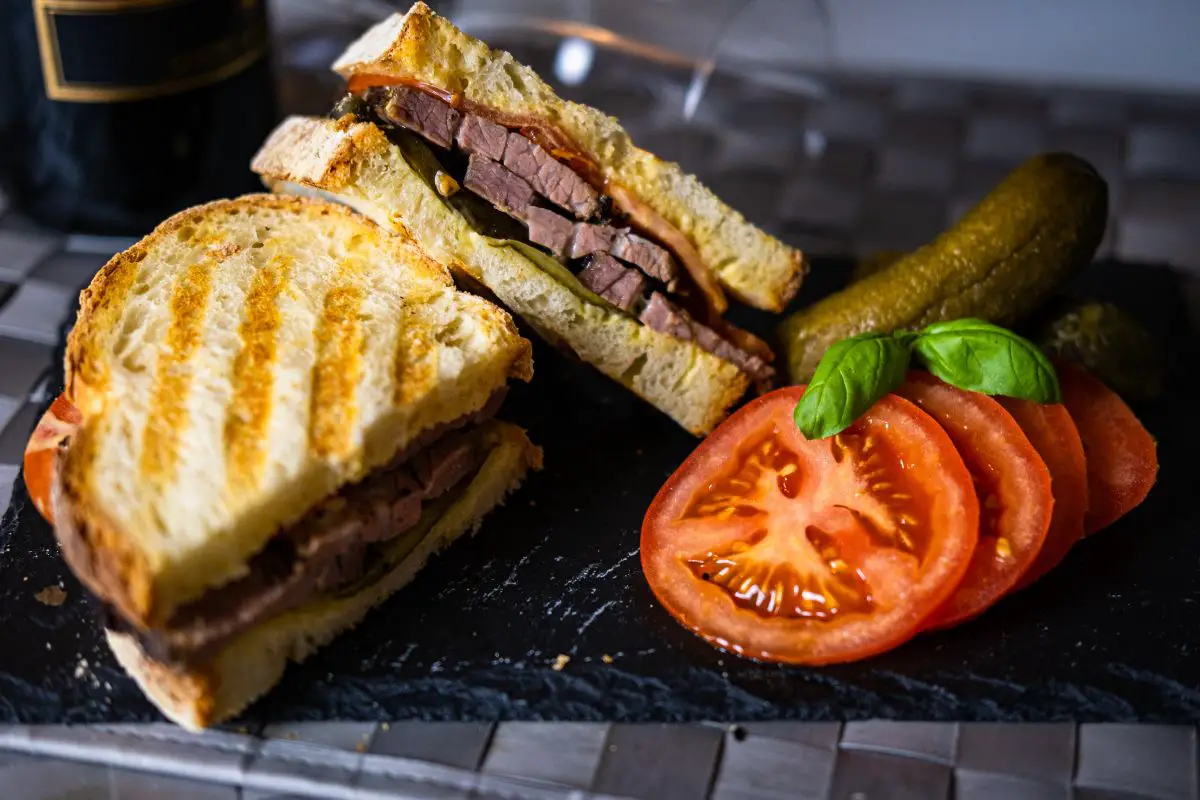 These can include something as simple as a few pickles, fries, or chips, or something more substantial like a Russian Salad, a Matzo Ball Soup, or coleslaw.
In this guide, we will detail 8 awesome side dishes that go really well with a pastrami sandwich.
If your plate is big enough, add a dollop of Russian Salad to go with your pastrami sandwich. You can even use the Dill Pickles recipe below to go with it.
The other key components are boiled and drained chopped potatoes, chopped carrots, chopped hard-boiled eggs, canned peas, cooked ham, and fresh parsley.
Finally, stir in mayonnaise for an even coating and serve. 
As pastrami is a Jewish American creation, you should look for something traditional to go with it as a side dish. That may mean a soothing bowl of Matzo Ball Soup that you can prepare yourself.
Create the soup first with minced garlic, diced onion, celery, and carrots that are sautéed until transparent. Add chicken broth, chicken breast, water, pepper, and dill sprigs then bring to a boil and simmer. 
As the soup simmers, create the matzo balls with eggs, vegetable oil, matzo meal, baking powder, salt, and pepper.
Keep in the refrigerator until the matzo meal has absorbed the mixture then shred the chicken, return to the soup and add the balls once they have stiffened up.
Allow to simmer and then serve with more dill sprigs.
If you want to offset the saltiness of a pastrami sandwich, you should prepare some sauerkraut to go with it.
You only need three ingredients so start by cleaning a cabbage head, discarding the outer leaves, removing the core, and then chopping it into exceedingly thin ribbons.
Place the ribbons in a bowl and sprinkle over salt then work it in until the cabbage becomes limp and watery before flavoring it with caraway seeds. 
Find a few clean jars and pack the cabbage in then pour out any liquid and weigh it all down with something as simple as a bag of marbles.
Cover the jar's mouth with a cloth then secure that with a rubber band to prevent insects from getting in. 
Press down the cabbage every few hours and add more liquid if it has not risen above the prepared cabbage. That liquid will be a single teaspoon of salt in one cup of water to submerge the cabbage.
Leave to ferment for between three and ten days though you should check it regularly.
This side dish may take a little longer to prepare but it is worth it as pickles are a staple side with a pastrami sandwich. If it is good enough for Katz deli, then it should be good enough for anyone.
These dill pickles should only take ten minutes to prepare but a full day to chill and six days for the flavors to develop.
Slice the Persian or pickling cucumbers lengthwise into a batch of quarters then divide amongst either four 8oz jars or two 16oz ones. 
In each jar, add mustard seeds, garlic, peppercorns, and dill sprigs. In a medium-sized saucepan, heat up the distilled white vinegar, water, cane sugar, and sea salt, stirring until the salt and sugar has dissolved.
Allow the mixture to cool and then pour over the cucumbers and leave to cool to room temperature before leaving in the refrigerator.
Once the flavors have developed, you can leave the pickles in the refrigerator for weeks.
Of course, in any restaurant you should be able to order a side of French Fries. However, if you are making your own pastrami sandwich then you should be able to make your own batch of fries to go with it.
For around six servings, you will need about ten large Russet potatoes that have been peeled and rinsed. These will need to be sliced into half-inch thick sticks and you can use a French Fry cutter to do the hard work for you.
Just like creating potato chips (more about that below), these potato slices will need to be soaked for at least an hour or up to overnight in cold water.
The longer they are soaked, the more starch will be removed which results in crispier fries. Make sure that you rinse the potato sticks not once, but twice in cold water before laying them on paper towels and patting them dry.
Heat a couple of quarts of vegetable oil in a deep fryer up to 300°F and fry the sticks in batches, around six will do, and start with one quart of oil then add more.
Fry the sticks for between five and six minutes then remove with a slotted spoon onto a kitchen paper-lined plate. Ramp up the heat to 400°F and then fry the potatoes again until golden brown. 
Remove them again and allow to dry on paper towels then sprinkle with salt.
Though you will not be getting a pastrami sandwich in KFC, you can still recreate their coleslaw to go with a sandwich.
Like a batch of Macaroni Salad, you need some fresh vegetables like chopped cabbage, finely chopped onion, and shredded carrot but also pantry ingredients. 
These should include mayonnaise, milk, buttermilk, lemon juice, sugar, salt, and pepper. Prepare the vegetables first and then combine the dressing ingredients in another bowl until well combined.
Pour the dressing over the vegetables and mix together then refrigerate overnight.
As with any sandwich, a side of potato chips goes really well with a pastrami sandwich. You could even make your own batch by peeling a few Russet potatoes with a mandolin to create some 1/16 or 1/8 of an inch slices.
Add the slices to a bowl and cover them with water and then add a few ice cubes to remove the surface starch after around half an hour. Line a casserole dish with kitchen towel, drain the slices, pour them onto the paper then dot with another piece to pat dry.
Meanwhile, heat up some oil in a deep skillet until between 350 and 365°F then cook the potato slices until browned. Remove to a cooling rack then sprinkle with salt in a single layer to avoid them becoming soggy.
Allow to cool and crisp up. Alternatively, you could bake the potato slices in olive oil and salt. 
Macaroni Salad is great with a pastrami sandwich but also as a side dish at barbecues or with other meat dishes.
You only need a few fresh ingredients combined with some condiments and other components that you should have in your pantry.
Obviously, you will need some cooked and then drained elbow macaroni but also some chopped celery, onion, green and red bell pepper to mix together.
In another bowl, mix together apple cider vinegar, mayonnaise, mustard, salt, pepper, and sugar.
Once combined, mix it all together and leave in the refrigerator for around four hours though you can leave it overnight and give it a stir before serving.
Like any salad, you can also add a few more ingredients including hard-boiled eggs, grated cheese, bacon bits, or cherry tomatoes. 
Final Thoughts
To treat a pastrami sandwich well, you should pair it with your favorite sides. That could be something pulled out of the refrigerator though you can prepare in advance.
If you fancy some pickles with it then that may take a week or so.
However, if you want some French Fries or chips then grab yourself a fryer and they can be ready in an hour or so, though a fresh salad may be best to offset the saltiness and the smokiness. 
Frequently Asked Questions
Which Type Of Cheese Would You Add To A Grilled Pastrami Sandwich?
If you are going to add some cheese to a grilled pastrami sandwich then there is only one you should add.
That's provolone cheese, though Swiss cheese works well with the saltiness of the pastrami. When you grill the sandwich, it only requires five minutes to toast the bread and that the cheese has melted.
What Goes Into A New York Pastrami Sandwich?
If you do want to create a classic New York pastrami sandwich then place some sizable pastrami slices on one slice of rye bread. Top them with spicy brown mustard, add another slice of rye bread and then add a dill pickle on the side. 
What You Should Serve With Pastrami Sandwiches? Here Are 8 AWESOME Side Dishes
Course: Sides
Directions
Pick a recipe from the list above
Click the recipe name and visit the website
Collect the ingredients and cook the food
Enjoy – don't forget to leave a review