Comfort food like tomato soup is simple to make and comes in a variety of flavors. While some might characterize it as acidic, others could find it to be sweet and savory. In either case, it's a delicious and nutritious dish to eat at any time of the year.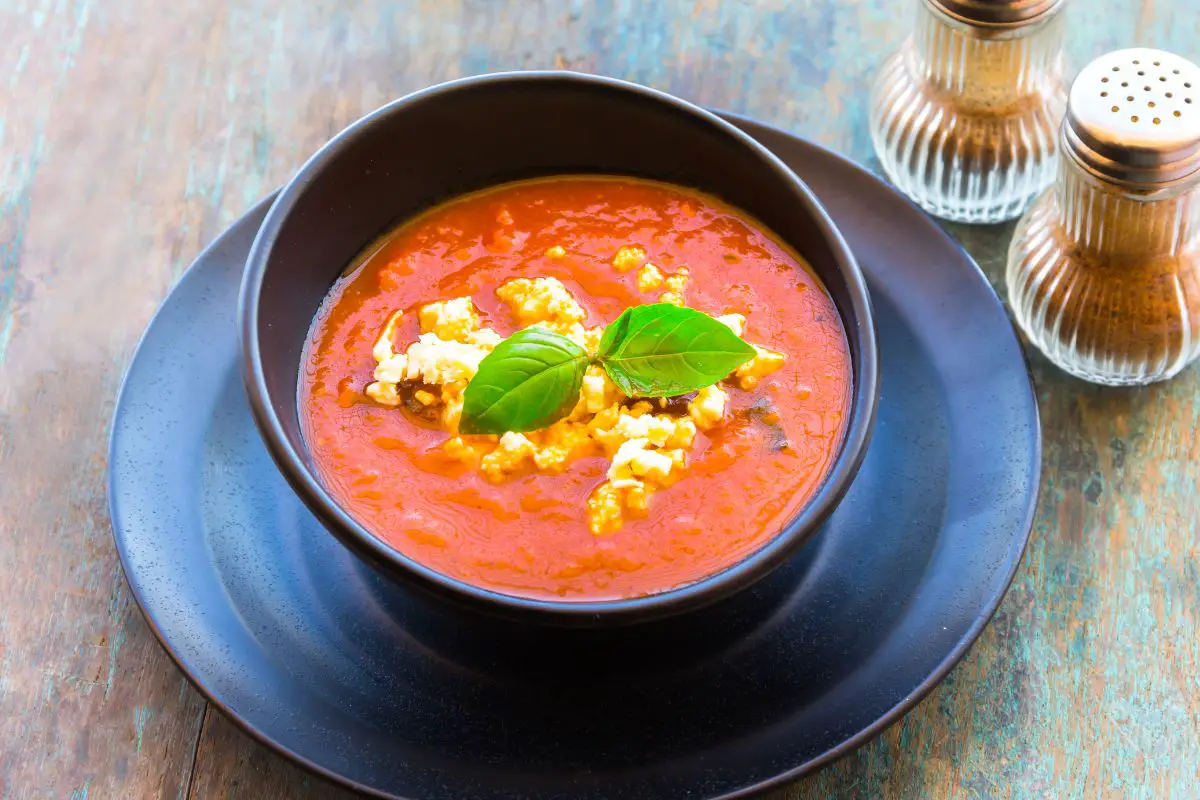 The ideal tomatoes to use while making tomato soup are those that are fresh and juicy. To hasten the process, you could use canned tomatoes, but the outcome won't be as good.
If soup isn't your thing, you might choose to serve this dish with a variety of sides. A side dish can help make tomato soup more enjoyable and filling to consume. 
Selecting the right sides can be a difficult decision to make, as you want the flavors to compliment the tomato soup. In this article, we have gathered 8 amazing side dishes you should serve with tomato soup. 
Which Flavors Should You Pair With Tomato Soup?
Tomato soup has an intense and strong flavor that some people may find difficult to digest. It is therefore wise to always serve it with a milder side dish. In this way, the entire flavor of the meal as a whole is well-balanced and doesn't become overpowering.
Typical accompaniments to tomato soup include sandwiches, grilled cheese, and bacon. The greatest flavors of tomato soup are enhanced with creamy and cheesy sides.
8 Side Dishes To Serve With Tomato Soup
Below are 8 fantastic side dishes that you should consider pairing with your favorite tomato soup recipe. All these side dishes are perfect when serving tomato soup for a special occasion or as a light lunch. 
A tasty and crunchy dish full of flavors and spices, is baked potatoes. You can leave them plain, or you can add herbs and seasonings to enhance the flavor of baked potatoes. 
Regardless of flavor, they make a delicious side dish for your tomato soup. The best part is, you can quickly and simply reheat baked potatoes in the microwave. A satisfying dish of tomato soup coated in crunchy baked potatoes is a fantastic afternoon snack.
Tomato soup pairs well with the crispness of chicken nuggets, which can make a satisfying midday snack. You'll adore every morsel when dipped in tomato soup. 
As it stands, chicken nuggets are typically consumed with a mustard or mayonnaise dip. However, a piece of chicken nuggets pairs perfectly with the distinct flavor of tomato soup.
The sharpness of tomato soup has a similar flavor to ketchup, which you are more used to dipping your nuggets in. 
When paired with tomato soup, the crunchy chicken is exceedingly tasty and will have you begging for more.  In fact, we're confident you'll skip the mayo after experiencing this combination. 
We advise choosing homemade nuggets as opposed to ready-made nuggets from a store. The overall flavor and texture are significantly better and more enjoyable.
Usually, tomato soup is paired with cheese or vegetables, but don't forget your meaty flavors as well. Since they have a rich, fatty flavor and go well with tomato soup, sausages are an excellent side dish. 
Additionally, the tenderness of the sausages goes incredibly well with the sweet and sour tomato soup.
Rich in protein and flavor, sausages when paired alongside tomato soup creates a delicious and filling meal. Don't hesitate to attempt this recipe. Whether you prefer meat or vegetables, we are confident you will like this combo.
Are soup and sandwiches something you enjoy? Then you've definitely landed in the right place. The finest sandwich to balance the tomato's acidity is one that is smooth and creamy.
As we all know, one of the most popular and straightforward meals available is a cheese sandwich. Although it doesn't have many flavors, it makes a great side dish for tomato soup.
You can use any cheese you have on hand, but cheddar is often a more classic combination. 
If you want something nice but don't want to put much effort into it, try this combination. Even a slice of a sandwich can be dipped into a bowl of soup to simulate ketchup.
Bread is a very common accompaniment to any soup, but instead of plain bread, why not make a batch of scones instead. These savory scones are to die for!
Cheese scones are already delicious by themselves, as they have a strong flavor. Yet, the addition of bacon adds a lovely smokiness to the scones. These scones taste even better when they are homemade.
Dunk your scones into the tomato soup. The tang of tomato soup works well with the bold and smoky flavor from these scones.
Another healthy, crispy snack to accompany your bowl of tomato soup is potato chips. Most people eat potato chips every day because they are a highly popular snack.  
Even though they taste wonderful on their own, potato chips taste even better when dipped into something that has a stronger flavor profile. In this instance, the tomato soup would be the perfect accompaniment. 
Potato chips are available in a huge variety of flavors and variations and are fairly simple to buy from any grocery store. However, if you want a challenge, why not make your own potato chips from scratch?
In this manner, you can decide on the desired level of thickness and cook them to your preferences.
Cheese and bread-filled mozzarella sticks make a tasty side dish for any soup meal. They are enjoyable to eat and really enhance the flavor of tomato soup.
The best way to enjoy mozzarella sticks is with a bowl of ketchup or dip, like many other appetizers. Thus, it seems sensible that it is a great accompaniment to tomato soup.
On the surface, they are crunchy and crispy, while the cheese filling inside is warm and gooey. This cheesy flavor is the ideal complement to tomato soup. You could easily make your own or purchase pre-made ones. 
If you want to add more vegetables to your meal, then you can't go wrong with this salad. This combination tastes fantastic whether it's in a straightforward salad or a salad with cucumbers and cabbage.
Salad may sound like a strange option, but trust us when we say that they do work well together. You could make any type of salad that you like. The freshness from the ingredients in the salad works well with the warming flavors of the soup. 
You could include lettuce, onions, and olives. If you are a cheese lover, then there is no reason not to add your favorite cheese into your salad. There are no rules that you need to follow. You should select whichever salad ingredients that you love the most. 
To give all those greens and leaves a tiny bit of delicious crunch, you can add some corn at the end.
What Is Traditionally Served With Tomato Soup?
In restaurants, when ordering tomato soup, you will usually be served with a side of bread. The bread that is offered to you can sometimes vary from a crusty white roll to a slice of seeded bread. 
The reason that bread is frequently offered alongside tomato soup is because it has a very simple flavor which won't compete with the tomato soup. In addition to that, you can dunk your bread into the soap and soak up more of that good tomato soup flavor. 
However, if you don't like bread rolls, then croutons are another traditional accompaniment to tomato soup. Croutons will add a crunchy element to your soup when eaten together. 
Although, for some people bread and croutons are quite boring side dishes to serve with tomato soup, especially if it is a special occasion. Hence, this is when you can serve your tomato soup with one of the options mentioned above for something a bit different. 
Final Thoughts
Tomato soup is a delicious dish that a lot of us like to enjoy now and then. However, sometimes, eating soup by itself can be a bit boring. This is where you can choose a delicious side dish to help make the meal overall more enjoyable. 
Vegetables or cheesy side dishes work best when paired with tomato soups. This is because they help to balance out the sweet and tangy nature of the tomatoes.
In this article, we have offered you 8 amazing side dishes that we believe you should consider serving with your next bowl of tomato soup.
We hope one of these side dishes sounds appealing to you. Hopefully, you will try at least one of them, when you next have tomato soup. 
8 Amazing Side Dishes To Serve With Tomato Soup
Course: Sides
Directions
Pick a recipe from above
Click the recipe name and visit the website
Collect the ingredients and the food
Enjoy- don't forget to leave a review