Is there a better comfort food out there than a good pot of chicken tenders?
Well, maybe if you're vegan or vegetarian, they're not so good.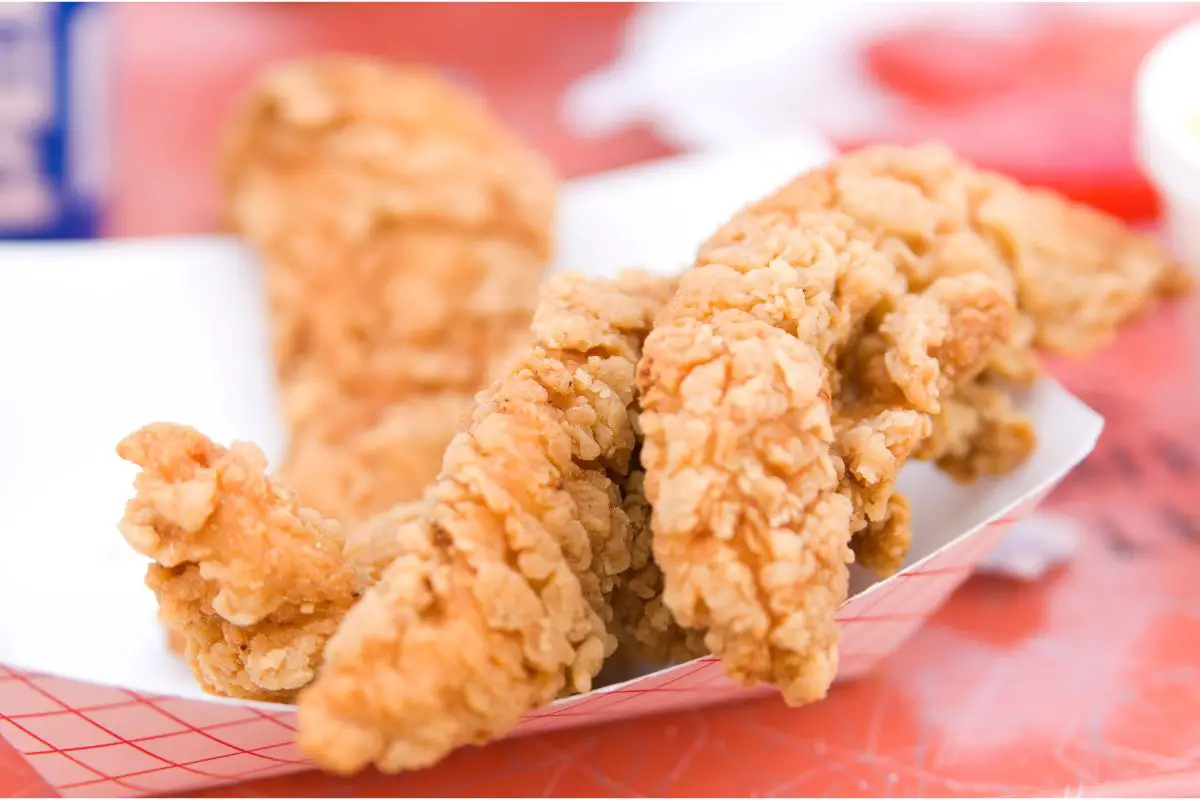 But still, you can't deny that chicken tenders are perhaps some of the best things to cook when you're trying to through together a meal at the last minute (or last 30), and you need something that's filling for everyone.
However, chicken tenders, as good as they are, don't always make a full meal by themselves. Sometimes, you also need a few extra sides that can complement that succulent chicken meat.
Fortunately for you, we just so happen to have a recipe that can help fill out the meal plan that you have planned!
In this guide, we have compiled some of the best side dishes that can be served alongside a classic recipe for chicken tenders. From casseroles to coleslaw, we have an incredible set of recipes for you to try out!
Ideas For Serving
No, when it comes to deciding what to serve with chicken tenders, it's important to consider how many people you're going to be serving food to.
For example, if you're going to be serving these chicken tenders just for yourself, or as a light party snack, then a complex or large side dish is usually unnecessary, and will probably go to waste.
Just some quality dips, whether store-bought or homemade, will often do the job nicely.
However, if you are serving your chicken tenders as part of a larger meal, then you should consider preparing a larger side alongside this easy-to-make, but ever-reliable comfort food.
We'll start this list off with a great recipe if you're just serving your chicken tenders for one or two people!
Bang bang sauce is a classic recipe that many people who love Thai cuisine will be well acquainted with. A mixture of both spicy and sweet flavors, this is a dip that is most often used on and cooked with shrimp.
However, it also makes for an excellent dip all on its own, so it'll go amazingly with a chicken tender recipe!
This is a dip that requires only a few ingredients: A sweet chili sauce of some kind, a hot sauce that you want to use, some mayonnaise, and some honey.
And that's it. That's all you need to make an incredible dip that can be used for any occasion!
Again, just make sure that it is a hot sauce that you can handle. While the mayo and honey might help mute an extra spicy hot sauce, the sweet chili sauce takes no prisoners!
Is there a more classic side dish than a plate of french fries? They are arguably THE definitive side dish, especially here in the US!
So, being able to make a delicious plate of crispy fries is going to instantly go down a treat with anyone eating their chicken tenders, whether they're just cooking for one, or the whole family!
Plus, these fries will generally be a lot healthier for you than many of the fries that you can get for takeout, making them an even greater little side dish.
And of course, getting thinly sliced fries also means that they'll be cooked pretty quickly too, cutting down that time between cooking and serving, and making them a great dish to prepare while you're preparing your chicken tenders in your preferred style.
Don't just think that there's one way to enjoy fries, however, with a slight change of ingredients, you'll find a whole different world of flavors to play around with.
Sweet potato fries have only been massively popular for a few decades, but they've already sworn over tons of classic fries fans with their sweet flavor, and distinct texture.
However, they still have all the perks o being fries, making them perfect for serving alongside chicken tenders all the same.
It's really up to a coin flip whether or not to go with this recipe or the previous one. Maybe a different recipe for a different chicken tender evening?
Of course, what could make a chicken tender meal any better than it already is?
Why, more chicken, of course!
While we'd be stretching to call this particular recipe a side per se, this is still a delicious way to enjoy a good piece of chicken breast meat.
(Especially when paired with a delicious dip!)
If you're looking for something that's a little like fries, but has a little more meat on its bones (so to speak), then you'll want to try serving your chicken tenders with these potato wedges!
They're a lot like the classic french fries that you know and love, but here, they make for a slightly healthier alternative, as well as something a lot crispier too!
The best way to enjoy these wedges is with healthy (or maybe not-so-healthy) dowsing of pepper, garlic powder, salt, and maybe even a little paprika for a little heat.
Add in a dip, and you have a great side on your hands!
Now, is this just another way for us to sneak fries into this side dish list?
We'll let you be the judge. But we're not exactly denying it…
Still, that's kind of like arguing that you shouldn't mention pepperoni pizza on a pizza list that also has a margarita on it. Just because there's plenty in common, doesn't mean that they're the same dish!
And in any case, you'll find plenty of differences between these two side dishes once you bite into them/
Another classic side dish that pretty much everyone will have heard of. It makes for a great healthy side dish that is full of flavor, goes well with almost any kind of food, and manages to make even unpleasant veggies like cabbage appealing.
(And in our eyes, that's a miracle!)
Able to whip up in 10 minutes or less, this is a great recipe to make while your chicken tenders are just finishing cooking.
Plus, it's a great way of using that cabbage that you've been meaning to use for a while!
If you're looking for a vegetable dish that has a little more sweetness than slaw or fries, then you have to check out this pea salad recipe!
There's a little bit of everything in this particular salad dish. Front the fresh green beans, to the heat of the onions, to a little cheese for added flavor, and even some bacon being thrown in for good measure.
The makes for the perfect dish to serve alongside your chicken tenders, or even just as part of a buffet if you're looking to add something a little different.
Just make sure that your bacon bits are already cooked before tossing them into the salad!
Now, if you're looking to make some fancy fires, you owe it to yourself to check out this next dish.
At first, they look like ordinary fries, if a little longer and weirdly shaped.
However, the moment you take a closer look at them, you realize that they were asparagus all along, breaded up to look like fries!
… Okay, maybe this isn't the most groundbreaking disguise out there. But it certainly adds a lot of texture and flavor to an already popular vegetable. Especially one that kids might not be big fans of!
Now, a casserole might be a little on the bigger side of things when talking about side dishes. It is arguably more of a main meal if we're being honest.
However, considering that we've already got our chicken tender main, and given the contents of this particular casserole, you'll find that this veggie-friendly casserole makes a perfect side dish.
With the thinly sliced zucchini making up the bulk of this recipe, and the entire dish is filled with a creamy sauce, topped with cheese and panko breadcrumbs, it is hard not to love this casserole!
The sauce itself makes for a phenomenal dip for your chicken tenders, so it is worth checking out, even if you aren't much of a veggie person!
Final Thoughts
So, as you can see, there's no shortage of sides that you can have with your main chicken tender dish.
With pretty much every kind of flavor palette covered, there's only one question left to ask:
Which will you try first?
9 Amazing Side Dishes To Serve With Chicken Tenders
Course: Sides
Directions
Pick from the list above
Click the recipe name and visit the website
Collect the ingredients and cook the food
Enjoy – don't forget to leave a review