Sometimes you just want to enjoy some super simple meals in life – whether it's for you or for your kids! One of these simple pleasures is fish sticks.
They're tasty, easy to cook, and come pre-made! There's nothing difficult about them… except turning them into a full meal.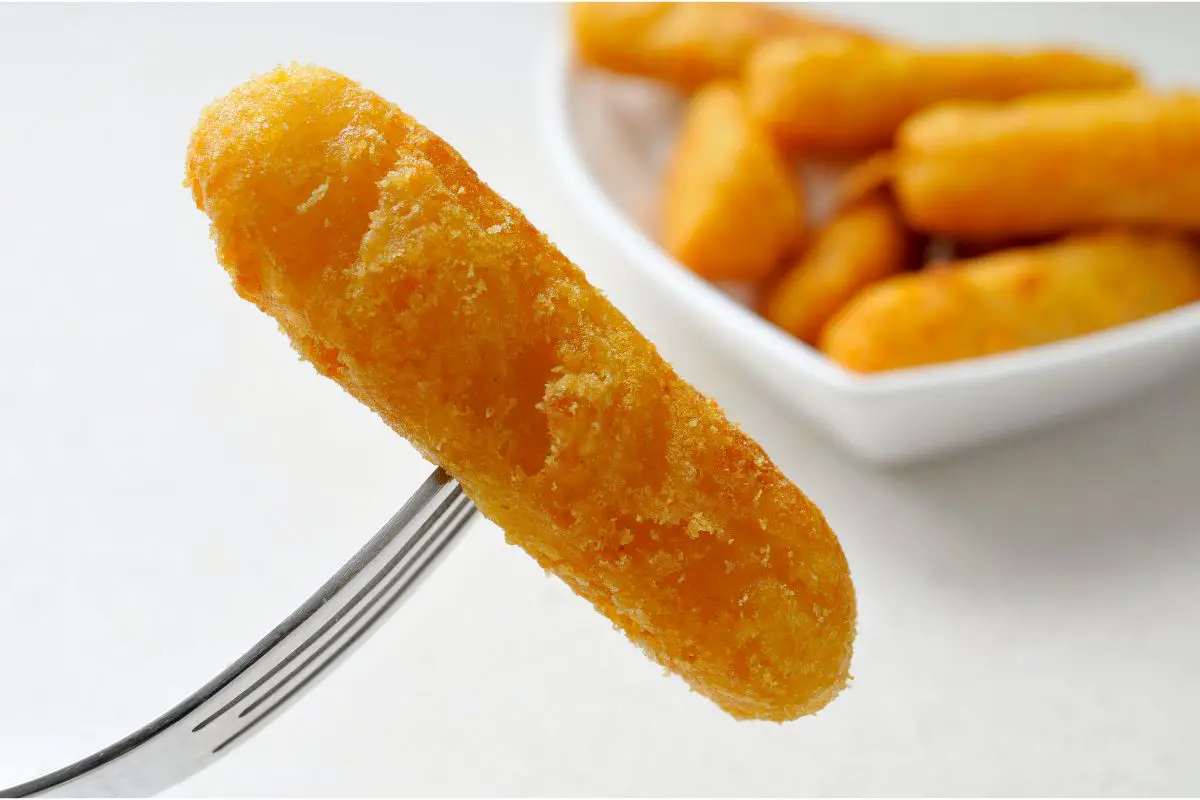 It doesn't have to be hard, though! There are actually plenty of great side dishes that pair well with fish sticks, such as classic guac, fries, or even mac and cheese.
You can go with healthy options like cauliflower rice, or even a garden salad if you like, too.
Read on to find out 15 delicious side dishes that you can enjoy with your fish sticks – you'll move them all. 
Please note that we will not be adding recipes for all the side dish options below, as many of them are super simple!
15 Delicious Side Dishes To Enjoy With Fish Sticks
1. Deep Fried Crunchy Green Tomatoes
Even if you are not usually a fan of tomatoes, you are going to love this side dish option. Here, we doubt you will even realize that you're enjoying one mouthful and the next of tomato!
To achieve this, the tomatoes are coated with breadcrumbs and cornmeal before being baked or fried, depending on your preferences.
If you want to keep things a little healthier, we definitely recommend baking your creations – they will still be delightfully crispy. 
The cornmeal adds a delicious crunch to the dish, which is a great contract to the soft tomato on the inside. 
2. Classic Guacamole
Classic guacamole goes with many things, and fish sticks is one of them! Not only is guac so easy to make, but the flavor and texture make it the perfect accompaniment for crispy and succulent fish sticks. 
You can make your own guac or buy some at the store – whatever you prefer! Anyone who loves avocados will fall in love with this combination, guaranteed. 
All you need to do is customize your guac so that it's perfect for you, and dig in. There's nothing more to it.
Slice and combine your ingredients to get the perfect taste and texture (avocados, tomatoes, onion, and coriander are a must) and keep dipping.
3. Sautéed Zucchini 
Simple sautéed zucchini is a great way to turn fish sticks into a whole meal. It's incredibly easy, but also delicious. You can season your vegetables any way you like and tailor them to your own preferences.  
If you want to keep things simple, you can just cook your zucchini with some butter, fresh herbs, and garlic.
These flavors will linger on and really up the level. On top of that, you can add all kinds of delightful toppings, such as lemon juice, more herbs, or something like Parmesan cheese!
The world is your oyster, so experiment a little and find something you absolutely love. 
4. Homemade Tartar Sauce
Homemade tartar sauce just hits different. Sure, you could go out and buy some if you want to make things easier, but where's the fun in that? Making your own is incredibly easy and quick, so there's no reason for you not to try it at some point!
All you need to make your homemade tartar sauce is mayonnaise, dill pickles, capers, and a few other simple ingredients! You can after the recipe to suit your needs and preferences, which really just makes everything better. 
Most tartar sauce will have a delightfully rich and tangy flavor that pairs perfectly with fish sticks. Just put everything together and start dipping for a delightful snack!
5. Fresh Salsa
You can never have too many dip options, right? Salsa is a great choice if you're looking for something with a nice kick and packed full of incredible flavors. 
A normal salsa will have ingredients such as tomatoes, chiles and onions. However, there are plenty of different salsa types to try out if you're looking for something unique.
You can check out this article if you want to look into the various salsa types, then pick one you would like to make!
The tangy and rich flavors, combined with the chunky texture, makes salsa a delicious side dish to enjoy with crispy fish sticks. 
6. Roasted Garlic Infused Radish
We already know that garlic is a great flavor to add to almost anything, and radishes are tasty and healthy.
However, you can really step up the game when you combine the two to make a delightful and unexpected side dish for your fish sticks!
This recipe is so simple, and all you need are some radishes, olive oil, garlic, lemon juice, and red peppers if you want to add more!
Just quarter the vegetables and add the rest of the ingredients before mixing everything in a roasting tray. Roast for around 35 minutes, and you're good to go!
7. Honey Mustard Sauce
Coming in with another sauce you need to try! A drizzle of this sauce over your fish sticks will transform them into something you're going to want every day for the foreseeable future, especially if you have kids. 
You will get a creamy sauce with an unbeatable taste. The flavors in this aren't overwhelming, thanks to the mayonnaise in the mixture.
However, you still get enough of the honey and mustard for it to be something special and suitable for everyone's taste buds. 
To get the best consistency, you should prepare this the day before you want to use it. That way, you'll get the best consistency and flavor profile – find a great recipe here! 
8. Cauliflower Rice With Cheese
Cauliflower rice is a delicious side dish option for a lot of meals, including fish sticks! This is a good choice for people who want to keep things simple.
It's so easy to prepare, and you can either make your own or buy some from the store. 
The flavor in this dish is already great, and cauliflower has a great nutty and buttery taste. However, adding a sprinkling of cheese on top will set it apart from the rest and turn this dish into something the whole family can get behind. 
9. French Fries
What's easier than French fries? Not much, really. You can head to the store to buy pre-cut fries, or you can just make your own from those potatoes you have sitting around.
Either option works, but it just depends on what you prefer and how much time you have. 
This classic combination can be enjoyed alongside salads and dips, so it's versatile and always delicious.
If you want to get the best results with homemade fries, use Russet potatoes, or a similar kind. They have a solid texture and contain less water, making them particularly good choices when it comes to frying. 
Don't forget to season your fries, too! Even add cheese if you really want – anything goes. 
10. Creamy Mac And Cheese
Mac and cheese is another classic that many of us can't live without. It also happens to be a great side dish that you can pair with fish sticks! 
This option is super creamy, cheesy, and full of all that comfort food goodness. There are so many different recipe options to try and enjoy, with different flavor profiles and ingredients. 
You can make a super garlicky mac and cheese, or a simple cheesy one – either way, it will pair with your crispy fish sticks.
If you really want to have the best of both worlds, you should start dipping your fish sticks on the mac and cheese. It's heavenly.
11. Tangy Lemon Rice
The combination of rice and tangy lemon might not be something you immediately think of, but it works, and it's delicious. This as one of your side dishes to fish sticks is divine, and also incredibly easy to make. 
Start the process by chopping and sautéing garlic, onion, and olive oil together, then adding the ride. Stir until the rice becomes translucent, then add a broth and simmer until it is cooked!
Create your tangy lemon juice blend by combining lemon juice and the zest of a fruit, and combine with the rice. It's so refreshing and tasty, and we all know how well lemon pairs with fish.
12. Cucumber Salad
Known as gurkensalat in its historic German culture, cucumber salad is refreshing and so tasty. It's the perfect side dish for a warm day, so you know you will be craving this in the summer. 
This dish is light, with a delicious vinegar zing that you will immediately love. There are lots of variations of the cucumber salad, so you just need to pick one that you like the look of.
You can pair the cucumber with thinly sliced red onions for song added zing, or chili paste and sesame seeds!
There are the traditional German-style recipes, as well as Asian-style options to try out.
13. Mashed Potatoes
Mashed potatoes are a classic option. They're easy, tasty, creamy, and absolutely delightful no matter the time of year.
What's even better is that making mashed potatoes at home is a no-brainer, and you can get the best results.
If you want to level up your mashed potatoes, you can add things like mozzarella cheese, herbs, spices, and even shrimp if you're feeling fancy!
Dunk your fish sticks in the creamy potatoes to enjoy the best of both worlds, because anything is a dip if you want it to be!
14. Roasted Vegetables
Easy and always a delight, roasted vegetables can't be skipped if you're trying to turn fish sticks into a whole meal. You can get all your favorite vegetables, stick them on a roasting tray, season them, and let them cook to perfection. 
Some popular roasting vegetable options include things like regular and sweet potatoes, carrots, onion, butternut, peppers, and all your favorite herbs and spices.
There are no rules to follow, just follow your heart and come up with something you love!
15. Crunchy Coleslaw
Finally, we couldn't forget about the crunchy and refreshing coleslaw! There are plenty of coleslaw variations out there – some you will love, some you will hate.
However, if you can find a slaw that you really love, don't let it go. 
Time your time and find a recipe that's right for you, or maybe you already have one! Either way, try pairing a refreshing coleslaw with your fish sticks and enjoy the bliss in your mouth.
The flavors are opposite and complement one another so perfectly. 
Final Thoughts
This is by no means a definitive list of side dishes for you to try with your fish sticks.
However, if you have always struggled with some pairings, this is a great place to start! If you work through everything on this list and want to try finding new and exciting sides, then there are plenty of different options for you to try. 
So, next time you want fish sticks, which side dish are you going to enjoy them with?
15 Delicious Side Dishes To Enjoy With Fish Sticks
Course: Sides
Ingredients
Deep Fried Crunchy Green Tomatoes

Classic Guacamole

Sautéed Zucchini 

Homemade Tartar Sauce

Fresh Salsa

Roasted Garlic Infused Radish

Honey Mustard Sauce

Cauliflower Rice With Cheese

French Fries

Creamy Mac And Cheese

Tangy Lemon Rice

Cucumber Salad

Mashed Potatoes

Roasted Vegetables

Crunchy Coleslaw
Directions
Pick from the list above
Click the recipe name and visit the website
Collect the ingredients and cook the food
Enjoy – don't forget to leave a review