A simple side dish can go a long way in elevating a meal, even one as tasty as shrimp pasta! 
Shrimp pasta is a tasty meal that always goes down a treat. Italian in nature, the pasta is usually made with spaghetti, angel hair, or linguine pasta.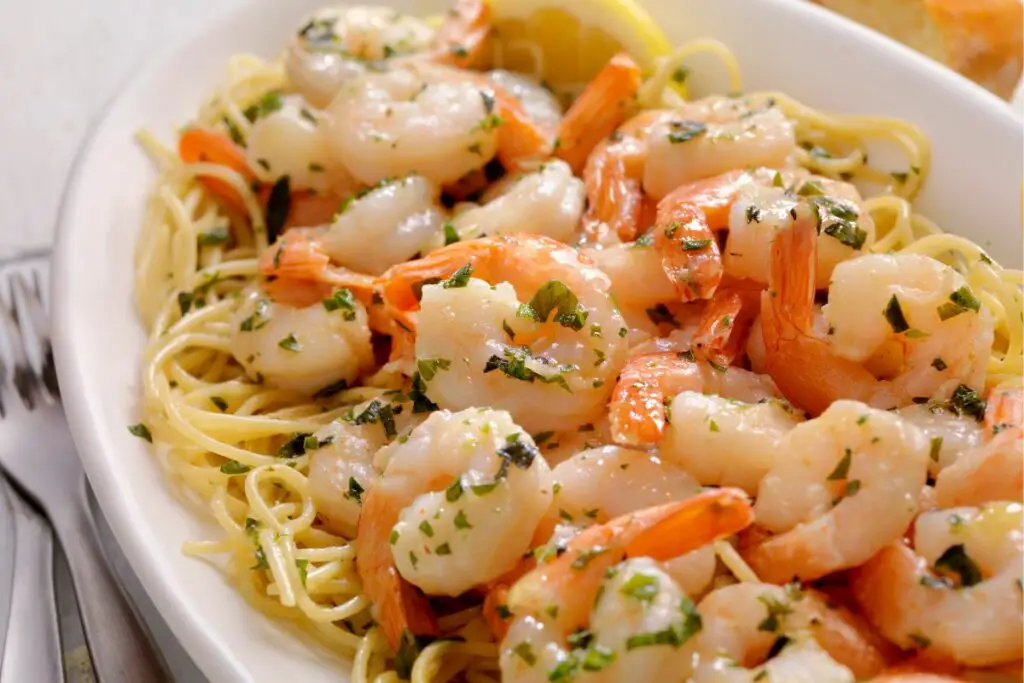 These long and thin ribbons add to the meal, while the shrimp is normally prepared in garlic butter sauce before they are mixed in with the pasta. A velvety alfredo sauce then coats everything, creating a truly decadent dish.
Shrimp pasta is amazing on its own, but adding a side dish can highlight certain elements within the meal. 
We've listed some of the most mouthwatering side dishes to pair with shrimp pasta below. Whether you love rich, hearty foods, or prefer lighter bites, you'll find a side dish that'll please your taste buds below.
We've also included some advice on pairing side dishes with main courses to help you later on.
Why Are Side Dishes Important?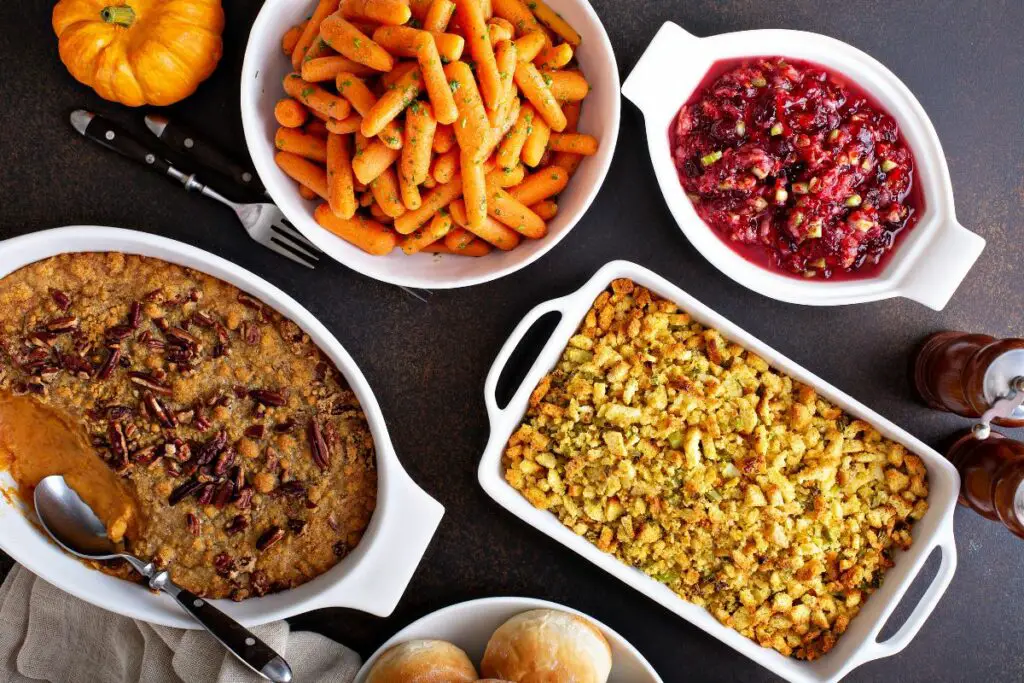 Side dishes are essentially meals that complement and enhance the main course. 
Restaurants tend to offer a variety of side dishes when you order your main course, though the form of these can differ a lot. These can be as light as steamed vegetables to richer casseroles with several layers. 
Side dishes can highlight other notes and flavors in the other meal, as well as add nutrients that may not be present in the main course
How To Pair Side Dishes With A Main Course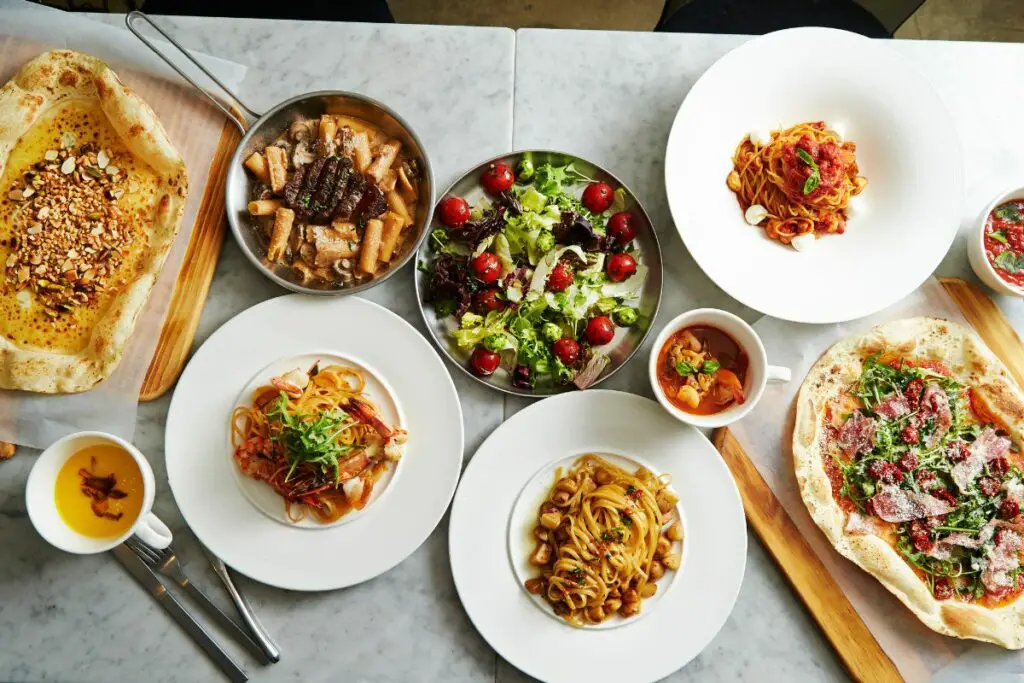 Here are some tips to help you match a side dish with a main course meal.
Choose A Different Food
This may seem obvious, but the easiest way to select a side dish is to assess your main course and select a different food. 
For instance, if you're making a rice-based stir fry, don't choose a rice salad on the side. If you're enjoying a hearty steak, opt for a lighter side dish. Pasta with lots of cheese and sauce? Go for a side of vegetables.
You can also do this by flavor. If your dish is full of richer, darker flavors, like braised ribs, counter this by adding a zesty salad. On the other hand, if you have a lighter meal, like a salad with fruit slices, give it some bulk by adding a chunk of crusty bread.
Choose Something Similar
Both your side dish and main can follow a certain theme. 
For example, if you're enjoying lemon chicken for your main meal, add lemon juice to your side salad, or sprinkle lemon zest over some bread slices later.
Consider Seasonal Foods
This is a simple method of choosing a side dish. View the produce at the market or in your Community Supported Agriculture box, then pick up the seasonal items to use in your side dish. 
For example, baby carrots that are seasonal around winter work well roasted alongside a fish course. If it's around spring, you may want to choose arugula, which works well in several side salads. 
Use The Food Groups
The food groups may seem dated, but they can help you put dishes together. Having a starch, vegetable, and protein source on your plate seems like a complete meal.
 For example, if you have a fish filet as your main dish, you could pair the protein with a starch, like potatoes, and a vegetable source, like peas.
The main food groups are starches, meat, dairy, fruit, and vegetables. As you're planning your meal, try not to include more than a single dish from each category.
Delectable Side Dishes To Pair With Shrimp Pasta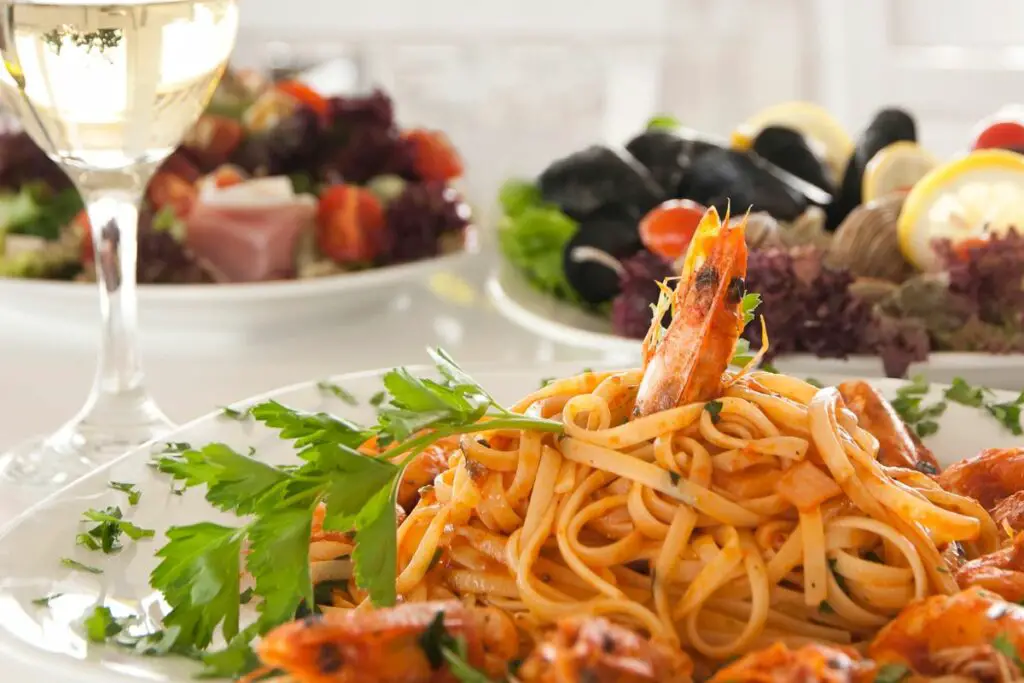 Now that you know a bit more about side dishes, here are some tasty options to enjoy with shrimp pasta! 
1. Cooked Broccoli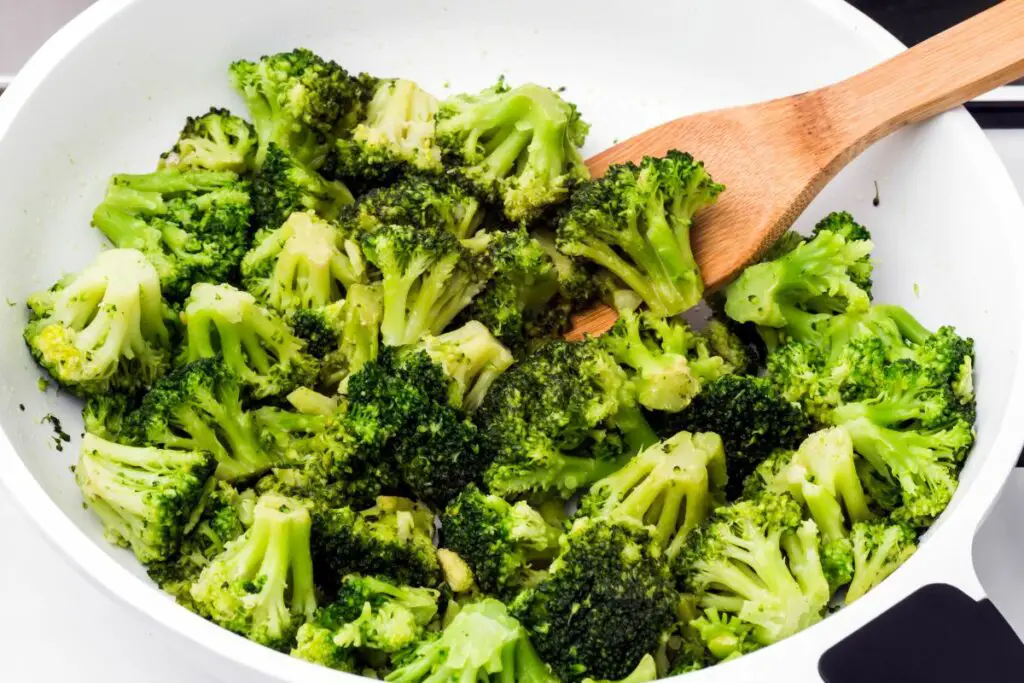 A simple side of broccoli works well with shrimp pasta, and is full of nutrients too! 
Broccoli has a light flavor which emphasizes the rich notes in the pasta sauce. The vegetable can be prepared in a multitude of ways, like boiling, steaming, sautéing, or roasting. 
Each one of these results in a different consistency. Sautéing the broccoli would make it soft, but roasting it would keep it crunchy. We'd recommend roasting or steaming the broccoli so it has a little bite against the tender pasta. 
2. Grilled Lemon Asparagus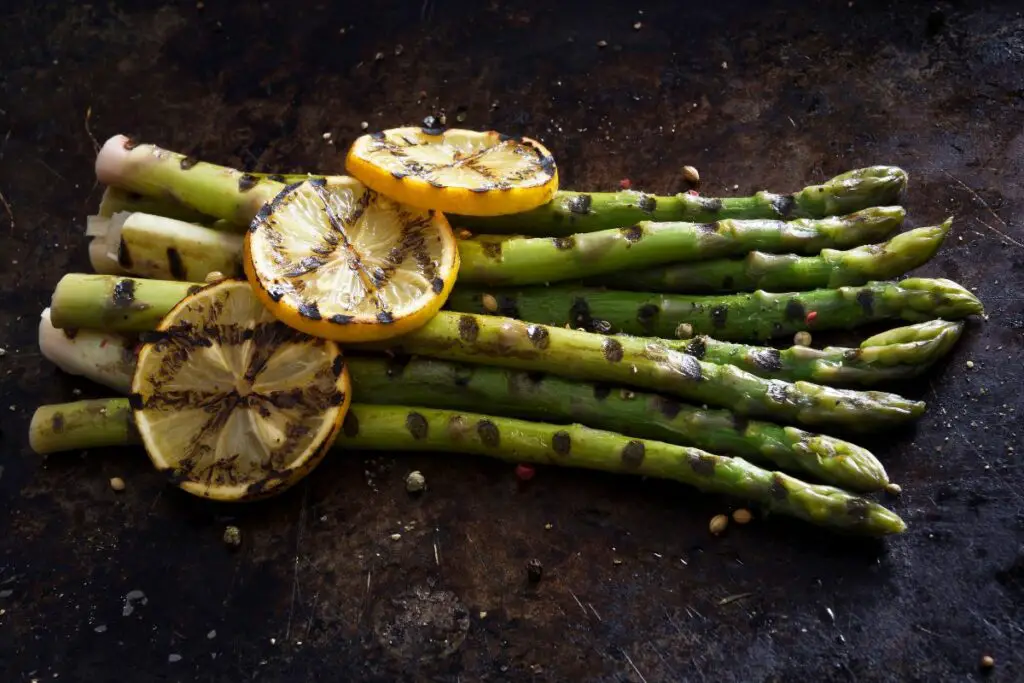 Asparagus works well alongside many pasta dishes, including shrimp pasta. 
The side dish involves grilling asparagus stalks and seasoning them with fresh lemon slices. The fruit slices will start to soften as the vegetables grill, giving the asparagus a zesty flavor. 
The juice from the lemons will also cut right through the creamy pasta, while the firm asparagus gives the softer pasta some bite. 
3. Garlic Bread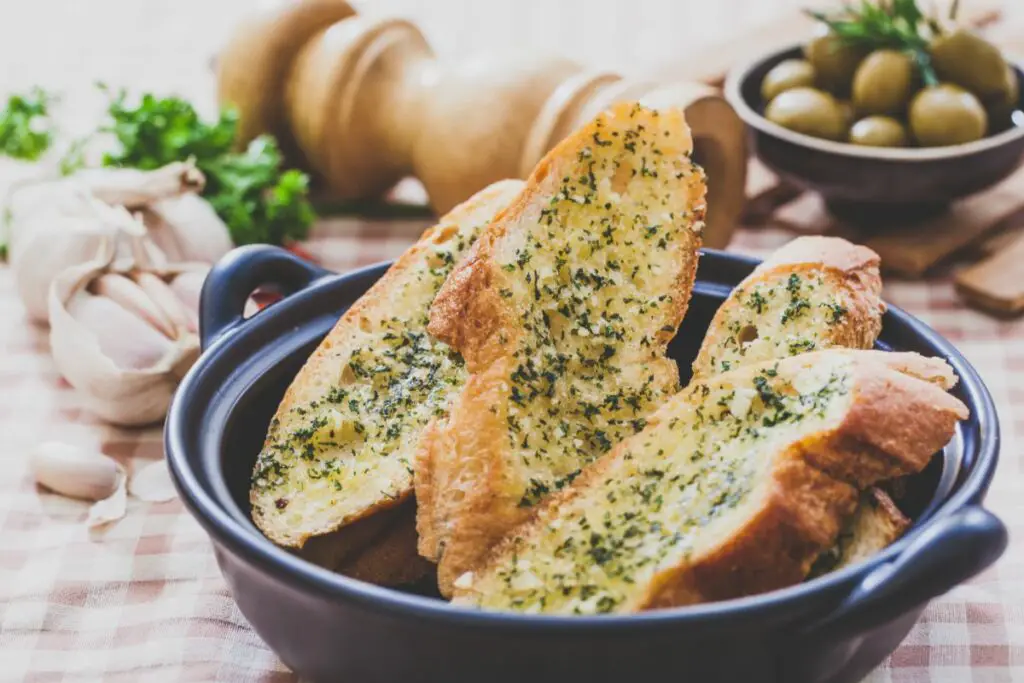 Garlic bread and pasta are a classic combination that tastes incredible! Garlic butter involves treating bread with herbs, spices, and garlic butter. The result is a fragrant bread dish that goes well alongside many pasta dishes.
Garlic bread has a crusty texture which allows you to scoop up pasta sauce. The garlic and butter from the bread roll also highlight the creamy, aromatic notes from the shrimp pasta. Make sure your garlic bread is as fresh as possible before serving!
4. Sautéed Brussel Sprouts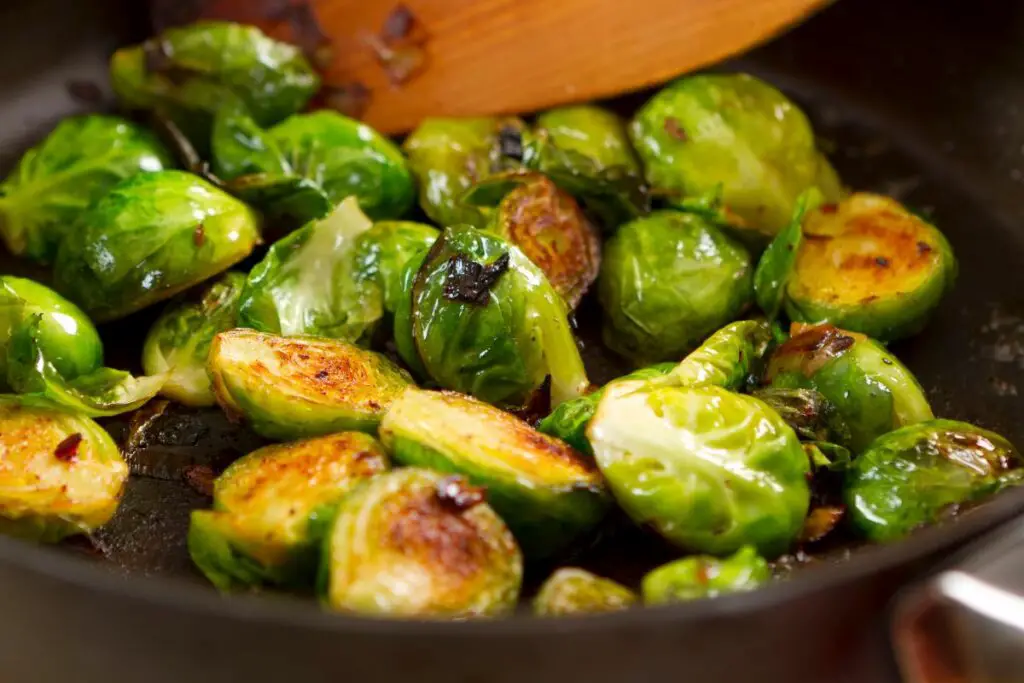 Brussels sprouts may not be loved by everyone, but they taste amazing when paired with shrimp pasta. The sprouts are full of nutrients and have a pleasant nutty flavor. 
A trick to making the vegetables taste great is to char the sprouts on the outside. This crispens up their exterior and leaves their insides soft and tender. The sprouts will then give the pasta added flavor, consistency, and color!
5. Creamy Spinach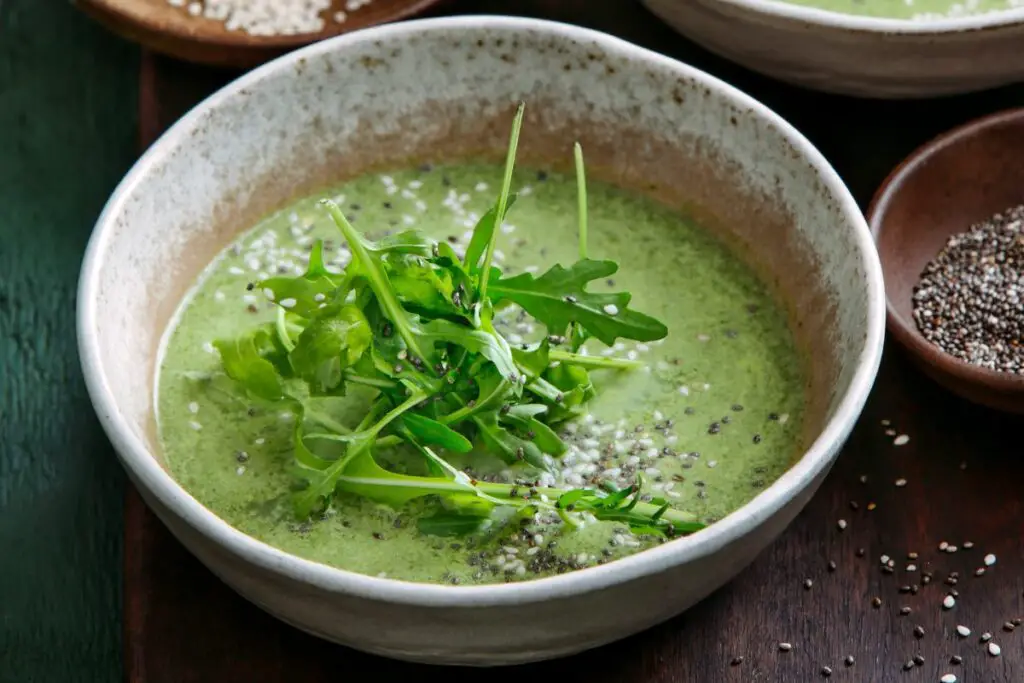 Creamy spinach tastes great on its own, but it's also delicious when enjoyed with shrimp pasta. This simple side dish will make anyone love spinach, thanks to its velvety texture and distinct flavor. 
The creamy spinach has a similar texture to the shrimp pasta. Any seasoning or aromatics you use, like garlic or onions, will highlight the shrimp's unique umami flavors. 
6. Stuffed Baked Tomatoes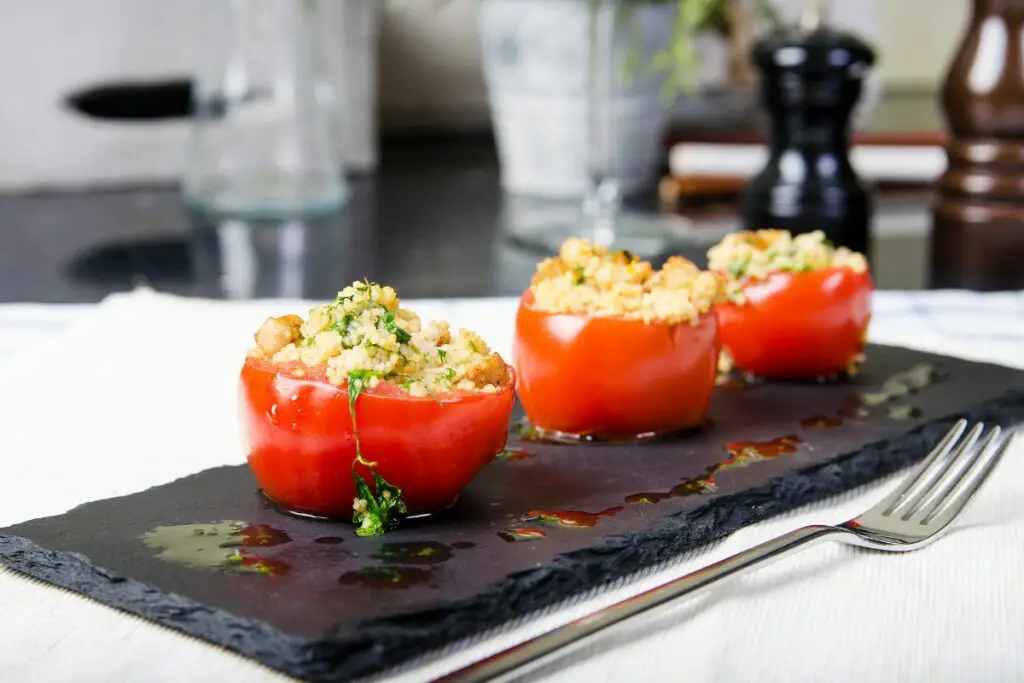 Stuffed baked tomatoes are a straightforward side dish that involves stuffing breadcrumbs, rice, herbs, and seasoning into hollow tomatoes. You'll often see this dish at Greek, Italian, Iranian, and Turkish restaurants.
This flavorful side dish works well alongside shrimp pasta, as they both have a similar creamy texture. The tomatoes are also full of vitamins and give your meal a burst of color.
7. Fresh Cucumber Salad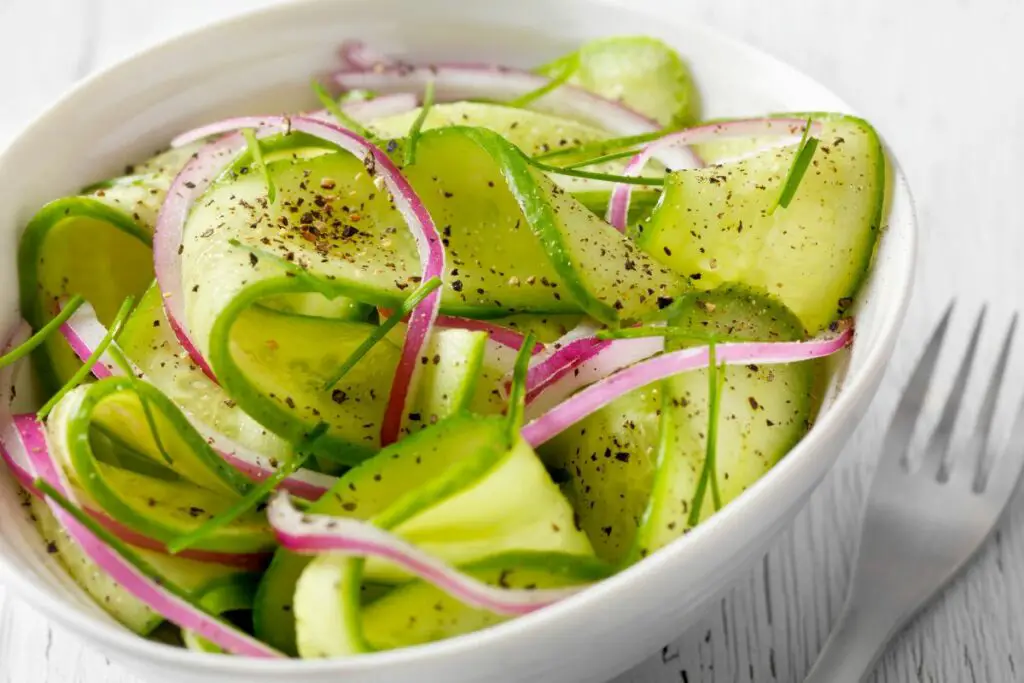 This invigorating dish has a zesty quality which adds contrast against the creamy pasta. 
Tossed in lemon juice and a vinaigrette dressing, the salad's acidity helps prevent the pasta from tasting too rich. The cucumber also adds some crisp, crunchy texture to the main course. 
8. Roasted Carrots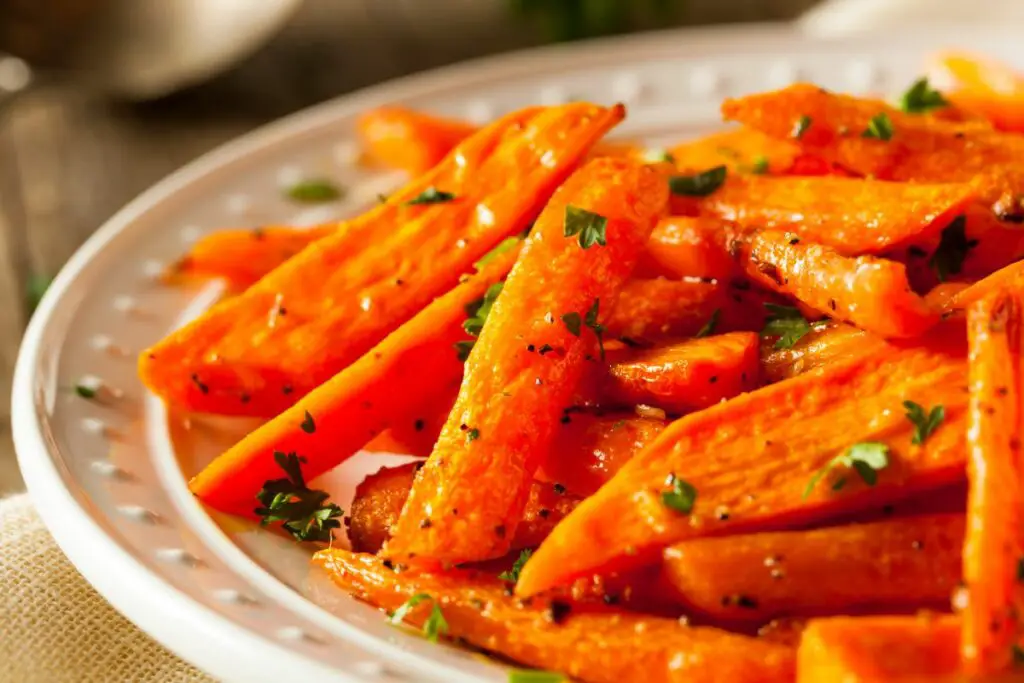 Carrots add their sweet flavors to any meal, but roasted carrots can upgrade a dish to an entirely new level.
If you roast whole carrots, they'll start to char on the outside, giving the meal a smoky flavor. The roasting process will leave the carrots soft and sweet on the inside, giving shrimp pasta a new sweet layer. 
Any spices or seasoning you add will give your shrimp pasta additional new flavors. Tasty examples include red wine vinegar, honey, or simple chili powder. 
9.Stir-Fried Mushrooms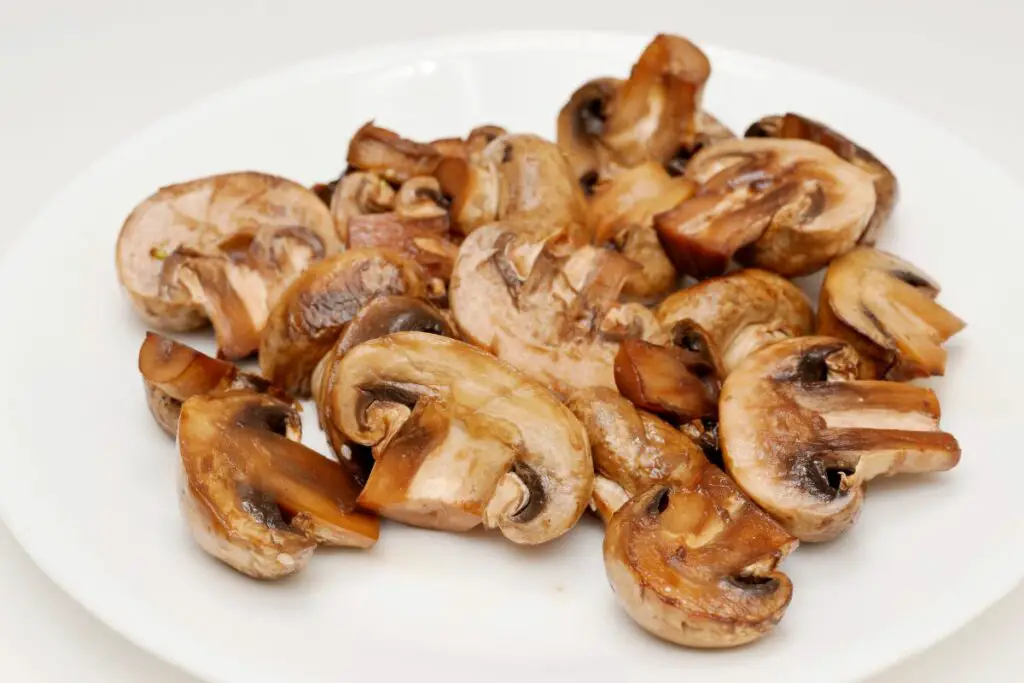 Mushrooms have a unique umami flavor and meaty, firm consistency. These two characteristics make them fit very well alongside shrimp pasta. Stir-frying the mushrooms with a little salt, garlic, and pepper can add new layers to the main dish. 
Their meaty texture adds some bite to the pasta dish, highlighting the meal's creamy texture. Add some fresh parsley on top for some extra flair!
10. Sweet Potato And Chorizo Bake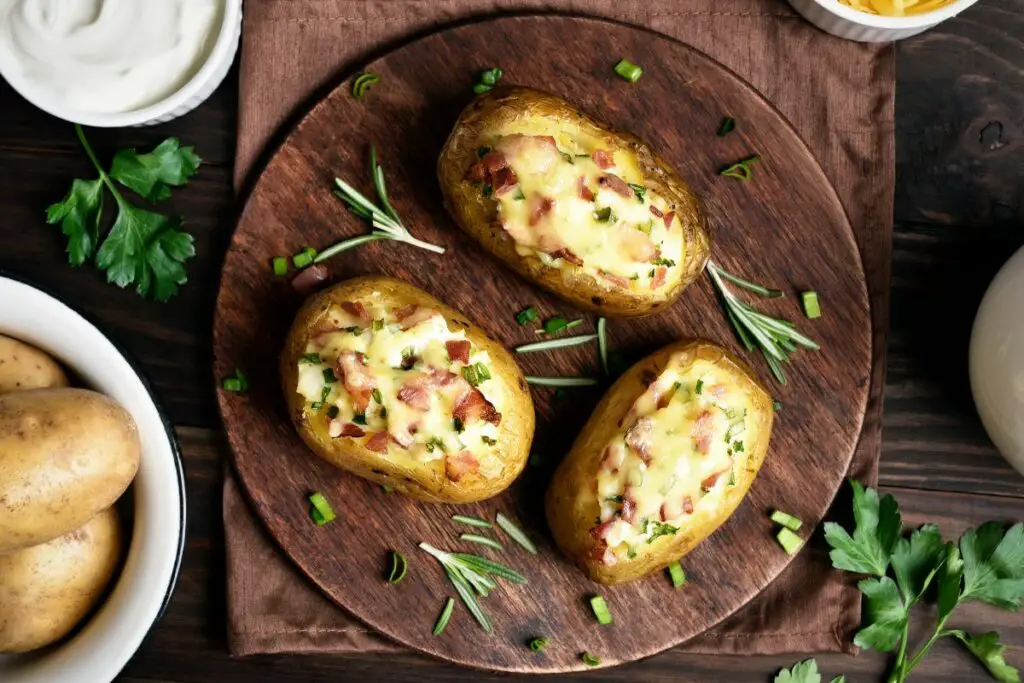 This side dish is best for meat enthusiasts. 
You can make a sweet potato and chorizo bake in one pot. The meat will infuse the potato with its juicy flavors, while the potato keeps its firm, yet soft consistency. 
The bake is spicy and sweet, adding depth to the creamy shrimp pasta. Once you've baked the dish, you'll end up with a crispy top, which gives an added layer to the pasta. 
Final Thoughts
Shrimp pasta is a very delicious meal choice that works well with several side dishes. 
The dishes in this list will all help bring out the flavors in the pasta dish, instead of masking them. You'll find some lighter choices as well as some richer ones above which are sure to suit several taste preferences. 
We hope that you try some of these out the next time you enjoy shrimp pasta!
Make Shrimp Pasta Taste Even Better With These 10 Side Dishes
Course: Sides
Ingredients
Cooked Broccoli

Grilled Lemon Asparagus

Garlic Bread

Sautéed Brussel Sprouts

Creamy Spinach

Stuffed Baked Tomatoes

Fresh Cucumber Salad

Roasted Carrots

Stir-Fried Mushrooms

Sweet Potato And Chorizo Bake
Directions
Pick a recipe from the list above
Click the recipe name and visit the website
Click the recipe name and visit the website
Enjoy – don't forget to leave a review