Looking for side dishes for zucchini?
Kudos to you! Zucchini is an excellent choice of vegetable for serving a healthy meal.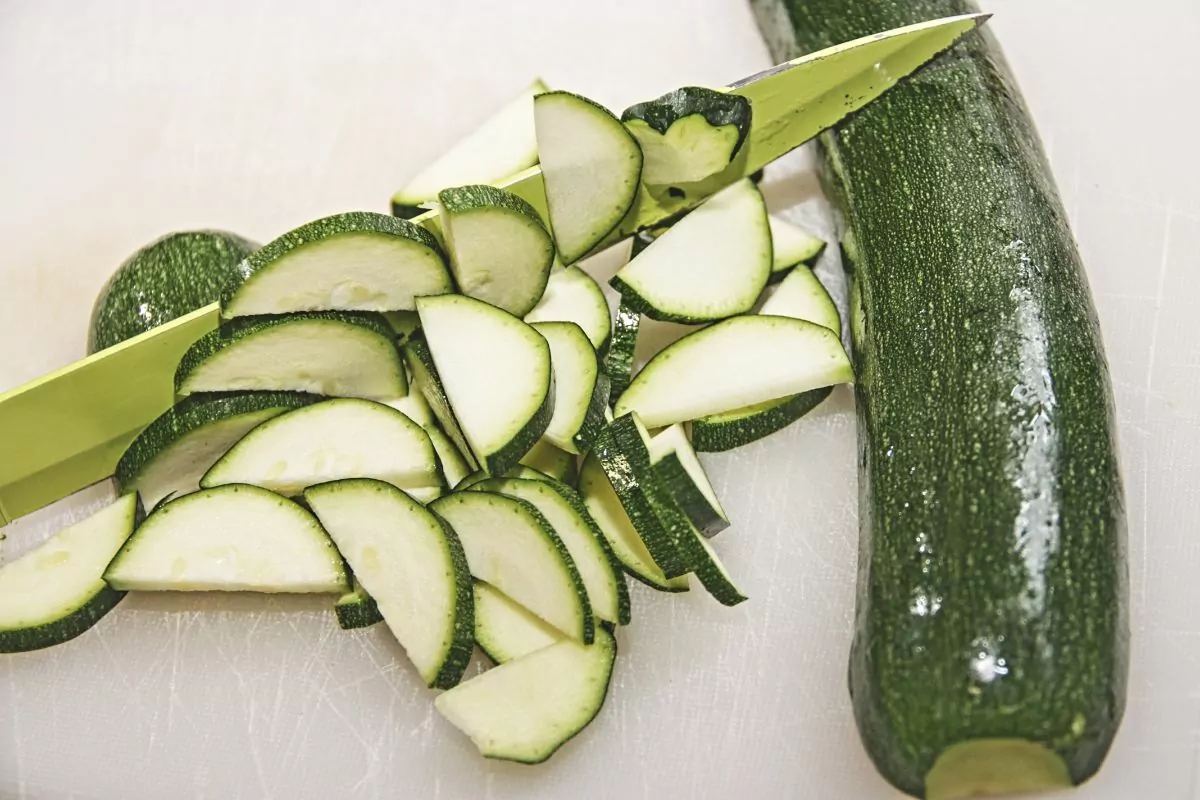 Not only does it have a mild and delicate flavor which means that you can have all kinds of flavorful side dishes to go alongside it, but it's packed full of healthy nutrients…
There are minerals calcium, iron, magnesium, phosphorus, and potassium, and vitamins A, C, K, and folic acid.
It's also rich in both water content and different types of fiber, which means that it's excellent for digestion. It's low in carbs, so it can help control blood glucose levels. It's high in antioxidants, which are believed to help protect against the signs of aging.
It's also an incredibly versatile vegetable in terms of how it can be served…
It can be chopped, sliced, stuffed, boiled, fried, roasted, grilled, and smoked. It can be turned into wedges, it can be turned into boats, it can be turned into fritters, it can be turned into zucchini noodles, also known as zoodles.
And that's not all – it can even be added to baked goods, such as cakes and muffins!
The other reason zucchini is a great choice of vegetable is that it can be included into all sorts of different diets…
First off, it's so low in carbs, that it's perfectly OK to eat on the keto diet. And it's perfectly OK, not only for vegetarian diets, but also vegan diets as well, depending on how you decide to serve it.
Similarly, it can also be consumed on Whole30 diets, the Paleo diet, the Noom diet, Weight Watchers, Slimming World, and it's also considered a good choice of veg for people who suffer with irritable bowel syndrome (IBS).
Why Serve A Side Dish With Zucchini?
Sure, you can enjoy zucchini on its own if you have a lot of it and if that appeals to you.
In fact, due to its rather mild flavor, it's the sort of vegetable that even picky eaters are often happy to eat, which means that it's a great veg to serve to get kids earring more healthy veg.
However, if you're anything like me, you love to make your menu even more interesting.
And that's why I decided to write this article, to open your eyes to some of the different side dishes that you can serve to your guests alongside zucchini.
And that leads us nicely onto our next section…
8 AWESOME Side Dishes To Serve With Zucchini
And, without further ado, let's get to the side dishes – I can't wait to share them with you!
Here are some amazing side dishes that work perfectly when served with zucchini.
1. Steamed Vegetables And/Or Rice
Steamed foods make for an excellent side dish to serve with zucchini…
Whereas many of the nutrients are often lost during conventional methods of cooking, such as boiling, if you choose to steam the foods instead, more of these nutrients are retained. 
You could choose to serve steamed rice. There are several types of rice you could use. White short grain rice is popular, as is basmati rice.
Brown rice is particularly healthy because it has a low glycemic index, which means that it's a particularly good source of carbohydrate that won't cause your blood sugar to spike. 
Serving a side dish of steamed vegetables may be an even better idea, presenting an array of different colors and nutrients. Think diced carrot, bell peppers, and so on.
Of course, you don't have to choose between veg and rice, you can combine them together. Either way, you will be able to serve a meal that's both vegetarian and vegan.
You can steam rice and/or vegetables from either fresh or frozen. And you can do so in a dedicated steamer, or in special bags in the microwave, or by other means as well.
2. Succulent Salmon Or White Fish 
Oily fish is also a great side dish for zucchini for the health conscious, due to its high levels of the fatty acid, Omega-3, which is known to be important for brain health, heart health, eye health, and possibly more.
While you won't be able to serve fish to vegans, you may be able to serve it to vegetarians, who may be glad of the protein.
Salmon is often considered quite the treat due to its silky, succulent texture. And there are several different ways to cook it. 
For a super simple side dish, you can roast salmon fillets in the oven in some aluminum foil with a little butter and seasoning, and maybe some lemon juice or orange juice. 
Grilling is another option. And this would give you the opportunity to add a flavorful dry rub, Or you could even poach it in white wine.
If you're looking for something more affordable than salmon, perhaps you might like to use cod in its place.
3. Ground Meat Or Vegetarian Bolognese
As mentioned earlier, one way to serve zucchini is in the form of zucchini noodles, or zoodles. All you need for this is a spiralizer, something that's usually quite cheap to buy.
Then you can make the sort of dishes that call for spaghetti noodles, using zoodles in its place, such as the much loved Italian dish spaghetti bolognese. This way you have a much lower carb alternative to the traditional dish.
Traditional bolognese is made with ground meat, such as ground beef, and is in a tomato based sauce flavored with the likes of garlic and diced onion.
You can also add veggies such as mushrooms, carrot, swede, and more.
You can also make this a vegan or vegetarian friendly dish by using plant-based alternatives to ground meat.
4. Mediterranean Vegetables And Grains
If you're anything like me, and you love Mediterranean cuisine, then you'll be pleased to hear that there are LOADS of Mediterranean zucchini recipes out there.
Adding more vegetables to serve alongside your zucchini can add lots of different color, flavor and texture.
There are a wide range of Mediterranean vegetables that you can serve with zucchini, such as cabbage, carrots, eggplant, red onion, bell peppers, mushrooms, yellow onion, peas, shallots, sweet potatoes, and much more.
You may also wish to consider including some Mediterranean grains as well, such as bulgur, polenta, pasta, couscous, certain breads, rice, the list goes on.
5. Seasoned White Meat
For meat eaters, the best meats to choose for the health conscious among you (besides fish) would hands-down be white meat.
White meat is lower in fat than red meat, including saturated fat, which means it is also lower in calories. It's higher in vitamin B, it's higher in omega-3 fatty acids. And it's also believed by many to be better for heart health.
Chicken is one of the most popular of the white meats, but you'll find that many people favor turkey as well.
Don't feel that you have to serve white meat in just oil and salt alone. There are so many different ways of seasoning it or marinading it.
You may wish to use garlic powder, onion powder, or herbs such as oregano, rosemary, and much more. Or you could perhaps go for spices such as Chinese 5-spice, cumin, coriander, or even chili if that sounds good to you and your guests.
6. Sweet Potato
If you or guests just can't say to carbs, your healthiest option for a side dish would be sweet potato.
There are various ways to serve them. You could roast them in the oven perhaps, or if you prefer to you could instead make them into fries or wedges, and apply a nice seasoning as well.
7. Curry Sauce And Rice
Zucchini also makes a good vegetable to use in curry dishes, whether they be Indian ones, Eastern ones, or simply made with just curry powder and water, or curry paste and cream.
There are lots of curry sauce recipes to choose from if you wish to make one from scratch.
And there are lots of things you can include besides zucchini. You can add any meat or veg you choose.
Curry dishes are often accompanied by rice, but if you or your guests prefer you could serve it with other grains or breads, such as naan bread, riced cauliflower, and much more.
8. Sauces And Dips
If you'll be enjoying your zucchini as part of a cookout or barbecue, a popular option would be to arrange chunks of zucchini on a skewer with other vegetables and/or meat. Popular options include eggplant and red onion.
And they go down even better if you add a tasty sauce or dip, whether it's regular barbecue sauce, or something more exotic, such as Greek tzatziki.
Wrap Up
I hope you've enjoyed browsing through these amazing ideas for side dishes to serve with zucchini.
There are some great options there for serving meals to vegans, vegetarians, or to anyone that's particularly health conscious.
The hard part now rests with you – choosing which one to try first!
If you want even more ideas on what to do with zucchini, you can also search for recipes and side dishes for courgette, which is the UK word for zucchini.
Bon appetit!
8 AWESOME Side Dishes To Serve With Zucchini
Course: Sides
Ingredients
Steamed Vegetables And/Or Rice

Succulent Salmon Or White Fish 

Ground Meat Or Vegetarian Bolognese

Mediterranean Vegetables And Grains

Seasoned White Meat

Sweet Potato

Curry Sauce And Rice

Sauces And Dips
Directions
Pick from the list above
Click the recipe name and visit the website
Collect the ingredients and cook the food
Enjoy – don't forget to leave a review