Meatballs are a delicious classic main meal to serve for dinner, but one of the biggest choices facing cooks today is what side dish to serve alongside it.
If you are wondering what side dishes work well with a traditional meatball dinner, then this is the place for you.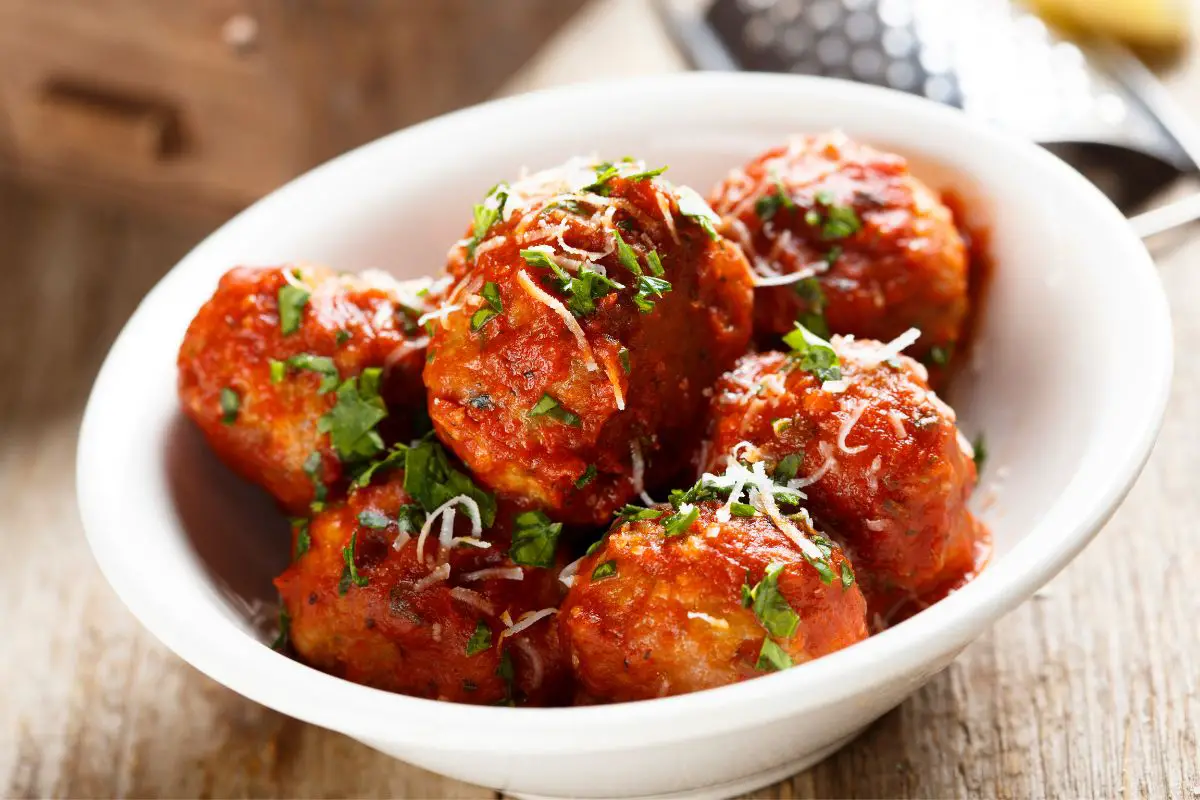 Here, we are going to be taking a look at some awesome side dishes you can serve with meatballs. Check them out below! 
Why You Should Serve Sides With Meatballs
Meatballs are a great main dish to serve for dinner but there's just one issue with serving meatballs alone – they don't provide a perfectly balanced meal. 
Although meatballs can be made to contain additional ingredients like rice, spices, and even chopped vegetables, they're still very meat-orientated.
This means that they are very filling, which makes them a great main dish, but they don't provide all the nutrients you should be eating for dinner.
Although they are packed with protein, they lack other nutrients such as vitamins, calcium, fiber, and iron. 
For a balanced meal, you need to offer some other smaller dishes to enjoy alongside your meatballs.
Only is it healthier, but it provides more variety and range when it comes to flavors and textures – preventing your meatball dinner from becoming a one-note bore. 
So, with all that, let's check out some amazing sides to serve with meatballs! 
9 Sides To Serve With Meatballs
Here are 9 amazing sides you can serve alongside meatballs. Check them out below and find the right one for your dinner! 
The first side dish on our list is a classic favorite – spaghetti! 
Spaghetti is a long, thin type of pasta that is a staple in Italian cuisine. For years, it has been served in the US alongside meatballs (think of that classic scene in Disney's Lady and the Tramp).
As a result, the first side dish a lot of people think to serve along with meatballs is spaghetti. 
Spaghetti pasta itself is easy to purchase from your local or even to make from scratch. As for sauces, spaghetti's shape makes it ideal for eating with light and simple sauces that are tomato based.
Luckily, this kind of sauce also goes great with meatballs so it's the ideal combination! 
Bread is a must-have on any dinner table but different types of bread pair better with certain dishes than others. So, you need to carefully select the best type of bread to serve with your meatballs – but what? 
A choice you can't go wrong with is garlic bread. 
Garlic bread is an Italian-American side dish based on the traditional Italian bread bruschetta. It's filling, soft, and richly flavored.
The strong notes of garlic pair beautifully with the smoky flavor of fried meatballs, so it's really a match made in heaven! 
If you want to really amp up the flavor of your garlic bread side dish, then why not try making cheesy garlic bread instead?
It adds a tasty touch of dairy to your meal and an additional strong flavor to tickle the taste buds. 
Carbohydrate-based side dishes are very important to serve with all kinds of meals as they provide us with the energy we need to function.
So, alongside your delicious protein-packed meatballs, you should think about serving a side dish that contains plenty of carbohydrates to help balance out your meal. 
A great side to choose is white rice. 
White rice is a light, delicious carbohydrate-based side dish that may taste plain on its own but works well when paired with a variety of other dishes. As a result, white rice is ideal for a meatball dinner! 
However, this side dish works best with meatballs that come with their own sauce.
Another popular carbohydrate dish is couscous. 
Couscous is a type of dried wheat that is served as an alternative to pasta and rice. It's just as filling but very light and fluffy in texture, which some people may prefer.
As a result, it's an ideal alternative carbohydrate side dish to serve instead of pasta and rice. 
It's also very versatile as couscous is sometimes used to give salads more body and make them feel more filling. Alternatively, you can serve couscous mixed with smaller ingredients like nuts and raisins. 
Due to its lighter texture and flavor, couscous is an ideal side to serve if you are making turkey meatballs instead of traditional beef meatballs. 
Potatoes are kind of a cross between vegetables and carbohydrates when it comes to sides and dishes.
This is because although potatoes themselves are classed as vegetables, they are too starchy to be considered a portion of vegetables at the dinner table. 
Because of this, another great filling side dish to serve as a carbohydrate side is roasted red potatoes. 
Crisp and fluffy, roasted red potatoes are a great luxury side dish to serve. This recipe bakes them with a range of other ingredients and flavors including creamy parmesan cheese, rich garlic, and plenty of herbs and seasoning.
You can make your own changes and additions as you please, so your roasted red potatoes can suit your preferences no matter what they are! 
As for vegetable side dishes, one great side dish to serve with meatballs are green beans. 
Green beans a strong in flavor, fresh, and very healthy as they contain a lot of important nutrients.  They are also very easy to cook and recipes can be adjusted to reflect your own preferences and tastes.
For example, do you prefer lemon-flavored food or garlic, or perhaps a mix with both? Do you prefer to season your food with more salt or pepper?
Green beans are very versatile and they are the perfect vegetable to serve with a lot of meaty main dishes, including meatballs. 
Next up we have caramelized brussels sprouts. 
Brussels sprouts are the kind of love-em-hate-em vegetable because of their unique yet very strong flavor.
However, caramelizing them helps take the edge off that strong flavor and adds something sweeter and spicer to help make these vegetables go down a treat. 
This great recipe for caramelized brussels sprouts introduces pistachios and red onion to the mix, although you can adjust the recipe as you desire.
These strong flavors combined with brussels sprouts help create a medley of iconic tastes that all serve each other very well – and it's ideal for serving with rich, meaty dishes like meatballs. 
If the individual vegetable dishes are not working for you, then why not try serving a salad instead? 
Caprese salad comes from the Mediterranean island of Capri and is a deliciously light and delicate salad that is ideal to enjoy during the sweltering summer heat.
It's very elegant and made from three key ingredients: juicy slices of fresh tomato, light slices of creamy mozzarella cheese, sweet basil leaves, and plenty of salt seasoning and olive oil. 
It's very easy to make, looks elegant, and is entirely delicious. It provides a nice light contrast to the grease and dense meatiness of meatballs, helping you create a balanced dinner with a variety of textures and flavors. 
The final side dish on our list is vegetarian stuffed bell peppers. 
Traditional stuffed bell peppers are usually stuffed with minced beef and cheese. While the cheese is more than welcome with a meatball dinner, more meat will only clash with the meatballs and the hard work you put in there. 
As a result, vegetarian stuffed bell peppers are a great way to serve this creative side with your meatball dinner. 
Instead of meat, the bell peppers are stuffed with beans and rice, making them filling and incredibly tasty.
There are also plenty of bright seasoning and garnishing options with this recipe, so you can add exactly what you want to your stuffed bell peppers. 
It's an ideal side for large gatherings and combines both veggies and carbs all in one side dish! 
Final Thoughts
So, as you can see, there are plenty of amazing side dishes you can serve with meatballs.
You have the choice between filling carb-based sides like bread or pasta, or sides like salad which contains a ton of colorful veggies to feast on. 
Take a look at the options open to you above, and pick out one or two sides to serve alongside your meatball dinner! Enjoy, and happy cooking! 
9 Awesome Side Dishes To Serve With Meatballs
Course: Sides
Directions
Pick a recipe from the list above
Click the recipe name and visit the website
Collect the ingredients and cook the food
Enjoy – don't forget to leave a review