Butter chicken is a delicious and classic Indian dish. It's a form of curry that is made with a tasty sauce that is creamy and full of balanced spices. It's smooth and buttery and full of flavor.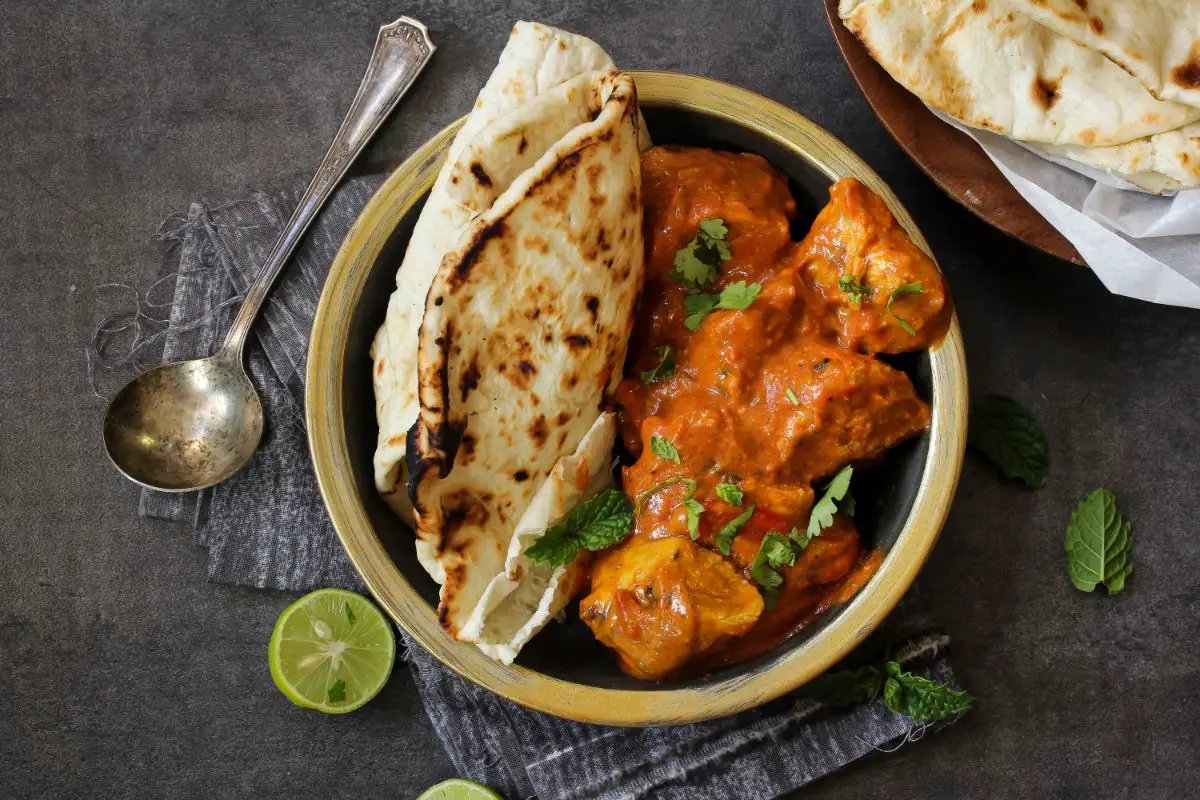 With such a delicious main dish, you may be lost for ideas on side dishes. Matching the right side dishes isn't always an easy task and picking the wrong side dish can dull the flavors of your butter chicken.
That's why we've written this article to detail the 8 most amazing side dishes to serve with butter chicken. We've picked a variety of dishes from the traditional to dishes that are slightly more unusual.
Let's get started!  
Why Choose A Side Dish For Butter Chicken?
Butter chicken is a traditional Indian dish that sees chicken served in a rich buttery sauce that is loaded with tomatoes. It's a savory dish that owes its flavor to the many spices that are used to make the dish.
With so many spices and such a rich flavor, it's best to have a side dish that allows you to reset your palette so you can continue to enjoy the flavors.
This means either side dishes that are relatively plain and fresh in flavor or ones that have different spices that balance out the butter chicken.
8 Amazing Side Dishes To Serve With Butter Chicken
Now let's look at some of the most amazing side dishes that you can serve with butter chicken.
1. Kachumber Salad
Salads are always a great side dish for dishes such as butter chicken and there are many you can choose from. We like fresh and bright salads that are full of crunchy and refreshing ingredients and that is why we've chosen kachumber salad.
This salad will work as a side dish for virtually any Indian curry and butter chicken is no different. Kachumber salad is an Indian salad and the main ingredients are onion, cucumber, tomatoes, cilantro, green chilis, and a few spices.
Everything is served with lemon juice but there isn't a traditional dressing. As long as you have cucumbers, onion, and tomatoes in the salad, feel free to add and remove other ingredients to suit your taste!
Here are our recommendations for kachumber salad recipes:
2. Naan Bread
This is one of the more traditional side dishes to be served with butter chicken and can be served with any Indian curry. It's a flatbread that is enjoyed throughout India and is a common side dish in any Indian restaurant as well.
Traditionally, naan bread is baked in a tandoor, which is an oven powered by either charcoal or firewood. Don't worry, however, you can easily make naan bread in an electric or gas-powered oven as well!
There are many different varieties of naan bread, but the most common variety is the plain variety. This is typically made from yeast, yogurt, and garlic, but you can also have varieties with cheese, honey, or even raisins!
Here are our recommendations for naan bread recipes:
3. Papadum
Like naan bread, papadum is another popular Indian flatbread but it is prepared in a way that makes it completely different from naan bread.
Papadum is like a huge chip or cracker as it is very thin and crispy. Although commonly made with flour, you can easily make papadum without any flour as well, giving you a great gluten-free option.
Papadums are very versatile as they have enough flavor in them to be eaten plain and are often served as appetizers in Indian restaurants while you wait for your main course to be served. They're also ideal for dipping, however, and you can dip them into your butter chicken.
However you choose to eat papadums, you're sure to love their crunch and how they balance out the strong flavors of your butter chicken.
Here are our recommendations for papadum recipes:
4. Saag
It's not unusual for Indian cuisine to serve several different types of curry as part of the same dish so we've included another curry on this list.
Saag is a great complement to butter chicken because it has a completely different set of flavors compared to butter chicken. The primary ingredient is usually spinach, but it can also be made with other greens such as collard greens or broccoli.
It has a beautiful rich green color and the spices included are usually very different from those in butter chicken. It's not as rich and the green vegetables included in the ingredients really make it stand out.
Here are our recommendations for saag recipes:
5. Samosa
Samosas are one of the most versatile items in Indian cooking. They can be eaten as a snack, side dish, or appetizer and are suitable for breakfast, lunch, or dinner! You can vary the filling as well to make them appeal more to your tastes.
At their most basic, they are almost pyramid-shaped pastries that are either fried or cooked in the oven after being coated in oil. They're commonly served with a dipping sauce but as a side dish for butter chicken, they can be dipped into your curry instead.
The most common filling ingredients are seasoned potatoes, lentils, and vegetables. Samosas can have meat in them as well but this isn't necessary.
Here are our recommendations for samosa recipes:
6. Steamed Vegetables
Usually, butter chicken has little to no vegetables included in the dish. This means that vegetables automatically become a great side dish and there is no better way to cook them than to steam them.
Steaming is one of the healthiest ways to cook vegetables as it ensures that all of the nutrients and vitamins remain in the vegetables instead of escaping, as they can when vegetables are boiled or roasted.
You can serve plain steamed vegetables or add some seasoning to them if you prefer a little extra flavor. We've picked a couple of steamed vegetable recipes that have seasonings.
Here are our recommendations for steamed vegetable recipes:
7. Raita
This is a common Indian side dish. Its closest equivalent in Western cuisine would be an especially creamy dip that is full of vegetables, but even this doesn't quite explain exactly what raita is. 
It can be used as a sauce or as a condiment and uses yogurt as its base. The other ingredients can vary but usually include lots of greenery such as cucumbers, green onions, and cilantro. These give raita its typically green hue and fresh taste.
Raita is a great accompaniment for meat dishes as it can aid digestion. The fresh taste of raita is also a great complement to dishes such as butter chicken that have a rich and deep flavor.
Here are our recommendations for raita recipes:
8. Rice
Although this is our final recommendation for a butter chicken side dish, it's probably the most commonly used. Rice is a staple food across India and is frequently served with all types of curry as rice is ideal for balancing out the strong flavors of curry.
Basmati and jasmine rice are two of the most popular types of rice used but you can use any rice that you personally favor. There are also several types of seasoned rice that work well with butter chicken as well. 
Rice is a great addition to butter chicken as it is loaded with carbohydrates, something that is missing from butter chicken.
Here are our recommendations for rice recipes:
Final Thoughts
In this article, we introduced 8 amazing side dishes to serve with butter chicken. We picked some traditional side dishes such as naan bread and rice and also introduced a couple of ideas you may not have considered, such as raita and kachumber salad.
We hope that whatever side dish you choose, you enjoy it with your butter chicken! Bon appetit!
8 Amazing Side Dishes To Serve With Butter Chicken
Course: Sides
Directions
Pick a recipe from above
Click the recipe name and visit the website
Collect the ingredients and the food
Enjoy- don't forget to leave a review