A ham steak is one of those meat types that doesn't take very long to cook, but everyone knows that it tastes best grilled.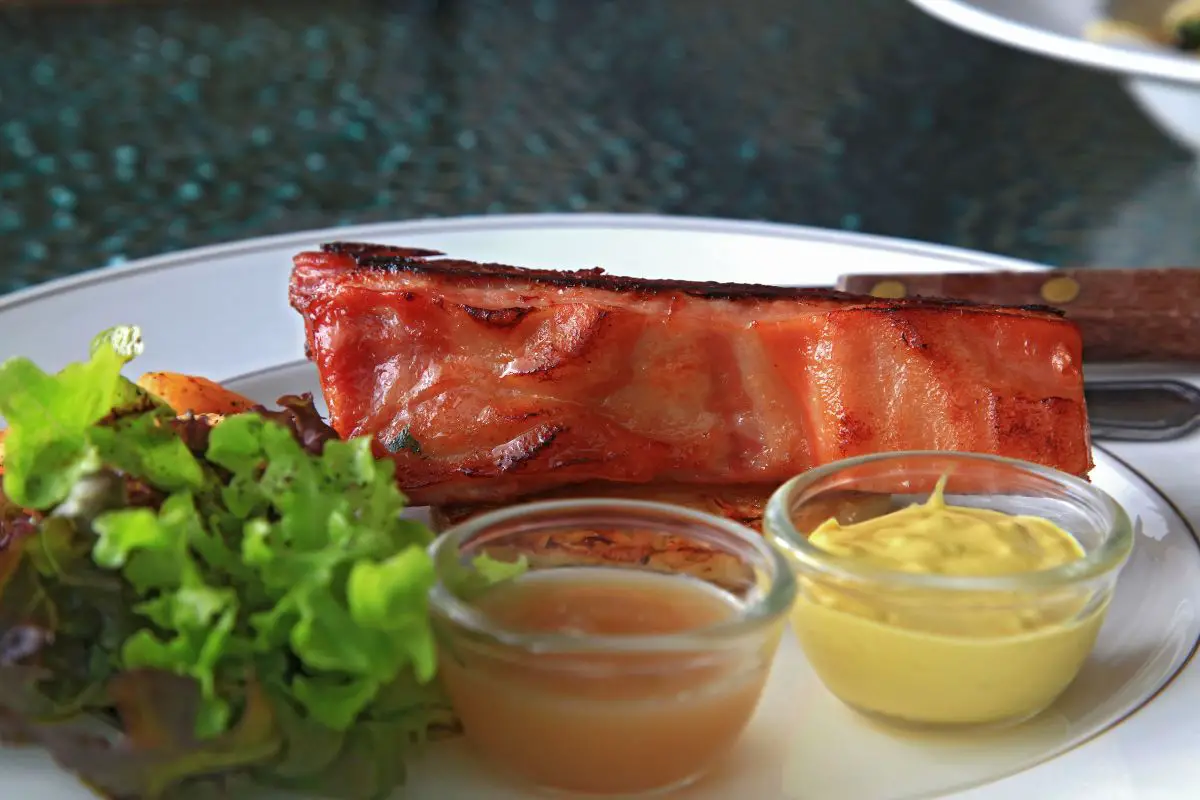 However, not everyone knows what to serve their grilled ham steak with, which is why we have written this article to share with you 13 appetizing side dishes you can prepare before or as you are grilling your steak!
So, keep reading below to check out our list and choose the side dishes that sound ideal for your steak lunch or dinner!
13 Appetizing Side Dishes For Your Grilled Ham Steak
We're starting this list with what can easily be considered the best side dish to a grilled ham steak: a sweet potato casserole.
The sweetness of this starch perfectly matches the smokiness of a ham steak that's been grilled and coated in all the right spices.
This recipe we are sharing includes some miniature marshmallows that can make your side dish more fun and even sweeter, so if you're up for a special treat, don't skip them.
People who have tried smashed potatoes have never gone back to any other variety of cooked potatoes but have instead tried to make them as great as possible.
The result? Garlic mashed potatoes that smell and taste garlic, thyme, and olive oil. With only 5 ingredients, they can be ready in 1 hour and served alongside the grilled ham steak.
Even if you have cooked your steak with only some salt and pepper, you can rest assured that the potatoes will make up for it.
If you are short on time but want to serve your steak with potatoes, then making a quick mash with only 4 ingredients is a great solution that won't have you compromising on the taste.
Floury potatoes boiled and then mashed with milk, butter, and crème Fraiche sound like a simple thing to do, and they are; but the final result is a delicious mash that will have everyone licking their plates!
You might know them as potatoes au gratin or you might refer to them as Dauphinoise; regardless of the way you call them, these baked potatoes are exquisite.
Layers of finely sliced potatoes succeed one another in a baking tray or single-serve ramekins, with a cream, butter, and cheese sauce making them moist and creamy.
Some fresh thyme can provide you with that extra aroma, but even if you don't add it, these potatoes will go great with the ham steak.
Sweet potatoes are not the only naturally sweet carb source you can cook and serve as a side dish with your grilled ham steak.
Carrots are also sweet, and even though they are lower in carbs and calories than sweet potatoes, they taste just as good.
Especially when you boil and then roast your carrots with some olive oil and sticky-honey glazing, you will end up with a yummy side dish you will probably end up making again the next day!
Boiling some baby carrots with some peas might sound like a very basic recipe but these two ingredients, when cooked and mixed with some butter, salt, and pepper, can make a healthy side dish to a steak.
Peas are also extremely high in fiber and a good source of vegan protein, so even if you have some people on the table that won't eat steak, you can serve them a bigger bowl of veggies.
Just make sure you add some vegan butter instead of a normal one!
Asian cuisine has many vegetarian dishes that you can easily turn into side dishes for any type of meat. In this case, fried rice can become the ideal side for a grilled ham steak.
Made with eggs, carrots, peas, rice, green onions, butter, garlic, soy sauce, oyster sauce, and sesame oil, it is a very versatile side dish you can customize according to your and your guests' preferences.
The only thing you have to do is serve it warm as it's supposed to be served. However, even if your guests are a bit late and the fried rice reaches room temperature, the flavorful ingredients it contains can guarantee everyone a more than satisfactory meal.
Opening that can of Heinz baked beans is an easy way to serve your steak with some beans on the side without cooking at all, but if you want to treat your guests to something entirely homemade, then making these copycat Heinz baked beans is a no-brainer.
Freshly made baked beans taste so different from the ones that have been sitting in a can for god knows how long, and they are definitely a fine match for your ham steak.
Even if you choose to serve your steak in slices, you can even pour the beans on top or, alternatively, do it the other way round and serve the steak on a bed of baked beans!
A risotto made with arborio rice and butternut squash can be either cooked with some ham in it or become the perfect side dish to a grilled ham steak.
Since this article is all about the second case, simply skip adding ham to the risotto and follow the recipe to make a delectable risotto you can serve in smaller servings next to your grilled meat.
Another vegetarian side you need to consider, especially if you are planning on having more than one side dish for your steak, is these collard greens.
This side dish can be cooked in no time in some olive oil and perfected with a squeeze of lemon juice, with garlic, salt, and red pepper flakes making them rich in taste.
Some asparagus and olive oil is all you need to make a delectable side dish that is low in calories and rich in flavor.
Roasted asparagus is crunchy and vibrant, and if you add some sea salt and pepper before roasting it you can make it taste better than any boring green leaves salad.
Of course, it is a great side dish to a ham steak and this combination could easily remind you of the bacon-wrapped asparagus you snacked on a couple of weeks ago.
Creamed spinach does seem to be a time-consuming and difficult recipe given that it is so extravagantly smooth and yummy.
However, it is unexpectedly easy to make as it needs nothing but spinach, butter, cream, and some grated parmesan.
Puréeing the spinach delivers that pillowy, smooth finish to this side dish that adds to its comfort and makes it easier to enjoy with the steak.
Of all the veggies you can grill, green beans will get you the most unexpectedly good result, and since you are using the grill for the steak, why not use it for your side dish too?
However, do not just grill them plain; rather, mix and toss them in a bowl with some oil, soy sauce, chili garlic paste, honey, red pepper flakes, and salt.
Cook them until charred and add some peanuts and seeds for garnish to make this dish even greater. If you have some green onions, consider slicing and adding them too!
The Bottom Line
Cooking a grilled ham steak requires minimum effort and so do these side dishes. With the steak being a rich source of protein, all of the above side dishes are richer in carbs and fats to help you create a complete meal.
And since they are very easy and simple to make, you can easily make more than one of them and serve them on the side of each plate or even place some big plates and bowls in the middle of the table to share.
13 Appetizing Side Dishes For Your Grilled Ham Steak
Course: Sides
Directions
Pick a recipe from above
Click the recipe name and visit the website
Collect the ingredients and the food
Enjoy- don't forget to leave a review