Those who have had the immense pleasure of tasting creamed chipped beef before, will know that it's an incredibly unique and versatile dish, not to mention positively delicious.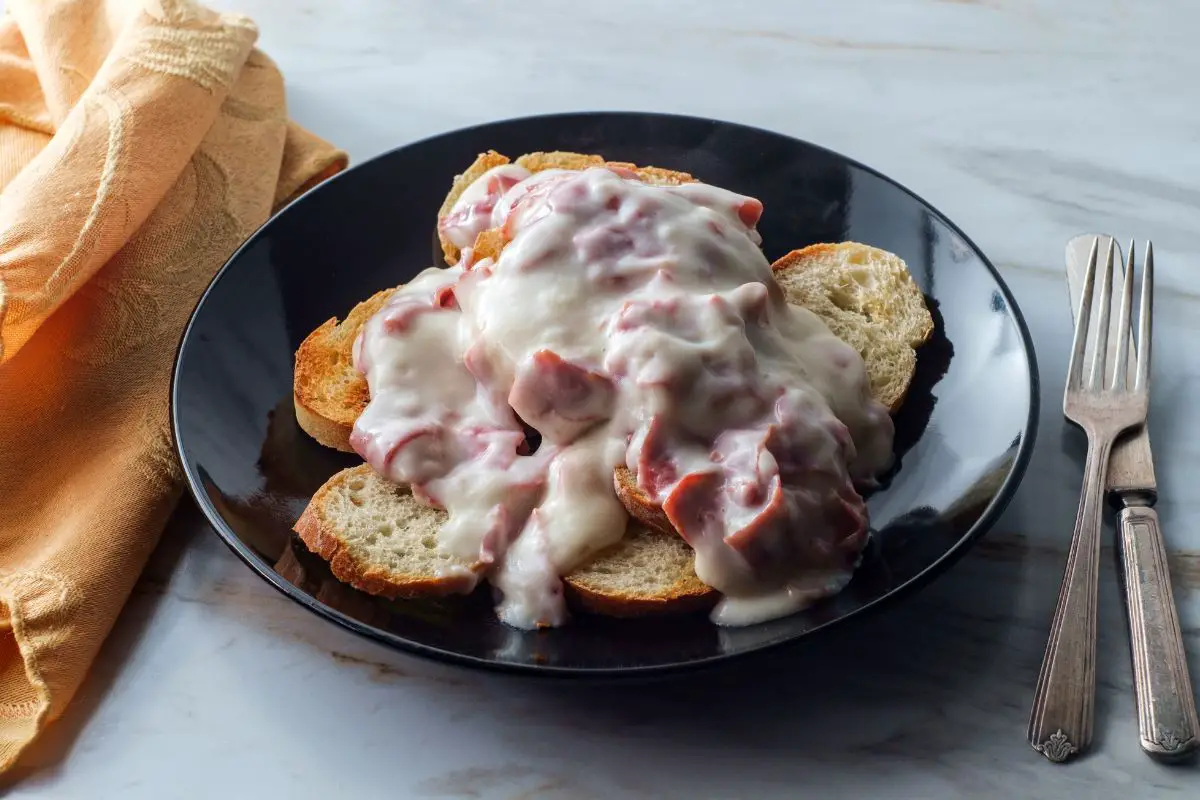 If you want to try the deliciousness that is chipped beef, it's incredibly easy to make, and just involves beef chopped into smaller chunks, then placed into a super thick and creamy sauce.
This is why it's so great for whipping up as a snack, or an appetizer before your meal. 
For those who are just considering trying chipped beef for the very first time, or are just looking for a little more variety out of their favorite snack, you may be wondering what to serve it with. 
As we mentioned briefly above, chipped beef is incredibly versatile, and therefore, you'll find that it makes a great accompaniment to a whole host of other sides. 
This is where we come in, below, we've compiled a list of some of the very best side dishes you can serve with your chipped beef today. 
To find out more, simply keep reading below, as we take a closer look. 
What Is Chipped Beef? 
Before we move on to discuss some of our favorite side dishes for chipped beef, first, we'd like to delve into what it actually consists of, for those who don't know. 
So essentially, it involves small, or 'chipped' slices of beef, that have been cured or dried over time. This helps to give them that flavorful and crispy taste and texture we all know and love. 
Following on from this, a roux is prepared in order to create a white sauce. This is usually done by mixing a combination of flour, milk, and butter in a pan, which will create a super thick and creamy texture. 
After the cream mixture has been prepared, you can then go ahead and add the beef chips into the mixture and combine. 
Typically, this will then be served on top of a slice of fresh bread. 
The Very Best Sides For Chipped Beef
Now that we've covered what chipped beef actually consists of, we can move on to discuss some of our very best sides that will make the perfect accompaniment. To find out more, simply keep reading below. 
So, if you're looking for something a little different to the usual bread and butter to serve with your chipped beef, then we'd definitely recommend that you consider whipping up these little babies. 
If you want to get some greens in with your comfort food, this amazing bacon wrapped asparagus is the way forward.
It's super easy to make, and simply involves frying up some asparagus, then wrapping it up in some delicious bacon. 
This tastes great when combined with your chipped beef, and the bacon is delicious with the white sauce too. We love the combination of salty and mild that this dish provides. 
If you're a lover of indulgence, or you simply need some comfort food to pick you up when you're feeling down, then we'd recommend that you whip up some delicious cheese biscuits.
We truly can't think of anything that cheese biscuits DON'T go with, but we can guarantee that they're perfect with your chipped beef. 
It goes perfectly with your chipped beef, in the same way that your regular old bread would, but simply elevates it to a new level.
They're incredibly soft, warm, chewy, dense, and moist, all at the same time. Essentially, they're everything you could ever want from a biscuit. 
In addition, the inclusion of cheese in the recipe really turns things up a notch, and adds an extra layer of flavor that we absolutely adore. Because after all, who doesn't love some extra cheese with their meal.
If you want something super fresh to pair with your chipped beef, then we'd recommend that you make this delicious caprese salad.
Originating in Italy, this salad recipe is the perfect combination of freshness and indulgence. 
We love the combination of the thick, gooey mozzarella cheese, paired perfectly with the zesty freshness of the tomatoes.
If you want to make the dish even sweeter, then we'd recommend picking up some cherry tomatoes instead of regular. 
The basil takes things up a notch, and provides the perfect aromatic flavor that we all know and adore. Be sure to flavor the salad dish with your favorite oil, and you're in for a real treat. 
We think that this dish perfectly balances out the creaminess and indulgence of the chipped beef, helping to give it the amazingly fresh counterbalance it needs. 
If you want to try a side that's a little different, then we can almost guarantee that you've never tried this one before.
It's super unusual, but also super delicious at the same time. It's essentially a delicious pie dish, but one that can be served for mains!
So, if you've ever dreamed of eating dessert as your primary dish before, then you're in for a real treat.
Make sure that you whip this one up ahead of time, as it takes a little bit longer to bake than some of the others on the list, but once it's done, it will all be completely worth it. 
The basil also makes this the most fragrant pie we've ever tasted, so your kitchen will be positively brimming with delicious scents all day long.
We all love roasted potatoes, but sometimes, they can get a little dull and we feel like trying something a little different.
That's where this recipe comes into play. If you want to recreate the delicious potatoes featured in the image above, then you most definitely can, as this is a very easy recipe to follow. 
We love the crispness of the potatoes, along with the flavorful essence of the parmesan, which perfectly complement the creaminess of the chipped beef sauce. 
You can simply drizzle it over your potatoes and enjoy consuming one of the most indulgent meals of your life. 
All you need is garlic, butter, parmesan, and of course your potatoes, and you too can recreate this delicious dish. In fifteen minutes, your recipe will be ready to be served. 
In fact, we think that this one might become a weekly staple in your household. 
If you're looking for the most perfectly easy recipe to make this weeknight to go with your chipped beef, then we would definitely recommend making this sweet potato casserole recipe. 
As you can imagine, it's incredibly easy to whip up, and it's perfect for when you've had a busy day and don't have much time on your hands.
It has all of the classic flavors that you love from sweet potato casserole, including plenty of nutmeg and cinnamon. 
If you want to know what elevates this recipe to a whole new level, it's the addition of pecans, which give it an added sweetness and depth of flavor.
We also love that the chopped pecans provide a new texture to the dish, making it far more filling in the process. 
We recommend that you drizzle your chipped beef on top of the sweet potato casserole, and voila, you've got yourself a new and innovative dish. 
Now, we presume that you've already considered pairing your chipped beef with some mashed potatoes, but we can guarantee that you'll have never come across such a delicious recipe as this one. 
This garlic mashed potato recipe is truly to die for, and differs immensely from all of the others we've tried before. 
The best thing is that it's super easy to make too. You'd just prepare your regular mashed potatoes as you normally would (but with a little extra butter), whilst you wait for the garlic to cook.
You simply place the garlic in the oven, and wait until it gets incredibly soft and tender. 
You can then mix it in with your mashed potatoes to create the most perfect side dish imaginable. Drizzle your chipped beef on top for one of the most deliciously indulgent meals possible. 
Another potato based recipe we hear you say! Yes indeed, because potatoes make a pairing made in heaven when placed alongside chipped beef. 
If you absolutely adore loaded fries when you eat out at a restaurant, then we've got good news for you, because simply by using your regular old chipped beef recipe, you can make your very own unique version. 
These fries are honestly some of the most crispy and golden we've ever tasted in our entire lives. You place them in a dutch oven, pour some cold oil over them, and then simply wait for them to boil. 
Honestly, what could be easier? 
It's no wonder that brussels sprouts were voted one of the nation's very favorite vegetables recently. They have an incredibly rich, unique, and flavorful taste.
What if you put them in a bake, that's also loaded with lots of cheddar cheese and crispy bacon pieces? 
Well, that's exactly what this recipe shows you how to do. Mix in your chipped beef, and you've got a delicious dish on your hands. 
If you absolutely love cauliflower, but are looking for a new and innovative way to make it, then we'd recommend that you whip up this roasted variety. 
All you need is some salt and pepper to roast these babies to perfection!. 
Final Thoughts 
To sum up, there are a whole bunch of different things you can serve up as sides for your chipped beef. Whether you want something fresh, or something deliciously indulgent, you'll find it right here on our list. 
Creamed Chipped Beef: The Very Best Sides
Course: Sides
This article takes a look at some of the very best sides to serve up with creamed chipped beef.
Directions
Pick from the list above
Click the recipe name and visit the website
Collect the ingredients and cook the food
Enjoy – don't forget to leave a review