Mexican carnitas is an indulgent dish where meat, typically pork, is simmered in its own fat, lard, or oil first. Once tenderized, the meat is crisped up in even more of its own fat, lard or oil until golden brown.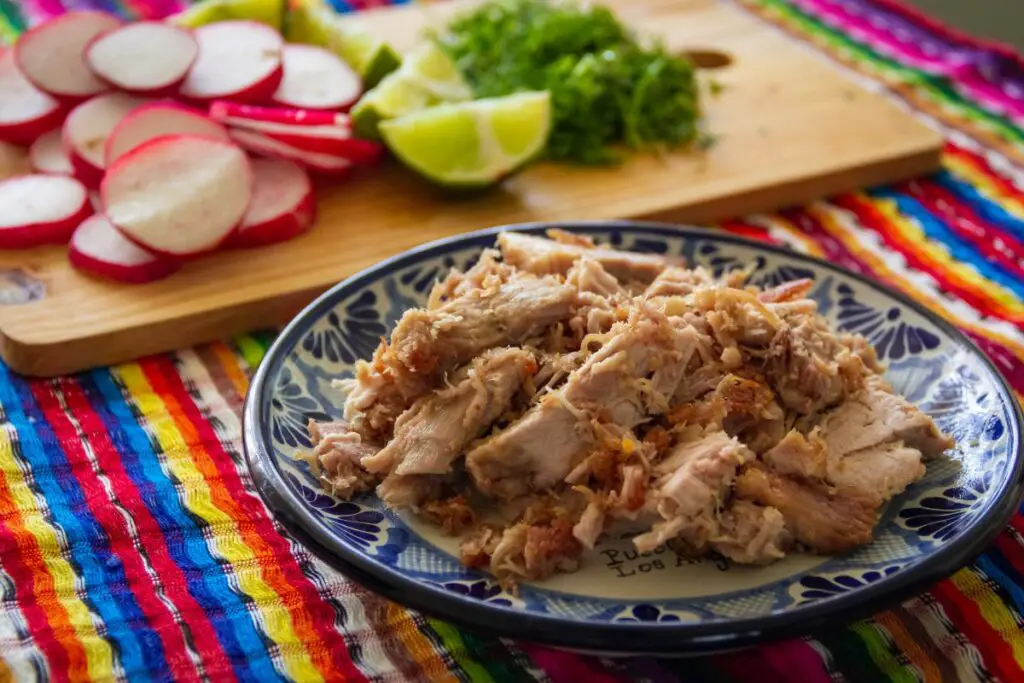 The dish originates in what was once La Nueva España but has become more well-known as Michoacán. Carnitas can be served in quesadillas, tacos, or simply on a mound of corn tortillas. 
In this guide, we will detail what you should serve with carnitas, specifically eight side dishes.
Pinto Beans With Mexican-Style Seasonings
Mexican Cornbread
Mexican Chopped Salad
Authentic Mexican Rice
Mexican Street Corn Salad
Crispy Patatas Bravas
Pineapple Pico De Gallo
Calabacitas
Next to your pile of freshly-made corn tortillas covered in carnitas should be a healthy dollop of Mexican Pinto Beans to go with it. They may take over 12 hours to create yet they are well worth the time and you can use a quicker, less laborious cooking method.
The dish can be created with a range of seasonings and components, this one includes bacon, which goes well if you are creating pork carnitas, green chile peppers, and onion for deep flavor.
The beans are spicy too as they are cooked with ground cumin, garlic powder, and chili powder. 
If you have the time, soak the pinto beans overnight in water, drain them, and then cover them with water in a pot. Add a can of diced tomatoes with green chile peppers, chopped bacon, onion, chili powder, ground cumin, and garlic powder.
Bring the mixture to a boil then reduce to a simmer and cook for around three hours before adding cilantro and salt to taste.
Should you want to go without the pot, there are several cooking methods you can use instead including on the stove or in an instant pot.
The latter method still involves covering the beans with liquid but also seasonings then letting the pot work its pressurized magic.
You could also use a slow cooker by simply leaving all the ingredients (excluding the cilantro which you add towards the end) in on a low setting and cooking for ten to 12 hours.
That's right, you simply leave it and you could even prepare it overnight to be ready in the morning.
If there is any juice to leak from your carnitas then mop it all up with some delicious Mexican Cornbread. This is a versatile recipe that can go with a range of dishes, whether they originate in Mexico or not.
To create your own batch, line a square baking pan with parchment paper and lightly coat it with a nonstick spray.
Melt butter in a bowl and then leave it to cool to around room temperature. In another bowl, combine the dry ingredients of flour, cornmeal, baking soda, baking powder, and salt.
Add the melted butter with the eggs and whisk until combined then mix in the honey and buttermilk.
This mixture should be lumpy and will get lumpier when you add a minced jalapeño pepper, shredded cheese (Cheddar Jack, sharp Cheddar, or Pepper Jack cheese will do), corn kernels, and sliced green onions.
Leave the batter to simply sit for around 20 minutes as you allow the oven to preheat to 350°F. Pour the prepared batter into the baking pan and add a sprinkling of green onions with some more shredded cheese to go on top and then bake until golden brown.
Once a toothpick comes out clean, it is ready though you should still leave it to cool in the pan before slicing. 
A simple fresh salad goes really well with several meat dishes, that includes a Mexican Chopped Salad with carnitas. Start by dicing vegetables into relatively the same sized small chunks.
Begin with a head or two of Romaine lettuce as your base then add chopped red bell pepper, zucchini, red onion, jicama (a root vegetable with a thick, brown skin), and grape tomatoes. 
If you are serving the salad straight away, add diced avocado, but if you are preparing it for later, leave its addition until just before serving to prevent it browning. Add drained black beans, chopped cilantro, and finely diced jalapeño peppers for a bit of a kick.
For the final touch, create the dressing to pour over by whisking lime juice with maple syrup, ground cumin, coriander, more cilantro, and minced garlic. 
Another versatile Mexican side dish is Authentic Mexican Rice which could turn into a favorite side dish quite quickly. First, rinse the long grain rice with water then leave to drain before coating with hot oil in a pan until lightly browned.
Add finely diced onion, tomato sauce, and garlic then stir before adding tomato bouillon, salt, diced carrot, peas, and water. 
At this point, you can add whole serrano peppers for a bit more flavor though they may not add much more spice. Bring the mixture to a boil then reduce to a simmer and cook until the water has been totally absorbed.
Remove the pan from the heat and leave to sit for around five minutes before fluffing with a fork.
If you only have 20 minutes to spare then create a Mexican Street Corn Salad to go with your carnitas. First, cook frozen corn kernels in a pan with olive oil until cooked through and just charred then remove them and set aside in a bowl.
Add diced red bell pepper, jalapeño pepper, red onion, and minced cilantro. In another bowl, create the dressing from sour cream, mayonnaise, freshly squeezed lime juice, cumin, paprika, Kosher salt, and chili powder.   
Mix it all together with crumbled Cotija cheese then sprinkle some more cheese on top with cilantro as a garnish. You can cover this salad and leave it in the refrigerator for around eight hours before you decide to serve it.
With that time, the flavors should blend together nicely.
Meat and potatoes go really well together, so it makes sense to pair carnitas with Crispy Patatas Bravas.
The dish, also known as Mexican Potatoes, will add a bit more crunch to your meal and it will come with its own range of delicious and bold spices.
There is also a similar cooking method to the carnitas as the potatoes will be fried in olive oil until crispy and golden. 
Once the potato chunks are fork-tender, they can be removed from the pan and then placed in a bowl lined with paper towels. To introduce the spice, mix together salt, smoked paprika, garlic powder, and cayenne pepper.
Toss the chunky potato chunks around in a third of the mix, fry them again in the oil, and repeat the process for another couple of times. Serve warm with an aioli sauce that goes really well with carnitas too.
For a side dish to offset the spicy kick of carnitas, try a fresh Pineapple Pico De Gallo. One batch is so easy to do as long as you have all the ingredients already laid out.
That includes fresh pineapple chunks, diced Roma tomatoes, and finely diced jalapeño pepper. The combination of those ingredients should already sound like the taste of summer.
With some finely diced red onion, chopped cilantro, and minced garlic to bring it all together, lime juice and Kosher salt are added right at the end to taste. 
Another side dish that uses jalapeño pepper, garlic, and tomatoes is Calabacitas.
Roast some plum tomatoes first in a roasting pan and, meanwhile, finely chop an onion and sauté in a pan until it begins to go brown before quickly adding minced garlic to cook for another minute or so.
Purée a couple of spoonfuls of the mixture in a blender and then leave it as you will later use it with the roasted tomatoes.
Chop up the zucchini and add it to the rest of the onion-garlic mixture remaining in the pan then add oregano, salt, and pepper to sauté for only a couple of minutes.
Add a quarter of the jalapeño to the roasted tomatoes in the blender with those spoonfuls of the onion-garlic mixture to combine.
Pour the tomato mixture into the pan and cook until the zucchini is still just a little firm then add the corn kernels and garnish with some Cotija cheese and chopped cilantro.
Final Thoughts
Left on its own, carnitas is still an exceptionally tasty dish to which you add some dips and sauces. However, to create a satisfying main meal you should opt to add some different flavors and textures to your plate.
That could be a fresh Pineapple Pico De Gallo or the crunch of some Crispy Patatas Bravas. You could also prepare well ahead of time and create a batch of Pinto Beans With Mexican-Style Seasonings or some Mexican Cornbread to mop it all up.
Frequently Asked Questions
Which Vegetable Side Dishes Typically Go Well With Carnitas?
Most of the side dishes featured here are vegetarian-friendly yet you can also try an Apple Jicama Slaw, a Watermelon Feta Salad, Grilled Avocado, and Elote Fritters. 
Which Dips Can You Pair With Carnitas?
If you are looking for something even simpler to pair with your carnitas then there is a range of dips and sauces you can try. These include Salsa Verde, Hot Sauce, Guacamole, Sour Cream, and a chunky Salsa.
What Should You Serve With Carnitas? Here Are 8 Awesome Side Dishes
Course: Sides
Directions
Pick a recipe from the list above
Click the recipe name and visit the website
Collect the ingredients and cook the food
Enjoy – don't forget to leave a review