Daikon radish is a vegetable that is commonly used in East Asian cuisine. It looks like a large-sized white carrot and can be enjoyed cooked, pickled, or raw. Other names for daikon include white radish, Chinese radish, and winter radish. 
Daikon radishes have a gentle flavor that is useful in a lot of dishes, but if you are finding it hard to find daikon, or have run out in the middle of a recipe, you may need a substitute ingredient to use in your recipe.
We'll list some of the best daikon radish substitutes in this post for you to try at home. You'll also discover how daikon radishes taste, as well as the names of recipes you can make with them.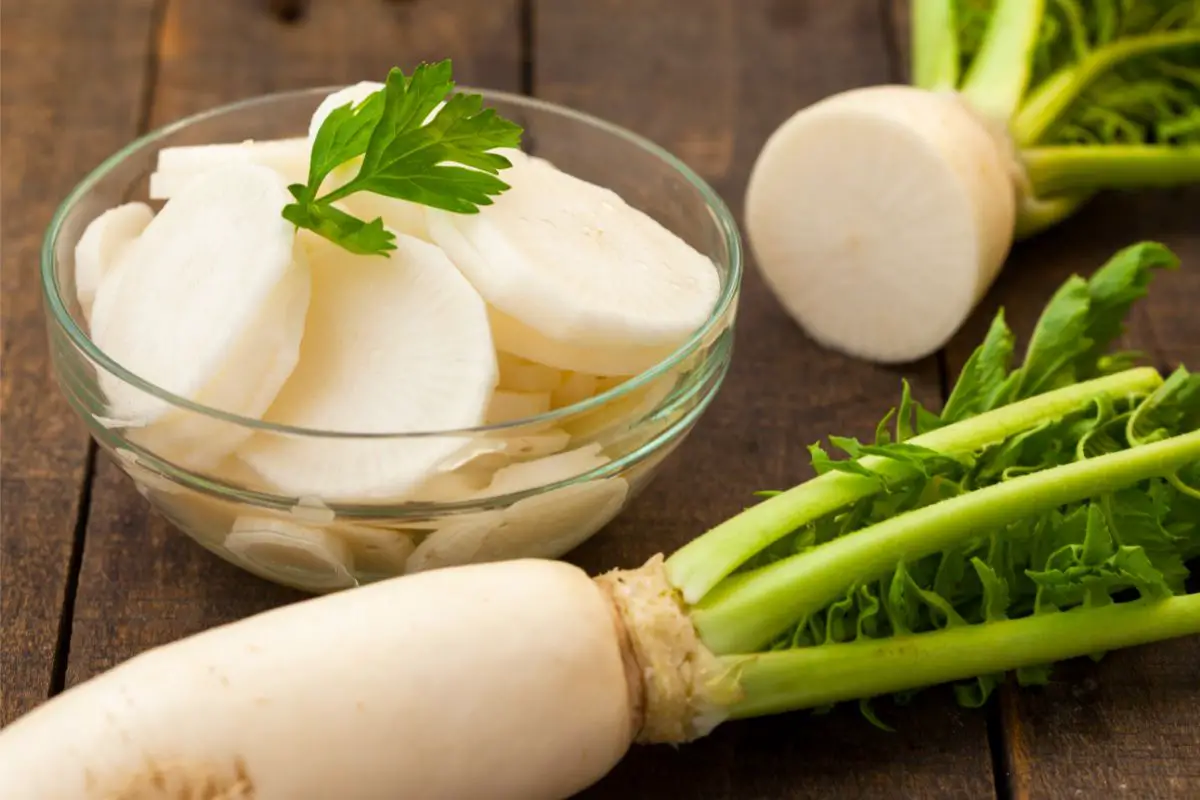 More About Daikon
Daikon radishes are winter vegetables that come from East Asian countries. The term 'daikon' is a Japanese word that means 'big root'.
Daikon is also known as mooli in South Asian countries and is used to make several Indian, Bangladeshi, and Pakistani dishes.
Daikon radishes look like big, white-colored carrots that have gentle sweet, slightly spicy flavors. Cooking tones down their light taste even more, bringing out more of the sweetness within the vegetable. 
Raw daikon radishes have a pleasant crunchy consistency, while their cooked form turns tender and soft. Daikon radishes are mainly white, but you may come across other varieties that are purple, green, and red. 
How Do Daikon Radishes Taste?
Daikon radishes can taste different, depending on whether they are cooked or raw. 
In their raw form, raw daikon radishes have an overall sweet taste with a gentle spiciness, though this is lighter than pungent red radishes.
Their spice level can change depending on the type of daikon you choose, as some, like lobak, have a stronger taste. 
When daikon radishes are cooked, they lose their spiciness, turning soft, sweet, and mellow. Their texture and flavor are just like cooked turnips, which work well in stews, soups, and side dishes. 
Different Types Of Daikon
Daikon radishes also come in different types, like mu, watermelon, and lobak. 
Lobak is a Cantonese vegetable that has a green tint around its root. Mu is a Korean version of Daikon that is circular and shorter. Daikon tastes milder compared to mu and lobak, as the latter have a noticeable peppery flavor. 
Watermelon radishes are known for their distinct pink insides and flat, green flesh – just like a watermelon. These are generally enjoyed raw and in thin slices, as this maintains the radish's color. 
Ways Of Cooking Daikon Radish
You can enjoy daikon radishes both cooked and raw. The vegetable is generally peeled beforehand, but this is optional as its skin is edible. 
Daikon can be diced for cooking, sliced thinly for pickling or garnishing, or even added into baking recipes to add moisture to baked goods. 
Their raw form works well in soups, salads, and various hot dishes. You may see raw daikon sprouts, known as kaiware, used in Japanese dishes, like sushi and green salads. 
The Best Substitutes For Daikon Radishes
Now that you know more about daikon radishes, we can get into some of its different alternatives. 
Whether you have run out of daikon radishes, can't find any at the store, or simply don't like the way it tastes, here are six of the greatest daikon radish substitutes to use in your recipes. 
1. Red Radishes
If you're trying to find a vegetable substitute, a good tip is to find a different variety of that same vegetable. 
Just like daikon, red radishes are a type of radish. They are primarily grown for their roots, which look like little, red spheres with translucent, white flesh. Their leaves that grow above the soil are edible and can be enjoyed in some salads. 
You can find red radishes available throughout the year. They have a similar peppery flavor to daikon, which makes them a versatile kitchen ingredient.
Other than substituting for daikon in your recipe, you can use them to add a light spiciness to pasta, grilled meat, or sandwiches. 
2. Horseradish
Horseradish is also another type of radish that is known for its spiciness and pungent flavor. This vegetable is primarily sourced for its white, tapered root.
Its leaves aren't normally used, but they can be eaten, as their flavor tastes just like its roots. 
Horseradish roots are generally used for condiments, dressings, and sauces. It is used in both fresh and powder form, giving a notable spice to potato salads, homemade sauces, and several meat dishes. 
Horseradish does lose its strength when it comes into contact with heat and air. It changes from peppery and spicy to bitter and sharp. 
As its flavor is so strong, use a small amount to substitute for daikon radish and taste as you go. You can always add some more if you like the way your dish tastes. 
3. White Turnip
White turnips are like red radishes in terms of shape, but they aren't as spicy, with a much sweeter flavor.
Raw white turnips can taste quite bitter, but if they are cooked, their lighter, sweet notes start to come out. This is thanks to the natural sugars within the vegetable. You can also enjoy the leaves on white turnips, as they work well in fresh salads.
If you use white turnips as a daikon radish substitute, you'll get their comparable crunchy consistency and noticeable taste in your recipe. 
However, bear in mind that white turnips are winter vegetables, so you may struggle to obtain them during other seasons of the year.
4. Parsnips
This root vegetable is often added to casseroles, soups, and stews. As they are rich in starch, you can boil them and remove them from your recipe.
Their gentle flavors will remain in the dish, along with the starch to make your liquid thicker. 
Parsnips have a nutty, sweet taste that becomes sweeter during cooking. If you substitute daikon radishes for parsnips, you'll find that your recipe develops the same sweet flavors. 
5. Cabbage
Cabbages can work as a daikon radish substitute when making stews, salads, and soups. Its advantage is that it is readily available, so you won't struggle to find it in your local store.
Cabbage has a white center with a crunchy texture. This is crisp and brittle enough to work, along with its mild bitterness that is similar to daikon's gentle flavors.
There are lots of different cabbage varieties to choose from. In their raw form, they have a light peppery taste that turns mild during cooking.
The only thing to remember is that cabbages have a less distinct flavor compared to daikon radishes, so they won't impart a similar flavor to your dishes. 
If you do use cabbage as a daikon radish substitute, you'll give your recipe a similar crisp consistency, but the taste will be different from the original vegetable. 
6. Beetroots
Beetroots also work well as daikon radish substitutes, especially if you like sharper flavors. Beetroots have an earthy, fresh, and slightly sweet flavor that is similar to daikon. 
They are generally enjoyed steamed, raw, or boiled, particularly if you mix them with other types of salad vegetables. Beetroots can also be peeled and cooked to enjoy warm, as well as pickled for use as a condiment. 
Despite their similar sweetness to daikon, beetroots do have an earthy taste and red hue that may impact your dishes. If you don't mind this, however, you can use it in a variety of daikon radish dishes, like stir fries, kimchi, or roasts.
Selecting Daikon Radish Substitutes
Selecting the best daikon radish alternative is a choice that's mainly based on your chosen recipe. Despite this, other elements also come into play, like what you want to get out of your substitute and your personal preferences.
When you are choosing your alternative ingredient, you'll need to think about two main factors. 
The first is if you need a substitute because you are looking for the closest ingredient to daikon radish possible. 
The second is whether you need a substitute because you aren't a fan of the way daikon radish tastes.
If you need a substitute that tastes as similar to daikon as possible, other types of radishes will work best. These include red radishes, horseradish, and beetroot.
If you need a daikon radish substitute because you aren't a fan of its flavor, parsnips, white turnips, and cabbages work better. 
The Bottom Line
Daikon radishes have a sweet, slightly spicy flavor that adds to many East Asian dishes. If you need an ingredient to substitute for it in a recipe, there are lots of examples that you can use. 
Other types of radishes, like red radishes and beetroots, work well if you need to give your dish a similar daikon flavor. Cabbage and parsnips have a similar texture to daikon, but will give your dish a different flavor. 
We hope you enjoyed finding out more about daikon radishes and their best substitutes to use in your recipes. 
The 6 Best Substitutes For Daikon Radish
Course: Substitutes
Daikon radishes are a common sight in East Asian cuisine, but what if you can't find any at the store? Find the best daikon radish substitutes here.
Ingredients
Red Radishes

Horseradish

White Turnip

Parsnips

Cabbage

Beetroots
Directions
Decide on what substitute you need
Pick a substitute from the list above
Read what you need to substitute with
Create the recipe and enjoy