Ceviche is a delicious Latin American dish most popular in Peru and Ecuador. It is made with raw fish that is cured with fresh citrus juices. Spices, chili peppers, cilantro, salt, and other seasonings are added.
Some recipes also add shredded peppers or onions, and chopped tomatoes. Ceviche is served cold, often with a range of different side dishes.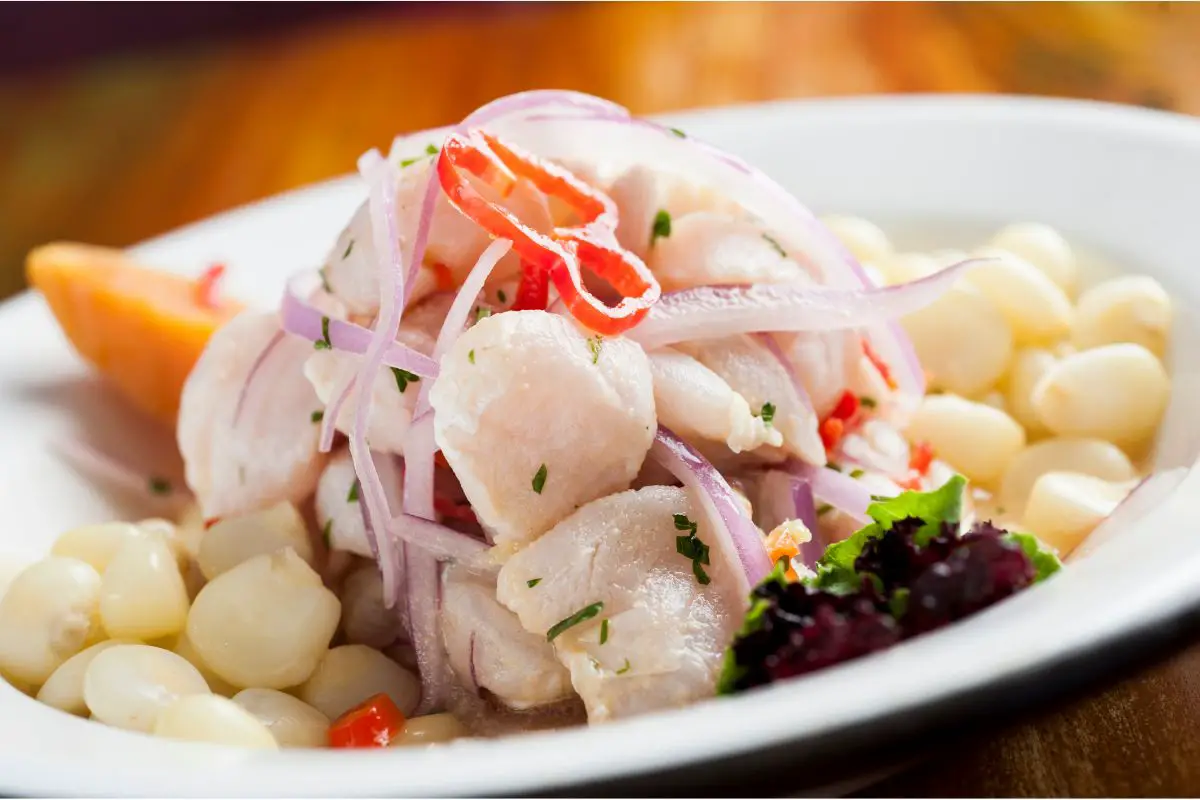 If you want to make ceviche but you aren't sure what to make it with, we have put together this list of suggested recipes. These side dishes are delicious and would pair perfectly with ceviche.
Pick one to try, or make several to create a feast. Keep reading for more inspiration. 
There are lots of different ways that you can cook sweetcorn, but roasting really brings out the flavor. It requires minimal preparation and is a gluten free, low fat side dish that goes perfectly with ceviche.
You can use fresh, frozen or canned sweetcorn – just make sure that the liquid is drained off before you roast the corn. 
The flavorings used in this dish are simple – paprika, salt and pepper. You can add a little chili if you want to, but try not to overpower the delicate and sweet flavor of the corn.
Sweetcorn is traditionally enjoyed with ceviche, so you know that you are on to a winning combination. 
If you want to try other corn recipes to serve with ceviche, you can cook corn on the cob, or try making toasted kernels.
You can also experiment with different types of corn dishes like corn casserole or creamed corn. 
Fried plantain is another side dish that is traditionally served alongside ceviche. It takes less than 10 minutes to make and is flavorsome and nutritious.
Plantains are sweet, which contrasts with the savory flavors of the ceviche. The plantain is fried, which caramelizes the outside and leaves the inside nice and soft. 
You can serve fried plantains with lots of different dishes. They are an important part of Caribbean cuisine, but you will be surprised at how versatile they are!
The trick to successful fried plantain is to make sure that the plantain you use is nice and ripe. This gives it the perfect texture and ensures that it cooks quickly. 
If you want to know how else you can use plantain, how about using it chopped up in caribbean style curries and casseroles? You can also enjoy it as a sweet treat, fried with a little sugar and drizzled with honey or syrup, or dusted with powdered sugar. 
Ceviche is often served with rice, and there are lots of different Latin American rice dishes that you can choose from.
This recipe is for Pabellon Criollo, a Venezuelan dish made with steak and black beans. Pabellon means 'flag', and the three components of the dish are arranged on the plate to resemble a tri-color flag. 
The flank steak is cooked simmered in stock until tender, before being shredded and cooked in a rich tomato sauce. The black beans are cooked in a sauce made with stock, onions, cumin, garlic, salt and a little vinegar.
The rice is simply boiled, and is light and fluffy. You can serve the dish in the traditional way, and let your guests help themselves  – they can mix the steak, rice and beans together if they want to.
The bold flavors of this dish work really well with ceviche. 
This is a great side dish to make if you are putting together a Latin American buffet or dinner party, with ceviche and some other side dishes like roasted sweetcorn and fried plantain.
It could also be enjoyed as an alternative to a Sunday Roast, especially on a warm summer day. 
If you are looking for something light to serve with your ceviche, why not try a salad? This salad is wholesome and satisfying, and looks very appetizing. The ingredients are colorful and offer a range of flavors and textures to enjoy. 
This recipe uses brown rice, but you can use white rice or even wild rice if you prefer. You will also need black beans, kidney beans, sweetcorn, onion, bell pepper, and jalapeno peppers.
You can use more or less jalapeno depending on how spicy you would like this dish to be. All of these ingredients are flavored with cilantro, minced garlic, fresh lime juice and cumin. You can also add a bit of salt. 
If you bring a bowl of this exciting salad to the table then your guests will want to dig in immediately, and will be asking for more. You can also keep it in the refrigerator in a sealed container for several days.
You can make this salad to go with lots of different dishes, not just ceviche. It can also be used as a filling for burritos. 
Curtido is a type of slaw that comes from Salvador. It has similarities to sauerkraut because it is fermented, which means it has a lot of health benefits and contains probiotics.
You can use this slaw as a topping for tacos, a filling for quesadillas, or a condiment. It also works perfectly when served alongside ceviche. 
To make Curtido you will need green cabbage, yellow onion, shredded carrot, jalapeno, oregano and sea salt.
Make sure that the jars you use to store the slaw are sterilized, as this will ensure that it will last for a long time – even up to several months. The longer the slaw is left to ferment, the deeper the flavors will become.
Make sure that all of the ingredients are submerged in the brine to preserve them. 
It is best to make Curtido in large batches then split it off into smaller jars. You can gift the jars to friends and family or keep them if you plan on using curtido regularly in your recipes. 
Sweet potato is a nutritious and delicious side dish to serve alongside many meals, including ceviche. You can also enjoy them on their own as a satisfying dish.
You can experiment with different fillings and flavors to find your favorite. It is really easy to customize this side dish to suit various dietary requirements. 
This recipe uses onions and black beans to fill the sweet potatoes. It is a vibrant dish with flavors of garlic, onion powder, cumin, chili powder, and fresh lime juice.
The potatoes are garnished with chopped avocado, fresh cilantro, and a creamy cashew sauce. You could also use sour cream if you prefer. 
The sweetness of the potatoes will balance well with the savory and sour flavors of the ceviche. The potatoes are hearty, which makes the dish more filling. 
Tostadas are a fun and messy Mexican dish that would make an excellent accompaniment to ceviche. They are made with crispy corn tortillas (you can buy them pre-made or fry your own), layered up with various toppings.
This recipe uses refried beans, avocado, tomato, lettuce, salsa and shredded cheese. You can use whatever toppings you want to – spicy chicken, ground beef, vegetable chili, roasted corn.
You can use seasonal ingredients or whatever needs using from your pantry. 
This recipe includes instructions on how to make your own tostada shells. This is great if you are hosting a dinner party. If you are in a rush on a weeknight then you might prefer to use store bought tostada shells instead.
This is an exciting side dish to serve with ceviche, and is something that the whole family will enjoy. 
If you want to keep things simple then you can serve your ceviche with bread. Any type of savory bread would work, but to keep it authentic then you can have a go at making a Latin American style of bread.
This recipe is for arepas, a type of cornmeal bread. It is pocket shaped, ideal for stuffing with whatever you want, including ceviche. 
This recipe also includes instructions for making a chicken and sweet potato filling, which is very delicious. To make the arepas you will need cornmeal, salt and warm water.
It is a very simple dough, which you then fry in hot oil. Drain the arepas on a paper towel to remove any excess oil, then you can add your filling. 
Summary 
These side dishes are unusual and tasty, and will work perfectly if you serve with ceviche.
What Side Dishes To Serve With Ceviche? 8 Best Recipes
Course: Sides
Directions
Pick from the list above
Click the recipe name and visit the website
Collect the ingredients and cook the food
Enjoy – don't forget to leave a review