Vidalia onions are a popular kind of onion that is grown in Georgia, in the United States.
These onions were originally grown for personal use and consumption, but have gradually grown in popularity all over the US.
Now, you can find these onions in most grocery stores for a fair price, and get to enjoy them any time. 
These onions are known for their delightful, sweet flavor that develops when it gets cooked at low temperatures.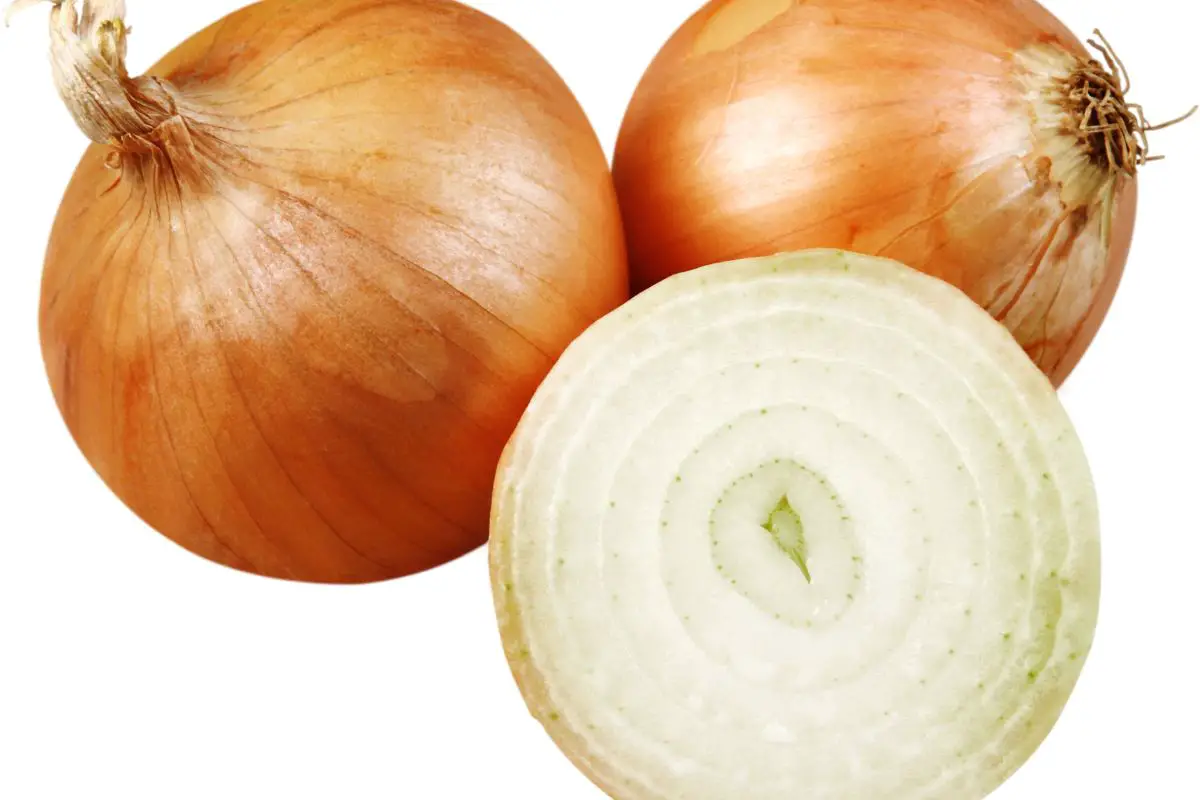 This sweetness is due to the fact that the onions are known to contain less sulfur, and isn't always easy to replicate in other onions or ingredients. 
However, that doesn't mean that you can't use other ingredients if you need to substitute for Vidalia onions!
In this article, we will go through some of the best options you can try out if a recipe calls for Vidalia onions, but you have none at hand. 
From potato onions to shallows, here are the top six Vidalia onions substitutes. We might even include a few bonus substitutes to consider right at the end, so be sure to stick around!
What Are Vidalia Onions?
The wonderful Vidalia onion is not just any old onion – it's Georgia's state vegetable! It's had this title since 1990, and is considered one of Georgia's biggest agricultural successes.
These sweet onions were simply known as the "Southern" or "Georgia" onion before they got their name, which is the name of the town everything started in. 
Like so many things, the discovery of these onions was a complete accident.
It happened in 1931, when a farmer unknowingly planted sweet onions in his sandy field instead of hot ones – and these delights were born. 
It took a few years for the onions to get the attention they deserved, but eventually the farmers in South Georgia saw that they had an incredible opportunity.
The climate of Georgia, along with the sandy soils, resulted in these onions standing out from the rest. Farmers started to band together and advertised their vegetables to bring more people in to try them out. 
In the mid 80s, word of these onions got out, and the world has never forgotten about them. Their sweet flavor sets these onions apart from the others.
However, they are usually more expensive than your regular onion, as they are more difficult to grow and perfect. 
They are large, yellow vegetables, and can be enjoyed both cooked and raw. It is common to find these onions fried or grilled, and added to burgers, sandwiches, and much more.
When caramelized, these onions are beyond delicious, and work beautifully with things like pork, chicken, and steak. You can even enjoy them in salads, since they are not overpowering like some other onion varieties. 
Because of how unique Vidalia onions are, it's almost impossible to find the perfect substitute. However, there are a handful of options that come close, depending on what you would like to use them for. 
If you need to use any of the substitutes we talk about below, do not expect the finished result to be exactly the same. Unfortunately, we just need to do the best we can, and sometimes you aren't going to get an exact match. 
1. Potato Onions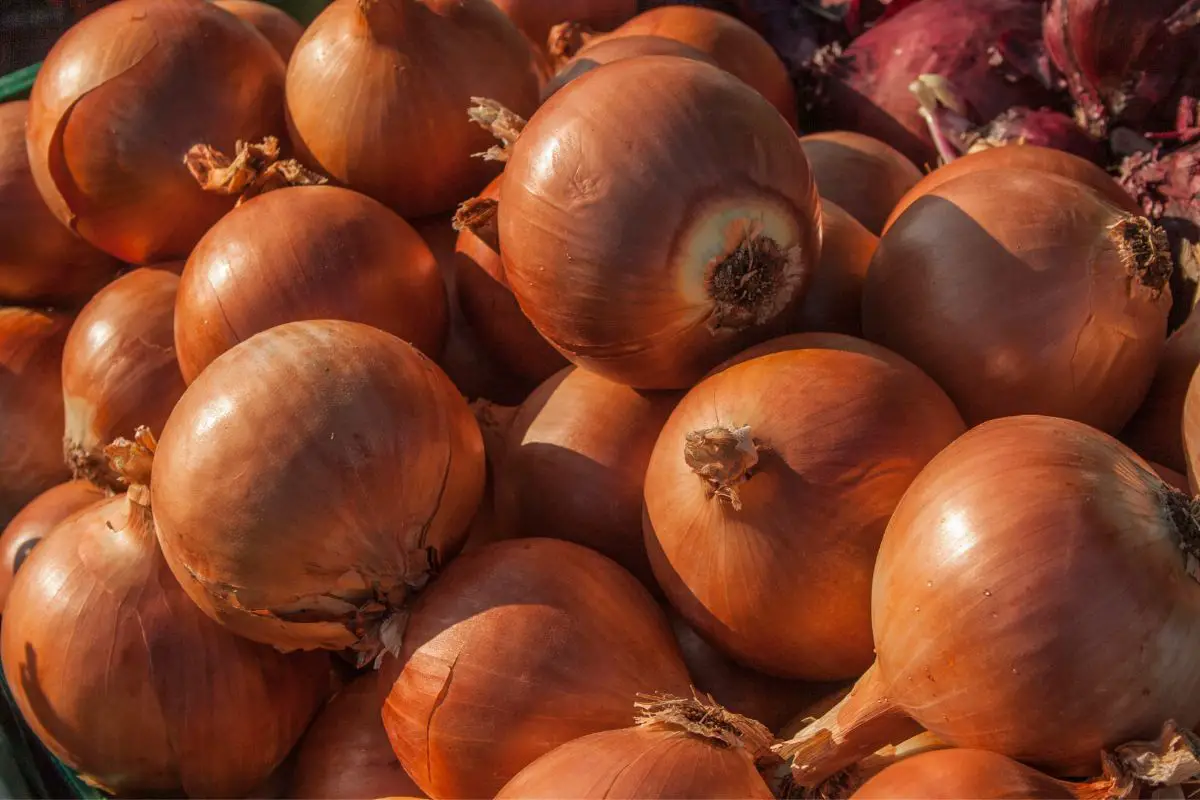 Potato onions are meant to resemble potatoes, and are usually smaller than other onions. In terms of flavor, potato onions are weaker than the average onion.
They also have a pleasant hint of garlic to them, which makes them great for cooking and other uses.  
These onions are known to be self-propagate, too! As such, they might also be labelled as pregnant onions, multiplier onions, or mother onions at various grocery stores. 
Like most onions, caramelizing is a good option for potato onions. This will bring out their sweetness and make them easier to use in most dishes.
Sauté this onion like you would a Vidalia onion, and add it to dishes like casseroles, stews, or even soups.
2. Yellow Onions
Yellow onions are the most popular substitute for Vidalia onions, and are one of the most popular onions in the world.
However, these onions have a few key differences that mean that it may be difficult to use these in some cases where you would use Vidalias. 
While you could easily enjoy Vidalia onions raw thanks to their sweetness, yellow onions will be unpleasant when eaten raw. This is because they have an intense flavor that is generally unpleasant.
As such, you are unlikely to use these onions in salads or similar dishes. 
With that being said, yellow onions are still excellent if you intend to cook them to bring out the sweetness.
When caramelized, fried, or sautéed, yellow onions work wonderfully when paired with various meats and burgers. 
3. White Onions
White onions are among the most popular onions, and they work well as a substitute for Vidalia onions.
This option is easily accessible, and can be found in every grocery store you might find yourself in – you probably have a bag sitting in your house!
Of course, there is a difference, and you will notice it if you are well-versed in Vidalia onions. These white onions are more acidic than Vidalias, and they do not have the same sweetness.
There are also minor differences in texture, and white onions tend to be easier to mash with a fork. 
In terms of uses, the more pungent odor and flavor of white onions might mean that they are not suitable for everything a Vidalia onion would be used for.
While they are not as sweet, they can still be caramelized to bring out the sweetness and used for toppings on things like burgers and sandwiches. 
4. Red Onions
Also called purple onions, these onions are usually easy to find, and very versatile.
They have a more intense flavor and can be a little spicy, but will work if you don't have any Vidalia onions on hand. Soaking these onions in water for 30–60 minutes before cooking will help to reduce the spiciness. 
When you do this, you will have an easier time using this vegetable in place of its competitor. You can sauté these onions to bring out the sweetness, or caramelize them for various uses. 
As long as you prepare these onions correctly, you should have an easy enough time using them as a substitute. Don't burn them, and add some sugar if you need more sweetness from them.
5. Walla Walla Onions
Walla Walla onions are an excellent option if you are looking for another sweet onion to use instead of Vidalia onions.
As their name suggests, these vegetables come from the Walla Walla Valley in the beautiful state of Washington.
They are a non-hybrid onion, and have a mild but sweet flavor, making them versatile and easy to enjoy. 
The higher sugar content of these onions means that they can be used raw for a variety of purposes, much like Vidalia onions. However, when cooked, they get even sweeter, and can be caramelized for a wide array of uses.
It should be noted, though, that these onions still are not as sweet as their competitor, but they are a good onion nonetheless!
These onions are also typically more expensive than the more common varieties such as red, white, or yellow onions. They might be harder to find, depending on where you live. As such, they might not always be a suitable substitute. 
6. Shallots
Finally, we have shallots! These have some similarities to Vidalia onions, as they have softer layers and have a similar texture. However, shallots also have a potent flavor to take into consideration.
In fact, if you are not expecting the spiciness that shallots have, you might be in for an unpleasant experience! 
Like many other options, this substitute option is best when caramelized to bring out the sweetness. There is a distinct sharpness in these vegetables, with an underlying sweetness.
Because of this, they actually work well as a substitute for essentially any kind of onion. 
Just be careful when cooking shallots, as they have the potential to burn quickly thanks to the porous skin. Overcooking shallots can also make them less pleasant and more bitter, so time it right!
Bonus Vidalia Onions Substitutes
There are some other options to consider if you would like more substitutes to try. Just take a look at these bonus substitutes that you can try out – test them all to see which one is your favorite!
Garlic  
Chives  
Shallots  
Scallions  
Spring onions 
Final Thoughts
Although Vidalia onions are delicious and versatile, they are not always easy to come by. This is especially the case if you don't live in Georgia – their home state.
Luckily, there are a few good options for ingredients you can use as substitutes if you find yourself without. 
Just remember that there will be differences when you use the above options instead of Vidalia onions. Most onions do not have the same sweetness, so bear this in mind!
Vidalia Onions Substitutes: The Top 6 Options
Course: Substitutes
Need Vidalia onions substitutes? Take a look at these top six choices to consider if you find yourself without Vidalia onions when you need them.
Ingredients
Potato Onions

Yellow Onions

White Onions

Red Onions

Walla Walla Onions

Shallots
Directions
Decide on what substitute you need
Pick a substitute from the list above
Read what you need to substitute with
Create the recipe and enjoy