Pickled eggs are a very tasty food that you can eat in many different ways. They are often served as a side dish or eaten for breakfast. 
Pickling food is a food preservation system that has been around for a long time. The process means that the product will last a lot longer, and the product is also flavored in a delicious way.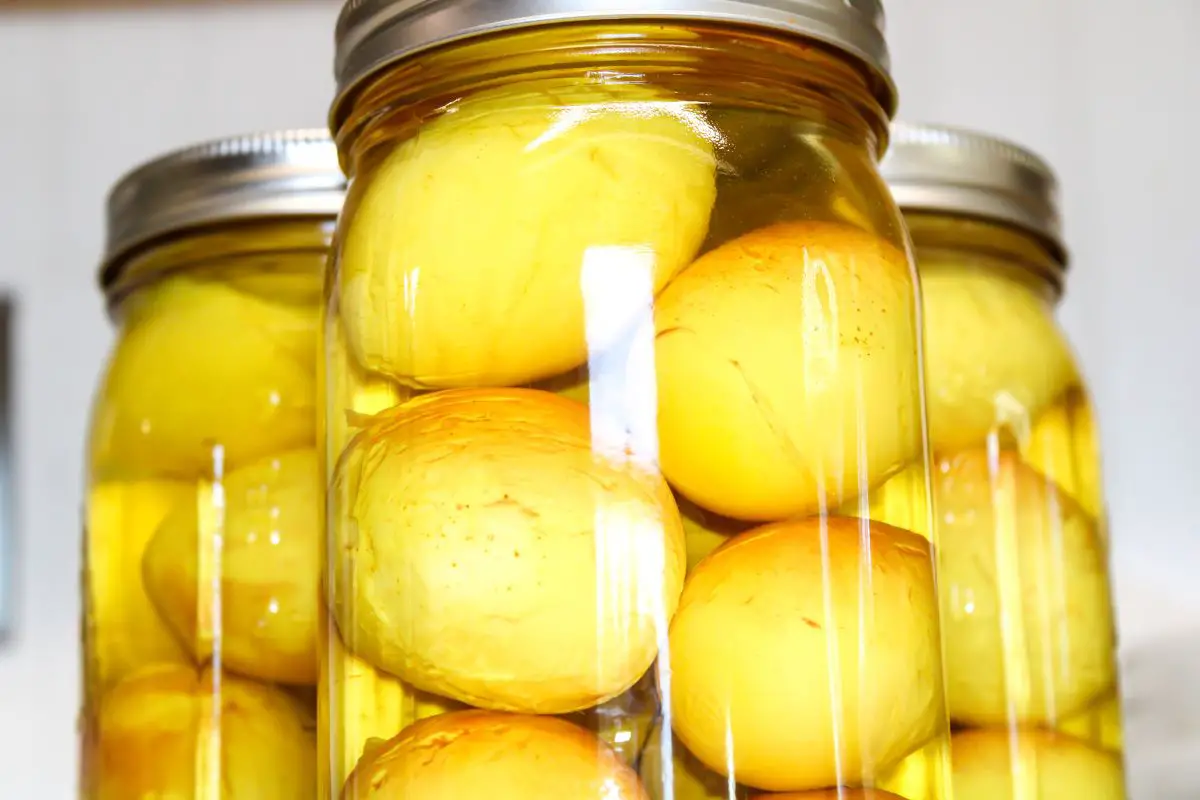 This article will explore what pickled eggs taste like and how they can be eaten. Read on for more information on the delicious pickled egg! 
What Do Pickled Eggs Taste Like?
A pickled egg tastes very similar to a pickle, except it has some added flavors.
Pickled eggs will be very different in taste depending on the ingredients that you add to the curing material. 
If you use salted water and vinegar to pickle your eggs then they will likely have a very salty taste that will taste a lot like pickles. 
You can also use sugar in this mix, and if you do this you will give the pickled eggs a sweeter edge. 
Lots of people add paprika or jalapenos to their pickled eggs. If you do this, you will add an even bigger edge to your pickled eggs! This will make them taste hot and spicy.
Beets are also sometimes used to pickle your eggs. If you opt for this, then your eggs will have a sweet and sour taste.
What Are Pickled Eggs?
Pickled eggs are eggs that have been hard-boiled and then placed in vinegar in order to be cured. You can also place these eggs in salted water for the same effect. 
Pickled eggs are usually served in bars and pubs as a side dish. It is very common for these eggs to be eaten alongside alcoholic beverages. They go especially well with beer.
Pickled eggs can last up to a few months which is why they were created in the first place. They are designed to have a long shelf life. 
You may be surprised to see the color of a pickled egg as they change color depending on how long they have been in the vinegar for. The longer it is preserved, the darker it will be.
Some eggs will not get darker but will change color completely. If this happens, it is likely that there are added ingredients in the pickle juice.
History Of Pickled Eggs 
Pickled eggs originate from the problem of insufficient food supply. When this occurred, there was a large need for food to be preserved for a long period of time. In Germany, pickled eggs can be dated back as far as the mid-1700s. 
In the US, the Pennsylvania Dutch created pickled eggs that had been added to them. They became very popular in the 1940s during the second world war. They were advertised as being a great snack.
What Is The Texture Of Pickled Eggs?
Pickled eggs have a very different texture from boiled eggs. They are very rubbery in comparison. This will happen no matter what you use to pickle your eggs in. 
Are Pickled Eggs Good For You?
Pickled eggs have a lot of great aspects to them. They are a very good source of protein, and they are also very beneficial to pregnant women due to the folate that they contain. 
Pickled eggs are very good sources of certain vitamins including vitamins B and D.
These eggs are also thought to be very good for weight loss. This is because they are very filling in comparison to eggs that have not been pickled.
While you may have needed two boiled eggs, you will only need one pickled egg to feel satisfied. If you fill up on this, then you are less likely to snack in other ways.
In one pickled egg there is said to be around 300 kilocalories, 5 grams of fat, 7 grams of protein and 200 milligrams of cholesterol.
How To Prepare Pickled Eggs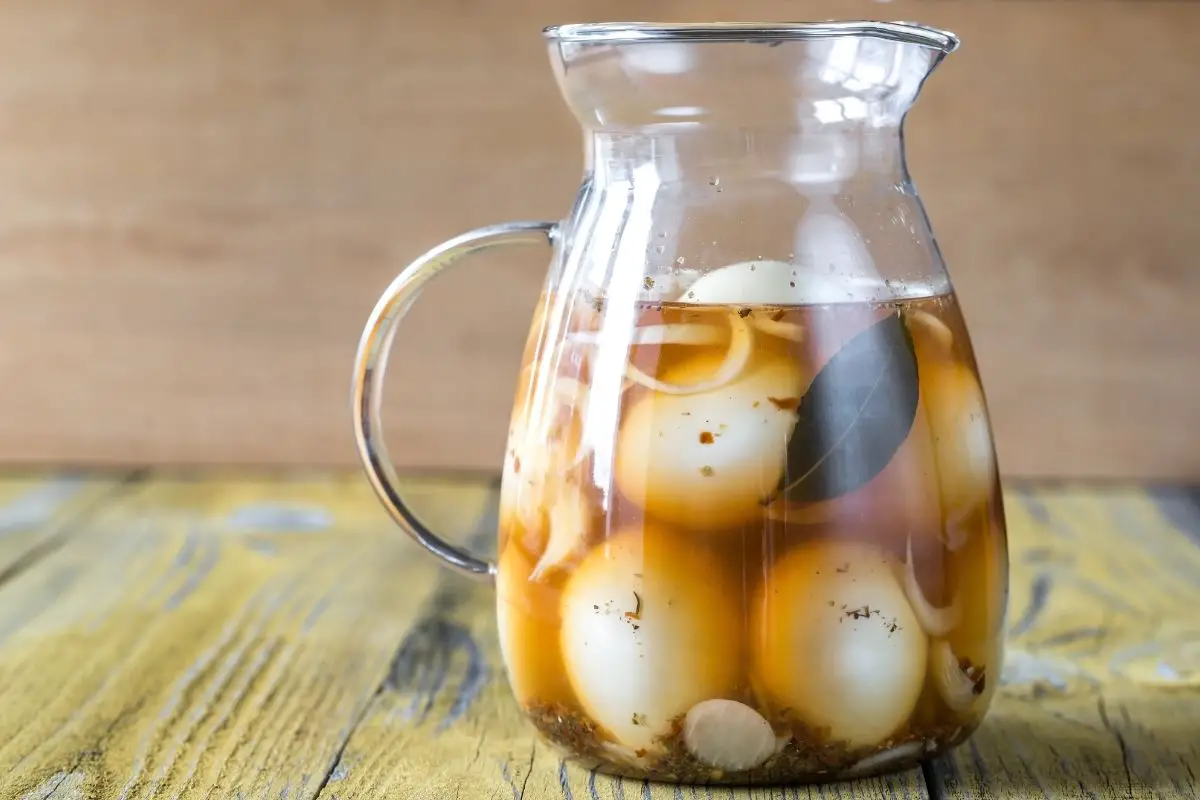 Preparing your own pickled eggs is fairly easy to do. There are only a few short steps that you need to follow in order to successfully pickle your eggs. 
Hard-boil your eggs. You should make sure that they are properly cooked through as you don't want there to be any runny yoke. Ensure that the eggs that you are using are in date.
Next, you will need to prepare your curing material. The most common way to do this is by placing them in vinegar and salted water.
There are lots of different ways to prepare this curing material, and this will have an impact on the taste of the pickled egg. 
If you do not want to go to the trouble of pickling your own eggs, it is possible to purchase them. They will be found in any good grocery or department store. 
Pennsylvania Dutch Pickled Eggs 
It is possible to add sugar, beets, and cloves to the vinegar and salted water in order to create the Pennsylvania duck pickled egg. This is a delicious cocktail of curing ingredients and the eggs that you soak in this.
These eggs will turn pinker and pinker the longer they are in the vinegar due to the beets.
If you leave these eggs in the vinegar for long enough, they may even turn to purple. 
How To Serve Pickled Eggs 
Pickled eggs can be very strange because it can be difficult to know how they should be eaten. This is all down to personal preference, of course, but there are certain ways to eat these eggs that are much more common. 
The most common way to serve pickled eggs is as a side or a snack. They are usually served with salt and pepper. 
As well as this, it has become popular to eat pickled eggs on toast with avocado. They are also commonly put into a salad. 
You can usually use a pickled egg anywhere that you would have used a boiled egg.
Overeating Pickled Eggs 
While pickled eggs do have many positive health effects, overeating any one thing can be bad for you. Eating too many pickled eggs can have a negative effect on your health, so you should limit your intake. 
If you eat too many pickled eggs you may find that you have an upset stomach. 
Can You Buy Pickled Eggs?
It is possible to buy pickled eggs instead of pickling them yourself. They are available in most grocery stores, so keep your eye out for them!
It is very important to ensure that you don't eat pickled eggs that are out of date as this can make you unwell. Ensure that you check the date to make sure that they are suitable for consumption.
Final Thoughts 
Pickled eggs are absolutely delicious as a bar snack or as part of your breakfast. They have many different health benefits that should not be overlooked, too.
These eggs are fantastic and they are a great addition to any meal.
Do Pickled Eggs Taste Good? A Guide To Pickled Eggs
Course: Taste Like
Directions
Hard-boil your eggs. You should make sure that they are properly cooked through as you don't want there to be any runny yoke. Ensure that the eggs that you are using are in date.
Next, you will need to prepare your curing material. The most common way to do this is by placing them in vinegar and salted water.