Sport peppers are a popular kind of pepper that are famously used on Chicago-style hot dogs.
They pack a delightful punch, and are a popular option around the United States, but they aren't always easy to find!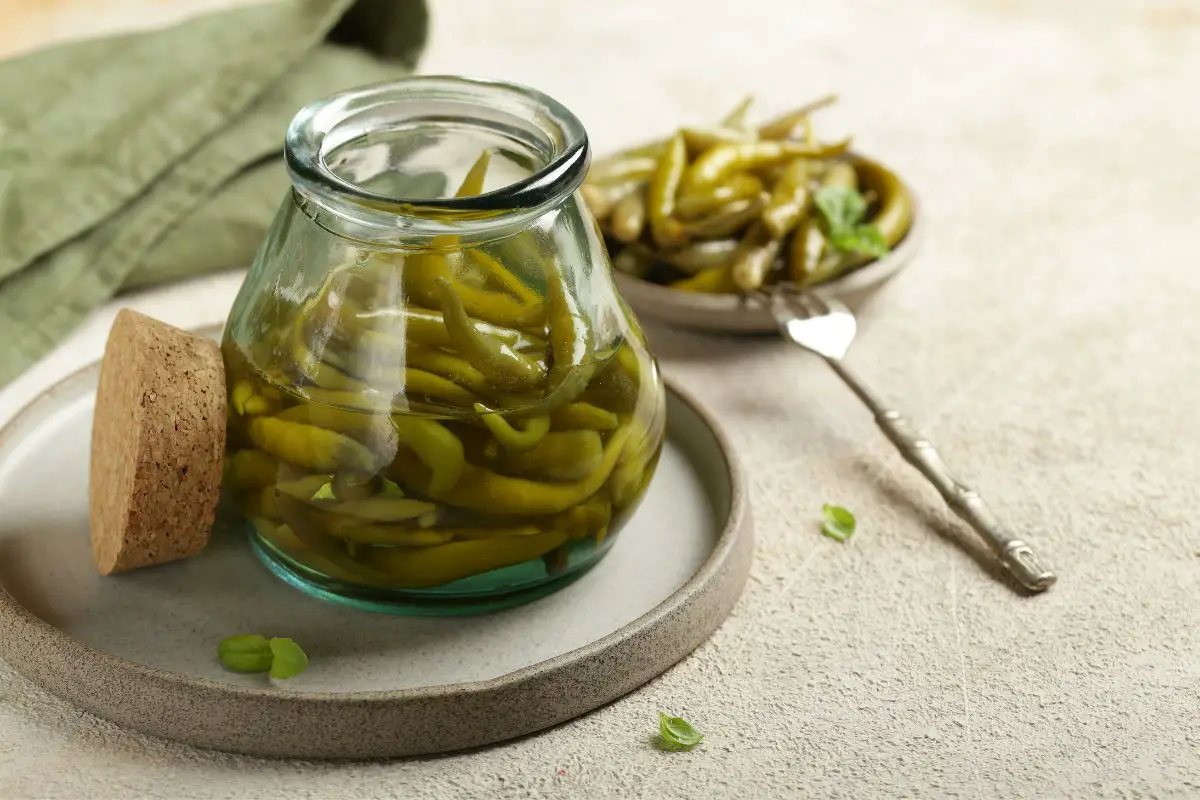 If you are craving the punch of a sport pepper on your burger or hot dog, but there are none around, don't worry.
There are some great substitutes you can try out to have a similar experience. Some of these options include the good old pickled jalapeño pepper, pepperoncini, and more!
Read on to learn more about these, and take notes!
What Are Sport Peppers?
Simply put, sport peppers are commonly used as condiments for a variety of dishes – especially hot dogs and burgers.
These chili peppers get pickled and usually turn a pale green, but they can also be red.
They measure between 10,000–23,000 Scoville Heat Units (SHU), making them a medium-hot pepper!
For reference, the average jalapeño measures around 5,000 SHU, so you can expect a nice kick from these.
You might notice a hint of sweet and tanginess with these peppers, but the main draw is the pleasant heat.
While they are not always the easiest to find, you can get your hands on these peppers pickled, but also whole or even sliced for convenience.
Besides the culinary uses, sport peppers could also help to relieve sore throats and relieve congestion (that heat will do something to you!).
If you can get your hands on these delightful peppers, we would definitely recommend trying them out when you get the chance!
Sport Pepper Substitutes: The 6 Best Options
Take a look at these six great options you can turn to when you have no sport peppers around – they might be different, but they will give a similar experience.
1. Pickled Jalapeño Peppers
Jalapeño peppers are among the most popular of the peppers. They are versatile and easy to use, since they only have an SHU of between 2,000 to 8,000.
As such, these mild peppers are great for anything from cooking up to enjoying as-is. You can add these to your favorite salsas and other similar dishes for a little spice.
Find these fresh or pickled in stores, and start using them! The pickled peppers typically have some extra kick to them, and will definitely be an interesting experience for your taste buds.
2. Pickled Serrano Peppers
Serrano peppers offer the same level of heat as sport peppers, with an SHU of anywhere between 10,000 and 23,000.
They pack a punch and are versatile, but they might not be the easiest to find, depending on where you are.
These peppers are usually used in Mexican cuisine, and should be in grocery stores. Like sport peppers, you can usually find these pickled or fresh, but they are also popular dried.
Feel free to remove the seeds from these if that is what you would prefer!
3. Pickled Pepperoncini
If you are looking for a very mild pepper, consider using pepperoncini for your culinary needs! These peppers only hit between 100-500 Scoville Heat Units, making them very mild and suitable for everyone.
These are popular in a variety of dishes, including burgers, sandwiches, pizzas, salads, and more. They can even be used in drinks like Bloody Marys!
4. Turkish Pickled Peppers
Coming in at an average of 6,000 SHU, Turkish pickled peppers are another substitute option for sport peppers.
They should be pretty easy to find in most grocery stores, and are versatile enough to be used for a variety of things.
These thin green chilies are common in lots of Turkish dishes, and are both aromatic and quite mild. They are only a little hotter than the average jalapeño!
5. Hatch Green Chili
The hatch green chili can be anywhere between 1,000 and 8,000 SHU, so their heat is very similar to that of a jalapeño.
This makes them versatile and easy to use, and they are fantastic to use instead of sports peppers when pickled.
They mimic the flavor very well, when pickled, but can also be enjoyed raw. They have a great crunch to them, and work wonderfully with all the same things sports peppers do.
6. Pickled Banana Peppers
Pickled banana peppers are very mild, with a range of just 0 to 500 Scoville Heat Units! They can be used for just about anything you like, and have a noticeable sweetness to them.
Although these peppers offer little in terms of heat, they do have a nice tanginess to them. This makes them popular for a variety of dishes, including salsas and salads.
Thanks to their low heat, they also work well in different sauces for some added flavor!
Some Bonus Options
Looking for more sport pepper substitutes? Consider using the following if you can get your hands on them:
Pepper relish
Chipotle peppers
Guajillo Chili
Final Thoughts
Sport peppers are delicious and versatile, but it isn't the end of the world if you can't get your hands on them.
There are lots of other options to consider, and they all offer something a little different.
Some options are much milder than your average sport pepper, and some might be hotter!
Many of them, however, offer a similar experience in terms of heat, so you can still enjoy all your favorite foods with a little kick.
Sport Pepper Substitutes: The 6 Best Options
Course: Substitutes
Ingredients
Pickled Jalapeño Peppers

Pickled Serrano Peppers

Pickled Pepperoncini

Turkish Pickled Peppers

Hatch Green Chili

Pickled Banana Peppers
Directions
Decide on what substitute you need
Pick a substitute from the list above
Read what you need to substitute with
Create the recipe and enjoy