As fall strolls in, the temperature drops, and we all need something warm in our bellies, Chicken Tortilla Soup is a classic. Roasted chicken breast, beans, corn, and cilantro, topped with crispy tortilla chips, it is everything you need in a comfort meal. 
This soup is iconic in Mexican cuisine and is perfect for serving a large crowd of people at one time. However, as the bowls become empty, your guests may be searching for something more. You need side dishes!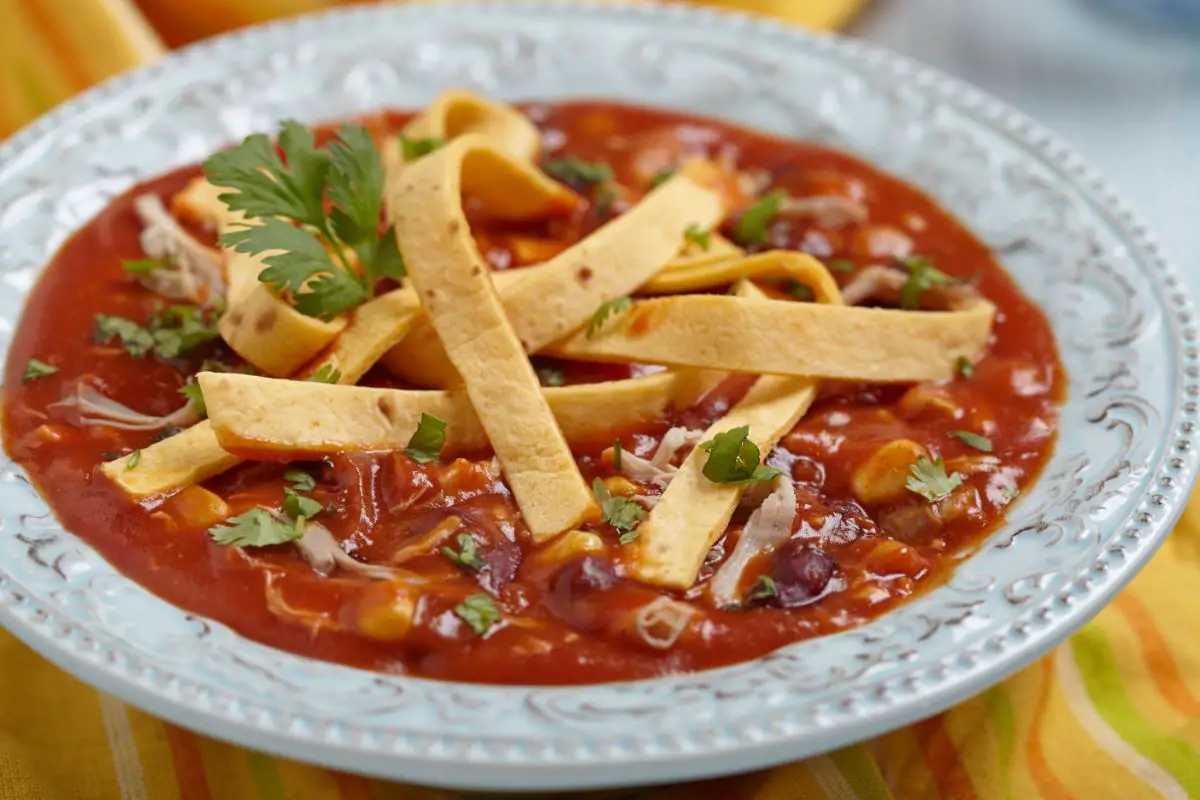 Below are 9 tasty side dishes that go perfectly with Chicken Tortilla Soup. Filled with just as much flavor, these side dishes are sure to keep your guests satisfied and even coming back for seconds. 
Check them out!
Why Serve Side Dishes With Chicken Tortilla Soup?
While Chicken Tortilla Soup is an excellent meal all on its own, side dishes can add that missing ingredient. 
Side dishes add a nice balance to any meal. For example. You wouldn't have a steak without mashed potatoes. 
We highly recommend serving some of the delicious side dishes below to add some texture and balance your chicken tortilla soup. It will only keep you fuller for longer and add some extra nutrients to your diet! 
9 Tasty Side Dishes To Serve With Chicken Tortilla Soup 
Burritos are an extremely versatile addition to any Mexican-inspired dish. Especially chicken tortilla soup. 
With the flavor combinations endless, everyone can make their own burritos and have something unique every time. 
You can also pre-make your burritos, wrap them in aluminum foil, and store in the freezer until you need them. Just allow them to defrost and warm in the microwave or air fryer before serving. 
Veggie or meat-eater, make sure to pack your burritos with a pico de gallo salsa. There is no better way to enjoy your burrito and chicken tortilla soup. 
This is perfect for office lunches or a delicious meal on the go!  
This Mexican Rice recipe is the perfect side dish for any Mexican-inspired meal. Much like sticky rice goes with anything in Asian cuisine, Mexican rice is delicious and filling. 
This recipe is also super easy to make. With a few simple ingredients and cooking techniques, anyone can make this side dish. No need to get Grandma in the kitchen. 
Don't be shy with that rich tomato sauce and chicken broth. This is where all the flavor is. 
Get fancy with your rice and add corn and black beans, or keep things simple and top with some chopped cilantro and lime juice. 
Mexican Rice is extremely simple yet brings so much flavor and balance to any meal. 
Serve in a large bowl along with chicken tortilla soup and allow everyone to dig in. 
Everyone is familiar with grilling and boiling corn on the cob, but our preferred technique is really oven roasting! Every time, perfectly cooked, delicious ears of corn. Your dinner will be complete after you add some butter!
Everyone has their favorite way of cooking corn but this recipe brings out those hidden flavors that pair so perfectly with chicken tortilla soup. 
And it is simple to make. All you need is an oven and a baking sheet! Place your corn on the baking sheet and cook in the oven until juicy and tender. 
You can even add some of your roasted corn to your chicken tortilla soup for added flavor that will have your mouth watering.
We love sprinkling some smoked paprika for added smokiness that brings the corn to life. 
This is a wonderful variation on the classic french fry. You can always purchase readymade polenta at almost any grocery shop, slice it into fries, and fry it if you don't want to go to the hassle of creating your own from scratch.
Trying to remain on the healthier side? Fry your polenta fries in the air fryer for a crunchy, yet healthy side dish. 
We love dipping our Fried Polenta into our chicken tortilla soup. Some might even say it's better than bread! 
Here's a quick tip: to add cheese to your fried polenta, immediately sprinkle it with grated parmesan after it has finished frying.
The result is a magical addition to an already incredible soup that is going to keep you full and satisfied for hours. 
The ideal combination of taco salad and creamy coleslaw is Mexican coleslaw. This flavor-packed recipe for a side dish with Mexican spices is ideal for summer cookouts!
Nothing beats a large bowl of chicken tortilla soup with a nice helping of Mexican Slaw. 
Packed with peppers, black beans, corn, and jalapenos, this Mexican slaw is full of nutrients while being creamy and flavorsome. And all it takes is some mixing! 
Use a pre-made coleslaw mix to keep things simple in the kitchen. No need to be chopping cabbage for hours! 
The fresh lime juices add a gorgeous vibrancy to this side dish that is sure to have everyone asking you for the recipe. 
Jicama salad is often made with julienned jicama and additional vegetables. The texture is delightful and crisp. It's tasty and refreshing.
During the summer season, a Jicama Salad keeps you cool and full. Now, for those new to jicama, it is a popular ingredient within Asian and Mexcian cuisine and it is absolutely delicious. 
Tossed with a bunch of veggies, oranges, and seasoning, this salad is loud, full of color, and is the perfect side dish for your chicken tortilla soup. 
Add chopped avocado for a nice creamy texture to this crunchy salad. Truly delightful. And it only takes around 15 minutes to make!
Less time in the kitchen and more time spent making memories. What more could you ask for?
Another salad to serve with chicken tortilla soup is this traditional Mexican salad. With a slight twist. Avocado, corn, beans, and roasted peppers are all included in a chopped Mexican salad with the most wonderful cilantro lime dressing.
This salad is full of flavor, color, and texture. Crunchy, creamy, and utterly delicious. 
The addition of an orange half and some mangoes gives this salad a distinct zest and sweetness.
Mexican Salad is the perfect complement to any Mexican dish but paired with chicken tortilla soup, it is sure to have your taste buds dancing. 
When serving soup of any kind, a slice of bread is an absolute must. And this Mexican Cornbread is simply beautiful. 
It offers the traditional cornbread a mouthwatering Mexican twist because it is loaded with corn, green chiles, jalapenos, and cheese.
Now this recipe can easily feed a large crowd but we recommend doubling it so there is enough left over for the rest of the week! We won't judge. 
The cornbread's richness is complemented by the green chiles and jalapenos, which also give it the ideal amount of heat. It won't burn your tongue, so don't be afraid.
Cream cheese, bacon, and cheddar stuffing in jalapeno poppers. A smoky and crispy appetizer that never fails to win over the crowd!
Start by slicing half a fresh jalapeño pepper to create jalapeno poppers (remove the seeds to make the spice level more manageable). Stuff the peppers with a cream cheese filling. Add bread crumbs on top, then bake until golden.
Delicious! 
Frequently Asked Questions (FAQs)
How Long Can Chicken Tortilla Soup Be Stored In The Fridge?
This quick tortilla soup can keep airtight for 5 to 7 days in the refrigerator or for up to 6 months in the freezer. Extra tortilla strips will last up to 5 days in sealed containers at room temperature.
How Can I Thicken Chicken Tortilla Soup?
One way to add thickness to chicken tortilla soup is to add a splash of heavy cream. Or add a thickening agent such as a roux, cornstarch, or flour. This may alter the flavor so be sure to taste as you go. 
Final Thoughts 
Chicken Tortilla Soup is an excellent meal that is rich in nutrients and flavor. Serve with a few extra crispy tortilla chips and you have a filling meal that everyone can enjoy. 
However, if you are wanting to take things to the next step, serve them with a few side dishes. Above are 9 incredible side dishes that pair perfectly with chicken tortilla soup. 
Full of flavor, texture, and veggies, these side dishes are the best way to elevate your tasty chicken tortilla soup! 
9 Tasty Side Dishes To Take Your Chicken Tortilla To The Next Level
Course: Sides
Chicken tortilla soup is delicious on its own. But we can help you make it even better with these 9 tasty side dishes. Spice things up with these recipes.
Directions
Pick a recipe from the list above
Click the recipe name and visit the website
Collect the ingredients and cook the food
Enjoy – don't forget to leave a review