Chicken sausages are not the most famous options for barbecues but people who are trying to avoid fatty sausages or those who are on a diet love them.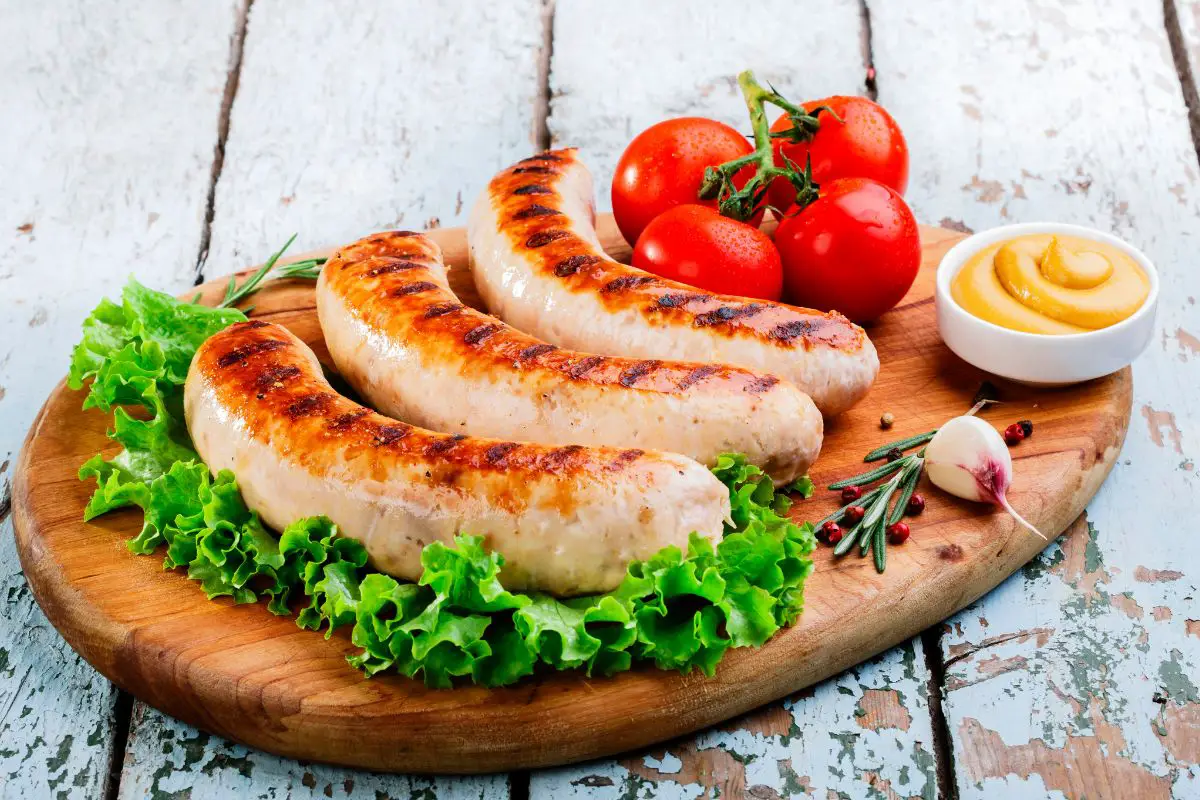 Even if you choose them because you simply like their taste more than any other sausage, you need to have some appetizing side dishes next to it and we have 13 fantastic options for you that everyone at the table will love!
13 Side Dishes For Chicken Sausages Everyone Will Love
Baking some sweet potato fries together with your chicken sausages can be an easy way to prepare your food and enjoy both the sausages and your side dish warm.
Sweet potato fries are low in fat as they are not deep-fried but rather cooked in the oven at high temperatures.
With a bit of oil, salt, and other spices and herbs of your choice, you can get your healthy fries ready and enjoy their natural sweetness with the relatively mild taste of chicken sausage.
On the other hand, since chicken sausages are relatively low in fat, especially when compared to other types of sausages, you could be able to make an exception and make some classic, deep-fried French fries.
Even if you want to keep your meals' fat content low, you can always bake some white potato sticks instead and cook your fries the healthy way.
No matter what you choose, this is a classic combo that never disappoints!
Surprisingly high in protein for a 'bread,' cornbread is another fine choice of a side dish for your chicken sausages.
Made with cornmeal, flour, butter, onion, eggs, and buttermilk, it tastes as you would expect by its name: like bread made of corn.
It is soft and moist, and you can serve it either when it's completely cool or, even better, when it's still slightly warm.
Cut into wedges and add a couple next to each serving plate!
A hidden gem in vegetarian cuisine, roasted cauliflower head is one of the best things you can ever make, and when it comes to serving it with some chicken sausage, let's just say that it's a pair that was meant to be!
The smoked flavor of the roasted veg that's coated in spices like paprika and pepper and browned at the top makes every bite worth it.
Tender on the inside and slightly crispy on the outside, this is by far the best way to cook your cauliflower and makes a great side dish for the chicken sausage.
If you love mac n' cheese as a side dish, then there's no reason why you wouldn't enjoy this cheesy cauliflower dish together with your chicken sausages.
The cauliflower florets are mixed in a rich cheese sauce made with butter, flour, milk, cream, and two types of cheese – gruyere and red Leicester cheese – with more cheese added on top.
While any melting cheese works great, make sure to add lots of it to make this side cheesy and filling, as the cauliflower, in comparison to macaroni, has far fewer calories!
Steamed broccoli is a perfect side dish option for any kind of meat, so the chicken sausages are simply another one to consider for.
Steaming your broccoli florets helps keep most of its vitamins and minerals intact as the more you cook this vegetable the more it loses its nutritious properties.
Therefore, steamed broccoli is one of the best ways to enjoy this green veg, and adding some salt, pepper, and a sprinkle of olive oil when serving it with the sausages is more than enough to make it taste great,
Many people consider wild rice just another variety of rice, but the truth is that it is a semi-aquatic grass that is also higher in protein and lower in carbs than white rice, has more vitamin B6 and magnesium, and to some, just tastes better.
Regardless of the differences, it is a type of rice that you can easily serve as a side dish to chicken sausage if you don't want to have yet another meal with white rice.
If you brush a couple of butternut squash halves with butter and sprinkle over some sugar and seasonings like cinnamon, nutmeg, and pepper, you will get a pair of deliciously baked butternut squash halves you can then slice and serve on the side with your sausages.
The sweetness of the squash goes great with the spices added to it and the mild flavor of the chicken sausage get a new life.
So, if you want to swap your sweet potatoes for another equally sweet starchy ingredient, go with some butternut squash.
In case you didn't see this coming up next now that we have shared two types of cooked potato recipes that can be served as a side dish to chicken sausages, then you're up for a very pleasant surprise.
Hasselback potatoes might take a bit longer to cook as they are essentially whole potatoes sliced and baked in the oven, but the wait is so worth it!
With rosemary, sea salt, and garlic aromas and flavors, these potatoes are crispy on the outside and very soft on the inside.
While many people drizzle oil on them, you can substitute butter for it if you want to get a creamier result.
Brussels sprouts are widely used for thanksgiving and Christmas meals, and they are often roasted or pan-fried with other vegetables and potatoes or even with sliced bacon.
They have a unique taste and cooking them leaves them soft and moist on the inside and a bit crispy on the outside.
Adding herbs and spices when cooking them can make them richer in taste, but even if you only add some salt and pepper, you will still get a tasty side dish for your chicken sausage meal.
If you want to serve your chicken sausages with some kind of salad, that doesn't mean you need to chop or mix some leafy greens and just drizzle them with some oil and balsamic vinegar.
While that would be an option if you are in a rush, making this stir-fried salad is a way better alternative.
Carrots, broccoli, corn spears, mushrooms, and peppers cooked in some oil and butter with some minced garlic and ginger make the perfect stir-fried warm salad you can enjoy with your sausages.
On hot summer days, you can enjoy this salad cold or at room temperature too, but the truth is that you'll get the most out of the sauteed veggies and experience the richness of this salad while it's still warm.
As we said, some white rice might be too simple to serve with your chicken sausages, so why not stuff it in some peppers and bake them in the oven?
Mixed with tomato sauce and covered with cheese, these stuffed pepper halves are a great accompaniment to your sausage meal, making your meal a balanced one, thanks to the addition of carbs and veggies with this one simple dish.
For last, we have kept this tremendously good feta and beetroot salad that is simple to make, involves no cooking, and can add some freshness to your chicken sausages, especially if you choose to smoke them.
Toss your salad with a honey mustard dressing and you won't even need any dipping sauces for your sausages!
The Bottom Line
These 13 options are some of the best ideas you can find when it comes to serving your chicken sausage with an appetizing side dish.
All of them are quite healthy options too, so if you want to enjoy some dessert afterward, you can do that guilt-free!
13 Side Dishes For Chicken Sausages Everyone Will Love
Course: Sides
Directions
Pick a recipe from above
Click the recipe name and visit the website
Collect the ingredients and the food
Enjoy- don't forget to leave a review