When it comes to staples of many family dinner tables, there might not be a more popular food than the classic casserole. And of those recipes, one of the most popular types of casserole has to be the chicken casserole.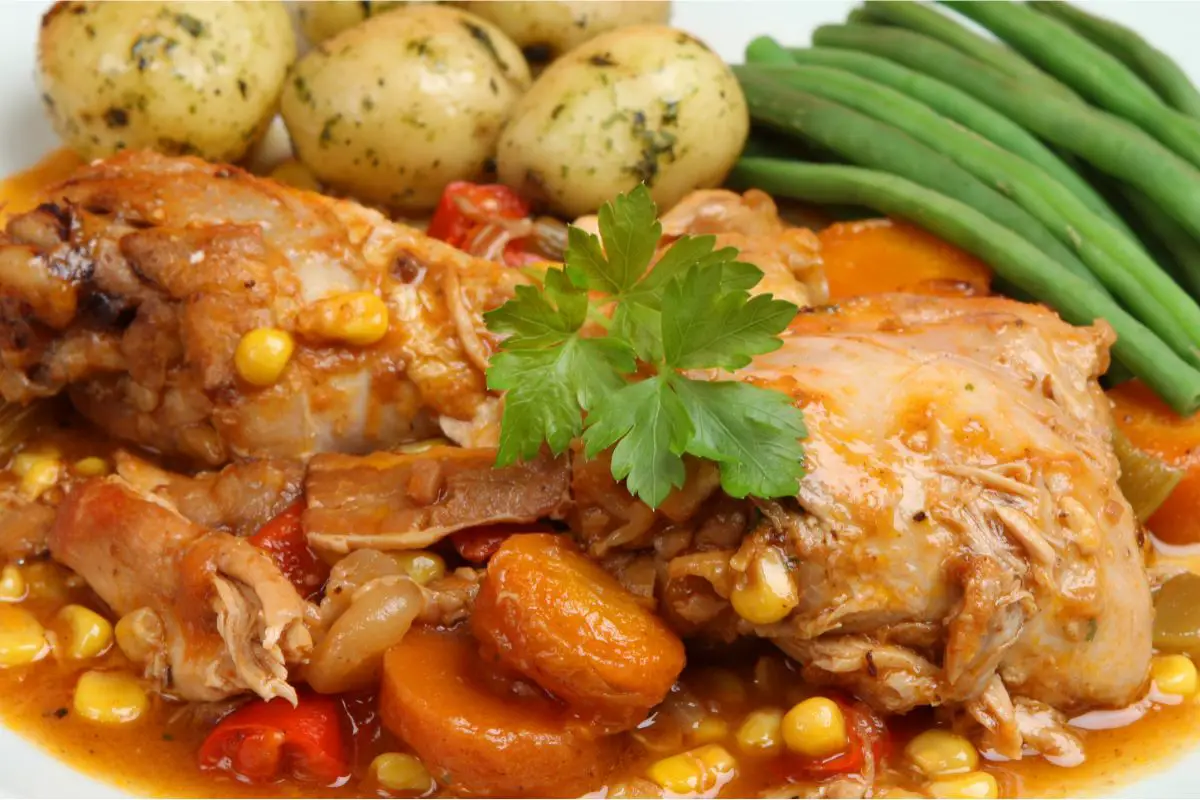 Incredibly easy to make, and often very filling, even by itself, this dish is a staple of homes up and down the country. The creamy texture, the savory chicken, and a little bit of heat from some garlic. It all comes together to make a very comforting dish.
However, a single food item doesn't always make for a complete meal, and many people often choose to serve this particular dinnertime favorite with a side of some kind.
So, what kinds of foods are usually served with this main meal of choice?
Well, that's what we're going to cover here! In this guide, we'll go over some of the best side dishes that pair excellently with a good chicken casserole!
Chicken Casserole Flavor Profile
However, before we go any further into this guide, it may be helpful to outline what exactly a classic chicken casserole will taste and feel like. That way, you'll have a better idea of the sorts of flavors and textures that a great to mix with this dish.
However, already, we have run into a problem with this approach. Chicken casseroles are some of the most customizable recipes out there, and can vary pretty widely from recipe to recipe, even within a single household.
How many times did you notice that the casserole that your parent or guardian made was different from the one that another caretaker might have made?
However, generally speaking, there are a few common things that many casseroles have in common.
They usually consist of chicken (obviously), they will often have a starch or high-carb element to them for the extra filling (usually pasta or rice or an equivalent), some type of sauce to allow all those flavors to blend seamlessly, and (at least in the best ones), a copious amount of cheese to boot!
Some casseroles will also include vegetables, but this isn't included in all recipes.
So, casseroles are almost always meals that are savory, creamy, a little bit cheesy, and are already quite filling in themselves. 
So, if you're looking for a side dish that goes well with chicken casseroles, it has to be able to absorb a little of that creamy sauce, or at least go well with it.
And, while we do love more cheese in our food, it should probably be presented in a slightly different way for some extra texture variety. So, with those points outline, let's start going over some of the best sides for this meal!
1. Quinoa Salad
For the first recommended side dish that we have, we would highly recommend complementing your chicken casserole recipe with a good quinoa salad dish.
Quinoa salads are renowned for their many health benefits, from their being rich in fiber and vitamin contents to the fact that most are also gluten-free, making them compatible with many kinds of diets.
However, while all of that is great, how exactly does that demonstrate why they are a great side dish to chicken casserole recipes?
Well, the veggies and quinoa themselves do absorb other sauces and flavors too, making them great for pairing with a sauce-rich dish like a casserole.
Plus, the flavor combination is something that we love. Quinoa salads tend to have a slightly bitter, sour, or even savory/sweet taste to them, making them a nice contrast in the flavor department too.
This is why we stated that veggies don't have to be included in the casserole dish itself. It gives them a chance to shine their recipe a little more, but one that still works with an established meal.
2. Roasted Broccoli
While broccoli might have spent most of our childhoods benign one of those veggies that no one looked forward to eating, that's only because the people that kept serving them to us always seemed to overboil them.
Now, roasting your broccoli florets? Now that's a winner-winner chicken casserole dinner idea!
Roasted broccoli has a crunchy, almost crispy texture to it, as the florets become a little drier thanks to the roasting process. Something that, when served with a creamy cheesy sauce, actually makes it great at absorbing flavor from other food items.
It certainly makes for a nice change of pace from the boiled and bitter versions form of broccoli from our childhood that left a bitter taste in our mouths. Quite literally, in this case!
For our money, pairing roasted broccoli with a citrus glaze helps the side dish stand out even more. This recipe by the Mediterranean dish is a great one to try out for this version.
3. Rice Pilaf
Rice Pilaf might traditionally be served as a main meal all by itself. But it can be made into a very nice complementary dish for chicken casserole too.
This rice dish is usually served nice and fluffy and is often made with some type of meat or fish that is prepared and cooked as the rice boils.
The result is a soft, fluffy texture, like many of the best rice dishes, but also one with a subtle flavor, that is ready to mix and absorb as much casserole sauce as it can take.
You'll find that rice is an excellent grain food for absorbing moisture and sauces. It's why it's often used in casserole disease itself!
The only note that we'd raise a metaphorical eyebrow at is the fact that a rice-based casserole and this rice pilaf might clash a little. That's a lot of starch on one plate!
However, if you're looking for a pair of dishes that are guaranteed to fill your belly, these two are sure to do just that!
4. Honey-Glazed Carrots
Carrots are already a great vegetable to include as a casserole side, as they are a neutrally sweet vegetable that contrasts nicely with a very savory main meal.
(That is, of course, unless it is boiled to the point of being a soft bitter mess, mom and dad!)
So, you can imagine just how sweet a carrot that has been glazed with a little extra sweet honey is going to be!
However while many people might be considered it a little too sweet to be served alongside a savory main meal, don't worry. You'll find that this is a surprisingly smooth sweet taste and one that just accentuates the natural flavor of a good carrot.
Plus, with a large carrot, you can also have a little fun with it, by caring it into all sorts of funny shapes.
It's certainly an effective way to get young kids to enjoy them, at least!
5. Lemon Almond Asparagus
Asparagus is a staple vegetable for the dinner table, but one that is often known for its somewhat muted, bitter flair. That makes it quite nice, especially when compared to other vegetables (looking at you, brussels sprouts!).
However, by combining it with just the right ingredients, you can have an asparagus that is perfect for serving alongside a casserole dish!
The lemon helps add an extra flavor to the mix, with this making a sour ad bitter combo that stands out in your mouth, especially against a creamier main dish like the chicken casserole.
Adding almonds does help bring that overly powerful flavor down to a much more pleasant level, which is why we recommend trying out this recipe.
6. Corn On The Cob
Corn fresh on the cob is always a popular vegetable to have as a side, even for children. The extra tactile experience of biting it off of a cob itself adds a lot to the experience, at least in our opinion!
So, if you're looking for a healthy side to your chicken casserole, this type of food is perfect!
It's especially the case when you add a ton of butter to the corn.
The saltiness of the butter blends well with the natural sweetness of corn, making a flavor profile that stands out from a creamy and savory chicken casserole, making it an instant recommendation in our books.
7. Fruit Salad
Fruit salads might be everyone's first thought when it comes to a side for chicken casserole. It's about as far apart on the food Venn diagram of flavors.
However, fruit salads can often serve as very effective palette cleansers, so some people might find it a great way to continue appreciating the flavors of a good casserole by enjoying one of these healthy sweet salads by them.
And, in any case, it certainly makes for a delicious dessert, at least!
Final Thoughts
So, which side will you try first?
7 Amazing Side Dishes For Chicken Casserole
Course: Sides
Chicken casseroles are great, but they need a side dish in a main meal to really appreciate them. Try out one of these foods/recipes for yourself!
Ingredients
Quinoa Salad

Roasted Broccoli

Rice Pilaf

Honey-Glazed Carrots

Lemon Almond Asparagus

Corn On The Cob

Fruit Salad
Directions
Pick a recipe from above
Click the recipe name and visit the website
Collect the ingredients and the food
Enjoy- don't forget to leave a review