Do you have leftover boiled eggs in the refrigerator and feel like having something interesting for lunch?
Egg salad is an easy and healthy option that can be served in various ways. But it's hard to decide what you should serve with it when you want to make a complete meal.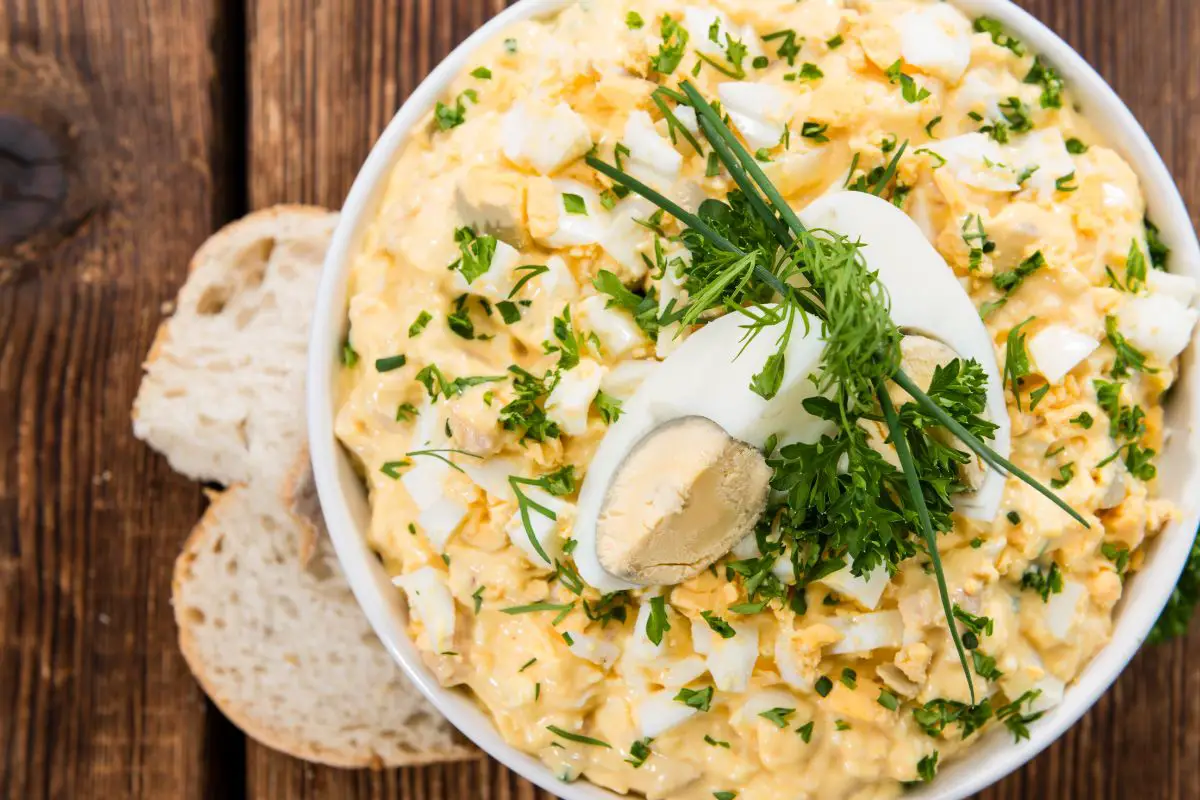 Eggs are one of the most versatile ingredients, as they can be used to make breakfast dishes, desserts, salads, sandwiches, and more.
Egg salad is commonly served with bacon, ham, or avocado. However, there are several other tasty accompaniments that you can whip up quickly.
No matter if you're hosting guests or just want a delicious meal by yourself, egg salad holds its own as the star of the show…but only when paired with complementary sides! 
So if you're looking for ideas on what goes well with egg salad, read on for a few creative suggestions that will take your next egg salad dish from ordinary to extraordinary!
Why Should You Think About Serving Side Dishes With Your Egg Salad?
Egg salad is a delicious and easy meal to make, but it can be quite dry by itself. To make the meal more enjoyable, it is always a good idea to serve some sort of side dish with it. 
Egg salads are usually less filling than other meals, so having something else on the plate will give you that extra bit of energy you need. 
If you're wondering what you can conjure up to go alongside your egg salad, consider this list of recommendations below for adding a side dish. It will help pull the whole meal together and make it much more enjoyable!
What Can You Serve With Your Egg Salad?
Egg salad is a classic dish that can be enjoyed in a variety of ways. Whether you're making it for lunch, dinner, or just as a snack, it's always nice to have something that you can serve alongside it. 
Fortunately, there are plenty of great side dishes that pair perfectly with egg salad.
From crunchy salads and fresh fruits to savory sides and comforting carbs, here are eight of the best side dishes to serve with egg salad.
Lemon southern Indian style rice is a flavorful basmati rice dish that is sure to tantalize your taste buds. It is usually spicy, with the addition of ginger and green chilies while cooking. 
Some recipes also include nuts and bay leaves such as peanuts and cashews for a crunchy texture.
The lemon in this dish can create an intense flavor than plain rice, but milder versions are available if you prefer something less spicy.
This South Indian-inspired dish pairs perfectly with an egg salad for a delicious meal. It's easy to make and can be enjoyed any time of day. 
The combination of flavors makes it a great side dish for any occasion. Whether you're looking for something light and refreshing or something hearty and filling, South Indian Lemon Rice is sure to satisfy your cravings!
Potato wafers are a classic snack that can be enjoyed in many different ways. They are incredibly versatile and can be made with very few ingredients, making them an ideal snack for any occasion. 
For those looking for a healthier alternative, baked potato-style wafers are also an option. Baked potato wafers are still crispy and delicious, but contain less fat than their fried counterparts. 
Roasted and garlic-infused mashed potatoes are a delicious twist on the classic American side dish. 
This take on mashed potatoes is sure to be a hit at any dinner table. The roasted garlic actually gives the potatoes an extra creamy texture that will have everyone coming back for seconds.
When making this side dish, you can use any variety really of your favorite potatoes, but we recommend using Russet potatoes. 
These potatoes cook faster and mash easily, giving them that texture that is creamy that makes this recipe so special.
The process of making this dish may take a bit longer than other mashed potato recipes, but the end result is worth it! 
Green salads are a great way to add some nutrition and flavor to any meal. For example, you can serve a green salad as a side dish to your egg salad. 
To dress your salad, you can use a balsamic sauce that is homemade that adds sweetness without overpowering the other flavors in the dish. 
The combination of sweet balsamic sauce and tart lemon dressing will bring out all the flavors in your green salad. With this easy-to-make side dish, you'll be sure to impress your guests with its deliciousness!
These bell peppers are a great way to add some color and flavor to any meal. Not only are they delicious, but they also look stunning on the plate. 
A stuffed pepper is actually a unique approach that adds texture and flavor to the dish. Couscous is also easy and simple to cook; all you need is to make sure to add salt to them in boiling water.
Once cooked, it can be combined with herbs, lemon juice, and other ingredients of your choice for added flavor. 
The couscous mixture is then spooned into hollowed-out bell peppers before baking in the oven until golden brown. This is a simple yet flavorful side dish that will surely impress your guests!
Coleslaw is a classic side dish that can be found in many refrigerators. It is a great accompaniment to egg salad sandwiches or any other type of sandwich. 
The creamy dressing and crunchy vegetables make it a delicious addition to any meal. Coleslaw can also be used as a salad dressing, adding flavor and texture to salads. 
Additionally, it can be used as a garnish on sandwiches, making them look more appetizing and tastier.
Creamy peanut coleslaw is a delicious twist on the classic coleslaw. 
Making this dish is easy and won't take more than 5 minutes to assemble.
All you need are everyday ingredients found in your kitchen pantries such as cabbage, carrots, mayonnaise, vinegar, sugar, salt, and pepper. For the peanuts, any store-bought peanuts are fine.
Ratatouille itself is a classic vegetable stew originally from France that is perfect for serving as your next side dish. It typically consists of tomatoes, zucchini, and onions that are first steamed alone and seasoned. 
When making ratatouille, it is best to use fresh vegetables if possible. The vegetables should be stewed in olive oil slowly over low heat for a few hours until they are tender and cooked through. 
This dish is easy to prepare but takes time to properly cook, so plan ahead if you're serving it as part of a meal. Ratatouille makes an excellent healthy side dish that everyone will enjoy!
Sweet potato chips are a delicious and healthy alternative to traditional potato chips. They are easy to make and can be served with egg salad sandwiches for a tasty meal. 
To make sweet potato chips, start by peeling the sweet potatoes and cutting them into thick slices. Then, fry them in a little olive oil in a frying pan. 
The result is crispy, golden brown chips that have a unique flavor that pairs perfectly with egg salad sandwiches.
Not only are sweet potato chips delicious, but they are also incredibly nutritious. Sweet potatoes contain high levels of vitamins A and C as well as fiber, which makes them an excellent choice for those looking to add more nutrition to their diet. 
Additionally, sweet potatoes are low in calories and fat, so they can be enjoyed without guilt or worry about weight gain. With all these benefits, it's no wonder why sweet potato chips have become such a popular snack!
Final Thoughts
Egg salad sandwiches are a classic lunchtime favorite. To make them even more delicious, serve them with creamy peanut coleslaw, ratatouille with eggplant, or sweet potato chips. 
All of these sides are easy to prepare and will add flavor and nutrition to your meal. With these tasty options, you can enjoy a satisfying and nutritious lunch that everyone will love!
What Side Dishes Go Well With Fresh Egg Salad? 8 Delicious Side Dishes
Course: Sides
What Side Dishes Go Well With Fresh Egg Salad? 8 Delicious Side Dishes
Directions
Pick from the list above
Click the recipe name and visit the website
Collect the ingredients and cook the food
Enjoy – don't forget to leave a review