Trader Joe's is filled with some incredible groceries that you often can find in other grocery stores.
Whether you regularly purchase your groceries here or only purchase an item or two from time to time, you might have come across the scallion pancakes in the frozen section.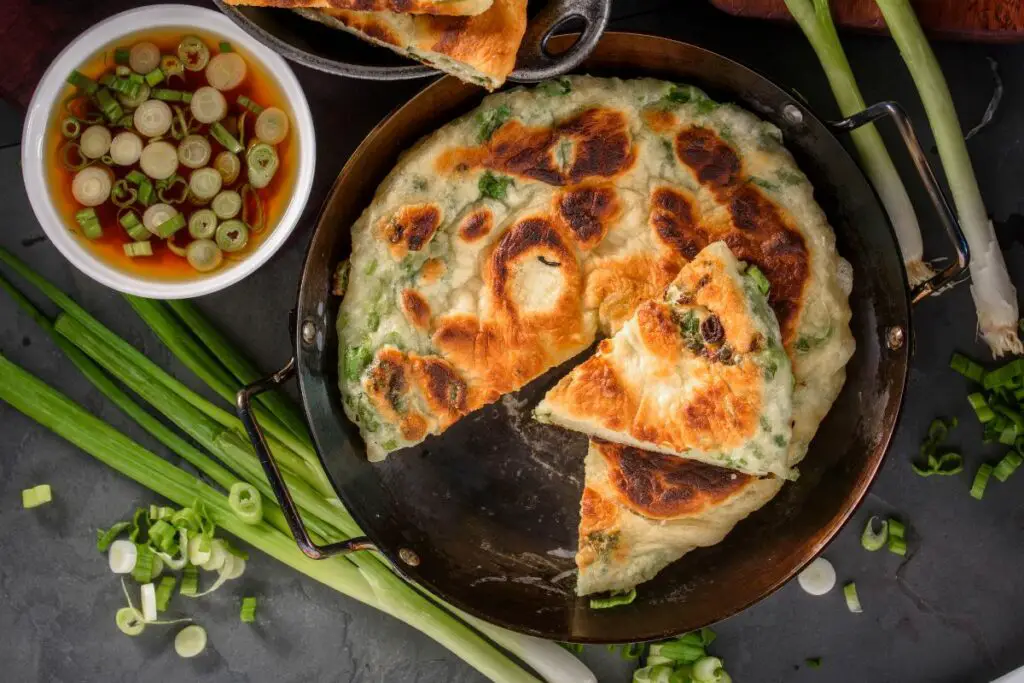 These pancakes, otherwise known as pajeon, are incredibly moreish and a super simple way to make a nutritious but special meal. However, they often aren't enough to feed your family on their own.
In this article, we will look at 8 awesome side dishes that you can serve with Trader Joe's scallion pancakes to create a delicious and balanced meal. 
The scallion pancakes at Trader Joe's can be a little bit heavy, therefore, a light vegetable side dish makes the perfect accompaniment for these delicious pancakes.
This spicy Korean radish salad is a great addition to a meal based around scallion pancakes. The spice helps to cut through the slight greasiness of the pancakes.
This side dish is super easy to make and can be ready in as little as 15 minutes. The radishes in this salad retain their crispness which provides a wonderful extra texture to your meal.
You can make this dish in advance to really allow the flavors to infuse throughout the radishes. This does take away some of the crispiness. 
Another wonderfully light side dish to serve with your scallion pancakes is Kongnamool or soybean sprouts. This is another beautifully crunchy side dish that balances out the slightly doughy texture of the pancakes.
These sprouts are super simple to make and can be made in advance and chilled in the refrigerator. 
The flavor of these soybean sprouts is similar to that of kimchi. The gentle spices coat the sprouts and provide a delicious kick to your meal. This can be served as a side dish or used as a topping for your pancakes. 
If you want to add a little more color to your meal, this side dish of sigeumchi namul is sure to liven up your plate a bit.
The main component of this side dish is spinach and the intense, brilliant green of the vegetable is incredibly striking when served alongside scallion pancakes. 
There are a few different ways that you can season this dish depending on your personal preferences.
The most simple version of this dish is simply seasoned with salt, garlic, and sesame. However, if you want something with a bit more of a kick, then you can season the dish with soy sauce, gochujang, or other spices to liven the dish up a bit.  
If you want to bulk the dish out more to fuel your body after a busy or demanding day, this gamja jorim potato side dish makes a great accompaniment.
As the name suggests, this side dish is made with potatoes which adds extra bulk and carbohydrates to the meal. If you choose this side dish, it works best alongside another vegetable side dish to keep your meal balanced. 
Not only is this dish bursting with flavor, but it is also surprisingly sweet. The baby potatoes are covered with maple syrup to give them a stunning glaze and an overall flavor profile that is really interesting.
You can also add shitake mushrooms to this dish to add an extra texture to it. 
To add some extra vegetables, nutrients, and an interesting texture to your scallion pancakes, make this shitake mushroom side dish as the ultimate accompaniment. This is a super simple dish that can be made in under 10 minutes.
This makes it a wonderful companion dish for your pancakes that are also super quick to make. 
The mushrooms in this dish are seasoned with sesame and garlic which allows the delicious flavors of the scallion pancakes to shine through.
Allowing the scallions to be the ingredient with the strongest kick keeps the overall flavor of your meal refreshing and light rather than strong and spicy.  
If you want a substantial yet healthy side dish to serve with the delicious scallion pancakes, this recipe for spicy Korean tofu could be just what you are looking for. The tofu adds plenty of healthy nutrients to this meal and bulks it out significantly with very little effort.
There are also plenty of ways to customize this dish with added ingredients such as shitake mushrooms. 
The spices used in this dish aren't overpowering and all of the ingredients used to make the marinade work really well together. Using garlic, sesame, soy, sugar, and chili, you can make a warming and comforting dish out of simple blocks of tofu.
This can turn your scallion pancakes from a snack into a full meal. 
If you want to keep things light but want to serve something in addition to the scallion pancakes, the Jap Chae glass noodles are a great option.
As the name suggests, these are not heavy, thick noodles.  Rather, the noodles are so thin and light that they are see-through, like glass. 
This recipe is a super simple version of japchae that just uses soy sauce, sugar, and sesame to season the noodles.
However, if you want to make this the main part of your meal with scallion pancakes on the side, you can add meat and vegetables to the noodles to create a more substantial dish. 
This is a recipe for a super refreshing and satisfying side dish to accompany your scallion pancakes. The cucumbers are amazingly crunchy and the high water content makes them incredibly refreshing and light.
However, despite the amazing texture of the cucumber, it is the spices that are the main attraction of this side dish.  
The cucumbers are covered in a wonderfully spicy Korean sauce that is sure to wake up your taste buds and bring your whole meal to life.
The red chili peppers that are used not only add a strong hit of heat to the dish but they also provide a stunning red color to the salad which beautifully complements the green of the cucumber. 
Frequently Asked Questions
Can You Make Scallion Pancakes In Advance?
If you are really pressed for time, you might want to make the pancakes in advance to save you time. This is possible if you have a means of keeping the pancakes warm until you need them.
For example, if you want to make them before anything else and then keep them warm in your oven, they should be fine. However, when you do this, you run the risk of the pancakes becoming dry and a little bit tough.
You can remove the pancakes from the freezer and allow them to defrost before cooking them which can significantly reduce the amount of time that it takes to heat them up.
Can You Make Scallion Pancakes From Frozen?
As mentioned above, you can remove the pancakes from the freezer to allow them to defrost before heating them up. This makes the heating time significantly shorter. However, it is possible to cook these pancakes straight from the freezer too.
You can remove them from your freezer and place them into a hot pan to heat them up. The process of heating the pancakes takes slightly longer when cooking them from the freezer because they have to defrost before reaching the ideal temperature.
This is a much shorter process overall though because it reduces the amount of time it takes for the pancakes to defrost which can take up to an hour when defrosting them naturally. 
Final Thoughts
There are so many different things that you can serve with your scallion pancakes from Trader Joe's. The side dishes selected for this list have all been chosen for the incredible flavors or textures that they bring to your meal.
They also complement the pancakes really well too.
8 Awesome Side Dishes To Serve With Trader Joe's Scallion Pancakes
Course: Sides
Directions
Pick a recipe from the list above
Click the recipe name and visit the website
Collect the ingredients and cook the food
Enjoy – don't forget to leave a review