Red beans and rice is one of the most famous meals in southern US Cajun cuisine. If there's a Cajun recipe that many people will have heard of, chances are that it is red beans and rice.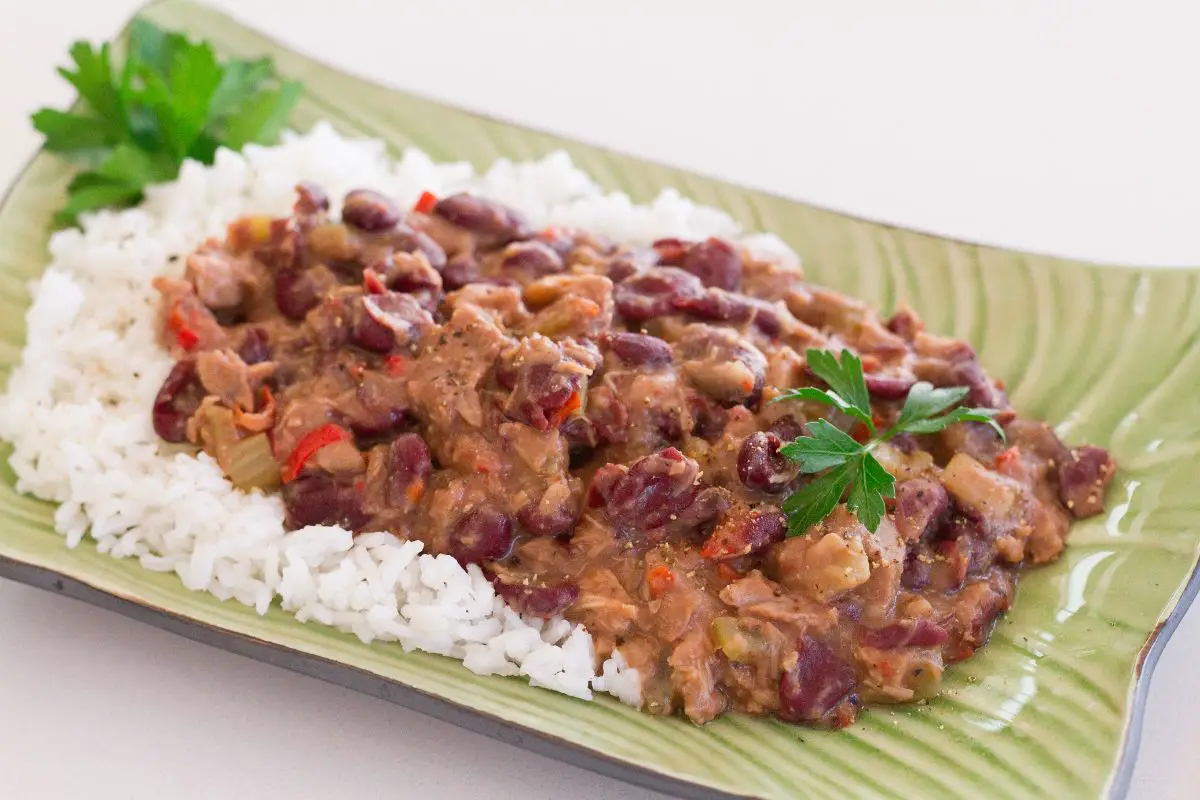 Borrowing heavily from both the culinary traditions of the South East United States, as well as borrowing flavors and ideas from Central America and Caribbean cuisines, this particular staple of the Southeast is a comfy meal that is filling, and tastes amazing when prepared correctly.
(In other words, with tons of spices.)
However, if you're serving this meal for a large party of people, or perhaps want some others flavor to accompany it, then you may find that red beans and rice, as nice as this dish is, simply don't cut it tonight.
Well, if that's the case, then you're going to want a delicious side to accompany that main meal of yours. A dish that, maybe, might just be in this guide!
Here, we provide some of the best recipes for sides that are the perfect complement to good red beans and rice recipes.
While red bean and rice can sometimes have some meat in it, it is also usually eaten as a vegetarian or even vegan meal that everyone can enjoy.
And while that veggie-friendly recipe is great and all, sometimes we just want a little extra meat to enjoy with a filling dish like this, you know?
Well, luckily for you, there are plenty of meat recipes that go amazingly with rice and red beans. And one of the most famous is good old-fashioned fried chicken!
The beautifully crispy batter, mixed with the juicy and succulent chicken hidden underneath, makes for a nice contrast with the fluffy and smooth rice and beans, especially when you mix in that red bean sauce with your chicken too!
This particular fried chicken recipe mixes in a Cajun seasoning into the batter, which is good for keeping the flavors of the overall meal unified, while still offering plenty of taste experiences.
Right next to fried chicken, Andouille sausage might be one of the best meat sides that you can have with red beans and rice, especially in this part of the south.
Andouille sausage is an incredibly popular type of sausage that originated in France, and that traditional flavor is still loved across the southeast.
The smoked flavor of this pork sausage is a perfect complement to the fluffy rice and red bean sauce that the main dish comes with.
This will be a perfect side for adding plenty of layers of taste to your rice-based dish!
If you're looking for a similar-tasting sausage that has a little more spice in it, or perhaps you cannot find andouille sausages where you are, then you may want to consider finding kielbasa sausages instead.
The extra heat that they bring fits right into traditional Cajun flavors.
Fried to perfection, and packing tons of heat, this dish might not look or sound much like a classic tomato. However, one bite of this recipe will be all you need to fall in love with it!
While the outside of these fried green tomatoes is crispy, take one bite inside, or open it up, and you'll find a soft center that is full of soft, delicious flavor for you to enjoy!
This dish is an amazing vegetarian fish to pair with red beans and rice. But if you're looking for an alternative way of serving this dish up, it also tastes amazing in a bread roll, for the perfect spicy sandwich!
Cornbread is a popular dish across the country, no matter where you find yourself, or what meal you're eating.
So, of course, there is a cornbread recipe that can be eaten with some red beans and rice!
Make sure that you're packing plenty of butter when making this recipe, to get the moistest cornbread that you can. A dry piece of cornbread is fine, but it's not going to mesh as well with the beans and the rice!
Another popular side dish for pretty much any situation, coleslaw is a miracle worker when it comes to food. After all, it manages to make cabbage an interesting good. That takes ingenuity!
(No hate to cabbage lovers. It's just that it's very rarely that many people's number 1 veg, except in recipes like this!)
Coleslaw is one of those rare side dishes that manages to balance every aspect that you could be looking for in a food item.
It's got the flavor that is just a little sour.
It's also got plenty of interesting texture, from the crunchy vegetable ingredients to the creamy sauce that they are mixed in.
It's got tons of convenience, with a good 'slaw usually needing just a few items, and only taking 10 minutes to make, at most at that!
It's got plenty of versatility. Pretty much any meal can make use of coleslaw, in one way or another, from sandwiches to soups.
And it's got the healthy factor down too, with plenty of fresh ingredients having tons of vitamins and other necessary minerals to boot.
In short, if you don't have a good coleslaw recipe under your belt or handy, are you ever truly ready to start cooking?
Drama aside, this particular coleslaw recipe is a very good one that should be saved to your folder!
We've had a chicken recipe on this list, and we've had sausage recipes here too.
Now, it's time for a pork chop recipe that'll blow your socks off!
This pork chop recipe is the perfect dish to do just that with, packing tons of juicy meat and flavor that are the perfect pairing with your beans and rice.
Especially when they're loaded with tons of good Cajun spices for extra amazing tasting sensations!
Many people tend to avoid cooking pork chops, as many folks find them difficult to cook. However, the trick is that you've just got to be ready to take them off the heat all, and many people just overcook them.
Just keep these chops on a decently high heat for 6 minutes (no more), then take the pan off.
They'll cook just a little longer, but that just finishes them off nicely, giving you juicy chops to chow down into with your fluffy rice!
Sometimes, you want a fascinating side dish that has tons of layers and complexity in it, like many of those that we've covered.
However, sometimes simplicity is the best policy with food, and this easy-to-make salad recipe is just the dish to prove that!
You can't go wrong with a simple salad, even with a vegetarian version of recipes like red beans and rice.
Not only are they very quick to make (this one takes 15 minutes at most), but they're also a great way of cooling down between mouthfuls of Cajun spices.
For the perfect dressing, you can either try homemade balsamic vinegar or perhaps a dash of apple cider vinegar!
We've talked at length about meat side dishes in this guide so far. But we haven't exactly given much love to seafood alternatives.
This is especially crazy, given that Cajun cuisine and spices are almost perfectly tailor-made to combine sea-salty and spicy tastes!
So, let's remedy that with this next shrimp recipe!
This shrimp scampi recipe is very versatile, being great to use for home cooking, as well as serving guests. It's also a pretty amazing fish dish to try out with different cuisines.
This one will taste amazing with red beans and rice, but it's great on spaghetti plates too!
Plus, despite how fancy it feels, it's a very quick recipe to make, with just a little extra white wine and garlic needed to get the right flavors!
What can we say? We're just suckers for a good pork recipe!
Pulled pork might have become a little less popular in recent years, but that doesn't mean that it isn't just as good as ever!
Prepared over a long time in a slow cooker, this recipe does take a little patience if you want to get your pork at its best.
However, once you've had a taste, there'll be nothing quite like it with your rice and beans!
Final Thoughts
So. Which of these rice and red bean recipe sides will you make?
9 Perfects Side To Serve With Red Beans And Rice
Course: Sides
Red beans and rice might taste great on its own. But if you're looking to feed a party with this classic Cajun dish, you'll need some just-as-good sides too!
Directions
Pick from the list above
Click the recipe name and visit the website
Collect the ingredients and cook the food
Enjoy – don't forget to leave a review