Mexican cookery is known for its big and bold flavors, and sometimes you need something to cool things down! This is where Oaxaca cheese comes in.
Originating in the southern Mexican region of Oaxaca, Oaxaca cheese is a mild and creamy cheese that pairs perfectly with your favorite Mexican dishes.
Want to give Oaxaca cheese a try? Unfortunately, it can be hard to find in American grocery stores! When you see Oaxaca cheese mentioned in a recipe, you might be wondering just how you can replicate the flavor.
In this article, we've found 6 of the best substitutes for Oaxaca cheese.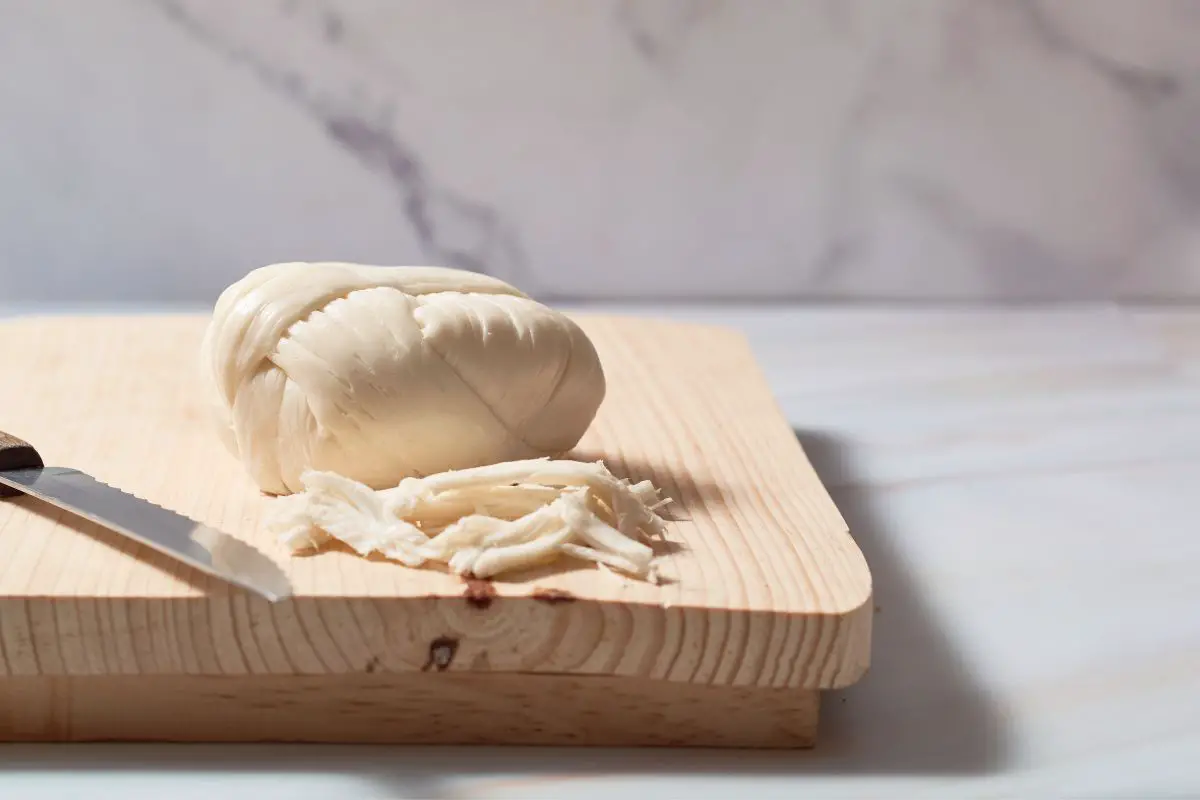 What Does Oaxaca Cheese Taste Like?
Created in the Oaxaca region of Mexico, which is where it gets its name from, Oaxaca cheese is a light and melty cheese that's popular in Mexican cookery.
Oaxaca cheese is also known as queso Oaxaca (literally Oaxaca cheese) and quesillo. Quesillo translates to "rope cheese", which describes the texture of this delicious food!
Oaxaca cheese can be made from cow's milk and goat's milk, and occasionally it's even made from sheep's milk. It's made using the pasta filata process, which involves stretching the cheese before rolling it up and stretching it again. 
This manufacturing process gives Oaxaca cheese a soft and stringy texture. You can pull Oaxaca cheese into strings and eat it as a snack, but this light texture also makes it perfect for melting.
Oaxaca cheese has a delicate flavor. It's quite creamy and buttery, which makes for an adaptable flavor. When you add it to a dish, it won't try and overpower the other ingredients. Instead, it will add a creamy richness, and can even help cool the spicy flavors of Mexican cookery.
One of the greatest things about Oaxaca cheese is how well it melts. A little bit of heat turns this cheese into a gooey and delicious topping for quesadillas, enchiladas, tacos, nachos, and sandwiches.
6 Delicious Oaxaca Cheese Substitutes
Oaxaca cheese is commonly used in Mexican cookery, but it can be quite hard to find in U.S. grocery stores. If you want to try a dish made with Oaxaca cheese, but can't find any for sale, try these substitutes instead. 
1. Asadero Cheese
Asadero cheese is possibly the closest substitute to Oaxaca cheese. It's also a string cheese made in Mexico, although this one originates from Chihuahua to the north. 
Like Oaxaca cheese, asadero is made through a pulling and rolling process that creates lots of layers of string. Because of this, Oaxaca and asadero cheese both look very similar. They're white cheeses with a string texture!
There are also many flavor similarities between Oaxaca and asadero cheese. Asadero is also quite mild, and can be used to add a creamy touch to your favorite dishes.
The biggest difference between Oaxaca cheese and asadero is the texture. Asadero is made using its own whey, while Oaxaca cheese is made with hot water.
This gives Oaxaca cheese more moisture. The slightly drier texture of asadero is only just noticeable, and if you're melting your cheese, it will make very little difference!
While asadero is a worthy substitute for Oaxaca cheese, it's not an easy cheese to find for sale outside Mexico. If you're struggling to get your hands on Oaxaca cheese, asadero isn't exactly the simplest substitute!
2. Mozzarella Cheese
For an easy and adaptable Oaxaca cheese substitute, there's nothing better than mozzarella. Buffalo mozzarella, sometimes known as Italian mozzarella, is best, as it has a high moisture level that closely resembles Oaxaca cheese.
But any type of mozzarella will do! Mozzarella cheese can be made from cow's milk and sheep's milk. 
Mozzarella cheese is made using the pasta filata method. As the cheese curds are pulled, they create those distinctive strings that are similar to Oaxaca cheese.
It has a soft texture with great elasticity. Mozzarella cheese melts very well, which is why you'll often see it served on pizza and pasta dishes.
As well as a matching texture, Mozzarella cheese has a similar mild taste to Oaxaca cheese. It has a distinct milky taste, with a very light sweetness and a touch of tanginess.
This soft flavor palette makes it an excellent pairing for the bold ingredients you'll often find in Mexican and Italian cookery.
Mozzarella cheese is widely available in U.S. grocery stores. For the best texture, buy it fresh!
3. Muenster Cheese
Muenster cheese is a semi-soft cheese made from cow's milk. It has a soft texture with a light coloring, and although its appearance isn't close to Oaxaca cheese, the flavor is almost spot-on.
Muenster cheese has a mild and creamy taste with just a touch of sweetness. The texture is also similar to Oaxaca cheese, as Muenster cheese is very easy to bite into.
Alongside taste and texture, Muenster cheese melts just as well as Oaxaca cheese. If your recipe calls for melted Oaxaca cheese, Muenster makes for a delicious and easy direct switch.
Muenster cheese is widely available across the U.S., so if you can't find Oaxaca, look for Muenster. However, we recommend avoiding bags of pre-shredded Muenster cheese.
They don't melt as well, and seeing as the gooey texture of melted Muenster is what makes it stand out, you don't want to miss this feature.
4. Unaged Monterey Jack Cheese
Like Muenster, Monterey Jack cheese is another mild cheese that is easy to find in American stores.
Monterey Jack has a soft and creamy taste, but it's probably best known for how well it melts. If you want cheese for cooking with, Monterey Jack is nearly always a good choice!
Which means it's also an excellent substitute for Oaxaca cheese! You can use Monterey Jack in a variety of Tex-Mex dishes, and if you can't find Oaxaca cheese, give Monterey Jack a go. 
Monterey Jack has a touch more sharpness than Oaxaca cheese, so be careful when using it as a direct substitute.
You might find a 1:1 replacement has a bit too much power if you're making a dish with subtle flavoring. But for most Mexican meals, you can easily switch Oaxaca for Monterey Jack.
Most Monterey Jack is unaged, but you can also find Dry Jack, which has undergone a longer aging process. This isn't as close a substitute for Oaxaca cheese. We'd also recommend avoiding any flavored Monterey Jack cheeses.
5. String Cheese
The easiest and most readily available substitute for Oaxaca cheese, string cheese is a mild-flavored snack that you're most likely to find in kids' lunchboxes.
String cheese is sold in almost any grocery store, and can generally be purchased for a low price. If you want a quick and simple substitute for Oaxaca cheese, they don't get any easier than string cheese.
String cheese melts reasonably well and has a similar texture to Oaxaca cheese. What string cheese lacks is flavor, and we mean that quite literally. String cheese tends to be bland, which means it won't be bringing much to your dish.
String cheese is probably not going to be your top substitute choice, but if you need something fast, it's hard to beat.
6. Cheddar Cheese Curds
Popularized by poutine, cheese curds are made from soured milk that is curdled and pressed. This process separates the whey and leaves behind the curd.
Cheese curds have a mild flavor quite similar to Oaxaca cheese, although the squeaky texture is different if you want a cheese for snacking.
However, if you plan on melting your cheese, cheese curds are an excellent substitute for Oaxaca cheese. They melt very well, and the mild flavoring creates a delicious replacement for the buttery taste of Oaxaca cheese. 
Final Thoughts
If you're traveling through Oaxaca, then you'll see numerous shops selling Oaxaca cheese.
However, outside of Mexico, this stringy and melty cheese can be hard to get your hands on! If you're looking for a replacement, asadero cheese is the closest, but Mozzarella cheese is the most accessible.
6 Delicious Oaxaca Cheese Substitutes
Course: Substitutes
Ingredients
Asadero Cheese

Mozzarella Cheese

Muenster Cheese

Unaged Monterey Jack Cheese

String Cheese

Cheddar Cheese Curds
Directions
Decide on what substitute you need
Pick a substitute from the list above
Read what you need to substitute with
Create the recipe and enjoy