Chimichurri is a delicious sauce which is used both cooked and uncooked to flavor meat and other dishes. It is used in certain Southern American cuisines such as Argentina and Uruguay.
There are two types of chimichurri – green or red. The green chimichurri is made with parsley, minced garlic, olive oil, oregano, and lemon juice or red wine vinegar.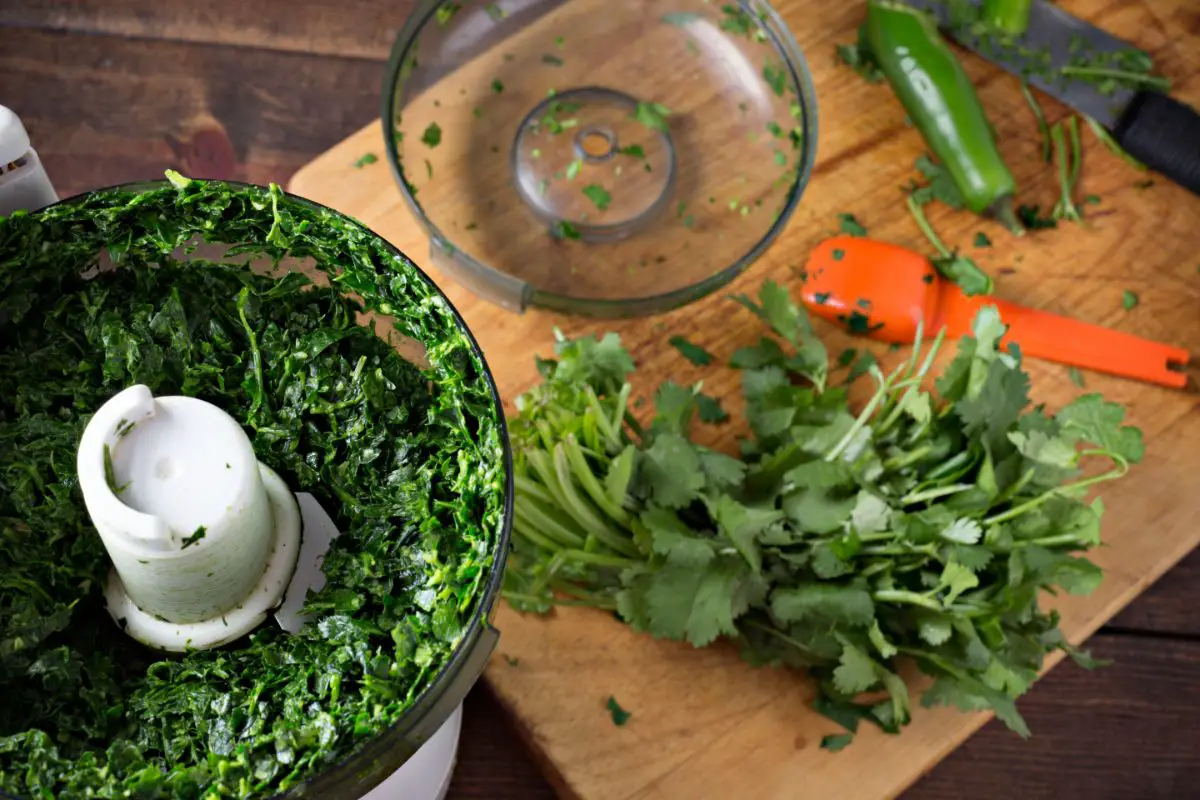 The red chimichurri uses roasted red peppers, paprika, red pepper flakes or chili powder, red wine vinegar, and garlic. 
Chimichurri sauce can be used to make delicious chicken dishes – you can use it to marinade chicken pieces before grilling them or roasting them.
You can also use it as a flavoring for a whole rotisserie chicken – but what should you serve it with?
We have put together this list of the best side dishes that you can serve with chimichurri chicken, along with recipes so that you can easily make these side dishes at home.  
Chicken and rice is a classic combination, and this tomato rice pilaf is a great side dish to go alongside chimichurri chicken.
You can use whatever variety of rice you prefer – just remember to adjust the cooking time as white rice cooks much faster than brown rice. The rice is flavored with garlic, cumin, cinnamon and salt.
The dish also has yellow onion, roma tomatoes and vegetable broth. You could use chicken stock if you prefer. 
You need to make sure that you rinse the rice well before you cook it, as this will ensure it is fluffy rather than stodgy. Once all of the ingredients have been added to the pan, you can let it simmer for around 45 minutes.
You don't need to keep stirring it, but check on it now and again to make sure that the rice hasn't stuck to the bottom of the pan. 
Chimmichurri has distinct flavors of garlic, herbs and a bit of spice.
This means that chimichurri chicken goes really well with Mexican food. This Mexican salad is loaded with tasty ingredients – black beans, sweet corn, cherry tomatoes, bell pepper, avocado, and red onion.
This creates a colorful salad with a range of textures and flavors. 
This recipe also includes a flavorsome dressing which brings all of the ingredients together. It is made with cilantro, olive oil, ground cumin, paprika and garlic.
Fresh lime juice adds a tart zing, maple syrup balances the sour lime with sweetness, and white wine vinegar introduces some acidity. You can season the dressing with salt and pepper to suit your taste. 
A vegan recipe is used to make this recipe, but feel free to add some extra ingredients like shredded cheese or crispy bacon. 
Sometimes, the most simple side dishes turn out to be the best. These delightfully buttery potatoes are so satisfying, and they provide a great accompaniment to the chicken without overpowering its flavor.
You need to make sure that you use fresh herbs to get the best taste, and the butter should be salted. It only takes 20 minutes to make this potato side dish, and you can serve it alongside anything!
If you want to make this side dish a little more exciting then feel free to customize it. You could add a bit of chili powder, or even some fresh chillies.
Alternatively, you might want to add some paprika or cayenne pepper. You can also experiment with different fresh herbs to see which flavors you like best. 
A lot of people think that quinoa is boring, but when you cook it the right way it is a versatile and exciting food.
This loaded quinoa taco salad is a perfect example of how to use quinoa in an imaginative way, and it makes the perfect side dish for chimichurri chicken.
The quinoa is fried with onion and garlic, cooked in vegetable broth with adobo chili sauce, cumin and chili powder, then loaded with black beans, salad greens, avocado and pico de gallo. 
This recipe also shows you how to make Baja dressing which is drizzled over the top of the salad, and can also be added to your chimichurri chicken.
You need Greek yogurt, olive oil, cilantro, cumin and salt and pepper. Honey is added for sweetness, which is contrasted by apple cider vinegar and fresh lemon or lime juice for acidity and sharpness.
The result is a well balanced salad dressing with a refreshing flavor. 
If you are looking for a low carb option to serve with your chimichurri chicken, these veggie skewers are perfect. This is a great option if you are serving your chicken at a BBQ or garden party.
You can pop the veggie skewers on the grill to give them a wonderfully smoky flavor, and it also creates a vegetarian option. 
These skewers are loaded with onion, bell peppers, and zucchini then brushed with a herby garlic sauce before being grilled until the vegetables are perfectly tender.
You can serve them on the skewers, or slide them off into a large bowl of colorful vegetables. If you are serving them in a bowl you could add some fresh tomatoes as well.
Feel free to add some chorizo to the vegetable skewers if you want to, or even some shrimp. 
Bourbon baked beans is a typically Southern side dish and it is surprisingly versatile. These beans have a smoky yet sweet flavor and they work really well with lots of different meals.
They are packed with flavor from the onion, ketchup, mustard, garlic, soy sauce and bourbon. The recipe recommends using Breckenridge Bourbon, but feel free to use your favorite type of whiskey.
You can also add some crispy bacon on top if you want to, or a kick of chili to make the beans nice and spicy. 
It only takes around 15 minutes to prepare the ingredients, and then you bake them in the oven for 45 minutes until everything is perfectly cooked.
You will need a cast iron skillet, or an oven proof baking dish. Once you know how to make these beans you will be using this recipe all of the time!  You can also tweak the ingredients to find the perfect balance of flavors for your personal taste. 
Green bean casserole is often enjoyed at Thanksgiving, but you can also serve it alongside lots of different types of food.
The creamy sauce and tasty beans work well as a contrast to the spicy chimichurri chicken, and come together to create a very wholesome dish.
The great thing about this recipe is that it comes together easily using ingredients that most people already have in their pantry – green beans, condensed mushroom soup, onions and cheese. 
The onions are fried to make them nice and crispy before scattering them on top of the casserole.
You can use whichever type of cheese you want – the recipe recommends cheddar cheese for the tangy flavor, but you can use a mild cheese like provolone or mozzarella if you prefer.
It takes less than half an hour to make this tasty casserole and it is the ultimate comfort food. 
This side dish is a little more unusual – it might be something that your guests haven't tried before.
The cauliflower is roasted rather than boiled or steamed, which gives it a crispy, crunchy texture on the outside but leaves it tender in the middle. The cauliflower is flavored with both hot and sweet paprika and cayenne pepper.
It also has cinnamon for a bit of spice and warmth, and turmeric which has a deep flavor and stains the cauliflower with an appetizing golden yellow color.
The cauliflower is seasoned with salt and pepper and slathered with butter to make it truly irresistible. 
It only takes 10 minutes to prepare the cauliflower, then you can put it in the oven to roast while you get on with cooking the rest of the meal. The spicy cauliflower is the perfect accompaniment to chimichurri chicken. 
Summary 
These side dishes are delicious and easy to prepare, making it easy for you to put together a wonderful feast for your family friends with chimichurri chicken as the star of the show.
What Side Dishes Should You Serve With ChimiChurri Chicken? 8 Best Recipes
Course: Sides
Directions
Pick a recipe from above
Click the recipe name and visit the website
Collect the ingredients and the food
Enjoy- don't forget to leave a review