What should you serve with your Chicken Pesto Pasta? Below, we'll be diving into all the side dishes that would go perfectly with your next pasta dish, including pesto for flavoring.
Cooking pasta dishes can be simple and affordable yet so flavorful. The combination of juicy chicken, fragrant pesto, creamy Parmesan cheese, and generous amounts of olive oil make this dish an absolute delight. Serve it as a main course or side.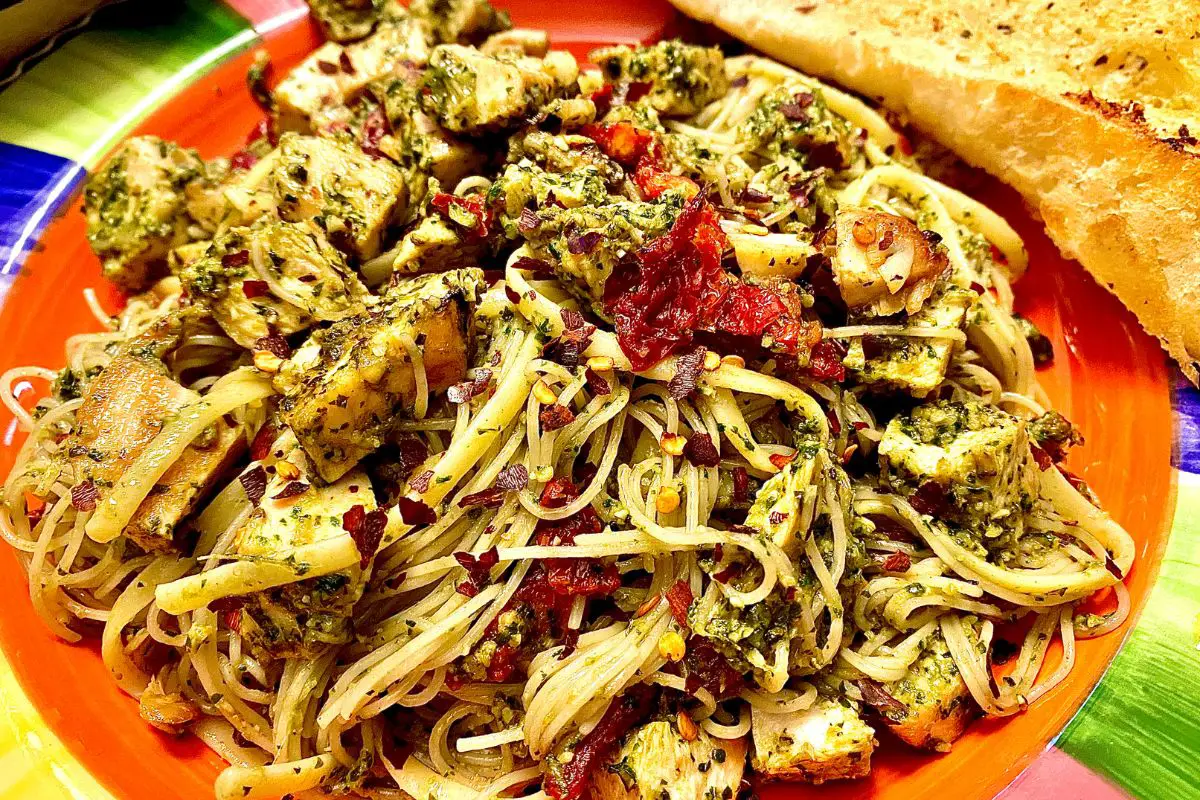 If you're planning to whip up this incredibly delicious Italian dish for your next dinner party or family meal, here's a list of perfect pairings for chicken pesto creamy pasta that will take your meal to the next level!
Why Should You Consider Serving Side Dishes With Your Chicken Pesto Pasta?
Serving side dishes with chicken pesto pasta is a great way to make sure that everyone has enough to eat and that the meal is balanced. 
The dish itself is already delicious, but adding other items can help to bring out its flavor even more. 
For example, you could serve a light salad or some roasted vegetables alongside the pasta for added texture and color. This will also provide a contrast in flavors, making the meal more interesting and enjoyable.
In addition, you could opt for some garlic bread or focaccia as an accompaniment, as well as some grilled meats or seafood for those who prefer something heartier. 
With these options available, your guests will be able to create their own perfect plate of food.
What Are The Best Side Dishes To Serve Alongside Chicken Pesto Pasta?
Chicken pesto pasta is a delicious and easy meal to make for any occasion. It's a great way to get your protein and carbs in one dish, but it can be a bit bland on its own. 
To make the meal more interesting and flavorful, you should consider adding some side dishes.
1. Steamed Broccoli
Steamed broccoli is a great way to add some flavor and nutrition to any meal. Not only does it look great, but it also has a wonderful sweet taste that pairs well with many dishes. 
It's easy to make too; all you need is some fresh broccoli, a steamer basket, and a pot of boiling water. Simply place the broccoli in the steamer basket and let it steam for about five minutes until it's tender.
The best part about steaming your broccoli is that it helps retain its vibrant green color as well as its natural sweetness. This makes it look and taste better than if you were to boil it instead. 
You can also roast your broccoli if you prefer, but the texture can be a bit drier than when steamed. 
2. Potato Salad
Potato salad actually is a classic side dish that can be served with almost any meal. It's easy to make and always a crowd-pleaser. 
The key to making the perfect creamy potato salad is selecting the right type of potato. 
Waxy potatoes are best for boiling or roasting, as they hold a good structure when they've been cooked. Floury potatoes are great for mashing or baking, as they have a fluffy texture when cooked. 
New potatoes are ideal for salads as they retain their structure when cooked and absorb the dressing well.
When making creamy potato salad, it's important to use new potatoes, as they will give you the desired texture and flavor. Start by washing and scrubbing them before boiling them in salted water until tender but still firm. 
Just toss in some mayo, or sour cream, add vinegar, olive oil, some bacon bits, dill pickles, and any other toppings you enjoy. 
3. Caprese Salad
Caprese salad is a classic Italian dish that has become popular all over the world. It is made with the colors of the Italian flag, red, white, and green. 
The main ingredients are fresh tomatoes, basil leaves, and mozzarella, which are sliced into rounded-off shapes. 
This simple yet delicious salad can actually be served as an appetizer or side dish with any meal. It is especially good when paired with rich dishes, as it helps to balance out the flavors. 
Caprese salad is also very easy to make and requires minimal effort. All you need to do is slice up some tomatoes and fresh mozzarella cheese, arrange them on a plate, and add some basil leaves, olive oil, and salt or balsamic vinegar to taste. 
4. Garlic Bread
The result of making your own garlic bread from scratch is crispy and delicious brown bread with a strong garlic-induced flavor and aroma that will tantalize your taste buds.
To make garlic bread, start by slicing the French bread into thick slices. Spread butter or olive oil on each slice and sprinkle it with herbs and grated cheese (optional). 
Then top it off with generous amounts of minced garlic. Place the slices on a baking sheet and bake in the oven until golden brown. Serve hot for maximum enjoyment!
5. Baked Beans
Baked beans are a classic comfort food. It can be served as a side dish or even as the main course, and it works nicely with chicken pesto pasta. 
Making them from scratch is more satisfying and allows you to customize the flavor to your liking.
The key is to make sure they're cooked until they're soft and tender before adding any other ingredients like bacon or onions. Once everything is cooked together, you'll have a delicious meal that everyone will love!
6. Coleslaw
Coleslaw is a classic salad dish that adds a crunch to any meal.
The main ingredients are shredded cabbage, mayonnaise, or yogurt, and seasonings like salt, pepper, sugar, and vinegar. You can also add other vegetables such as carrots or celery for extra flavor and nutrition.
Making coleslaw is easy and quick. All you need to do is shred the cabbage into thin strips, mix it with the other ingredients in a bowl, and chill it before serving. 
This simple dish goes well with chicken pesto pasta or any other main course. It's also an excellent source of vitamins A and C as well as dietary fiber. 
So if you're looking for a nutritious side dish that will make your meal complete, try making coleslaw!
7. Fresh Rainbow Salad
This colorful salad is made with vegetables of different shapes, sizes, and shades.
For example, you can use basil, carrots, lettuce, red or white onions, purple or red cabbage, and cucumber.
The combination of these vegetables will create a vibrant mix that will add an extra layer of flavor to your meal.
A simple vinaigrette or creamy dressing would be great for this type of salad. 
You can also experiment with different dressings such as balsamic vinegar or olive oil to give it an extra kick. Adding some croutons or nuts can also make it more interesting. 
With all these ingredients combined in one bowl, you'll have a delicious and nutritious side dish that will surely impress your guests!
A citrus dressing can give the salad a tangy flavor, while mayonnaise can provide a creamy taste.
No matter what type of dressing you choose, the crunchiness from the vegetables will remain intact and provide an enjoyable contrast to the other elements in your dish. 
Green salads are also incredibly versatile and can be served as an appetizer or side dish depending on your preference. All in all, green salads are an easy way to add some freshness and flavor to any meal.
8. Roasted Butternut Squash
Butternut squash is a delicious and nutritious vegetable that can be enjoyed in many different ways. 
Roasting brings out the natural sweetness of the squash, while also adding a hint of smokiness. All you need for this simple dish are four ingredients: butternut squash, olive oil, salt, and pepper.
Serve warm as a side dish, or add to salads or soups for an extra boost of flavor. Enjoy!
Final Thoughts
Chicken pesto pasta is a delicious and filling meal that can be enjoyed on its own or paired with a variety of side dishes. 
Coleslaw, fresh rainbow salad, and roasted butternut squash are all excellent options for adding some extra flavor and nutrition to your meal. With these sides, you'll have a complete dinner that everyone will love!
We hope that this article has given you a thorough understanding of just what you could add to your next pesto pasta chicken dish.
What Can You Serve With Chicken Pesto Pasta? 8 Tasty Side Dishes
Course: Sides
Ingredients
Steamed Broccoli

Potato Salad

Caprese Salad

Garlic Bread

Baked Beans

Coleslaw

Fresh Rainbow Salad

Roasted Butternut Squash
Directions
Pick from the list above
Click the recipe name and visit the website
Collect the ingredients and cook the food
Enjoy – don't forget to leave a review