Red curry paste is a popular ingredient used in a variety of recipes, especially Thai food!
While most people will attribute the distinct flavor of Thai food to lime juice, coconut milk, and fish sauce, red curry paste also plays a key role!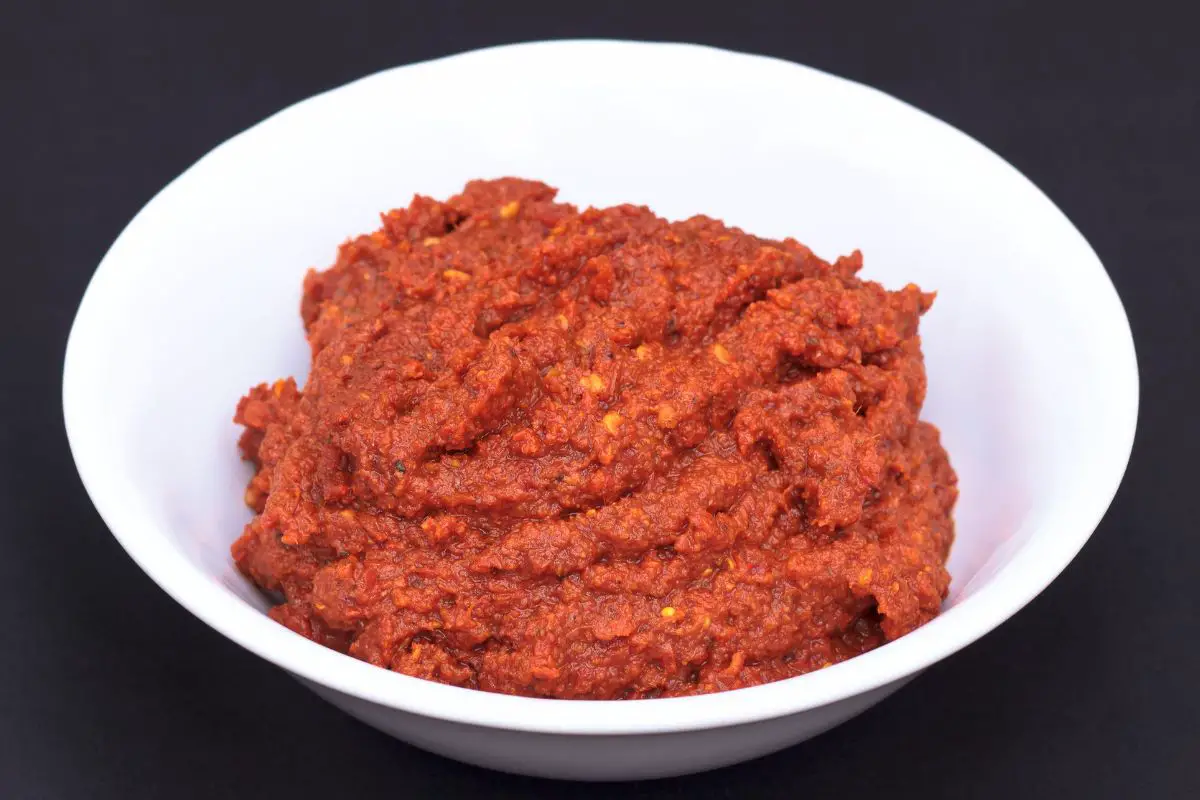 If you love Thai food, then you will know exactly how important this ingredient can be.
As a result, when you find out that you don't have any more sitting around, you will quickly go into a panic. However, the good news is, there are some things you can use as a red paste substitute!
So, if you need some red paste substitutes, you are in the right place. Here, we will be going through six fantastic alternatives when you find yourself without.
Stick around until the end to learn about some bonus options to try out if all else fails!
What Exactly Is Red Curry Paste?
Red curry paste is a delicious combination of lemongrass, garlic, chili peppers, and ginger, and a few other ingredients like species, turmeric, and shrimp paste.
That's right – that's all that's in there, so you can even make your own at home!
This ingredient is used to add some delightful depth and flavor to plenty of dishes, including curries, stir fries, soups and much more. It is versatile and delicious, and very easy to use, only adding to its popularity.
This popular ingredient is primarily used in Thai cuisine, but you can use it for a variety of dishes.
It is popular in authentic Thai food as well as fusion-style foods, so you should definitely experiment with it!
It's worth pointing out that because of how potent this ingredient can be, a little can go a long way.
If you are not familiar with red curry paste, you should definitely use it sparingly when starting out. It is easy to bite off more than you can chew with this!
Rather add less, and slowly pure more in as you go, rather than burning your mouth off the first try.
If you are not a huge fan of stir fries and soups, you could try using red curry paste in dipping sauces and marinating meats. This will impart some fantastic flavor to any dish – just go easy!
Red Curry Paste Substitutes
No one wants to be in the middle of making a delicious meal, only to find out they are missing the key ingredient. Unfortunately, this is a reality, and it can happen to anyone!
The good news is, there are substitutes for just about everything out there – including red curry paste.
Below are a couple of alternatives that you can turn to when you run out of red curry paste. They will change the flavor of the dish a little, but these options will get the job done.
1. Yellow Curry Paste
Yellow curry paste is a great alternative to red curry paste. It has many similarities to its red counterpart, and is made up of herbs, ginger, cumin, lemongrass, turmeric, coriander, and curry powder.
It also had shrimp paste and red chilies to add some kick. Overall, this curry paste is very similar to red curry paste!
Because of this, you will get fantastic results if you use this for any dish that requires red curry paste.
The only real difference between yellow curry paste and red curry paste is the type of chili used. As the name suggests, yellow chilies are used for this one.
This curry paste is not as hot as the red alternative, so you could either bump up the amount, or add some extra chilies if you want the added heat.
2. Green Curry Paste
Green curry paste is another very popular ingredient used in Thai cooking.
This delicious ingredient is made from an array of things, including shrimp paste, garlic, lemongrass, shallots, makrut limes, cumin, peppercorns, and of course, green chilies!
Green curry paste is much milder than red or yellow curry paste, making it a great substitute if you are looking to keep the heat down on your dishes.
There are few differences between this paste and both the red and yellow options, with the biggest being the heat difference.
If you only have green curry paste, but still want your dish to be hot, consider adding additional chilies or another spicy ingredient. However, you will still get mouthwatering results when you use green curry paste.
3. Harissa Paste
Harissa paste is another fantastic substitute you could use instead of red chili paste! The basic ingredient list includes things like red chilies, oil, garlic, and an acid of your choice, such as lemon juice and vinegar.
You can add whatever spices you like if you choose to make this yourself (and why wouldn't you? It's so easy).
This ingredient actually comes from North Africa (Tunisia, specifically), so you can expect something a little different if you purchase this at the store.
You will notice some familiar spices like cumin, but there will also be additional ones like paprika, caraway seeds, and a couple more.
This could be a fun change to make if you are looking for something to add some spice to your dish!
4. Sambal Oelek
Sambal oelek is a simple combination of crushed raw hot red peppers and salt – that's all there is to it! This means that you can easily make this yourself, and keep it for whenever you need it.
Of course, more ingredients can be added to this to tailor it to your preferences, but it will definitely get the job done if you want to add some heat to a dish (especially if you use the correct chilies).
This super simple chili paste keeps it simple. As a result, you will not get the same depth in your dish if you only use this.
Consider adding your own additional ingredients like garlic, lemongrass, ginger, cumin, and anything else you would like to get a more similar result to red chili paste.
These are all very easy to source, so you shouldn't have an issue getting your hands on them!
Depending on the heat level you want, you can add this as a substitute at a 1:2 ratio. This alternative might be a lot more spicy than red curry paste because it is almost pure chili!
5. Curry Powder
Curry powder can be used as an alternative to red curry paste, but there will be a few distinct differences in the results.
This ingredient is a delicious blend of spices, and it comes from India. Ingredients used in curry powder can vary from one region to another, but some common ingredients include things like chili, coriander, turmeric, and cumin.
This blend adds fantastic flavor to any dish – meat or vegetable. You won't get as much of a kick from curry powder, but the flavor will definitely be there.
If you do decide to use curry powder, make sure to add it early on in the cooking process, so the flavors can release properly and bloom.
You might want to add additional chili to your dish if you want it hot, but the results will not be disappointing.
Like with any kind of spices in cooking, be careful not to overdo it. If you add too much powder, you will change the texture of the dish, and it will have a distinct powdery feeling – you don't want that!
6. Laksa Curry Paste
Finally, we have the delicious laksa curry paste as an alternative to red curry paste. This ingredient is made up of shrimp paste, tamarind sauce, lemongrass, galangal, dried chilies, turmeric, and shallots.
You can also make your own laksa curry paste, and incorporate additional ingredients like cashews, lime leaves, and tamari for something a little different.
Hailing from Malaysia, laksa curry paste has a moderate heat level. It isn't too overpowering if you are familiar with spice, but we would still recommend taking it slow.
If you make your own at home, the type of chili you use will determine the heat levels of this, so be warned!
You can use this curry paste the same way you would the other pastes mentioned on this list, and substitute it at a 1:1 ratio.
Bonus Red Curry Paste Alternatives
Looking for more alternatives? These additional substitute options could be a great idea to try out if you want to try something different, or the above are not available to you:
Sriracha Sauce
Vindaloo Paste
Berbere
Red Chili Paste
Final Thoughts
Red curry paste, while delicious and a staple for many dishes, can be great substitutes if necessary.
The above substitutes will work for a variety of dishes and needs, but you might need to make a few changes if you want to mimic the exact flavor profile of red curry paste.
In some cases, you may find that you need to add additional ingredients like garlic, ginger, cumin, lemongrass, and more.
Just be sure to take it slow when using these substitutes! It's easy to add too much and make your dish a little too hot.
Red Curry Paste Substitutes: The 6 Best Options
Course: Substitutes
Ingredients
Yellow Curry Paste

Green Curry Paste

Harissa Paste

Sambal Oelek

Curry Powder

Laksa Curry Paste
Directions
Decide on what substitute you need
Pick a substitute from the list above
Read what you need to substitute with
Create the recipe and enjoy